Maurizio Margaglio: "It is a challenge to be in a country with no tradition in ice dance, and I love a challenge."
 
December 29, 2011
By Lena Halonen & Maria Jangbro (EMJO)
Photo © Lena Halonen & Maria Jangbro (EMJO)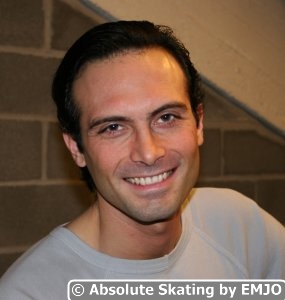 The Finnish Nationals were in the week end of 16/12-18/12. Two senior ice dance couples, Henna Lindholm/ Ossi Kanervo and Olesia Karmi/ Max Lindholm, competed for a spot at the European championships. Both couples are coached by Italian Maurizio Margaglio. If his name sounds familiar it's because he and partner Barbara Fusali-Poli were European and World champions in 2001, and got bronze at the 2002 Olympics. Maurizio recently moved from Milan to Helsinki to "build up" ice dance in Finland. We talked to him about his work and goals, and how ice dance has changed since he competed.
How did you end up coaching in Finland?
Having an Italian going to Finland to teach ice skating… I have to explain that to a lot of people! Everything started about a year ago. I was talking to Susanna Rahkamo (the chairman of the Finnish figure skating union and a former world medalist in ice dance with her husband Petri Kokko), and she was looking for an ice dance coach who could work with the synchro team Rockettes. So I said "okej"; went to Helsinki and did a work shop, and they were happy with it.
Had you worked with a synchro team earlier?
No, I was totally going into a new world. I showed what I normally do with my skaters, and then their coach (Kaisa Nieminen) asked me if it would be possible to do this several times during the year, and do the choreography together because she and the girls really liked what we were doing. For a year I went to Helsinki every month or every two months, and I was working with all the teams; seniors and juniors.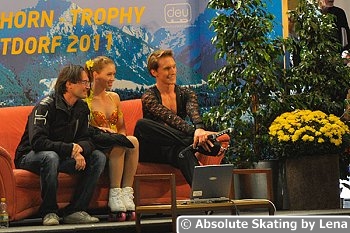 Then in the middle of the year, Susanna called me and said we had to start again with ice dance. She asked: "do you want to come to Helsinki?" (smiles) I had to think about it for some time, because I was already working in both Italy and Germany. But I thought it could be a big adventure. It is a challenge to be in a country with no tradition in ice dance, and I love a challenge; so I said "yes". It is an agreement with the Finnish Olympic committee and the Finnish federation. I am the coach of the club and I take care of two senior couples, two junior couples, two novice couples and one pre novice couples and several single skaters. Most of them are girls, so we are looking for boys and hopefully we will have new couples.
Do you work with both the choreography and the technique?
Yes, I am working a lot on the basic skills. Finland has a lot of skaters, but everybody is doing single skating. They have no clue what an ice dance hold is, and nobody is teaching them. Young skaters in Italy can start ice dancing when they learn to skate. There are four or five ice rinks in the Milan area where you can do ice dance. If you start working with a novice couple, they have probably been in ice dance four years already.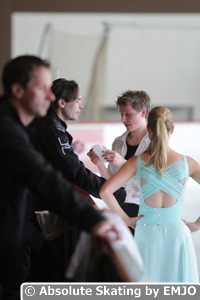 So you start very early with ice dance in Italy?
Yes, I started skating when I was ten and went directly to ice dance. You have this possibility in Italy because there is a big tradition. The difference is that in Helsinki I am starting from scratch, and it is quite demanding because I have to do everything.
Will you mold your students after the Italian model?
I will try (smiles). But a first step is to build a team of coaches, because doing everything alone is difficult. You have to take care of the technique, but also of what the technical specialist will watch for. And at the same time you have to do something nice with the choreography and the music. You need a team. I have to raise new coaches; it is a big project.
How long have the senior couples skated together?
I think for about three years now. They were the only two couples skating in Finland. Everybody had potential but was unable to express it. I was a bit concerned and we basically started over again. Maybe the results are not with us yet, but that is normal. I have spoken to some judges in Finland and everyone can see the difference. They are improving but we need more time. I would say these Olympic Games (Sochi 2014) are not the target but the next ones. Of course we´re trying to achieve something now, but it is difficult.
Do you already have some goals, and if so, what are they?
My hope is that both couples will be in the rankings, so they can go to the championships and maybe the Grand Prix next year. They can possibly qualify for the final in the Europeans, but with the current qualification system that is pretty hard.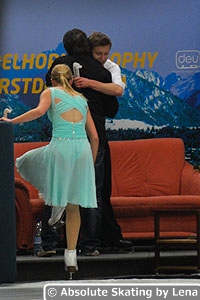 One of the couples was at the European championships 2011.
Yes, Ossi and Henna competed, but they did not qualify. I was there with an Italian couple (senior champions but they had no ranking) and they did qualify, but it was tough.
How do you think ice dance has changed over time?
The big difference now is the quality of the skating. Before it was more about power and speed on the ice, but at the same time control of the holding. The compulsory dance was a strong part. Losing that means the skater does not have to show the perfection in holding and position. So the quality of the skating is now more about flexibility and deepening of the edges. The speed is a little bit less and sometime the power is less, but the acrobatics is more. The couples used to be more similar physically, but today, because of the demand for acrobatic things, the difference in weight is important.
If these skaters were brought 20 years back in time, they would have problems. If we asked them to do what we did it would be very difficult for them. But at the same time, if the champions of 20 years ago competed today they would be lost, and maybe not able to get any level. This was also what we faced when we made our came-back in 2006; it was very difficult already then.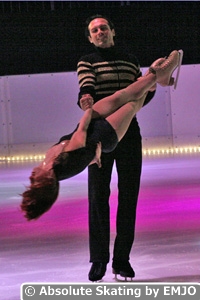 How do you like Finland?
So far I like it very much. In Helsinki the weather changes all the time and it is windy... In Milan the weather stays the same for months.
How much Finnish do you speak?
Counts: Yksi (one), kaksi (two), kolme (three), neljä (four)! (smiles)
Your family is moving to Finland?
Yes, they joined me this past August. This is part of the deal with the Olympic committee; that I can bring my family with me.
When you quit you eligible career, what plans did you have?
My decision was a bit different when I stopped skating the first time (in 2002). So for four years I was able to dedicate my time to work shops and other things on the ice. This kind of work I like, I was conducting my seminars in the USA, Australia, Germany and Italy. And I was helping many coaches, teams and single skater. It was after 2002 and the again after 2006, until this spring. I worked with Faella/ Scali with the technical content. It was nice to work three months with them and then with a junior couple in Germany.
Do you miss competing?
Not at all.
Do you skate in any shows these days?
Yes, we do skate in shows, but now Barbara is in Milano and I am in Helsinki. But every time we have a chance to skate together, we enjoy it. We have no problem getting together and being prepared on short notice. And even if we belong to an older generation of ice dancers, the audience still enjoys what we do on the ice.
Good luck with your coaching activities and "building up" ice dance in Finland.