Brian Orser: "I'm a little bit tougher"
 
October 29, 2011
By Reut Golinsky, Tatiana Geikhman
Photo © Eva Maria Jangbro (EMJO), Lena Halonen, Reut Golinsky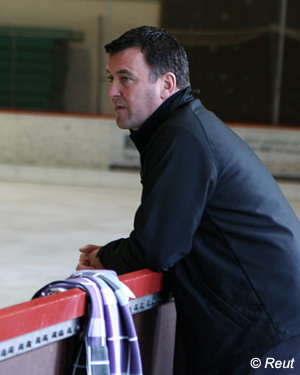 With all the numerous coaching changes we had during this off-season, Brian Orser got two new students. He brought both of them to the Nebelhorn Trophy where they had a very good start to the season: Javier Fernandez finished one place off the podium and Elene Gedevanishvili got silver. We talked about how they started working together, European vs North-American approaches to preparation for the season, new programs as well as strong and weak points of his students.
This summer Javier mentioned that he was planning to come and train with you for some time, but it wasn't officially announced that you would be his coach. Is it final now?
Yes, he already moved, got his own apartment. It was a big change for him and so he came for the summer to see [how it goes]. Things were decided after a couple of weeks when he arrived. We have a good rapport, he likes the training centre, it's a good fit. I'm happy that he stayed and I think he'll do well.
Who choreographed his programs this season?
The short was a collaboration between David Wilson and Jeff Buttle and the long was David Wilson. It was new for him to have two programs completely choreographed, a lot of thought went into it. I think they'll just continue to get better. He is a bit of a late bloomer, as the season goes on he'll continue to get better and the programs will get stronger.
In general many European skaters start later, their summer time is more relaxed, but they peak at the right time. North-Americans start in June, which is probably too early, because they want to be ready for the summer competitions. Then they have to be really ready for Nationals. And it's hard for them to stay there. You see some of the best ones who are OK at Nationals, like Evan Lysacek for instance when he won the Olympics, his Nationals were not great, enough to get through, but then he was better a month later. He managed to do that. But for some of them, like for Christina (Gao), she has to be at the top of her game by Nationals. This year she was injured for most of the summer, so she is getting her late start which I think is a blessing. She was always ready very early in the season, and she had a hard time staying there.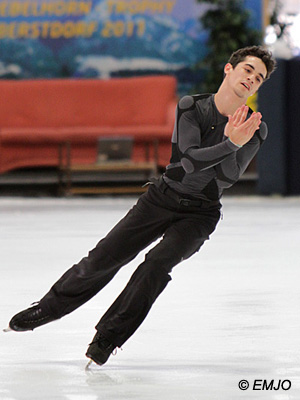 I'm going to start getting used to this European style; starting a bit late, getting the programs. The main thing is for Javi to be in top form for Europeans and Worlds, but I think he'll do well for the Grand Prix season too.
If he is a late bloomer as you say, why start so early in the season? Was it your decision?
It was kind of both of ours and also of the federation's. We need to get some competitions together, so we can understand each other more. It's a learning process. So I thought it was good for him to have the competition early, just to get him going a little bit, he needs that.
At Worlds he impressed everybody with two different quads yet he admits he has problems with triple-triple combinations.
Sometimes, yeah. It's funny, ah? He needs to have his triple-triple and sometimes we focus too much on the quads, we take the spins and the other jumps for granted. So we need to really focus on some of those elements, like triple-triple, and definitely the spins. He doesn't like to work on spins, there are more skaters who feel the same way, but they bring a lot of points. That'll be on our agenda when we get home. Spins and training, just training. More run throughs, more programs, from the beginning to the end, not stopping, just go, go, go and then it gets better.
What are his other strong and weak points, except named elements?
He is a strong competitor, I can feel that he loves to skate, he loves to entertain. When he has a great program he takes ownership of it, and that's what I'm seeing with these two programs. I think he really likes the programs, and it shows when he skates.
He has a different training style than a lot of athletes. So I have to adapt to his, and he has to adapt to mine. I'm a little bit tougher. He was a little less formal, he was skating when he felt like skating. I like to stick to the schedule, to be on time, to be warmed up, to have a plan. I like a lot of repetition, a lot of hard-hard work. We haven't quite got there with him, we will as the season goes on. But we have to ease onto those things, it can't be right away, it has to remain fun for him. And so far it's been fun, but we have to be a little bit tougher.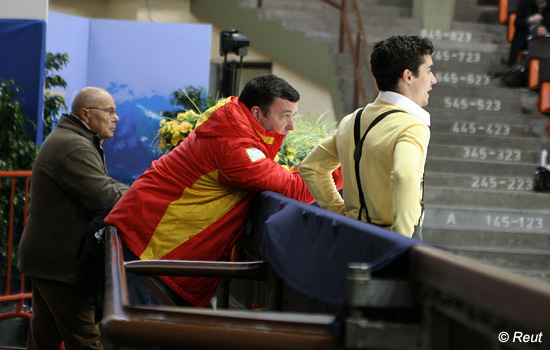 He was improvising a lot. We needed to go from one end to the other, and each time he did it, it was probably different - different movements, different feel. And I like to have everything set, every step has to be set and rehearsed, practised.
I think he needs the attention, he needs to have a team of coaches who are going to really care and want him to do well, who will give him this attention. I don't think he works very well when he is left by himself, he needs somebody watching him all the time. Who doesn't? (laughs) I liked everybody watching me.
When we talked about Yuna about two years ago, you said she was doing everything, you didn't have to tell her what to do.
Yes, he is the opposite. But everybody is different, you see. I was a little bit spoilt with Yuna and her working ethic, but I had other skaters who worked like that, who worked really hard, who have a plan and are really organized. But that's just her style, that's a little bit different and we have to compromise.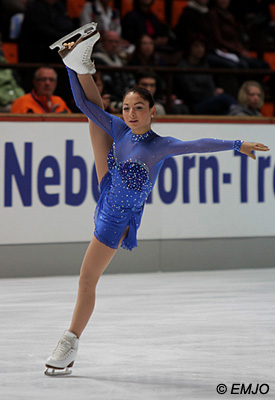 Let's talk about Elene and her performance here. I guess I shouldn't ask if you're happy.
(smiles) I'm very satisfied with her first competition.
Did you expect a medal for her?
Yeah, actually I did. The most important thing is that she had a comfort level with her skating, with her programs, with me. She was very organized, she practised well. We had a late start to the season, the short program was just finished last week. She had a lot to manage and she did.
Only her short program is new, the long was kept from last season but had some changes, right?
David Wilson made a lot of changes to that program, added some transitions, gave her some new movements that she really embraced. And the short program was new, yes, choreographed also by David Wilson. That was the first time they worked together, David and Elene, and he just adores working with her. She is so sweet, she works hard and she loves doing his choreography. That's a really nice fit with those two.
In general how did she come to you and when?
In June I got an e-mail from her former coach, Robin (Wagner). Robin told me that she is not teaching any more and that she wants Elene to come to me. She asked if Elene can come, for her to see what it's like and for me to see what it's like. To be honest I didn't know her very much, I didn't even know her skating that much. Whenever I was out at an event I was with Yuna and I was only watching her. I saw Elene around, you know, she has a lot of energy, a lot of friends, but I never really paid attention to her skating.
I had to look in my schedule to see if I can fit it in, make sure it doesn't have an impact on my other skaters. I was able to manage it. And there was a really instant chemistry, I knew that it was going to work.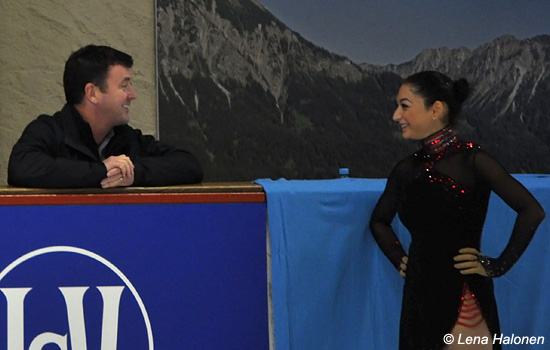 She didn't perform a triple-triple here. Does she have it?
She has it. She was practising triple Lutz - triple toe here, and it's pretty solid. She played a little bit safe here but she is determined to get it pretty consistent soon. I think, she can have it by the Grand Prix. She did a lot here in practice, so it's realistic. If she wants to compete at high level she needs to have it.
Any other technical goals?
We'll be working on the flip jump because she's been getting an edge call on it. It's a work in progress too. She needs just to go back to singles and doubles, make sure she gets the proper edge and then... That's her goal to get the triple flip and triple loop consistent. But when she is not comfortable with the jump she kind of stays away from it. I was the same way. But she has to face it.
Do you think it's possible to fix this edge problem at this age?
Yes. I mean we had to fix it for Yuna, 'cause Yuna started to get some "attentions" and one time she got an "e" (edge call sign in protocols - ed), we broke it down and we got it. It's possible, it is difficult though, both on the flip and on the Lutz.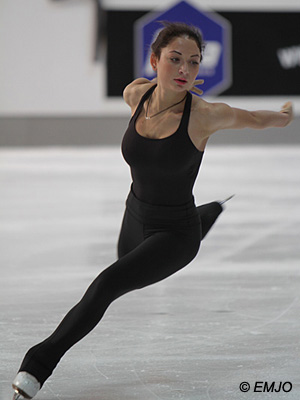 We both noticed that Elene looks different this season. For example, her dresses, is this also your work?
For the short program it's a new dress, for the long program we are starting on Monday with our costume person, we just didn't have time in the short time I was with her to get her a new dress. So that's going to be our next project hopefully, for Skate America, to have a new long program dress.
And in general she looks more sophisticated.
When she arrived she wanted to go to that direction, and we wanted her to go to that direction. I have seen her in the past and sometimes her skating was a bit too... energetic. Now we try to focus on some beautiful skating skills because she is a beautiful skater and her crossovers are just beautiful, not many could skate like that. We wanted to be able to show that, make her look a bit more sophisticated, yes. She did lose some weight, she went back to Georgia because she needed to open that new ice rink...
Yes, an ice rink named after her. Such a young girl and she already has her ice rink, do you have one?
I do, two actually (laughs)
So she went home, she was really busy with doing that and media and a lot of appearances and she focused on her diet, on her weight. When she came back to Toronto, she was transformed into this beautiful skating body.
Whose idea was it to change her hair colour? She used to be blond.
But this is nicer, right? This is natural. It was totally her idea, I can't take any credit for that.
All in all you sound very optimistic about both of your students.
I am very optimistic. I think here in Oberstdorf it was a great start, for both Elene and Javi. Already his components were higher than his World Championship's. He had a really high technical score there, because he had two quads, but his components were higher here. And for both skaters I had a lot of comments from the judges, which were very positive.