Catching up with Sarah Meier
 
October 25, 2011
By Nadin Vernon
Photo © Jeannine Bourdiau, Art on Ice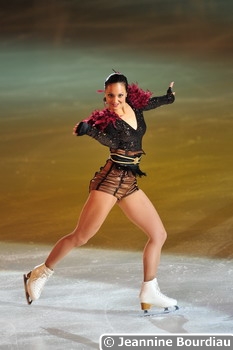 European Champion Sarah Meier was awarded the Golden Skate Award in Turin recently where she performed two programs, "You've got rhythm" and the sexy "Not myself tonight". In the latter number Sarah played with the audience, and had Jeffrey Buttle cheering her on from the boards when taking off various parts of her costume. I had a brief catch-up with Sarah after to find out about what she's been up to recently.
Congratulations on your award, Sarah.
Thank you, I guess it was for the European Championship title [smiles].
You performed Not myself tonight which shows a new direction, a new style for you. It's very well perceived, how did this new program come about?
I worked with dance choreographer Marvin Smith for the first time, after meeting him at Art on Ice. We listened to a lot of different songs and then decided to go into a complete different direction than I've ever done. We worked on the floor first to get the dance moves and then Salomé Brunner helped me to transfer the choreography onto the ice so that the program still flows and "skates".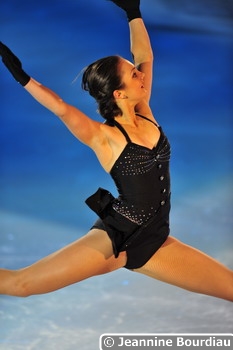 And what about the costume?
The costume was also Marvin's idea and came along day by day when working on the program: first the feathers, then the belt, then the idea of being able to take the feathers away and stick them on another place on the costume. Basically we wanted to work with the costume and "undress" without doing the obvious and get more naked [laughs].
Are you working on other new programs as well, and are there other directions you may want to try?
Yes, I've just starting working on At Last by Etta James. And then I will be working on new pieces for Art on Ice of course. I really want to try different styles in every program, so I can always progress and surprise the audience.
Mick Hucknall from Simply Red will be the guest star at Art on Ice 2012. What's your experience with his music?
I didn't know his name, but when I looked his songs up on youtube, I knew almost all of them! So I think he's great, he will attract a large audience and his music is very suitable for skating.
Yes, it's easy to imagine that it will work very well with skating. Do you have any ideas yet on what kind of atmosphere you will be able create on the ice when you think about his songs?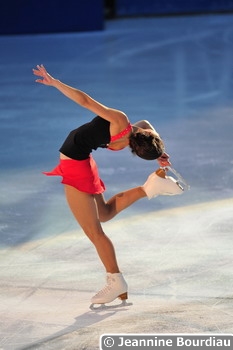 Well, I don't know if I will skate to one of his songs yet, so I haven't really thought about that. But I think even if the mood of his songs is similar, every song has a different meaning and different story behind it.
You injured yourself before Japan Open. What happened?
As I started training again intensely for Japan Open in order to skate a free program, my injured ankle got worse again. I tore my ligaments last year at Skate Canada and the pain never really went away. The ligaments never really healed, because whenever I jump a Lutz or a Flip, I overstretch them again. I wanted to skate so badly though, so we flew to Japan anyway. But after the long flight, my foot was very swollen and I could hardly fit in the boots. And because I knew Team Europe had a back-up with Liza Tuktamisheva who was skating in Carnival on Ice anyway, I withdrew after the practice.
How has your daily routine changed over the last nine months? Do you still train as intensely?
The training is not as intense as before. I still train about 4-5 times a week, but only once a day on the ice and once off ice. And I do more choreography and less jumps.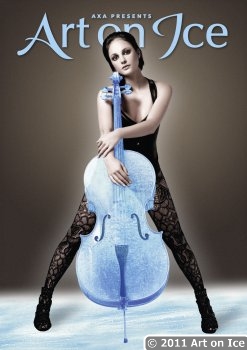 You're also working with Art on Ice Production's Talent Team. How is that working out? What exactly do you do?
I help the skaters with whatever they need. I help them to arrange training camps and find sponsors for example, but unfortunately the future is very uncertain, as we don't have a sponsor for the team at the moment.
You recently did a photoshoot for Art on Ice. Tell me a bit about the idea behind it and how it went.
Yeah, it was actually the idea of the Art on Ice team and I didn't know anything about it beforehand, other than that I wouldn't need my skates. So I was surprised, because it was completely different than the years before. But I knew the photographer very well and I like him and his work a lot, and I trusted the whole team. So I like how it turned out.
Do you keep up with what's happening in the competitive world of skating?
Yes, of course. I'm still very much involved and keep my fingers crossed for my ex-competitors and friends!
Are you planning to travel to any competitions at all to watch some live skating?
Maybe the Trophée Eric Bompard, or Worlds in Nice. My mum might be judging at one of these competitions, so I can join her [smiles].
What other plans do you have for the coming months, do you have any shows lined up?
Yes, I have some shows in Switzerland and then quite a few events with my sponsors. And I study two days a week now, to get a diploma in Sports Management.
Best of luck, Sarah and thanks for making time.
If you want to catch Sarah Meier live, she will be performing at Art on Ice 2012 in Zürich and Lausanne as well as the Eisgala Davos 2012.