Sonia Lafuente: "It would be a pleasure to try to make the sport bigger in Spain."
 
November 15, 2011
By Eva Maria Jangbro (EMJO), Lena Halonen
Photo © Eva Maria Jangbro (EMJO), Lena Halonen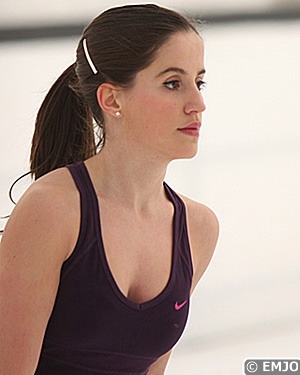 Figure Skating somehow does not seem like the most natural choice for a sport in a country known for its warm and pleasant climate. But Spain has put a mark on the skating map lately, with skaters like Javier Fernandez, Javier Raya and Sonia Lafuente. Fernandez might be the most known of the three, but Sonia was the first Spanish skater to medal at a Junior Grand Prix event [in 2006].
We had a chat with Sonia at the Nebelhorn Trophy, about when and why it all started and what it is like to skate in a country mostly known for its soccer teams and huge outdoor stadiums.
When did you start skating?
I started at age 4 because my parents wanted me and my sister to do some kind of sport. The ice rink in Madrid had opened and we started skating there.
Did you like skating from the very beginning?
When you are 4 years old you don't think so much, at least I didn't. (laughs) I just skated and everything was going well, I learned the jumps and it was fun. It has been a long time and I've had the same coaches all my life. I usually travel with Carolina Sanz, she's with me at this competition, and then there's Ivan Saez. When I did my first Europeans and Olympics, they were both there, but now they split the competitions so maybe one is going to Europeans and the other one to Worlds. I have been training with them all my life so they know me really, really well. They are like my second parents.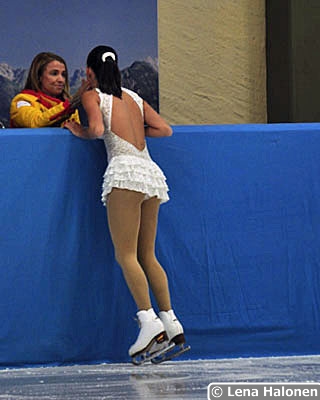 Who is Sonia off the ice?
I am a student; I study sports at the University. My life is divided between studying and skating. It´s not easy but I am doing it. I am not taking all the classes every year, so it´ll take longer but that's ok. I didn´t want to quit school because I think that, obviously, there is something after sports.
What exactly does studying sports involve?
The first years you take classes in all sports to learn a little bit about them; like football, basketball, gymnastics, swimming... But you also study history, psychology, anatomy, physiology, etc. It is a 4 year program. The first and the second years are more general, then in the third and fourth year you choose your major, like sports and health, or administration.You graduate after 4 years but then do 2 more years for a master.
What do you do in your spare time?
I try to be with my friends and family and not think of sport and ice. I go out with my friends, relax and have fun. And I have Sundays off. I need to rest at least one day.
What do your days look like?
On a normal day I wake up and go to school, usually from 8 to 12, and then I train for the rest of the day. We have two training sessions per day. This year I am on the ice from 14:30 until 17 and again from 18 to 19:15. After that I have some off ice training.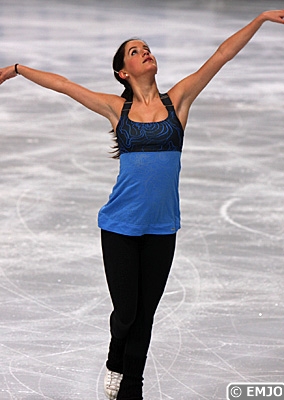 What about summer training and camps?
I have been all around Spain, because I was training with my coaches and they had camps in different places. Then I spent one week in Barcelona, since the Canadian coach Manon Perron [coach of Joannie Rochette] was doing a seminar there. The last three summers I have attended her seminars. And the summer before the Olympic qualifying, I went to Canada for a month to skate with her and to prepare. She is very nice and I love working with her. The rest of the summers I have been with my coaches. I took a little vacation too, two weeks! (laughs)
Tell us about you programs for this season?
The music for the short program is the song "Cry me a river". I have never done a program like this one. My coach Ivan made it, but the step sequence is choreographed by Pasquale Camerlengo. I really enjoy it. This is the first competition so obviously the program is not perfect, not for me, not for anyone. The long is to "Concierto de Aranjuez", choreographed by Camerlengo. He is from Milan and has some different and very good ideas. He is able to adapt himself to all kinds of music, and he just gets on the ice and starts thinking and creating movements.
Do you usually work with the same choreographer?
It is not always the same one. Last year, Romain Haguenauer, the coach of the French ice dancers Pernelle Carron / Lloyd Jones, did the choreography to my programs. When I was younger it was my coaches who made them. Ivan is a very good choreographer, so each year he tries to make at least one of my programs.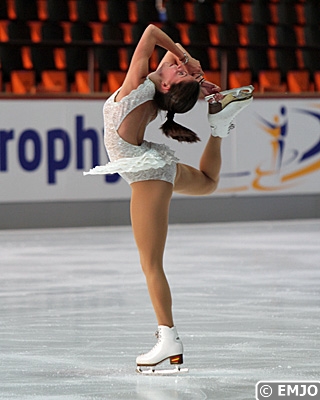 You wore a very pretty white costume during practice. Who makes your costumes?
Thank you very much! It is "Saguste", an Italian brand. We send them the design and they make the dresses adding their own ideas. I usually don't train in my costumes during competitions, but there was no time to send it to Madrid so it was sent directly here. Yesterday I got it on for the first time just to try it out. But I brought some dresses with me from home too, just in case this one wouldn't fit. (laughs)
What are your goals for this season?
We are trying the triple Lutz, last year we did the triple flip. And I'll try to be in 10th place at Europeans. I wanted that last season but finished 12th. At Worlds I was already very tired since we had to skate three more weeks, but this season I'll try to do it better.
What is your next competition?
I am going to Golden spin in Zagreb and then to Paris for TEB.
What are the skating conditions in Spain like?
There are about 12 ice rinks throughout the country. Madrid has the most, there are 4 there. But Spain is more about soccer and tennis, so they get the attention and the arenas.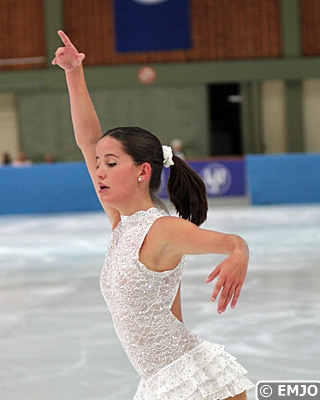 Has figure skating become more popular?
Yes, as you can see it is getting bigger and we are so happy about that. We are doing our best to try to make skating bigger in Spain. We can see it is growing, not very much, but we are still happy about the little progress.
When you are done competing, do you think you will continue being involved in the sport?
Yea, maybe, I am not sure. I would love to do something in figure skating and help promote the sport in Spain. My whole life revolves around skating and I am studying sports, so I think my future will have something to do with skating. It would be a pleasure to try to make the sport bigger in Spain.
Thanks, Sonia, and good luck to you!