St├ęphane Lambiel: "It's a great life to just skate for yourself and the crowd and I love it"
 
October 17, 2011
By Nadin Vernon
Photo © Jeannine Bourdiau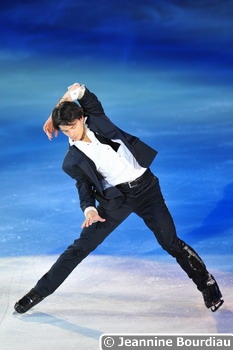 Two-time World Champion Stéphane Lambiel returned to the Palavela in Turin for the Golden Skate Awards last weekend, the venue where he won Olympic Silver back in 2006. He skated the European premiere of two of his latest show programs: Rachmaninoff's Prelude, a choreographic masterpiece, showcasing intricacy and precision, and his interpretation of the jazzy Please Don't Stop the Music which raised the temperature in the arena by more than a couple of degrees. I caught up with Stéphane before the show and we spoke about the different façettes of his current involvement in the skating world and his plans for the future,before moving on to more light-hearted matters such as why he vows to never see Britney live in concert again.
How does it feel being back in the Palavela, Stéphane?
It feels really good, but I've been back here so many times since the Olympics, it actually just feels like home to me now.
You just did Opera on Ice in Verona last week, how did it go?
It was quite impressive actually, and at first we didn't know if it would work out. When we arrived at the arena, the weather was so warm and we weren't sure if the ice would be ok. But they finally covered the ice and we had a very late dress rehearsal. I hurt myself during the dress rehearsal so it was a long and very emotional day but it went really really well. I didn't expect such a big success. The setting was amazing, with the live orchestra and the opera singers and this audience, this arena. The atmosphere was great. I probably wouldn't have had the TV people there because it's a very elegant show and this broke the atmosphere and the rhythm a bit but otherwise it was just perfect.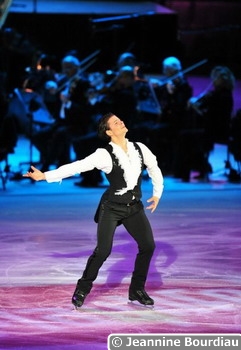 You prepared a new program for this show. What made you choose Rigoletto?
Because it was only one show I asked them to make it easy for me and to bring something that I already did. I wanted to do La Traviata and William Tell but then they told me that La Traviata was already taken and that they would try and get the orchestra to play William Tell but I would have to find another piece. So Oliver [Hoener] just sent me Rigoletto and I thought it was a good idea to maybe do something a little lighter than what I did this year, because all my programs this year were kind of, not dark, but very serious numbers. So I quite liked the idea, and we made this program with Salome, we started working on it three weeks before the show and it was just fun. I really enjoyed the acting part, also in the practice and especially with the orchestra, it just gave another dimension to the program.
So do you think you'll keep it and show it again?
I really hope so. Because William Tell I really didn't think I would skate again, but then when I was in this arena, it would have been stupid not to skate this kind of program that I really love. But I hope that I can skate to Rigoletto again. I couldn't skate it here because of the TV rights but I will definitely skate it next year, and maybe even at the show in St. Petersburg that's coming up.
And you choreographed two programs for Carolina for the event?
Yes, I did La Tosca which we really enjoyed choreographing. I had my ideas and I was ready. It was the first piece we did when I saw her. And it was so dramatic, it's so much my atmosphere, this drama. And this 'everything goes wrong, what's wrong with my life' [pulls a face and laughs]. So it was really fun to do it and we didn't have so much time for Carmen but actually I think she felt much better with that on the day of the event. I think that Vissi D'arte has great potential especially in a big rink, because it's a piece where she needs a lot of speed and a lot of expression, she needs more space.
You mentioned that you hurt yourself in Verona, what happened?
I pulled a ligament in my knee, so it probably needs time to heal. I don't need any surgery, I just need to rest. But I still have this show here and the one in St. Petersburg next week. The doctor said that it would be ok to skate those two shows and that I don't need to stop but I need to be really careful and I need to tape my knee and warm up more. There is just one move in Please don't stop the music that I can't do. It's to slide on the inside knees, because it will pull my ligament, but the rest is going to work. So if my doctor says it's ok to skate, I really trust him. He's been working with me for a very long time. My first surgery with him was in 2002, so he knows my knees. And when we did the MRI and he saw it, he said 'well, your knees are in bad condition but we knew that from the past. You can still skate but if you could have a break after St. Petersburg it would be good', so it's good that I have these shows planned in Switzerland.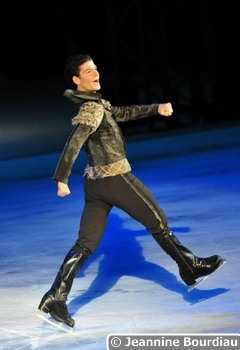 Oh yes, the comedy shows in Saxon. Tell me a little bit more about this project.
Well, it's really hard to explain, we just had a meeting ten days ago where we were going through the program of the show, all the numbers, and there are great ideas. I still don't really know what my role will be, because they want to me sing, they want me to dance, they want me to teach them, they want me to be a funny guy. I think what is interesting about it is that the other Lambiel [Yann Lambiel] who is in the show is also from my home town. We are performing in our home town and he was always making fun of me because he's a comedian that makes fun of people. He imitates people, famous people. So he was imitating Roger Federer, he was imitating all the Swiss politicians and myself and that's my opportunity to take my revenge on him. So they want us to have kind of a battle at the beginning, but then be like 'come on, we are two Lambiels, we are in our home town, we should work together' and then make a special trick together.
Will it be improvised?
No, we're going to start rehearsals at the end of October, there'll be one month of rehearsals, and then we have the premiere on November 28th. We're doing twenty shows over twenty days. The Chapitaeu has 1,000 seats, so it's quite big for a theatre. It's a circle with a very small stage. It's going to be fun to sing live and to have all those crazy comedians. Because they are really really really crazy, and I think I can learn from them. I know how to skate and I know how to perform on the ice, but I still have to learn a lot about acting and what you can do with the public, when you have them so close to you. Everyone in the cast has done some work in a theatre. So it's going to be a new experiment and it's good I think. And it's especially good because I will need a break. I think if I wouldn't have this show, I wouldn't listen to my body so it really gives me a signal now, just to work on that.
OK, so no ice for you for how long?
I won't go on the ice for maybe three weeks, because I need three weeks to heal my knee, so the first three weeks after St. Petersburg, I will just focus on that and do a lot of physio and after that I'll start to skate again and work on the Art on Ice programs.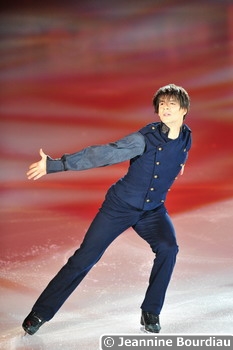 Mick Hucknall will soon be announced as the 2012 guest star at Art on Ice. What do you think of his music?
I don't know his music that well, but what I do know is that it's perfect skating music. So I'm really looking forward to working together with Mick and am sure it will be an exciting experiment.
Do you feel like now you don't do competitions anymore, you want to have new programs more often?
Yes, I really have the need to make new programs and I would like to have new programs other than the two Art on Iceones so I will work on them, too. I think I probably did something like eight programs this year. I'm free to do anything I want now and I have no rules. When someone calls me and says, 'well, you have a new show there and you need a new program,' I'm very excited to just find something new and different to show.
You're very versatile and have covered so many different styles over the years. Is there anything you haven't tried yet and would like to?
Actually there is something I have in mind. I know I did some tangos and I've been choreographing many tangos for my students but I still want to do a tango in a different way than I have done in the past. So I'll have that in mind and we'll see.
You just mentioned choreography for others. You spent some time with Mishin's students over the summer, how did that go?
Actually it went well. I didn't expect such a good vibe from this campus. When I returned home I was full of energy, I was full of new ideas because I saw the Russian School. I knew the Russian School before, but this time I was working for them and I could see they were like sponges and they really wanted to learn and learn and learn. And that's what I like about choreographing, that you can really bring new things to people. It's never boring because you build something, it's so interesting for me, it's really fulfilling for me. It's like skating myself, and I'm happy I have found something to do after my own skating.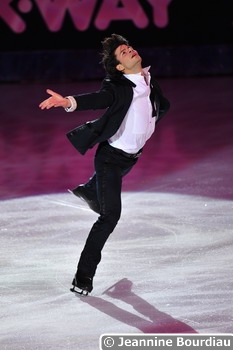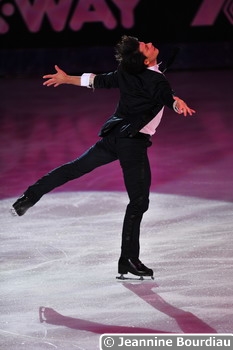 Do you find it easier to choreograph for people you know?
Well, I didn't really know Tatsuki [Machida] at first when we met, and the day before we started to work I invited him for a drink, just to have a little time together and feel comfortable with each other. I see people who I work with as colleagues, not just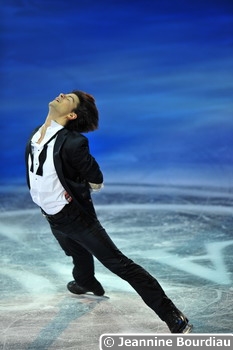 students and they need to know me, that I'm very simple. I'm there to help them. That's what I told Artur [Gachinski] and Lisa [Tuktamisheva] when I worked with them. I want their best and I want them to show what they have inside and so I think it's important to know each other. That's why I went out with Tatsuki before we started because I needed him to know that I'm nobody, I'm just a figure skater and I just want him to have a good performance, a good program and to help him with the program that he wants to have. So we shared our ideas and I suggested he would watch some videos of ballet dancers and to also see some ballet from Don Quixote, to get the inspiration from other things than just skating. He was quite amazing to work with, we were working in the morning for many hours and he was ready and he was just amazing. I don't like limits and with him I didn't see any limits, he was just there and he was taking taking taking and I asked him a few times 'do you need a break, do you need to relax' and he was like 'no nononono' so we just went on and on and I felt great.
It's a shame he couldn't perform his program in Oberstdorf.
Yes, I was there and I was a little bit sad but as I said to him it's not the most important competition of the year and I think what's important for him now are Nationals and NHK, competitions where the points are important and where he can really qualify himself for the rest of his career. I hope that I can catch his free skate at Nationals as I will be there to skate in the exhibition. I'm travelling on the 24th and will arrive quite late though, so it may not work out, I really hope I can watch him.
Do you have other plans to travel to any competitions this season?
I really want to go to Europeans, but it's probably too close to Art on Ice and I want to get ready. And then I will be in Innsbruck for the Youth Olympic Winter Games.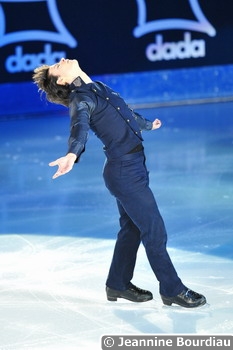 You'll be there as an Athlete Role Model, what exactly will you be doing?
I will be there as a representative for the skaters, mainly to support them and to be there for them, if they need any advice. I noticed this in Oberstdorf as well, people came to ask me things and I said I'm there, and if I can help and if I can give some power and energy, it's great. I'm open and if they like to hear about my experiences, I've been doing those kinds of competitions. Not the same Olympics, but we used to have European Youth Olympics Days in the past and it was different for me because I was very young and I had to share rooms with hockey players, it's not only figure skating so it's kind of disturbing to be in another team. It's the same nation but it's a different sport and they have different habits. You probably have to share a room with people you don't know. So I'm there to support skaters for that kind of experience. It's a great opportunity to be there and to see the young skaters. I'm still looking for good talents where I can enjoy the skating and maybe help in the future.
Do you follow the Junior GPs that are taking place at the moment and watch some of the videos?
Yes, now they have that ISU channel on youtube it's great because you can see all those great skaters, junior skaters, and I also follow the Swiss skaters, so I'm very active. I cannot live without skating so I need to know what's happening everywhere and for example right now there is this Finlandia Trophy and I know my coach Peter is there with Paolo Bacchini so I need to follow all of them and know what is happening. Sometimes I miss a competition as I didn't even know it was happening but I try to keep up to date. And today it's really easy to know what's happening. Like Japan Open, I knew a few minutes after, what the result was and I could see the videos and it was great for me to follow that.
Your triple Axels in Oberstdorf caused quite a furore, what do you make of that?
Well, it's not spectacular to me and it's not something that I was just doing that day. I never stopped training the triple Axel , it's always been in my daily practice. Training is at a different intensity now, but it's still the same passion and the same going on the ice and challenging myself and going for all the things I want to be able to do. And I think it's important to know that you can do it. Because I think by the time you lose it, you won't be able to perform as good as before and I think that's why I need to push myself. For me nothing is enough. I need more and more and more, that's what I like. So if I land a jump, I'm like OK, good I landed one, now two, three, four.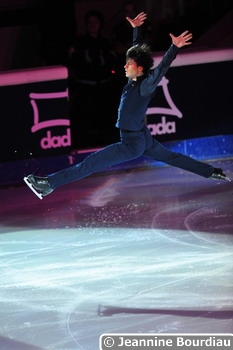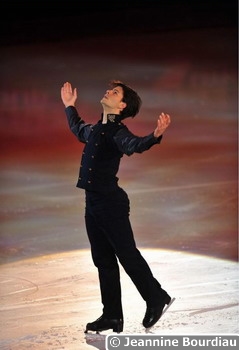 Conscious of the time as Stéphane still has to eat before the now looming show, I thank him for the interview and am about to wrap up, but it seems he is in no rush as he carries on talking:
I mean it's a great life to just skate for yourself and the crowd and I love it. I can still push myself with no pressure, still pressure because I want to perform well, you know, and I still need this adrenaline of the performance but I can feel that competition for me is in the past. It's definitely in the past and I enjoy watching the skaters compete.
That's new, because when you competed you didn't really watch much.
You don't watch, you don't know what's happening.
And obviously you're a fan, you're a skating fan!
Yes, exactly, completely. I'm a skating fan since I was a young boy, so I will follow skating for the rest of my life for sure.
Since Vancouver I have been running from one thing to another and I probably need some time for myself but then again this is what I want. This is what I need right now, it's to run, run, run. I love my life, I love what I do, I love sharing, I mean every time it's a great cast at these shows. It's always different skaters but it always feels like the same family. I feel close to all skaters, even for example the Chinese, we don't really speak to each other but we feel comfortable, we are in the same dressing room. We know the feeling, we know how it feels to be in a show and we have the same type of life so it's just great to share those moments together because when we go home it's so quiet and it's so different. And I think it's the balance that we need, this rush and then the quiet time. I hope it will last for many years still but I know that time is running out and soon I will retire from active skating and after I will keep doing choreographies. I really need to work with young skaters.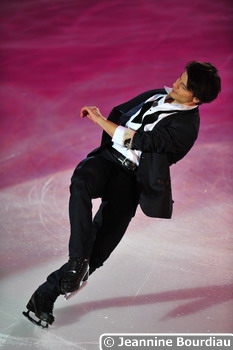 I know you ruled this out in the past, but do you think there's a chance you may even try coaching?
With coaching I'm still trying to find out if I'm able to. Because I really love to give some advice but I'm not sure if I'm the type of man who can work every day to a stable timetable and be there 100% every day and be responsible for so many skaters. I'm more the type that needs a lot of freedom but at the same timeI havea lot to give, and as a coach you need to be really Cartesian, rational, disciplined and square and I'm scared about that. I'm not ready to be square. I'm not. And maybe who knows, after that show in Saxon I will be able to start my singing career, or my Britney Spears career. Who knows [laughs]
Did you go and see Britney on her recent tour?
No. Actually I love her and I buy all her CDs but I went to London for her Circus tour two years ago and I spent so much money and she disappointed me completely. I was so shocked, the music was terrible, the sound was terrible, I don't even think I heard her voice. I saw her in Zürich the previous tour and she was great, it was live music, and she was sharp, she was good. And then in London I was so disappointed, so I'm still a big fan and I still buy her CDs and I still love her songs but I'm not buying any concert tickets, because I know the concert is not worth it. 120 Francs for that show? I'm sorry, but I can dance in my living room and it looks much better than that.
Do you still go out and boogie now and then?
No, I feel too old and when I go out just for a drink and I see all those young people, I always think, oh I'm done with that. Now I'm boring and just stay in my living room, playing Sing Star with my friends and that's good enough. I mean we're not sixteen anymore. But sometimes you just need to go out and have fun all night, but I was never actually that kind of guy who went out every Friday and Saturday night. I love to hang out with my friends, and have a drink and go to the movies or have dinner at home but to me the nightlife is not so interesting. It's not about the places you go to, it's about the people you're with and the atmosphere.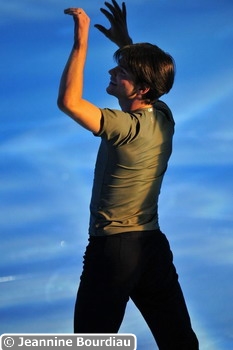 Right, I'll let you go and get some food now! [I make another attempt at wrapping up]
Well, I don't even know what I want [looks around indecisively], probably something sweet. I'm too bad with sweets [laughs].
Do you get to eat healthily when you're on the road or is it more difficult than at home?
I'm more healthy, well actually I cannot say I'm more healthy but I think I'm more conscious about the food when I'm on the road because I know I need to be careful. Because when I'm home, I just do my groceries and of course I buy all my things that I need, my healthy things but I also know [reaches out to imaginary shelf], Oh my chocolate that I cannot find when I'm on the road. So in my fridge there's always chocolate and that's too dangerous with me. If I know there is chocolate in my fridge, I cannot go into the kitchen without opening the fridge and taking some pieces of chocolate, so I'm bad with that, I'm bad [laughs].
Well, on that note thank you very much for making time today, enjoy the show!
Merci!