Tigran Vardanjan: "I prefer shows to competitions"
 
February 20, 2011
By Titanilla Bőd
Photo © Johanna Welnicki - JOLUSKATING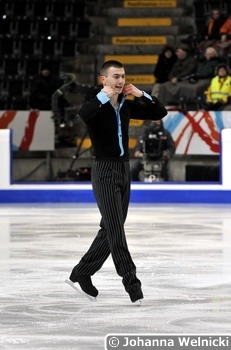 He may not have an impressive list of medals, but he definitely has an impressive style, which caught the attention also of the producers of the Kings on Ice show. Hungarian Tigran Vardanjan admits that show business is closer to his heart than competing, but he had a great time at the Europeans in Bern as well.
You didn't make it to the short program from the qualification. Are you disappointed?
I can live with the fall on the triple lutz, but I'm really sorry about doubling the salchow twice. I wanted to skate a free program with five triples, I really don't understand what happened with the salchow. After I landed the triple toe, double toe combination I didn't have enough speed and at the end of the program it's difficult to be in time with the music. I chased it, but couldn't catch. Anyway, I think the improvement in my skating is visible. I worked a lot to improve. Of course, there are still some weak points, like the triple axel, but I'm trying quads at practices… I'm not devastated because of my result, just a bit annoyed by the salchow.
What do you think about the system of qualification?
I think it's good and I say, let's have a qualification like in the good old times, but in this case it should be for everyone. The skaters who don't have to take part in the qualification are somehow privileged. I understand that they are very good skaters, but I think it would be fair if everyone had the same rules. Of course those who have a direct entry would say that this system is fantastic, it is great for them, but for the sport itself it would be better to have exactly the same conditions for everybody. I see how the better skaters, who are not particularly my friends, look at me only because I have to qualify. I think I'm not a worse person because of this… The guys are really friends with everyone, we have a good relationship with our rivals, but there is a certain noticeable tension between us because of the qualification.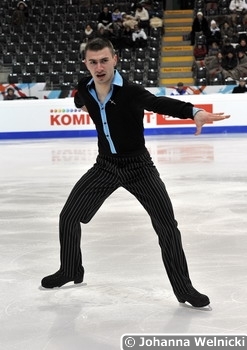 This season you've been practicing also in Nottingham, because your father, Gurgen Vardanjan, former coach of Júlia Sebestyén, is in charge of the rink there.
I was in Nottingham and also in Budapest, I was pending between the two places, but it was great. I had great conditions and cool practice-mates in Nottingham and also at home. I enjoyed it a lot. In Nottingham I practice with the British champion, David Richardson, who is coached by my father. David has just won his first Nationals, I'm so proud of him and I'm glad that I can practice with him. We are close friends, just like brothers.
How much time do you spend in Nottingham and how much in Budapest?
It depends on my time schedule at school, and my own things, my life… I try to visit my father as often as possible, because since June he is always in Nottingham. It's important to me to see him regularly.
Last year you were touring with Evgeni Plushenko with Kings on Ice. I saw the show in Bratislava and you earned a huge applause there.
It was my second year with the Kings on Ice, that is Plushenko and Edvin Marton. The atmosphere in the locker room and at common dinners is terrific. The whole show is immense, but I like the audience the most. For example in Bratislava the crowd was fantastic, they had such a great time, it was great to watch them to have fun. I was only sorry that the show took place in the smaller rink, not in the Ondrej Nepela Winter Stadium (which was under reconstruction at the time), because there could be even more people. Maybe this year, if we are invited, I'll gladly go there again.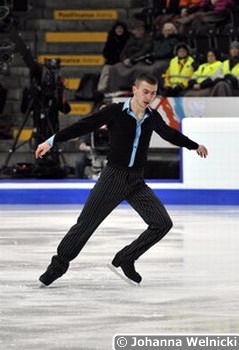 How did you get involved with Kings on Ice?
Ari Zakarian, the manager of Plushenko called my father, that there is a place for a skater in a show and that he thinks I'm quite a good performer, so I might join them for a show or two. And I said: why not? They probably liked me, because now I've been part of the show for two years.
How would you describe Evgeni Plushenko as a person? At competitions he seemed to be very reserved.
He is a really great guy, a cool person, you can talk with him about many things. All athletes, including me are a bit strange. Show me a great athlete, a great musician or any famous person who wouldn't be a little strange. This is such a life, it goes with kind of weirdness. I like Plushenko so much, just as all the other skaters who I toured with. All of them are so friendly, we do everything together.
Who invented that particular program in which you are taking off your skate while skating on one leg?
It was Ari Zakarian's idea. The program was called "Ode to the Skate" and I was talking with my skate and I was following it. We made the program together, and all at once Ari suggested: what if you took off your skate? I answered: it's a great idea, but let's take it off during skating. That's how this program was born.
Do you prefer the shows or the competition?
I'm more into show business, and not only because of skating. I'm also a DJ, I go to clubs and enjoy that world as well. I take the competitions as challenges and I'm also glad to see my friends there, but I prefer the shows. I like to skate for the audience, to perform something, I enjoy it much more than paying attention to points and judges. But I think there are no shows without competitions in a skater's life, so both are very important.