Viktoria Helgesson: "Why not try something new"
October 23, 2011
By Eva Maria Jangbro (EMJO)
Photo © Eva Maria Jangbro (EMJO)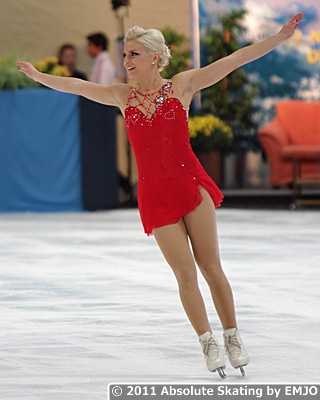 There have been whispers about a new Viktoria Helgesson, so when her name was on the entry list for the Nebelhorn Trophy I was planning on going to anyway, I was thrilled. Not only did I get the chance to see Viktoria's new programs, I also had a chat with her.
Let's start with the summer training; how was it and where did you go this time?
It was great. I feel well prepared for the season. We [Viktoria and her sister Joshi] went to both Colorado and Boston, but we have also spent lots of time at home in Sweden. Regina Jensen, our coach, had a camp so we went back and forth a lot, but that is ok since both me and Joshi get homesick, we like coming home.
You have new programs for this season and a new style, tell me about them!
Well, we thought why not try something new; a different style for me. My short program this season is a playful Tango and the free program music is from Sunset Boulevard. I portray a movie star with a fading career. In the middle of the program, where the music is more upbeat and happy, I relive all my nice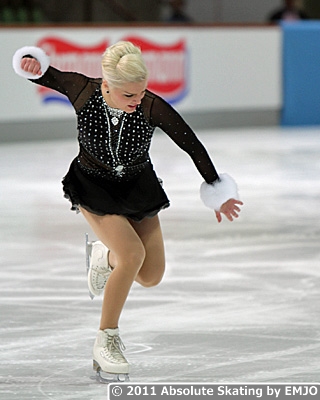 memories. But the guy who is going to write her/my story, and whom I/she is in love with and has an affair with, is being unfaithful. She feels betrayed and as a result she goes insane.
What else have you changed or added this season?
Well, I have the new programs and as you said, I have a new style and that is fun. It pushes me and that is good. I also changed the style of my costumes; they have looked the same for some years now soÂ…... Then I also added the triple toeloop combination. I didn't do it here in the long program, but I was going to in the short. It will happen eventually. I had so much on my mind and decided not to do it, not this time.

It was the first competition of the season and perhaps the programs are not at 100 % yet, but you got a lot of positive feedback. How did you think your performance went?
All in all it feels good, although I'm a bit disappointed with the short program. Nothing worked and it turned out very flat. The good part is that I knew what I did wrong and managed to change it in the free program.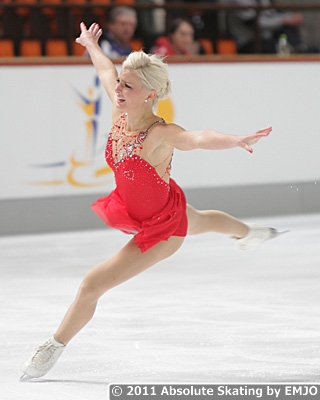 The free went ok, but many of the jumps were downgraded and I didn't get as many points as I thought I would. But it felt ok anyway and I could let it go. I wasn't as nervous as I was in the short.
But you usually bounce back in the free program if you have had a so so short!
I know, but the short has been really good at practice. Some old, bad thoughts came back, but luckily they were not there in the free. So it feels good looking ahead to the rest of the season.
What is your next competition?
Skate America. I got it since Laura Lepistö had to withdraw, and then I go to Paris, the Trophee Eric Bompard, I am so looking forward to it.
What are your goals for the season?
To have two clean programs! And with Europeans being the main competition, we have two spots for ladies there, I hope I can skate better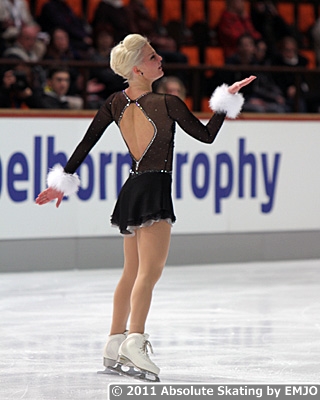 this time and perform two good programs. We only have one spot for Worlds, so there will be tryouts for that. Hopefully we will know before Europeans who will get to go to Worlds. It's usually fun to compete against Joshi [Viktoria's younger sister], but to fight over the Worlds spot feels kind of hard. We both want to go real badly, but you can only do your best. Luckily it is not up to us to decide who gets to go.
Well, first up is Skate America where both sisters will compete. I will keep an eye on these two and follow up with Vicky again throughout the season here on Absolute Skating. Hopefully by April, Viktoria will have achieved what she aims for: two clean programs, a better skate at Euros and to earn that one spot for Worlds.
Best of luck Viktoria, and lets see what this season brings!