Vikt├│ria Pavuk: "I dedicated all my life to skating"
 
March 6 , 2011
By Titanilla Bőd
Photos © Absolute Skating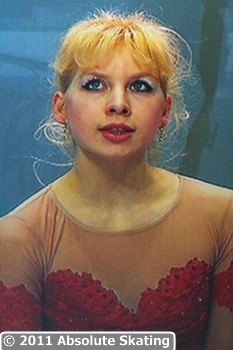 In 2004, she was fourth at Europeans. Seven years later, she placed 19 th. Still, Viktória Pavuk, of Hungary, was happy to be back in business again.
Last time you competed at a major competition was in 2007. How did it feel to skate at Europeans again?
I felt fantastic on the ice in my short program and I'm so happy that I did all the elements. I'm a bit disappointed about the score, but I expected it somehow. I hadn't competed internationally for a long time which affects the judges' opinions.
Were you nervous before you took the ice?
I was very nervous in the last few days before Europeans, but when I entered the ice, the biggest nerves disappeared.
You were so happy when you finished your short program.
I'm over the moon that I managed to come back like this.
Tell us something about the period while you weren't competing internationally. You had some injuries, but also some other troubles…
It wasn't really about the injury… I don't really want to discuss that part of my life, I'm glad that I'm over it and I'm at a big competition again.
What helped you to not give up even if you might have felt unnoticed?
It was tough. I was practicing all the time, I didn't miss any session; only when I was injured. I worked very hard all the time. I hoped that once my chance came again, I would be allowed to show my qualities.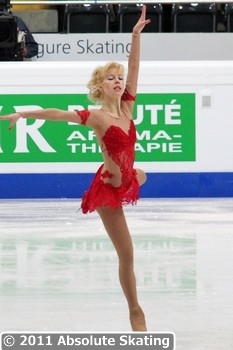 Your best result was fourth place at Europeans in Budapest in 2004. So many things have changed since then, but still, do you think you can get back to that level or close to that level again?
I'm not concentrating on placements. Unfortunately, during the last three years there were times when I was in a great shape, but I wasn't allowed to compete at major competitions… So I think I'm a little bit old now, but I hope I can improve. We will see after this season.
Why did you keep on going even in the years when you felt you were not given the chance you deserved?
I dedicated all my life to skating. Of course, I also studied—I earned a degree as a figure skating coach. I never went to parties; I repressed my private life because all my heart and soul lives for skating. I adore it. Sometimes I feel that I shouldn't invest so much energy into it because the disappointment would be smaller…
But the important thing is that you are now here again! How did you like the ice rink in Bern?
It's perfect! I don't care that it is cold. I like cold rinks because the ice is better.
What were your goals before Europeans?
I wanted to be in the top 15, but I think the judges are also influenced by the fact that I haven't been to Europeans for three years and also my scores at the smaller events this year weren't very high because I needed time to adapt to competitions again. I also think that I don't seem as self-confident as I should as a result of the lack of competitions.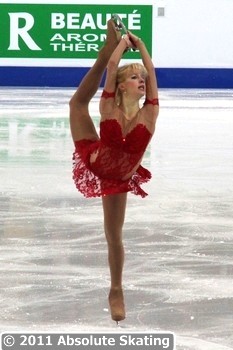 When you were fourth at Europeans, the old system was still in use. Was it hard for you to get used to the new judging system?
It was quite easy because I learned very good basics from my first coach, István Simon. I learned all the hard spins. They were even polished by Igor Tchiniaev, a Russian coach with whom I spent the summers. I also learned to skate with deep edges. There were summers when I spent four weeks with him and it helped me gain the skating skills.
Now you are coached by your sister. What is it like?
There were times when it was difficult, because it's hard to be coached by a family member, but now we live in different apartments, so we are not together day and night and that helps a lot.
How much do you train daily?
I spend two hours on the ice every day. Apart from that, I have additional sessions. Once a week I have ballet. I also go running often or practice with the jump rope.
Your short program is to the Umbrellas of Cherbourg soundtrack. Whose idea was it to use that music?
My choreographer, Igor Tchiniaev, chose it and I adore it. It matches my personality and I can become alive with the music.
What about your free program which is to Last of the Mohicans soundtrack?
We were on our way to a training camp and the driver, a father of another skater, put this CD into the player in the car. I immediately loved it and I wanted to skate to it. My Russian coach had talked about this music earlier, but a few years ago it would have been too serious for me. Now I'm mature enough to skate to it.