Anna Cappellini and Luca Lanotte: fresh and motivated
 
November 15, 2012
By Ia Remmel (Pia)
Photos © Ia Remmel (Pia)
Italian ice dancers Anna Cappellini and Luca Lanotte are going into the season with strength and motivation. They have undergone some changes in their coaching team this year and now train under Igor Shpilband alongside Paola Mezzadri. Anna and Luca finished second at the Finlandia Trophy and also had a close battle with Olympic Champions Tessa Virtue / Scott Moir at Skate Canada, where they won the silver medal. Their short dance this season is from "Seven Brides For Seven Brothers" and the free program music from Rodion Shchedrin's "Carmen Ballet Suite".
You have undergone a change in your coaching team this year. What was the reason for this change?
Anna: We had considered making the change many times already and it looked like a good moment to go through with it. We finally decided that it is time to invest in ourselves. We needed a genius like Igor to help us improve our technique and skating skills, so we went to America to train with him. He has coached World champions, Olympic champions – who is better than him, really!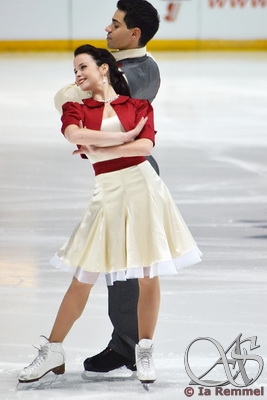 What did he think you needed to improve in your skating and what problems did he point out?
Luca: We work with him a lot on speed and on our relationship on the ice. By that I mean – how we look while skating, how we connect to each other, in addition to thinking about the elements and technique. Overall, we work on everything: interpretation, looking stronger, skating stronger, stronger edges. We are aiming to improve everything. I think this season's programs show that we have worked hard to improve. I hope that our programs develop even more and get even better during the year. I think there is still a lot of room for improvement. We feel that our programs are not 100 percent ready yet – maybe 70 percent – but it seems like the judges like them already, as the marks are good. We are very motivated and after this competition [Finlandia Trophy] we will go home, work hard and come back to the next competition even stronger.
Anna: This summer I was injured and during the preparations in July we decided to change our free dance. Then we took the decision to skate here in Finland early in the season, as we really wanted to do that. So we came to show our programs even though we were not fully prepared. At the competition, we saw that people like our work. So it dramatically improved and we are absolutely one hundred-percent positive now!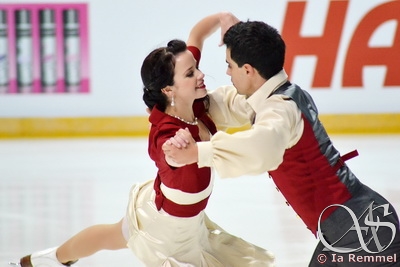 How do you like the polka choice for this year's short dance?
Anna: Well, it's very different from Latin, which was the choice last season. Latin was smoother and more cohesive. Polka is a very sharp dance but we have done it before, so we didn't need to work too much on technique. Still, it is a very tricky dance – partners need to be perfectly together or otherwise you might stumble over each other by accident. It is a dance where you must change directions quickly. You really need to be of one mind with your partner for the polka. The dance takes a lot of energy.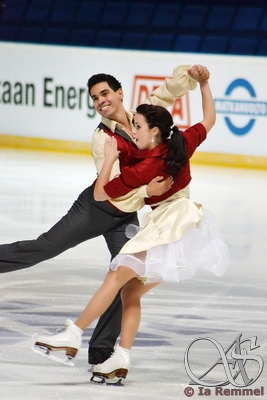 It does not seem to be a very comfortable dance…
Luca: That is because there are a lot of hand-hand positions, so it is difficult to hold it together perfectly. You also need to change positions very quickly. That is why it is not easy – it is more comfortable when you can hold a solid position for a long time into the pattern. And because it is so fast, you get more tired and it's easy to go wrong. This was our first competition of the year and it's hard to be perfect.
Anna (with a smile): At the end of the season you might find the polka more comfortable…
I think joyfulness is a good emotion to portray. When you are on the ice and nervous about the competition, it is great when you can portray a character that smiles. It's like you smile for other people but at the same you feel happier as well. You feel better if you can portray something happy as opposed to something dramatic.
Your "Carmen" free dance is a very bold choice. Carmen has been interpreted in many ways in terms of music and character. What is your Carmen like?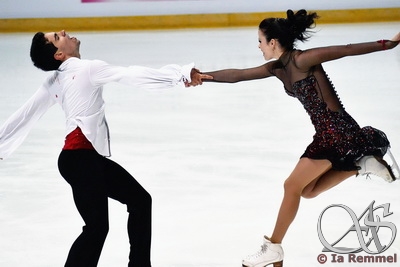 Anna: We wanted to tell the story of Carmen and José and not so much portray the toreador elements. I think we really embraced what "Carmen" was all about. I think it was a ground breaking and very modern ballet when it first came out with Maia Plissetskaya as Carmen. Her husband Shchedrin composed the music especially for his wife. When we first saw it in on a video, it was very inspirational and modern. We really felt the connection with Carmen thanks to the work of our choreographer Ludmila Vlasova. Her husband, the famous ballet dancer Alexander Godunov, has performed Carmen with Plissetskaya, so when we told her we wanted to change our free dance to "Carmen", she was over the moon.
Shchedrin 's version of Carmen is very sharp, there is danger and death in the air, it's like you can hear knives slashing in this music…
Luca: Our Carmen is a dive into the emotions of the story, but at the same time we wanted to show the crowd different kinds of emotions. When it starts we kind of gage each other and start to like each other. Then comes the "Habanera" and we go through the piece that we call "The Room". We call it "The Room" because in that part of the music they are in a room making love. Carmen falls in love with José but that changes. At the end of "The Room" I try to hug her but she does not want it any more. She tries to remove my hands and tells me it is over and that she likes another man. And then we reach the anger, the jealousy and in the end, the murder.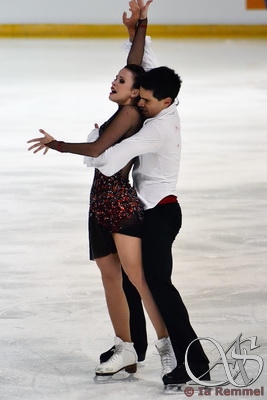 Our programs this year are demanding and we need to be in very good shape. We try as much as we can to have a good general image and have a performance where the emotions go up and down, up and down during the whole program so that at the end the crowd goes "ahhh"…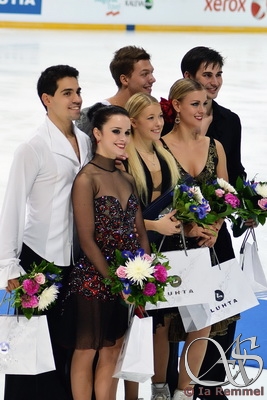 Speaking about what has influenced you, have you been inspired by champions of the past? Which of them do you look up to?
Anna: When we grew up in Italy, the champions were Barbara Fusar Poli / Maurizio Margaglio. They were the first Italians who really made it big and they were our big inspiration. They laid the foundation for everything. They were later followed by Federica Faiella / Massimo Scali and now we feel honored to continue. However, Barbara and Maurizio opened it for us and we want to be as good as they were.
Luca: We look up to many champions, Oksana Grischuk / Evgeni Platov for instance, who were the greatest champions in the past. But there have been amazing skaters who didn't win medals higher than maybe bronze at the European Championships but are very remarkable. We have been very inspired by the interesting Finnish couple Susanna Rahkamo / Petri Kokko. Last year we took inspiration from their "La Strada" from 1994. They were such amazing champions because of their ease on the ice and their hard work and humility. The gold-winning athletes aren't the only champions. Those who come back after big achievements and keep their focus and continue working hard, are also champions.