Ondrej Hotarek: "Pairs' elements are much more suitable for me"
March 22, 2012
By Titanilla Bőd
Photo © Absolute Skating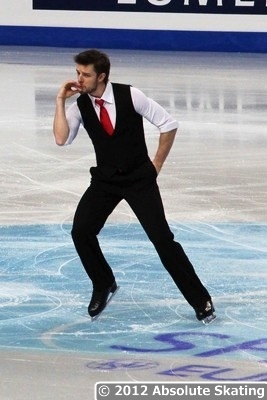 He started as a singles skater in Czech Republic. Now he is a pair skater, representing Italy. He often celebrates his birthday during Europeans but he is already used to it. We talked with Ondrej Hotarek, who placed 4th with his partner Stefania Berton at the European championships in Sheffield.

How satisfied are you with your performances and result at the Europeans?
I am satisfied. I think we did what we were capable of. Unfortunately our preparation wasn't as we planned. At first my partner had the flu and then I had some problems with a muscle. We tried to fix it as soon as possible, but it influenced us a lot, we couldn't do as much run-throughs as we wanted. So I consider our 4th place a success. We stepped one placement higher compared to last year, which is historically the best result in pairs for Italy. We have to wait some more time for the medal, but I think we can be satisfied.

Two medal contenders had to withdraw before the competition. Considering the absence of Kavaguti/Smirnov and Savchenko/Szolkowy did you think that you might have a chance for a medal?
We competed against the third Russian pair, Stolbova/Klimov already at the Cup of Russia and we beat them there. But that time they weren't really in a good shape. So now we switched places. We won the bronze in Moscow, while they won the bronze here in Sheffield. It was obvious that they are perfectly prepared; they didn't make any mistakes, neither in the short program, nor in the free skate. We are not angry that we finished off the podium. We were not prepared for that medal yet.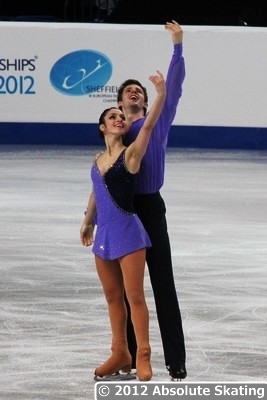 Maybe you take it step by step: last year 5th, this year 4th, so next year maybe 3rd place.
That's exactly what we are working for. It's important to skate clean at the right moment. It's always sad if you are prepared, you are in a good shape but you can't deliver your best performance. Now here we really didn't expect much, but we managed to skate well, even though with teeth clenched. We couldn't do any better.

The short program was scheduled on your birthday. What's it like?
I'm quite used to it. Last year I had my birthday the day before the short program, so it was a little bit better then. It is a bit distracting, because you are all at once in the focus; many people are coming to congratulate you. But it didn't affect my skating. My problem in the short program was that I wasn't 100% focused on my job and that's why there was a mistake at the end of the program. My concentration lasted only for six elements instead of seven. It's a pity, but the program is 2 minutes 50 seconds long, not 2 minutes 30 seconds. But it happens.

Tell me the story of your current programs. In the short program you skate to Harlem Nocturne and in the free program to Adagio.
We wanted to have a lively short program, which would be entertaining for us and for the audience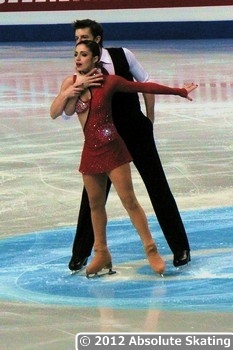 and the judges. We think that we can bring something new to pairs skating and for sure it won't be the highest triple twist, because competing with Tatiana and Maxim eliminates any chances for any best element. Technically they are really much high above the other pairs. So we try to give something different, to skate with heart so that people will remember us. Not because we are technically the best, but because we skate with our hearts. We wanted to enjoy our short program, so it had to be playful and fun. On the other hand, we wanted to have a more emotional free skate. It was our coach who wanted us to skate to Adagio. At the beginning we weren't so sure about this, but later we realized that it fits us well, and that we like it a lot. Now we have two very different programs and this is also our goal: not to have two similar programs. We are already thinking about next year programs, although we still have Worlds ahead of us. Our new programs have to be different from the ones we have now and of course they have to be two different genres again. So it will be a hard task!

How do you decide what kind of a music will you skate to?
Stefania's father helps us a lot; he is a music fanatic and has ten thousand original CDs. He is the one who cuts our music for the programs, so we always have a perfectly prepared music piece. Then we are building the program for that music - we never try to change the music according to how we want to have the elements in the program. If there is not enough time in the music or an element doesn't fit it, we will change the order of elements, because we want the program to fit the music. Not the opposite way: create music that would fit our program. I think this way we are also learning and improving a lot. We always wanted to have two new programs for each season, because otherwise it seemed to us that our evolution wouldn't be as fast as we need it.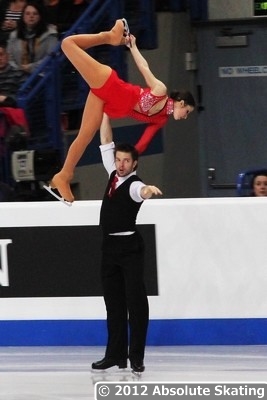 You and your partner both skated in singles. Why did you decided to switch to pairs and how is it different?
My partner was more successful as a singles skater than I was; she was 10th at the Junior Worlds, she qualified for the Junior Grand Prix Final. I skated at some junior Grand Prix and a few international competitions, but for me it was always a problem to do eight jump elements. At pairs the elements are much more suitable for me. So for me it was a clear choice. As for my partner, I guess it was a bit of surprise also for her, how quickly she adapted to the special pair elements, the lifts, which she was a little bit afraid of. But she managed to overcome it very well. And what is very important, she is really talented at throw jumps. After three months of skating together we were already practicing two triple throw jumps, and in our first season we didn't fail any throw jump in all our competitions! It's all because of her hidden talent which we hadn't known about earlier.

You represented Czech Republic until 2005. What is the difference between skating in Czech Republic and Italy?
Figure skating is more popular in Italy. There are more diehard fans. Many people go to public skating sessions. There are even older people who try to learn to skate. There is a much bigger basis for the sport, and the support of the federation works quite well.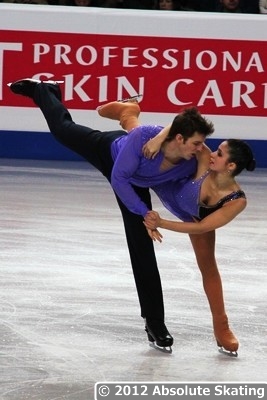 I can't compare it with the Czech Republic because I've never skated at such a high level there, but I think that they also support their skaters as much as they can. I can't say that one federation is better and the second one is worse. People are definitely more interested in skating in Italy, there are bigger crowds at a show or a competition. That's the main difference. I also think that in Italy they reward their coaches better, which means there are better coaches and better competitors. It's also about the money.

What are your goals for the World championships?
We'd like to show once again two unique programs and we want to show that we've improved technically. We want to have a clean triple twist, two triple side by side jumps, two triple throws, and the highest level for all elements. As for the placement, we'd like to make it to the penultimate group. That means from 5th to 8th place - this would be our best possible result at Worlds. Let's hope we will succeed.