Elena Ilinykh and Nikita Katsalapov: "We were just happy to compete and to have a kind of a battle with these guys."
 
March 9, 2012
By Eva Maria Jangbro (EMJO)
Photo © Eva Maria Jangbro (EMJO)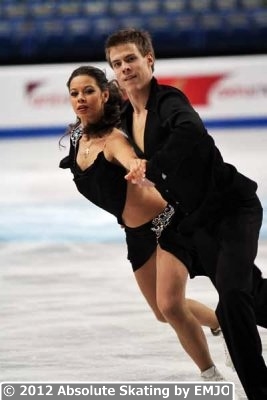 At last year's Europeans in Bern, Russian ice dancers Elena Ilinykh and Nikita Katsalapov made a very successful entrance into senior skating. They reached an impressive fourth place and later a 7th place at Worlds. Their free dance to Don Quixote and Elena wearing a stunning tutu made at Bolshoi, thrilled the audience and is remembered by many. Their debut performance was of such high standard; expectations are now running high on this young, promising couple. In Sheffield they did not disappoint; they ended up on the podium getting bronze, in their second European Championships. Not bad and quite an achievement for a 17 and 20 year old, especially in a discipline known to prefer handing over medals to well established teams
Let's talk about Europeans; that was a great performance in the free program!
Nikita: YesÂ… but just in the freeÂ…
Elena: No really, not just in the free. I think we did a good job in the short dance too; maybe not as good as we can, but not as bad as 7th place. I think it was not the worst run through; it was the best so far for us in competition.
Congratulations to 3rd place! What was your goal?
Nikita: Our goal, well, we had been practicing hard and we were just happy to compete and to have a kind of a battle with these guys.
Elena: But we wanted to be on the podium for sure.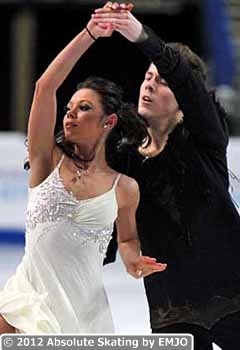 You moved the audience with your stunning, emotional free program Ave Maria. How did you choose that music?
Nikita: We chose it together and it took like 5 minutes. Nikolai (Morozov) had a lot of CDs in the car and after practice we listened to all the songs. Then we said "stop! Play that again!" and you know in such a little car, it was a very strong feeling, we got goose bumps listening to it. We liked it so much and tried it on the ice later and said "let's use it!"
You recently changed coaches from Alexander Zhulin to Nikolai Morozov; how do they differ as coaches?
Nikita: Everything is different, the technique and style, but then coaches, not all, but most coaches have different techniques.
Elena: Like in the twizzles, foot work etc.
Nikita: Nikolai's idea is that everything you do on the ice, every step, has to feel comfortable.
Is it true that Nikolai is on the ice, skating with both of you at practice?
Nikita: Yes, that is what I meant. He wants us to feel comfortable skating.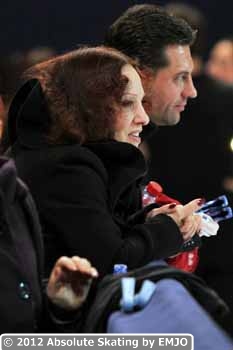 Elena: It is important that we understand each other, how it feels to skate, that I don't say it was Nikita's mistake etc. He can tell by skating with us, correct us both, and tell us what we are doing wrong so we don't blame each other.
Well, Nikita, you were called the Twizzle King on Swedish TV, so Nikolai has done a good job!
Nikita: Oh thank you, cool to be called that (laughs)!
What does a day look like for you?
Nikita: Our daily practiceÂ… we are on the ice twice a day in Moscow, then it is off-ice. We have a lot of off-ice training.
Elena: Like dancing, doing lifts, rhumba on the floor, some running, all with Nikolai or other specialists.
The Russians have hopes for you at the Olympics in Sochi, as possible medalist, even gold are on peoples' minds.
Elena: We don't think about it. There are so many people talking. If we do something good, they start talking like, "oh, they are the best couple in Russia, they can win Olympic gold". Then if we make a mistake, do something wrong, they say we look like shit, we are no good. People are like high or low, but we only listen to our coach and our technical specialists; the people that help us.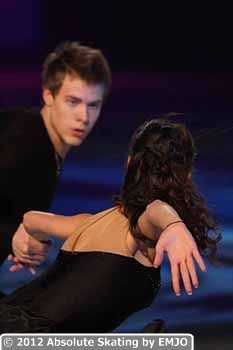 You have been skating together for a while now, but had a break. What was good about that?
Elena: I learned I can't skate without Nikita; that was the only good thing.
Nikita: Then, when we started skating again, it was good from the first practice!
What was it like to train in the US?
Nikita: We want to live there. New York is so cool; we go straight there when we are in America and when we have the time.
Elena: Nikita found a small shop when we were walking around, a designer shop that was open for just 3 hours. We brought Florent (Amodio) there, he is so stylish and he liked it too and it is less expensive than home, so we bought a lot of stuff. Everything was so good and comfortable to stay in the USA, and different talking, we could relax our heads.
Relax your heads?
Nikita: You know, sometimes we are tired of the Russian way of talking and Americans have different lives and different ways to talk
Do you spend time together with the other skaters or mostly with Russians?
Nikita: We have a great team spirit, kind of international with both Russian and international skaters. We have so much fun together and we cheer for each other at competitions.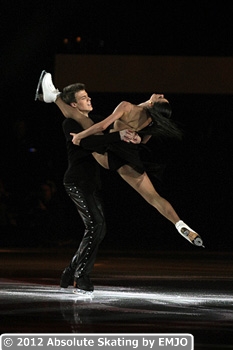 Tell me about the Art on Ice show?
Nikita: We were so excited about it, to skate with our friends, almost all the guys and in this great atmosphere. It felt so good, every morning I woke up and felt so good!
Elena: And there were so many people, a full arena! At practice, our coach Nikolai said: "you will be nervous!" When I saw the audience at the opening, before taking the ice, it was more nerve wrecking than at Worlds! I was nervous but excited.
Nikita: No, she was not nervous! See (pointing at Elena), she is smiling and joking! But the crazy thing is that the show was sold out, and it was the third day. It was full every day - how could that be?
Elena: Yes, every day, where did all the people come from? How do they get so many people to come and see this show?
I heard many get tickets to this spectacular show as Christmas presents.
Nikita: Oh, cool!
Elena: They, the Swiss, are happy and clapping so much!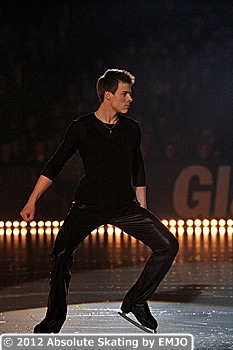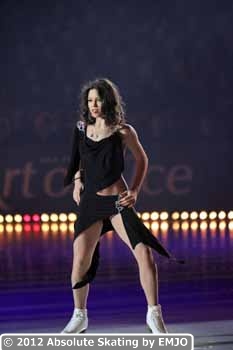 And there was live music, had you skated to that before?
Elena: No never, it was cool, so much energy from the singers and the band. They were playing and singing and we were skating. It was team work, we were all together and it was the nicest and greatest connection. It is also so different from skating to a CD. On the CD our song was good, but kind of boring. But after we started practicing it to live music, it was just amazing. It was a crazy feeling, so much energy when we were all together: band, singer and skaters.
When you have some free time, what do you do?
Nikita: This is the second season without a vacation.
Elena: We don't really have lot of free time; we go to a club, to the cinema or just talk to friends.
Nikita: I think we are less together with friends and more with parents because they want to see us if we have some free time, since we see them so little.
Elena: In Russia we live kind of in a hotelÂ… practicing and living in the same place so we do not live at home.
Nikita: It is a sporting camp.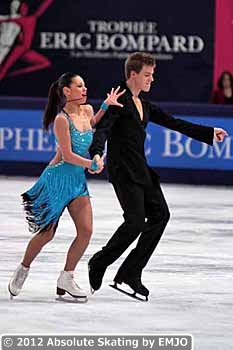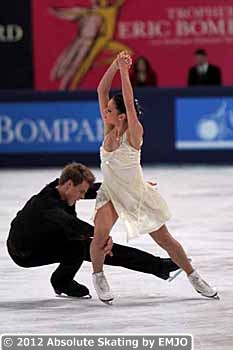 <
What is next for you?
Nikita: I was talking with our head coach and she said we have a lot of work to do before Worlds. We have a new specialist and our coach said we have no time to rest. We will be perfect at Worlds, we have to, it is the last competition for the season; it is very serious for us. We compete against such amazing couples as Tessa and Scott (Virtue/ Moir) and Meryl and Charlie (Davis/ White).
What do you think about them?
Nikita: Scott is the best partner, really, I think he is amazing. When I look at him skating, I think I want to skate like he does.
Well, I don't, I think you should continue skating the way you do, just being you! And I am looking forward to seeing you both and your progress in many years to come; in shows and competitions. I wish you the very best and hope you reach the goals you have set for yourself. First out is Worlds in Nice; let's see what that bringsÂ…