Juulia Turkkila: "I think I am ready"
 
January 4, 2013
By Lena Halonen
Photos © Eva Maria Jangbro (EMJO)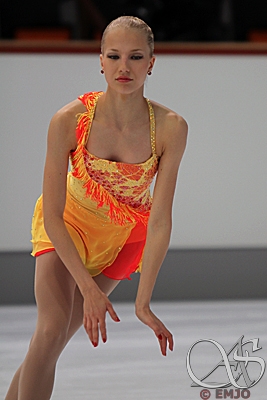 Juulia is a 18-year old from Helsinki, Finland, and has competed in both junior and senior competitions the last two seasons. In 2012 she placed 17th at the European championships, 18th at the World championships and 19th at the Junior World championships. One of her goals was to make the team for the European championships in Zagreb, Croatia in January. Half of december at the Finnish National Championships she grabbed the silver medal. With this she already accomplished her first goal for this season.
At the Nebelhorn Trophy in Germany (9th place) she was anxious to show her new short program, which has a new style for her. As the season moves on she aims to add more jumps to her long program.
The Nebelhorn Trophy was the first competition of the season, how did it feel?
Good, because I think I am ready. And I want to show my new short program. I feel confident and I have been practicing the whole summer, skating a lot. So now it is time to show everything.
Did you train in Finland the whole time or did you go to any other country?
Most of the time I have been in Finland, but at the beginning of the summer I was at a summer camp in Tallinn, Estonia.
Have you focused on something special while training for the new season, like jumps or technique or artistry?
I think I have practiced everything, but towards the end of the summer mostly jumps. I have worked on all of the different jumps.
Let's talk a little about last season. You competed in both senior and junior competitions just like in the season before that. What was that like?
I competed in the Junior Grand Prix and as a senior in the championships (Europeans, Worlds, Nordics where she won). The short and long programs differ in junior and senior competitions, but the music is the same. I have a short program with different jumps because in juniors we had the Lutz last year as the solo jump. And I don't do the triple Lutz so for seniors I changed the solo jump to a Salchow. I had to practice both programs at the same time. Now that I only have one program to practice it feels "quite easy". So I think it was difficult to do both. But I had the junior competitions at the beginning of the season, then I changed to seniors and had only a short time to get used to the senior programs.
You turned 18 on November 3. Are you planning on doing both junior and senior competitions this season as well?
I do not know yet. Now I'm thinking just seniors until Nationals. But if there's a way to get to Junior Worlds I could go there, it depends on my points. The highest points at Nationals decide who gets to go. Finland has one spot for juniors and on for seniors. This year I did both but next year I will only skate in one of them.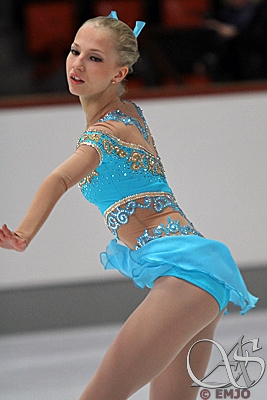 But Europeans…
Yes, at least my goal is to go there.
Last year both you and Kiira Korpi represented Finland. This year at World you were "the favorite" of the two competitors from Finland. Did you feel any different?
I did not feel any pressure since Kiira said she was not going such short time before the competition. Last year I really wanted to skate my best and show everything I can do since it was my first Europeans. This year it was different but at the same time it was quite the same.
You said earlier you have a new short program, but the long program (Sheherazade) is the same. Have you changed anything from last season in the long program?
Yes, it is different now. I changed the order of the elements and I have different jumps and spirals. And the end of the program is different.
Do tell us a little about the short program…
The music is Firebird. It is a more powerful and I like it; I want to develop that side. I want to do something different, and this is also a ballet and I tell a story when I skate. Last year my short program had no theme, but I like the idea of a theme.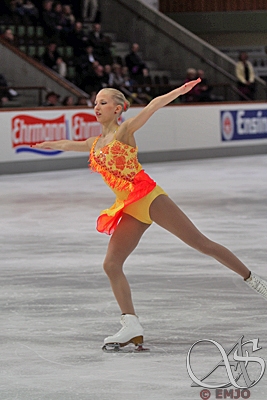 Speaking of theme, there is also the make-up, the costume, the hair style… how much are you involved in?
My choreographer Olga (a girl in our club) chose the music. I did not say "I want to skate to this" but they asked me what I thought without anyone saying "you have to skate to this". The dresses were made in Finland and we (me and my coach) decide what we like.
How much do you practice in a week?
Normally, I have two hours of ice training six times a week. I have off-ice sessions every day: jumps and quickness (shows small exercises with her feet), light weight lifting, and two ballet classes a week.
You are in high school, are you studying full time?'
Normally high school is three years, but I will do it in four. I have four or five courses (the norm is six) but I can take more or fewer courses if I need to. I will finish my studies in 2014.
Do you have any free time and what do you do then?
Just chilling (laughs). I like to go to the movies, I like comedies and dramas. The last movie I saw was Madagascar 3, it was funny.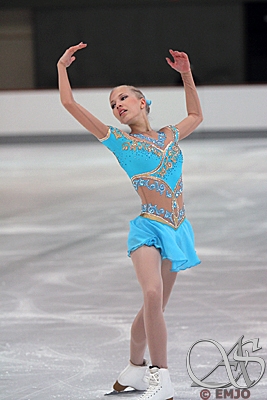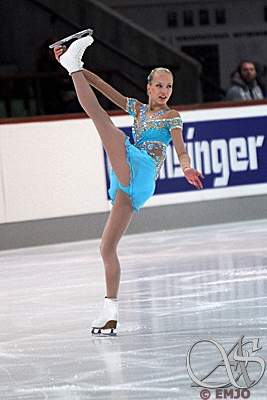 What are your goals for this season? Your coach, Tarja Sipilä, told me you already have the points needed to go to Europeans, but are missing some to go to Worlds.
My main goal is to go to Europeans and to develop my technical skills in the free program. I have been doing the triple toe loop and Salchow, but I want to do more. So I think if I manage this the points will be higher. Now I have the triple flip and as the season goes on there will be room for the triple loop as well.
With her main goal for the season already accomplished, we wish Juulia the same amount of success for her remaining goals and look forward to seeing her skate in Zagreb in about 3 weeks time!