Kim Lucine: "Maybe one day this move gets my name"
 
May 9, 2012
By Titanilla Bőd
Photos © Absolute Skating, Johanna Welnicki - JOLUSKATING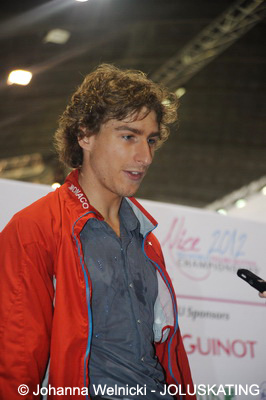 Representing Monaco, Nice was almost home soil for Kim Lucine, who also had a royal supporter at the World Championships: Albert II, Prince of Monaco. And the Prince probably enjoyed Kim's entertaining long program to the Jungle Book in the preliminary, a program spiced up with funny gestures and his trademark move. In the short program, Kim fulfilled another goal and qualified for the free skating. We talked in the mixed zone, just after it became clear that he made the top 24.
What is it like for you to skate in Nice, almost at home?
I am a lot more relaxed now. It was a lot of pressure to skate here, especially since the Prince came to see me in the preliminary round. I skated well; I qualified for the short program, which was already good for me. In the short program there was less pressure, because I just wanted to enjoy my skating and to do my best. I did my job and got a new season's best, so it's a very good score. I qualified for the free program, so there I'll just have to enjoy my skating.
Did you also talk with Prince Albert II?
Yes, after the preliminary round we had some time to talk with the Prince and the Princess. He said congratulations to me. This was the first time he saw me and I think he was happy. I am very happy that he came to support me.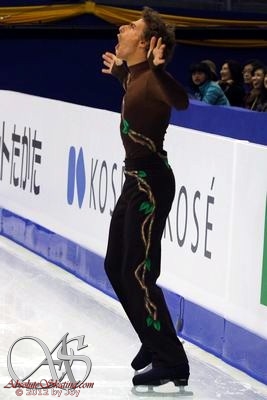 What does it mean to you to represent Monaco?
It's a great honor. Actually it was a great opportunity for me. I broke my knee two or three years ago after the Junior World Championships, when I still represented France. The Federation of Monaco offered me a great opportunity after my recovery and I'm very thankful for this.
How did you get this opportunity?
The first skater who represented Monaco [Mérovée Ephrem] was practicing in Annecy with me as my father was her coach as well. And when she quit because she was injured, the federation proposed me to represent them. It was the perfect timing for me, because it happened right after I stopped skating for France because I had broken my knee. It was a great idea for everybody.
How hard was it to recover from the injury?
It took a long time. I had to undergo surgery and for a long time I couldn't even walk. But now I feel a lot better and I'm back on the ice.
You are coached by your parents. What is it like?
It's not always easy, but I'm used to it, because they've been coaching me for a lot of years. They know me much better than a normal coach would, so everything is fine.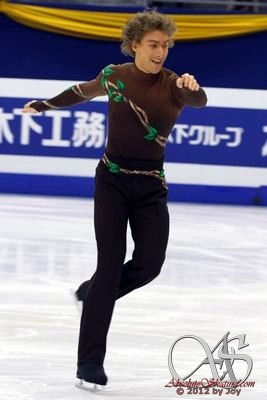 What do you want to improve in your skating?
I wanted to do clean programs this year, that's why I didn't add the triple Axel at Europeans or Worlds. But I have to work on this, because next year I'm going to have to have it anyway. I'll do my best.
Does it already work at practice?
Yes, but it is not secure enough to put in the program and take such a big risk in the short program, when I need to qualify.
What about the quad?
I have tried it a few times, but most of the time I injure my ankle or knee when I try it, so I don't work on it very often. I focus more on the triple Axel, because right now it is more important to me.
You have a trademark sort of hydro blading move, when you are lying over the ice, with your leg in a strange position. How did you invent it?
I would be happy if this move was named after me! It's not so easy, and right now I'm the only one who does that, so I'm very proud of it. I hope it stays like this and maybe one day this move gets my name!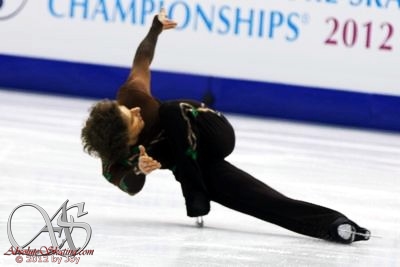 But how did you come up with the idea to do such a move?
I was very young, so I don't remember. I've been doing this since I was a child.
Do you already know something about your programs for the next season?
Not yet. I have to talk to my choreographer and coaches.
Your free program this year, Jungle Book, is very entertaining. Whose idea was it to skate to it?
I like to skate to comedy; it's much more my style than jazz, which I have in my short program. We talked a lot about comedy with my choreographer and we both said we used to love the Jungle Book movie when we were kids, so we decided to try it. It was a good idea, because it works well.
It is entertaining for the crowd, is it entertaining for you as well?
Yes, I enjoy it a lot. I love seeing people laugh when they watch me, so it's a pleasure to make them laugh.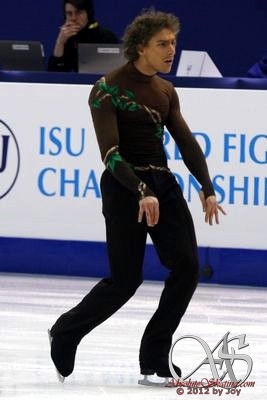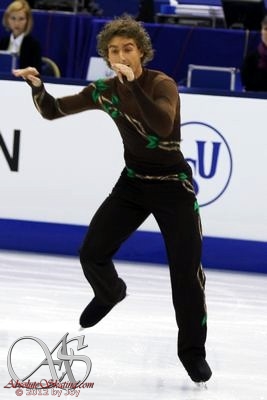 Do you feel more like an entertainer or a competitor?
A competitor! I try to entertain the audience, but first of all I'm a competitor.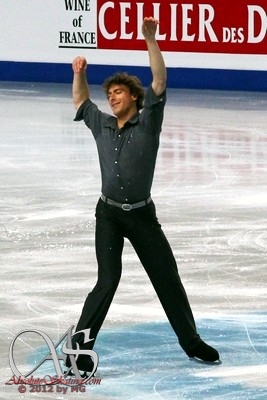 What are your goals for the future?
I want to go Europeans and Worlds, and improve my rank in the next season. And of course, like all the skaters, I want to go to the Olympic Games once. I'll have to qualify and it'll depend on a lot of things, but I will work towards that.
Are there any skaters you look up to?
There are a lot of skaters I love to watch, I have a lot of role models. Kurt Browning is one of the best skaters in the world. Also now there are a lot of amazing skaters who skate in different styles. Florent Amodio is a great skater, Patrick Chan is an amazing jumper.
In the free skating Kim earned only a bit less points than in the preliminary round (122,58 in the preliminaries, 121,44 in the free skating) and was ranked overall 23th, just as a year ago in Moscow. We keep fingers crossed for him so that he delivers flawless performances in the next competitions, so he can place even higher next season.