Max Lindholm and Olesia Karmi: "We feel that now it is more our program and our costumes."
 
February 7, 2012
By Lena Halonen
Photos © Eva Maria Jangbro (EMJO), Lena Halonen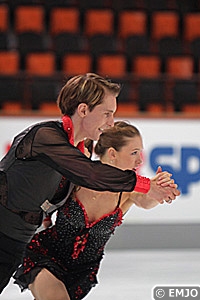 Olesia Karmi and Max Lindholm are Finish ice dancers constantly engaged in a battle with Ossi Kanervo and Henna Lindholm for the top spot in ice dance in Finland. This weekend they will meet again at the Nordic Championships in Vantaa, Finland. This team is still unknown to many, so I had a talk with them about the past, the present and the future.
At what age did you start skating and when did you begin with ice dance?
Olesia: I started when I was 6 years old with single skating, and then dance at the age of 14. I skated with another partner before I teamed up with Max.
Max: I started skating singles when I was 4 and I did that until I was 10. Then I quit skating totally for one year and played baseball instead. I still wanted to skate but the jumps where not coming, so I did synchro skating for 4 years. And because the rules excluded the boys from synchro and I still wanted to skate, my coach told me that "if I where you I would not quit skating". Then the only possibility was to start in ice dance. At first I thought I would just try it since it was the third time I changed sports. But then I realized that this is what I want to do. With my first partner things did not go so well, but then I saw that she was free (looking at Olesia). And here we are three years later!
Did you have the same coach as Ossi and Henna before Maurizio?
Max: The first year we stayed in Finland with the same coach as Henna and Ossi, yes (Sergei Astahev).
Olesia: And the second year we started going abroad. We had other coaches in Russia and we went there a couple of weeks for small workshops with Alexander Zhulin and others.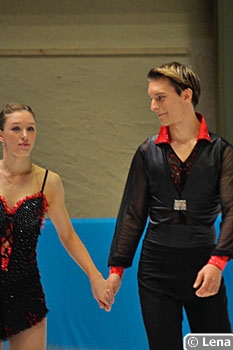 Have the way you work/train changed with you new coach?
Max: I think everything has changed. Maurizio's idea is to create a team, and we are working together. We have also moved up to seniors now.
Olesia: The Nebelhorn Trophy was our first senior competition.
Is there a difference between junior and senior competitions?
Olesia: Yes, they are a little like two different worlds.
Max: The level of demand is much higher than what we used to have in juniors. When coming to the Nebelhorn Trophy it was like "okay, thank you very much" (smiles). We figured it would be harder, but not this much harder, it was a bit of a surprise.
But it must be a good experience?
Max: Yes, it was very positive to get feedback. It was the first competition of the year for both of us, and we think that the changes and improvements we have made with Maurizio were showing. We heard positive comments about the programs and the Finnish federation was happy.
How much are you both involved in the development of the program, choosing music, costumes, etc.?
Max: This season our coach gave us the responsibility to choose the music and the costumes.
Olesia: We have quite a bit of say. I made the sketches for the costumes and put it all together with our designer Bianca Neva. I like designing very much.
Max: We discussed the music together, but the cutting and editing of the music was my part. We used a company to master and finalize it. Last year we were given the music so this was new to us.
Olesia and Max: We feel that now it is more our program and our costumes.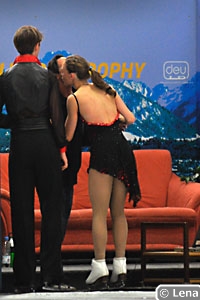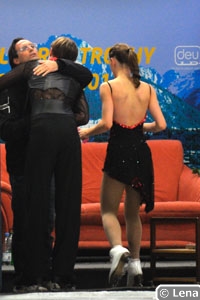 Could you tell me a little about what a day looks like?
Max and Olesia: Our practices are mostly in the morning. We start around 9 am and end around 2 pm, depending on if we have ice or off-ice training. On ice is 4 to 5 hours, five days a week. We train together with Ossi and Henna on the ice, but off-ice we do separate things, like ballet and ballroom dancing. Our short dance is a combination of Cha Cha, Rumba and Samba, and we practice ballroom dancing to get the feeling, and check out how the dance should look. On the ice the movements are different but the feeling should be the same.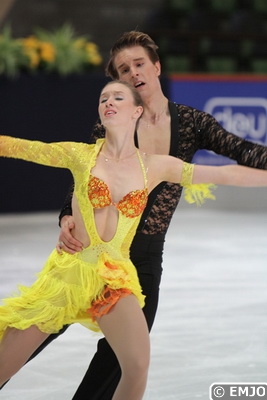 What do you do when you're not practicing?
Olesia: I attend a sports high school. I have time to go to practice, and then study by myself at home or at the school. I have 1,5 years left. We have exams in the fall and in the spring, so we can graduate either at Christmas or in the summer. There are 75 courses you must complete before you can take the final exams.
Max: I have already finished school and teach skating at the club, which I enjoy very much. I am also studying finance and accounting at the Open University. It is what my mother used do and she has been working from home a lot, so I have watched it since I was 5 years old.
What else do you like to do in your spare time?
Max: Since we are a couple off-ice too, we go out, go to movies, hang out with friends…
Olesia: I have a little sister and little brother, and Max has a little sister as well, so we spend time with them and the rest of our families.