Misha Ge - skating with a passion
 
April 15, 2012
By Titanilla Bőd
Photos © Absolute Skating, Johanna Welnicki - JOLUSKATING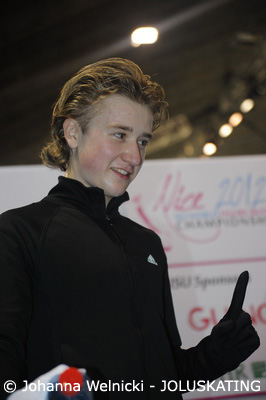 It was his footwork in the preliminary round of the World Championships that caught my attention. Despite his baby-face, he skated as a passionate fighter. In the short program he showed another face: portraying the dying swan. When he finished, I caught up with Misha Ge, the new hope of figure skating in Uzbekistan, in the mixed zone.
What is it like to skate in Nice at the World Championships?
First of all, I love the audience. I want to thank them for their support. I really love Nice; I was here also for the Coupe de Nice and everything is very comfortable, the hotel is close to the arena, I like to compete here. This is my second World Championships. After the qualification we had a problem with my back, I almost couldn't practice at all. I had an injury a couple of months ago, but after the qualification it got really bad. We've been talking to doctors; I received therapy and massage, lots of treatments. I even got an injection with painkiller, but it still didn't help. Today I had a very difficult practice, but I tried to concentrate on the competition. I'm very happy about what I did in the short program, because it was very difficult for me. I was in a lot of pain, but I got through it, and I got my personal best in the short program.
Are you the kind of competitor who goes through pain, no matter what?
Yeah. It was a lot of pain, but we overcame it. We did our best and I'm happy about that.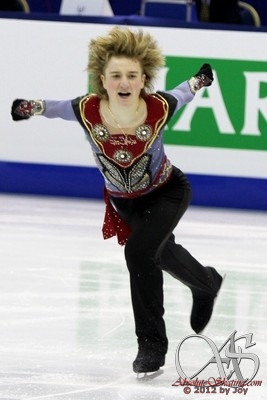 You have two different programs, a lyrical short program to The Swan of Camille Saint-Saens and a passionate long program to the soundtrack of War and Love. How did you choose the music?
The music is always chosen by my team. We have a big team, my mother and my father are my coaches, and the big coach is Mr. Frank Carroll. My choreographer is Larisa Ge, but there are other people too, for example for ballet (Lukash Abrahamyan), and also people from the Federation of Uzbekistan are part of my team. It was a long process to choose the music, and we tried to have the two programs very different from each other. The short program is a classic ballet about a dying swan. The long is in a style of war and love, passion, drama; it's near Gladiator-style. We chose them together, but my mum was the one who put the programs together, because she is a coach and a choreographer.
Which program do you like more?
I like them both, because they are very different. One is a beautiful drama of a swan, and the other one is a strong, passionate fight in the war. Both are great.
I very much enjoyed your footwork sequence in the free program.
Even if I have to skate through pain, I try to do it with passion for the audience and for the judges to show what I feel during my program.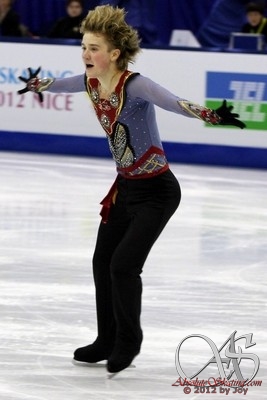 Frank Carroll seems very strict. What kind of a coach is he?
He is great and I'm grateful that I can work with him, because he has so much experience. He has taught many world and Olympic champions.
Are there any skaters you look up to?
At this competition my favourite would be Daisuke Takahashi. I think he is a great performer. I always look forward to his performances; he has everything and I support him very much.
Do you have any favourite elements?
I love everything. All about skating.
What are your plans for the future?
Let's finish these World Championships, and then I will think about the future. There are a lot of ideas for next year, but we are still in the phase of deciding.
How did you become a figure skater, by the way?
My mother and father used to be figure skaters, now they are coaches. When I was little, my mum and dad brought me to the ice rink, that's how I started.
In your ISU biography it says that you lived in China for a while.
I'm partly Russian, Chinese and Korean; I have mixed blood. My father is partly Chinese, so we used to live in China. Before that we lived in Russia, and now we are in the U. S. We are all over the place.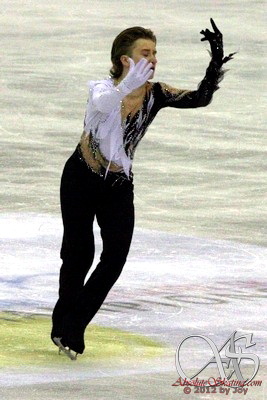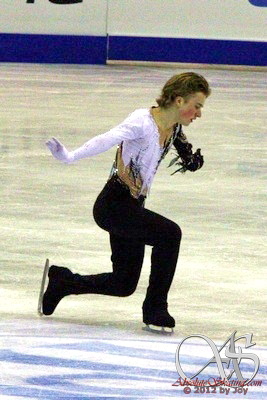 Which place do you like the best?
There are a lot of differences between Asia, Europe and America, but I can adapt very fast. I'm fluent in Chinese, Russian and English, I love all the places. But I like Asia very much, so I would say my favourite countries are Japan, Korea, China and Taiwan.
Despite his injury, Misha Ge skated well in the free program too, and finished 19th in his second World Championships. Figure skating fans already look forward to his passionate performances next season – I know I do!