Monika Simančíková: "Without the jumps I would probably be bored"
 
April 9, 2012
By Titanilla Bőd
Photos © Absolute Skating, Eva Maria Jangbro (EMJO)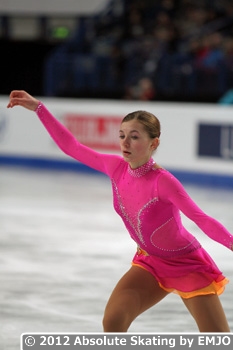 She is only 16, but she made an impressive international debut at the European Championships in Sheffield. Monika Simančíková of Slovakia placed 14th in the ladies competition. We followed this new hope of the Slovak figure skating throughout the whole week.
Preliminary round
Monika started off in style; she was third in the preliminary round and easily qualified for the short program. Skating to Granada by Augustin Lara, she landed five triples in her program and earned 91.99 points. Meeting her in the mixed zone she was happy about her result, and she also talked about her training regime, favorite elements and relationship to the sport.
How did it feel out there on the ice?
Superb! It was incredibly warm and I was afraid that it would affect me, but it was fantastic to skate.
Were you nervous?
No, I wasn't, because my only goal was to qualify for the short program. I was convinced that if I do everything I can do at practice, I would make it.
But when you finished your great program, you didn't have a smile on your face.
I was very tired. I was just happy that I could stand on my feet.
How does it feel to be at a major competition?
It's an honor to be here and I will try to represent Slovakia as well as I can.
How did you get started in skating?
My sister skated, so it went naturally. I've been skating since I was five.
What are your goals and dreams for the future?
When I was very young, I didn't realize what it means to go to competitions. Now my main goal is to get experience from big events, and we will see if I can make it to the top.
You won a bronze medal at the European Youth Olympic Festival. Was it your biggest success so far?
There was a great atmosphere there, I felt really good. I didn't dare hope that I could get a medal; being fourth after the short program was already a surprise. And then… I still don't really know how I ended up on the podium!
What kind of competitor are you?
I'm always stressed. On the day of the competition I don't like to talk to anyone. I'm very nervous, but once I'm on the ice that goes away.
Tell us something about your training regime.
I mainly practice in Nové Mesto nad Váhom and also a little bit in my home town Piešťany. But there is not much ice time, so I'm there only during the school semester, if possible. Every day in the afternoon we go to Nové Mesto. Before Europeans I went to a training camp in Oberstdorf, where I trained with Mr. Karel Fajfr, coach of Michal Březina.
Do you go to Oberstdorf regularly?
I spend two or three summer weeks there every year. This was the first time I was there during a season.
How is Oberstdorf different from training in Slovakia?
There is an ice rink only for figure skaters, so we can practice from morning to night. At that venue there are three ice rinks, so it can't be compared to the circumstances we have in Slovakia.
Do you feel that figure skating in Slovakia is in the shadow of ice hockey?
People are interested in ice hockey and they do not really care about figure skating. I hope that if I am successful at major competitions, there will be more figure skating fans in the country.
What about your friends and classmates? How do they view your sport?
They support me a lot, but I haven't been at school for a long time, so we are in touch only via Facebook.
Is it hard to combine high level sports with studies?
So far I've always managed to do both. When I'm training in Slovakia, I'm not missing that much school and I can always do the tests and stuff later. Now that I was in Germany, I'll probably have to postpone my half-year certificate. Luckily the school principal is very understanding because he himself was an athlete.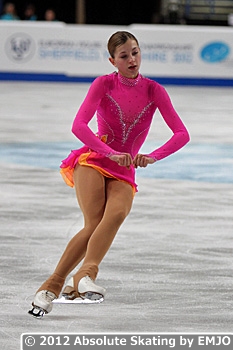 Where do you want to get as a skater?
I haven't really been thinking about it. I was focused on the qualification round; that was my main goal. Of course I want to go to Worlds, maybe next year.
Are there any skaters you admire?
Sasha Cohen and Yu Na Kim.
What are your favorite elements?
My favorite jump is Salchow. Sometimes I do not feel like jumping, but without the jumps I would probably be bored on the ice.
What do you have to improve to progress?
I have to learn the triple Lutz, and for sure I have to work on my spins.
How do you choose the music for your programs?
At first it's my coach's and my mum's choice, and then they discuss it with me, if I like it and want to skate to it. Sometimes I search for a suitable music piece myself.
Is your mum also your coach or manager?
She coaches younger children and when my coach Vladimir Dvojnikov can't come, she fills in for him. She also goes with me to competitions as team leader.
Isn't it hard to be with your mum at competitions, at practices and then at home?
At home there are sometimes small arguments, but at competitions she always supports me and gives me strength.
Short program
Monika skated well in the short program also: in her program to Tango de Amor from The Addams Family she landed a double Axel, a triple flip-double toe combination and a triple Salchow. She earned 46.39 points and with a 14th place she qualified for the last segment of the competition. But she wasn't overjoyed; it was obvious that she was upset because she landed the flip on two feet.
Are you satisfied with your performance?
I qualified for the free skating, so I'm satisfied, but that flip… Luckily it was called as a triple, but at practice I can do it perfectly, 100%, so I really didn't have to two-foot it.
How did you spent the two days between the preliminary and the short program?
I've been here almost a week now, and mentally it is hard. Practices are different than at home and one always thinks about the competition. So it's not easy to cope with it.
Have you had time to go sightseeing?
No. I saw a shopping center near the hotel, that's all. But I've spent a lot of time at the ice rink, watching the other competitions.
How physically difficult it is to skate three competitive programs during one week?
At least I have tried it and I have this experience. We do many run-throughs at home during practices, so now I have to do one more. It's not such a big problem.
Free program
Monika's second free program in Sheffield wasn't as clean as the one in the preliminary round. Still, she got 90.40 points for it and placed 14th overall. A great result for a debutant.
How would you comment on your free program?
There were many errors. I fully rotated all the jumps, which was very good, but the landings weren't perfect, so it affected my score.
What might have caused the mistakes?
I was more nervous than before the short program, but mainly during the warm-up and not during the program itself. The first jump didn't work out, but I told myself not to get distracted by this mistake and I kept on fighting. I think I did well.
What are your overall impressions from these Europeans?
It was nice and a great experience. This was my first major competition and I'm glad that I did well. Now I can calmly watch the rest of the competition. Originally I only wanted to get through the preliminary, but once I was in the short program, I had bigger goals.
What have you learned this week?
It was the first time I skated in front of such a big audience, and that was a very useful experience. I got used to the atmosphere of a big competition. Every event is different but so far this was the best.
What will your next competition be?
I'm going to Junior Worlds. Last year I wasn't really successful there, because it was right after the European Youth OlympicFestival and I also got ill. Now I will have more time for preparations. I'd like to place in the top 15.
And she did! At junior Worlds Monika was in 16th place after the short program and 15th after the free program, which placed her 15th overall with 124.36 points.