Finding a Hippie Groove with Nathalie Pechalat and Fabian Bourzat
November 2, 2012
By Cate Meighan
Photos © Eva Maria Jangbro (EMJO)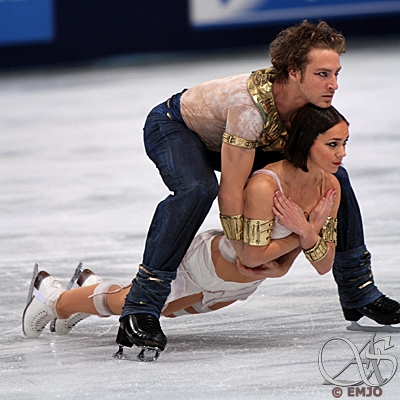 The French ice dance duo of Nathalie Pechalat and Fabian Bourzat have spent the past few seasons doing whatever it takes to continue a steady climb to the top of the pack. First, they moved from France to Russia, to train under Alexander Zhulin for a few years. He helped sharpen up their skills and improve training habits until last year when they were forced to leave as the Russian Federation demanded its coaches only work with Russian competitors. This smart team decided that a decision like that was going to ultimately push them in a better direction and they landed in perhaps the ice dance capital of the world - Detroit. Nathalie and Fabian spent last season absolutely thriving under the tutelage of Angelika Krylova and Pasquale Camerlengo and they also found themselves finally on the podium at the last World Championships. That bronze medal was a hard-earned victory for the team and it was certainly not the end of the road, as they are back ready to do battle in this final season before the much heralded 2014 Olympic Games. I had the opportunity to catch up briefly with Fabian shortly after their win at the French Masters just a few weeks ago. He shared his thoughts on the upcoming year with us here at Absolute Skating and even Nathalie chimes in just a bit!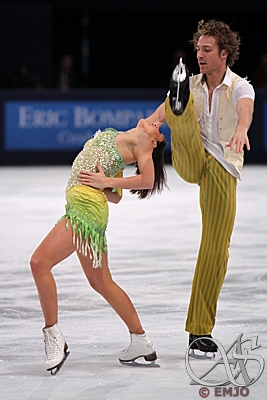 The new season has just begun and so how are the new dances feeling now that you've actually debuted them?
Fabian: Well, about the Free Dance: our choice was fixed in May on the Rolling Stones. We wanted something totally different from the past programs and we realized that we had never been to this kind of style. The Stones have emerged quickly: their music is inter-generational, it makes you immediately want to dance and especially because the group was founded 50 years ago, we see them everywhere! We had to choose one aspect of the group as they crossed the decades and styles. We wanted to go further than the rock and roll side and leather. We focused on the 70s, hippies and groove. As every year, we want to ensure that our program is coherent between technical elements, choreography, story and characters so we had a big job of reflection before even starting to work on ice. All items are new and stick perfectly to the theme. The choice of musical pieces was difficult, all are great, but from what we wanted to do with this program, we chose "Miss You", "Angie", "Sympathy for the Devil" ,and "Start Me Up". Nothing matters when we choose a new program. We are not trying to look what we should do to score points. It's a choice from our heart and soul since we have to train everyday for a year on these pieces.
Has your training schedule changed at all for this season?
Fabian: Same as always. Three hours a day on ice and then workout, dance and choreography sometimes.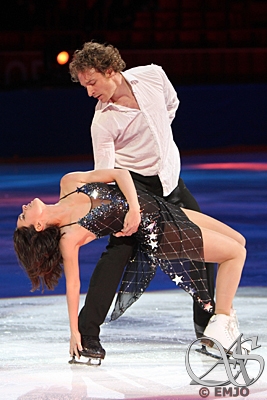 Do you feel the pressure of training with teams like Weaver and Poje who are coming up very quickly right behind you?
Fabian: We are way too focused on our improvement to take care about that. We will see that in competition. I think we complete the technical skills that we missed and hard work is always rewarded
I'm curious, after working under a few different coaches what actually is your favorite program that you've skated?
Nathalie: Tough question! I cannot choose between Circus, Chaplin and Rolling Stones. They were (are) fun to skate and they each bring a totally different spirit.
What excites you most about this coming season?
Fabian: To present our programs all around the world - China, France, Croatia, Canada…
Do you still have your eyes on Sochi or are you taking it a year at a time?
Fabian: We are of course thinking about Sochi but there is so many important competitions coming now that we can't just get lost in our dreams of the Olympics!
Nathalie and Fabian will lace up their skates for their first Grand Prix event of the season - The Cup of China, Nov. 2-4th. Their Can-Can Short Dance is already garnering raves from skating fans and it'll be interesting to see if this will be the season that the French make a real play for the top of that World podium!