Reyna Hamui: "My sisters are still very involved in my skating"
October 30, 2012
By Titanilla Bőd
Photos © Absolute Skating, poggi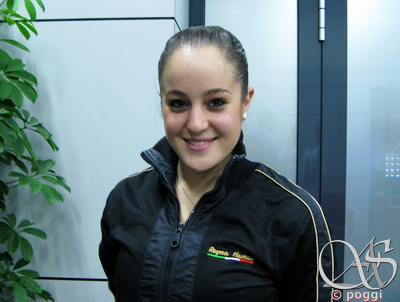 At first there was just a nice girl wearing a pink dress with some colourful strips – just an ordinary skater in a small international competition. But then she started to skate and her performance had soul and sparkle; it was definitely something much more than an ordinary skating program. Reyna Hamui of Mexico immediately caught the attention of the audience in Bratislava at the Ondrej Nepela Memorial, so I couldn't miss a little chat with her.
How did you become a figure skater?
I have an older sister and she was figure skating, while my brother was playing tennis. My parents could go only two ways, so my younger sister and I were just put into skating and I've kept on skating. Now my sister Loretta is actually putting me on the ice, so it's nice.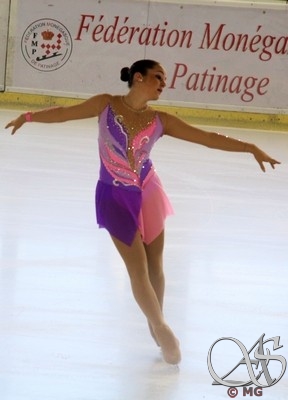 Your ISU profile says the family moved to the U. S. to have better practice conditions.
Yes, I was in Florida for six years. First we moved because of my brother's tennis. Then we moved to Delaware for better training conditions and one month ago I moved to Detroit, so I'm training with Jason Dungjen, Yuka Sato and my sister.
What were the practice conditions in Mexico? Do you have enough ice rinks?
We have a couple of rinks, but only one full sized. It's a good rink; we hold Nationals there every year, but as for the coaching, ice time, and the fact that the city is a little far from home, it's definitely a better opportunity to train in the U. S.
Was it hard to make this change and move to the U. S.?
I was ten years old, when we moved, and it was only supposed to be one year. And now it's going on nine! Of course it was difficult. My family is now in Mexico, and I miss it, but I get to go back three times a year, so that helps a little bit. I have to go back to compete three times for my federation and if we have family events, we try to go as much as we can.
How is Detroit different from your previous training bases?
There are lots of great skaters on the ice all time: Jeremy Abbot, Alissa Czisny, Valentina Marchei… They are pushing you all the time. Even though I've only been working for a little bit with Jason and Yuka, they are great, each in their own way. It's also a very nice training facility with a full program right there, so it makes it very easy to do everything you have to do.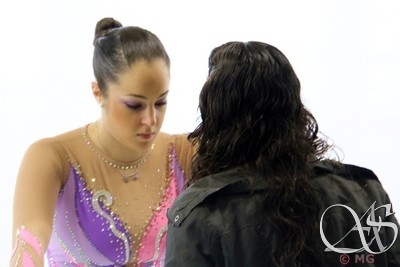 What are your goals in figure skating?
Hopefully to qualify to compete in Sochi. I know it's very difficult, especially now with the minimum technical mark for Worlds. But I started my season in Oberstdorf and I saw it was not so far away to make the points. I'm just hoping to have a little bit more time to get used to the programs and hopefully I will make the points to go to the Worlds.
You placed 14th in Oberstdorf and 15th in Bratislava. Where else do you plan to compete in this season?
I'm going to Nice, Romania, Croatia or Turkey, then the Four Continents and hopefully Worlds. So I'll have many chances to earn the minimum technical score. And I had a little bit of a late start into the season, so I'm hoping it'll get better.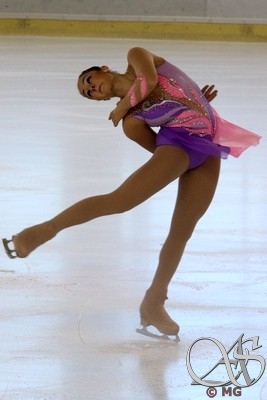 What do you think about the minimum technical score? Is 28 points in the short and 48 in the long a bit too much to qualify for the Worlds?
It's difficult, but there are a lot of girls capable of doing it. You just have to be smart about your elements. It's very important to get the spins and the foot-work; it's not all about the jumps. In Oberstdorf, I realized it's a lot more possible than I thought at first.
What are your favourite elements?
Of course I like to jump, because it's the most impressive part, but I've learnt to work a lot on my spins. I think they've improved a lot. But I definitely enjoy jumping!
Who are your idols, the skaters you look up to?
There are many, but I really like Daisuke Takahashi. And I've always been a big fan of Alissa Czisny, so it's an honour to be able to train next to her. I like the Russian pairs too… I can't pick one! I love watching skating; I'm doing it all the time at home, just watching videos of everyone!
Apart from skating, what do you like to do in your spare time?
I love tennis, I think it helped that my brother was playing tennis and I've really got into it. I'm a big, big fan of tennis. And just sports in general – I really like them on TV. Even if I don't understand them, I try to watch. It's actually the only thing that I have patience to watch on TV.
Have yo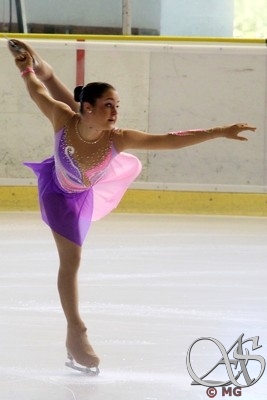 u also tried tennis, when you were a child?
My dad was playing tennis as well and he was my brother's coach. Sometimes he would make little games incorporating figure skating and tennis. He would make games on the court, for instance, we would hit the ball, then do an axel and then catch the racquet really fast to hit the next ball. He would always have us doing fun stuff like this. I ask him sometimes why he didn't put me in tennis and he said because he loves figure skating and he loves watching us on the ice.
That's why all the girls in the family started skating, right?
Yeah. My two sisters are not skating any more, but when they did it was such an amazing opportunity to have them next to me for so long. They are still very involved in my skating. My little sister Adriana is a very good choreographer, so she is always helping me with my programs and expression, and my older sister Loretta moved from Mexico to Detroit to coach me. It's amazing. I'm very lucky!