A date with the Swedish skaters
 
October 17, 2012
By Eva Maria Jangbro (EMJO)
Photos © Eva Maria Jangbro (EMJO)
The Swedish team have worked hard to prepare for the new season, and they have made some changes. Alexander "Sasha" Majorov worked with a new choreographer, Adrian Schultheiss is returning after back surgery and has also tried new choreography. Viktoria Helgesson changed her style once again and her sister Joshi… yes, what about her?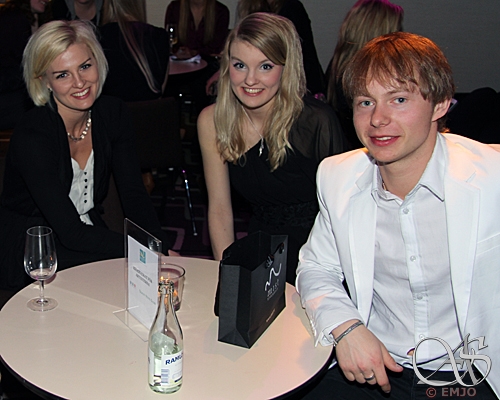 First up to talk about her summer training and new programs is reigning Swedish champion Viktoria Helgesson. She recently competed at the Nebelhorn Trophy, where she ended up in 6th place. The competition in Oberstdorf has become a traditional start of the competitive season for Viktoria. Last year's first look at the program got many positive reactions and was even referred to as a new Viktoria on the ice.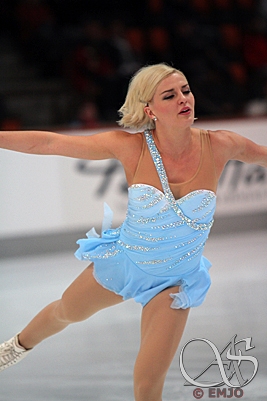 Has your summer training been productive? Did you practice anything special?
We were in Chicago, as usual, for four weeks and trained for Alexander Vedenin. We worked on getting more steps in close to the jumps, and also to improve my landings so I can get more points and pluses in GOE. I'm not quite there yet; there's still a difference between practice and competition but I am trying hard to reach it. The Axel in Oberstdorf had a clean landing with a more difficult entry to the jump. I also worked on my Lutz and the take-off is finally from an outside edge. My plan is to add the Lutz to the program at Skate America.
The new programs differ in style and theme from past years, specially the short. How did it come about and did you choose the music?
I talked to Katarina Lindgren, who is my choreographer, and asked her to find me something jazzy since I wanted to try a new style. She found this music piece called "Poinciana" and I felt right away that this music could work as a really fun program to skate.
I appreciate that you always come up with music that is not so often used in figure skating.
I like to make the programs my own and add my own touch to "untouched" music instead of using traditional skating music.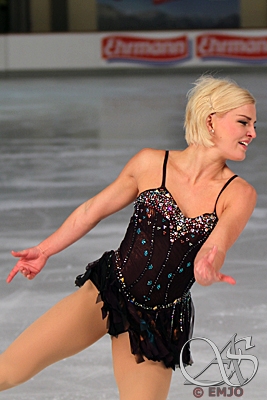 Many of us remember your dress from last year's free program. This year you have a gorgeous dress for the short program, who made it?
A girl in my club made it. She used to skate too, but now she has attended design school and she makes almost all the costumes for the skaters in my club in Tibro.
And your new free program, what are you skating to?
Well, the music is a little similar to that of last year, but it was dark and dramatic, this new program is not as sad. It is a more light and happy program to music from the movie "Spellbound" from 1945 with Ingrid Bergman in the lead (Swedish actress 1915- 1982, who won 3 academy awards)
Was it a deliberate move to choose a movie with a Swedish actress in the lead?
It was Katarina Lindgren who found the music and I didn't know it was an Ingrid Bergman movie when I first heard it, but I got hooked on the music at once. Then I had to watch the movie so I found out about Ingrid then. As for the dress; at first I had a white one made for the free program, but white made me disappear on the ice, so now the dress is light blue (see below).
I am very pleased that you changed the color since white indeed makes you disappear, also in photos. What did it mean to you to start the new season in Oberstdorf?
It is very important for me to have a competition before the Grand Prix starts. I am a slow starter so I need to get moving, and this is a great competition for that purpose. You also get great feedback on your programs.
How do you get that feedback, directly from the judges?
Well, sometimes you are told afterwards, or, as there are many judges in the audience who are not judging the competition, you can ask them. I now already know what to improve for Skate America, so it will be exciting to go there!
What are your goals for this season?
To have two clean programs and see what that leads to.
Sasha Majorov also competed in Oberstdorf. What kind of skills does he have as a skater that you would like to have?
Oh, but he has fantastic, amazing jumps! His jumps are like a meter high, and if I had just a few centimeters of that it would help me for sure. So my answer is: his high jumps!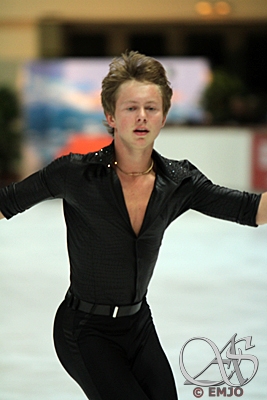 Now over to the man himself, Sasha, who before the free program in Oberstdorf rode the cable car up the Nebelhorn mountain to admire the beautiful view.
This summer you were in Boston for the first time, why was that and how was it?
I was there for about three weeks to see what it's like to train in the USA with the American skaters. Peter Johansson and Mark Mitchell are coaching there. It was interesting to see how many skaters are training on the ice at the same time. They were like 25-30 people on the ice and that included pair skaters. At home in Luleå there are maybe 7-10 of us.
Have you concentrated on anything special during your summer training?
I have practiced everything and the summer has been long but fun since I've met skaters I otherwise only meet at competitions.
You just took up Physiotherapy studies this fall at the University. How do you combine studying with training?
Well, we will see, the next exam is in about a month. Right now I am studying anatomy; the muscles, how the body is structured… It will get more difficult in about two weeks when we start on the nervous system, but I have a plan for how I will be able to make it through.
Tell me about your new programs and who made the choreography?
In the short program I am skating to "Ray's Blues" by Dave Grusin and the free program is to "Life Begins Again" by Afro Celt Sound System. Katarina Lindgren structured and chose the music for both programs. I had two different music pieces to choose from for the free program, but the second choice suited me better and was more interesting to skate to. My mother filled in the choreography in both programs and is working really hard with the free program right now to get it ready for Skate America. It is not completely finished yet. During the summer we did the short program, so it is complete.
Katarina Lindgren made the choreography and it is the first time you asked her. How was it to work with a new choreographer?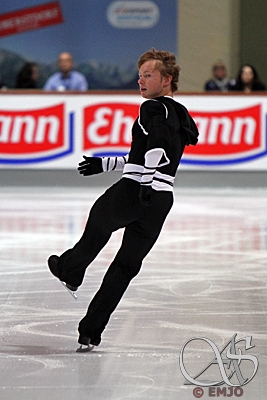 It was both interesting and difficult since I had to learn new things I am not used to doing. In practice there was much stumbling during the step sequences, but it is always like that when you have to learn new things, you have to train to succeed!
How did you like starting the season early in Oberstdorf? And did that competition help you to improve your programs for upcoming competitions?
Well, it actually felt pretty late for me. I used to compete in the Junior Grand Prix weeks earlier, and that is still in me. I didn't get much feedback, but for the next competition (Skate America) I will change the jump structure in my programs.
If you could have something from Viktoria's skating skills, what would it be?
It would be her jump consistency. I would love to have that!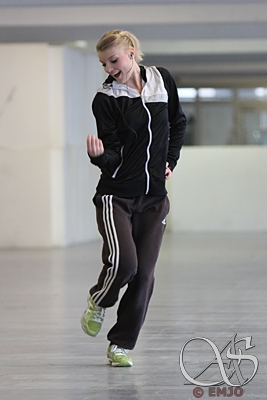 Viktoria's younger sister, Joshi Helgesson, was also supposed to compete at the Nebelhorn Trophy and the following week at the Ondrej Nepala Memorial in Slovakia. But she never turned up and we all wondered why and how Joshi is really doing. I asked her.
I have worked really hard on my programs and tried to make them better, and reach a higher level than last year. I even practiced a triple toe - triple toe combination and also a triple toe – triple loop combination. Unfortunately I am not injury free. There is a beginning stress fracture on the calf bone and I have not been able to skate for six weeks. But I'm hoping to be ok to return to the ice next week. In the meantime I have, of course, done lots of other types of training to get in shape and be prepared for the Grand Prix in China. I'm hoping it will all work out.
How was your summer training in Chicago?
My training in Chicago went really well. It's a good place to train and it's really fun. We made the choreography there together with Katarina Lindgren, and to me that was very valuable in terms of making progress with my presentation. It is also nice to practice in a different environment during the summer.
Please talk about your new programs!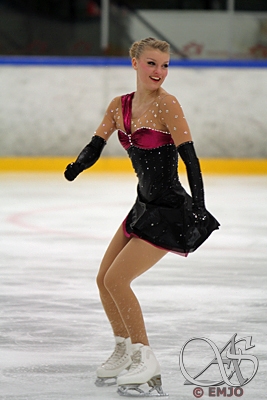 My short program has a completely new style for me. The music comes from Cirque de Soleil and I am supposed to be a bird. It's a different kind of program and it will be so fun to finally skate it and show it to everyone. My music for my free program is from the movie "Burlesque". It has somewhat the same style as my short program last year. I chose the music together with my coach and choreographer. Katarina Lindgren has done the choreography for both programs.
Have you been working on anything special for this season?
Well, I'll try to add my triple- triple combination to the programs, so I've been working on that. But since I'm injured right now I'm not sure if I'll be able to do those combinations in the first competitions. I also tried working more transition moves into my programs.
Which of Adrian's skating skills would you like to have if you could choose?
I would like to be able to nail as nice triple Axels and quad toes as Adrian does.
An update on Adrian will have to wait till a later date. For more news on Vicky follow her blog here. And for Sasha and Joshi you ask? Just wait and see...