Eteri Tutberidze: "Everything happens for the best"
 
December 1, 2012
By Reut Golinsky
Photo © Eva Maria Jangbro (EMJO), Reut Golinsky
Thursday afternoon, the day before the official opening of the Trophée Eric Bompard 2012, I noticed Eteri Tutberidze watching practices from the stands. I approached her to congratulate her on the successful debut her student, Julia Lipnitskaia, was having in her first senior season so far. Unexpectedly for me our talk took a very different, somewhat philosophical even, path. Of course, we mentioned Julia a lot, but also discussed the strange ways of destiny and agreed that there is a purpose for everything that happens in this life.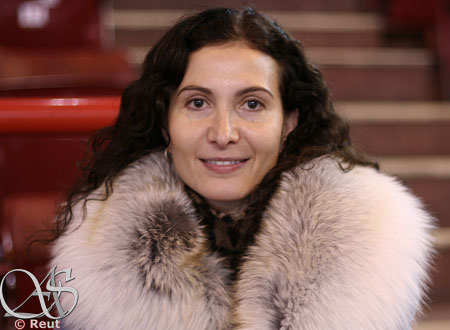 Good afternoon, Eteri, I wanted to congratulate you on the successful start of the season. I hope, despite a silver medal at Cup of China, you see it as successful too.
I see it as... very complicated. Successful is when everything is going well and easy, but when things are so complicated... Actually at the moment we are discussing the option of Julia withdrawing from this event. Just before we left for Paris, during the warm up, she twisted her right ankle. We didn't skate after that, and today during the practice she was in pain so we decided not to hurt the leg even more; Julia just practiced some spins, did some strokes on the ice and left. It takes 2-3 days to understand how badly an ankle is hurt, sometimes it's not a serious injury, and sometimes it gets worse and worse.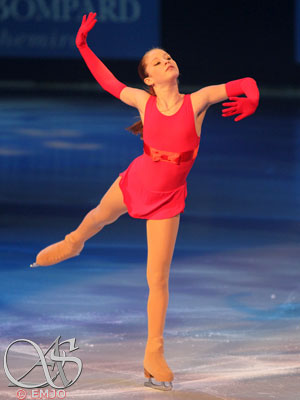 Today she'll have medical treatment, we will do everything in our hands to help. If we "tape" her leg (with kinesio taping), we will need to adjust it to the boot, so that she will still feel comfortable and her foot won't swell. Tomorrow we'll come to the practice and see, maybe it'll be better. I really hope it will.
Julia is probably spoiling for the fight? I've got an impression she is a girl of purpose, is she?
Yes, you're right, she is. She is very goal-oriented, and if she wants something, I hope, she will achieve it. But when you have injuries, it's really hard: it spoils your mood at the very least or doesn't allow you to be at your best in the worst case.
I'm sorry, I didn't know... I was planning to congratulate you and you...
Yes, and we have big problems at the moment. Her practices went really well, but she always works well at practices. And then, just before going on the ice, she did few jumps and... twisted her ankle when she landed.
Maybe some consolation for you can be the fact that, unlike foreign skaters for whom Final might be the only chance to try out "Olympic ice", Julia for sure will have this opportunity again in the future.
Yes, at Russian Nationals, and maybe later too. I heard many foreign skaters were ready to pay to have some ice time there for the summer camp or for some show. But I think it's not the most important thing. You can take the Olympics in 2002, when Michelle Kwan had the ice for herself to practice, had gold on her dress, but this still didn't help; fate decided differently.
You think that at the Olympics fate plays an especially important role?
You know, when now they already discuss the national team... But at this age they change so quickly, they are still growing. And also literally any trifle can influence: you were sitting next to the open window and you got cold; or you were warming up and twisted your ankle - and that's it, all your lasting work was for nothing. It's pretty often that at the Olympic Games the one who wins wasn't among front-runners.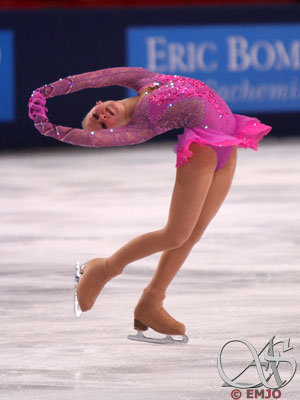 So you prefer to take short views?
Simply to work and to solve the tasks and problems we get at each given moment.
I wanted to ask about Julia's programs. Were they choreographed by Nikolai Morozov?
It was a joint project, many people were involved, but the biggest part was done by Morozov. It's just he came back [to Russia] later than he expected when we already had some sketches for the programs, and on this skeleton he put the "flesh". All the final touches, the placements of the elements, were decided by him.
Was it your initiative to work with him?
Yes, mine, I took Julia to him. Actually this season she wondered if we might manage by ourselves, but I think, this collaboration could only do better.
Does he have some kind of vision for Julia? Some individual approach? For example, maybe he looked at her and said: the "Sabre dance"!
No, actually the idea of the "Sabre dance" (SP of this season - ed.) came from Julia herself. It's been a few years that she has asked to skate to this music. At the beginning I was appalled by the idea. But somewhere in April they persuaded me to listen to this version - though which "this", they all are the same, sabres here and sabres there - but in the end I actually liked that arrangement. I liked that during the first half of the program you can't even guess it's the "Sabre dance", the most well-known pieces start only during the step sequence. And also maybe it's somewhere close to Julia's character. Though this music is still too intricate. I have a feeling that either people don't mind it or they really don't like it. For example, Sergei Petukhov said flatly: "I won't work on this program, because I simply don't like this music. I don't see it on the ice, I can't do it". Though other experts, like, for example, Sergei Chemodanov, said that this music choice is excellent, this music is Julia, we should take it.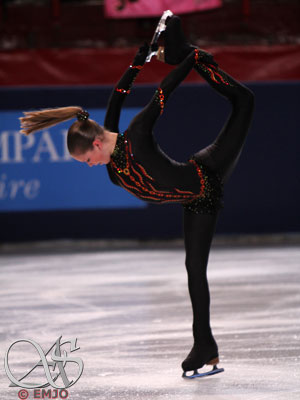 I think, it's very important that it's Julia's choice as she is the one who is skating to it...
Yes, of course. You can say whatever you want, that this music is complicated, that people don't like it but if for such a long time she asked to skate to it... I think that it's always better to regret something you have done, than to regret something you haven't. For sure she would have continued to live with this thought: "What if I had skated to..." To avoid those "what ifs", you need to try it. And to skate to those "Sabres".
Some told us during test skates that the decision was a bit risky: "Why did you use such music?!" But you see, the program first of all should be performed well. For example, about the "Nutcracker" (FS of this season - ed.) it's still early to decide whether it was a good choice or not. You can have an impression about the program when it is skated well. At Cup of China the short program could be seen already, you could feel the mood. And some of those people who were against it before changed their opinion, agreed that Julia looks interesting in it. Same thing with the "Nutcracker": when elements are not performed, when jumps fail, you can't talk about the inspiration. Naturally the skater gets upset and stressed, it's normal.
Do you have already some ideas for the next season?
Yes, to tell the truth I have already been thinking about it for about a year. I have some ideas, not sure, we'll see. So far Julia hasn't agreed to them, but we'll try...
And if Julia doesn't agree with something, then...
- ...it's useless to persuade her. But to tell the truth I don't persuade my students in general. I can try to show them some examples. Suppose the skater doesn't want to wear the dress in some specific style or to skate to some type of music, I can draw her attention: "Look how well it looks [on someone], look how this music emphasizes some strong qualities". And if the skater later comes to this decision, it's already his decision, he wasn't talked into it. I never persuade, but I can lead to something little by little. And after all, it's them who will go on the ice and skate. People around can complain about the colour of the dress but what if she loves it? It's her who skates in it.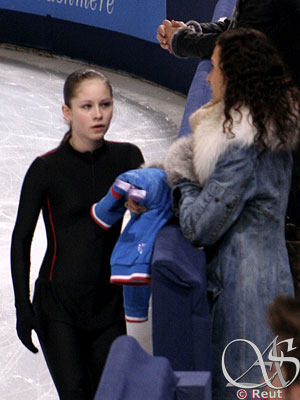 In one of your last interviews you mentioned that you don't reassure Julia during the competition but she reassures you. Is this really so?
I just know that if we are ready and nothing bothers her, she will do her utmost. Also, whether I'm worried or not, it can change absolutely nothing. But I believe that everything happens for the best. Maybe we don't always see it at once, because we don't know what will happen tomorrow. Maybe even the injuries happen for a reason... Of course, it's better without them, better if everything goes fine, but things don't work this way. You want everything to go smooth and easy, but you look around - nobody has it easy.
The last question. I noticed you watched almost all the practices today. Anybody you especially liked here?
I really liked Jeremy Abbott, however he had some falls, but he's improved a lot. There were a few good pairs, who skated really well. It's also very important, apart from technical elements, just to skate well, to glide well together. I enjoyed watching the Canadian pair (Duhamel/Radford), everything they do is so in parallel, the speed is good too. And you could see that they themselves really enjoy it.
You know, Meagan's skating career wasn't easy, they didn't qualify for their home Olympics in 2010, then her partnership broke up. And it's only her third season with Eric.
And maybe what happened to her back then was for a reason too. Maybe after that she summoned up her strength... And now she appreciates - they were on the ice till last second, enjoying each other and everything happening around them - so now maybe she appreciates that she is here and has this chance to skate. People comprehend the value of what they have when they realize they can lose it...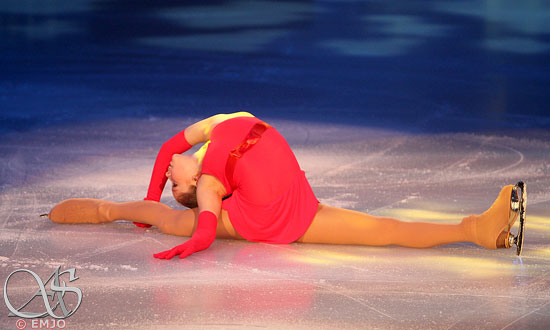 Julia and her coach decided to compete in Paris, Julia finished third with 179.31 points in total and qualified for Grand Prix Final. But just before publication of this interview, it was announced that Julia was forced to withdraw. She fell and suffered a light concussion during practice and was advised not to compete. We wish Julia speedy recovery and, like her coach, hope that everything will turn out for better in the end.