Viktoria Helgesson "I know I have a great skating foundation now"
 
January 20, 2012
By Eva Maria Jangbro (EMJO)
Photos © Eva Maria Jangbro (EMJO)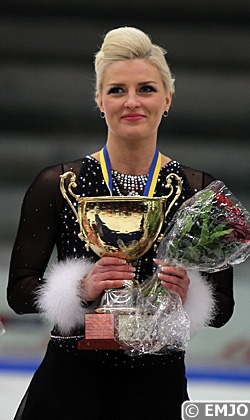 The Swedish champion Viktoria Helgesson has had a very busy fall. Not only figure skating has occupied her time, but she has been involved in an interesting project; being one of 12 Swedish women featured in the 2012 calendar which supports medical research benefiting women's health.
And she will start the new skating year with a dress designed exclusively for her by the famous fashion designer Lars Wallin. He usually designs evening wear for royalties, but now it is the Swedish ice princess' turn. Viktoria had to take frequent trips to Stockholm during the fall months for fittings, and she has been very excited about the dress. It is always a delight when designers find it worthwhile to make dresses for skaters. At the European Championships in Sheffield, we all get to see the result of this interesting collaboration. Viktoria feels the whole look, including the dress and hairdo, are helpful in telling the story of her free program. The designer listened to the music, watched the program and applied Viktoria's feelings for the program while creating the perfect dress, all according to Viktoria's blog.
In the competitions she has entered so far this season, Viktoria has done really well. She has made such good impression that the Swedish press is now much more interested in her and in figure skating. At the Swedish Nationals she was clearly the most wanted skater; at the press conference as well as by Swedish TV.
To sum up her accomplishments so far, I met with Viktoria at the Swedish Nationals. First I had to ask about the literal timing of her triple - triple combination, since it was mentioned in her blog. She practiced the combination in the US where the total air time was measured.
How did Christy Krall help you with your triple toeloop combination?
Well, Christy Krall compared my toeloop with many other skaters, by uploading them next to each other on a screen. This was great since she could mirror the rotations; for example when Laura (Lepistö) jumps they were turned since I jump the other way. Then our jumps were put on top of each other and that way I could see what I needed to work on. I don't know how many seconds it took, but it was the first time I've tried this. It was a new and good way for me to study my jump technique.
The competitions this fall: Lets' start with Skate America. You learned never to give up despite falls!
Yes, exactly. That was really cool and after my skate I never thought I would have enough points to medal since I made a couple of mistakes. It felt really, really big to stand there on the podium and feel there is a possibility for me now to get paid for my programs. I haven't really had that before. That is fun and it has given me more self-confidence. I know I have a great foundation now.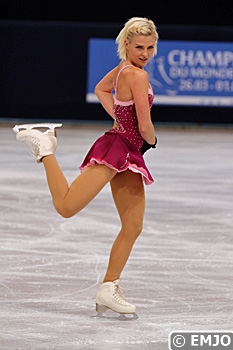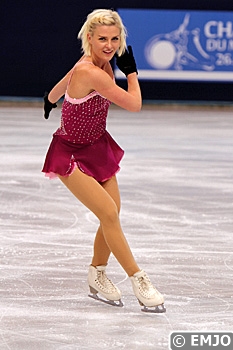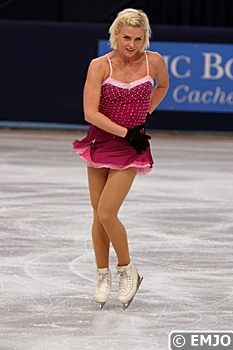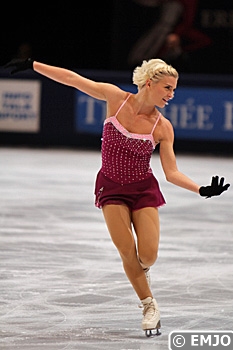 How do you handle the ice in North American rinks being smaller than European rinks?
Well, I can adjust pretty fast, but it is nice to have one practice to adjust, especially the spirals and steps, and perhaps change the pattern a little. The jumps are not a problem.
Your next stop was Paris and the Trophy Eric Bompard.
There I even got 10 points more than at Skate America, but only placed 5th.The program was up a notch and it felt like a better achievement, I just didn't place better…
In Dortmund you won, so which competition are you the most happy about?
Well, in Paris the free program was the best, and in Dortmund the short program went better.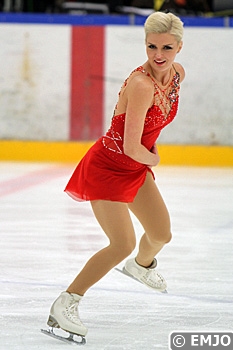 You have really changed your style this season, except your hairdo. You normally wear your hair up, but in Dortmund it was down for the short program. What will we see at Europeans?
In Dortmund I didn't have time to do my hair the usual way. But I will try to find something in-between so there is a difference between the programs. I haven't decided yet how to wear my hair, but I don't like it too loose.
You have done really well in practice with your triple toe-triple toe combination. It looked solid in Paris, yet it didn't happen in the competition.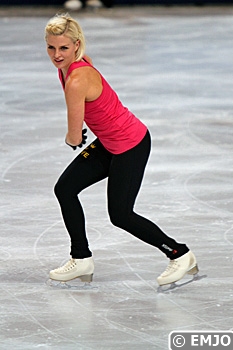 I can feel it coming on; it's going to happen soon. I actually want to have it now, I feel I have it! During practice in Paris and Dortmund it was great and also at home, but it is new for this year in competition and therefor it needs time; maybe a couple of competitions. I have done the other jumps for years and am sure about them, so that can't be compared to doing a new jump combination. It's been a long time since I had a new jump. My goal is to have the combination ready for the Olympic Games in Sochi, but also to have a flip and Lutz - toeloop combination.
What are your plans before Europeans?
We are having a camp at home in Tibro during Christmas and New Year's. That includes lots of hard training and in January we will slow down the practice to get ready for Europeans.
I really like your programs this season, but how about next season; do you already have thoughts about how to continue your progress?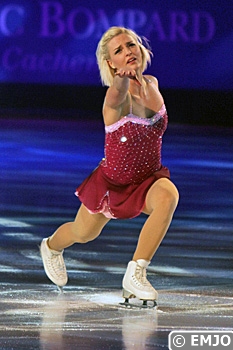 I think I do, but it depends on if I can find suitable music for both program. I choose the music together with my coaches and the choreographer, but I will definitely change one program. You have to find the right music first and that can be tricky.
Will you work with a different choreographer?
We haven't talked about it yet, so I don't really know.
New programs are always a challenge, and it will be interesting to see what Viktoria will come up with for next season. To push her forward and confirming her hard work is paying off, it was announced a few days ago that Viktoria is the winner of a special prize awarded to an athlete by a newspaper (Göteborgs-Posten). She has certainly won a lot lately! Now the question is: will we see her on the podium in Sheffield too?
Good luck on your way to the stars, Viktoria, and thank you for your time… again!