Julia Zlobina and Alexei Sitnikov:
"We just didn't want to quit"
 
October 27, 2012
By Reut Golinsky
Photo © Eva Maria Jangbro (EMJO), Julia Komarova, Mireille Geurts
A few people approached me saying: "Could you talk to them, please? We love them so much, but unfortunately they don't speak English..." I didn't need to be asked; I had planned to talk to this creative team anyway and was glad to find their names on the roster of Nebelhorn Trophy 2012, where they ultimately won silver.
Julia Zlobina and Alexei "Lesha" Sitnikov have skated together since childhood. They started in Kirov, then came together to Moscow. They represented Russia until 2010 with their best result being 6th at the Junior Grand Prix Final in 2006 and 7th at 2007 NHK Trophy; their highest placement at Russian Nationals was 5th (in the 2009-10 season).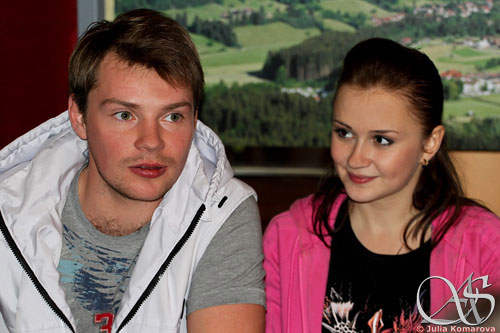 With the strong competition in Russia these results were not good enough for them to get to big international events. They began competing for Azerbaijan in 2011, and also relocated to train with Alexander Zhulin. The qualification round at Europeans 2012, in which they won with their singular free dance, was probably when they got noticed by international audiences.
So we started our talk from there.
Alexei: At the beginning of last season, when we had just started to train with Alexander Zhulin, he asked us: "Did you think about the programs, the music?"
Julia: He gave us two options; he asked: "Do you want to stay who you were or to try something completely different?" And so we chose to try. He proposed to us the idea [of the free dance], we immediately liked the music too, and we worked on this throughout the season. First it was less clear, but by Europeans we were ready and it was finally what we wanted to show, the idea of the program as it was supposed to be.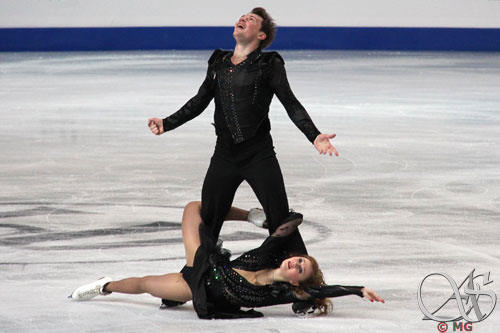 The program is rather abstract. Is there any story behind it?
Julia: Yes, there is a story. First we thought about images of dolls, but while we were working on it we came to the idea of... vampires.
Alexei: In the middle of the program I bite Julia and slowly she becomes this weird, odd creature like me. When I realize this I'm shocked: "What have I done? Why did I have to do this?"
Julia: Yes, exactly. Why did you kill me?! (laughs)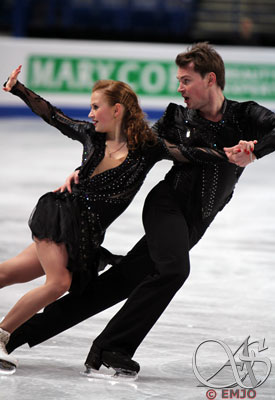 You didn't compete for two seasons and the public probably forgot you, and then you come back with this unusual program. It was risky. You were not afraid?
Julia: That season was really hard in general. We didn't compete for two seasons...
Alexei: ...and we were only ready by our third competition.
Julia: Yes, only at Europeans were we in good shape. Of course we were afraid to show it for the first time, the feeling was "let's just try to skate it clean". But later we already could loosen up a bit. This season is starting much easier...
You had to go through a qualification round which you also won. It was probably a good preparation for the main competition?
Alexei: In a way it was, yes. It helped that we didn't need to compete immediately [with strong rivals] but had this preliminary event which smoothly entered us into the championship.
Julia: The only pity is that the points we got in qualification didn't count!
On the other hand it was probably tiring...
Julia: I'd say that at Worlds I was indeed tired already. That season was rather difficult and intense compared to the previous two when we didn't compete.
Alexei: Also there was a free day between each segment, so it made for almost a week of competition for us.
You finished at Euros in the top ten, was it your goal? Or were you surprised? It is a very good result.
Julia: A very good result, probably the best.
Alexei: Yes, we strived for this and I'm glad we achieved this goal.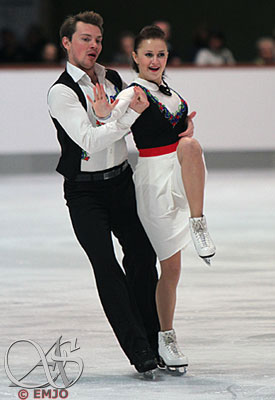 This season do you strive for more?
Julia: Of course we do and we try to do our best.
Alexei: We will skate...
Julia: ...and let the judges decide about the placement. We need to skate clean, we can't do anything about the rest.
Your programs are not "mainstream" ones. Is this something you decided to choose as your significant feature?
Julia: Yes, we wanted to stand out.
Alexei: Maybe to move away from something usual, which might be even boring for some people, we wanted to make fun, to bring joy...
Julia: ...to leave a light, nice impression on the audience.
Yes, your free dance, compared to the story you told about in last season's one, is much lighter. There is even a wedding in the end, athough it doesn't start out so well...
Julia: Of course not well, because why does he think he can kiss me like that out of the blue! (laughs)
Alexei: But then everything works out, in the second part, and the third one is the wedding and the celebration.
Your short dance is light and funny too; you're using a very famous polka which is known to be very catchy. Do you sing it after your practices? Does everybody at the rink sing it after your practices?
Alexei: Yes, probably during the first month, when we were working on it, everybody had it stuck in their heads.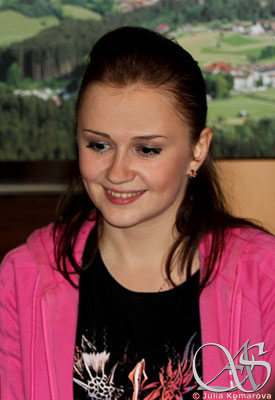 Julia: By the way, initially this music was supposed to be for Ksyusha Monko and Kirill Khaliavin, but there was one practice when I couldn't come, Lesha was all alone and was just fooling around...
Alexei: When Alexander Zhulin put on that music, I started doing something [on the ice], I don't even remember what exactly. He saw me and said: "Well, this music will be yours then". Similar story with our free dance; I was just joking and making some funny movements, and then we decided to use them in the program. Because this music asks for something different, it makes you be more creative.
Julia: Both programs this season suit us really well.
Since you mentioned Ksenia and Kirill, we can say that almost all your lives you've trained together. I also saw you here together. Are you friends?
Alexei: Yes, we have known each other since childhood.
Julia: We are all from Kirov, and then we moved together to Rostov, after that together to Moscow.
Alexei: We were separated for only one season, and are now together again, all training with Zhulin.
How was this move for you? When you came to Zhulin you were his strongest students, his hope, and then two other strong teams came...
Julia: We were not worried about Ksusha and Kirill, but when Katia and Dima (Bobrova/Soloviev) came, we were a bit afraid that we wouldn't get enough attention. But we were wrong; more coaches joined the team, so there is no lack of attention at all.
Alexei: And there is this big advantage of rivalry at practices when you know you are not the only ones on the ice. When you have someone at your level of training with you, you understand where you need to improve...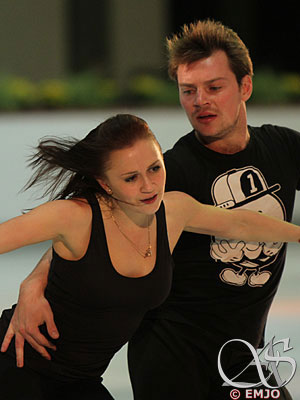 Julia: ...you always try to do something better. So now on the contrary, we are even glad that they joined us.
What does your usual day look like and how is your time divided between your coaches?
Alexei: We start our day with a choreography lesson, a dance lesson on the floor. It can be jazz, modern, with music from musicals or even African dances. Our teacher is not known in the skating world; he is a dancer and has very successful students mostly in modern dance. We also have classical dance lessons with Sergei Petukhov. Then we go on the ice with all our coaches. All of the skaters train together and the coaches help everyone.
Julia: We almost have more coaches than skaters!
Alexei: We work with Oleg Volkov, Alexander Zhulin, Max Staviski. We also have an acrobat who works with us; he was a European and World champion in acrobatic rock-n-roll.
Julia: So we have lots of great professionals working with us.
You looked lonely in the K&C... (Zhulin had to go with his other team who competed right after Julia and Alexei)
Alexei: Well, it was the draw that they were right after us. But anyway we knew that he was there, standing not far from us.
Julia: And that he was happy for us.
It is your second time at Nebelhorn Trophy. How was it back then? Can you compare your experiences?
Alexei: The last time we were here we placed 5th, it was when we still were competing for Russia, in 2008.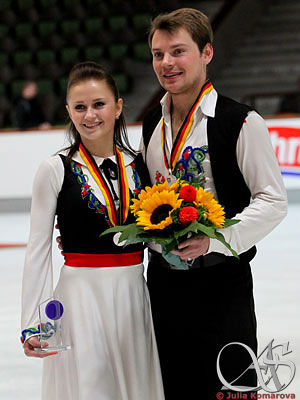 Julia: Back then we were indeed without our coach and it was stressful. Olga Riabinina was the only coach of our group and some competitions overlapped, so we came here on our own. Of course other coaches helped, Nina Mozer for example, but we still felt ill at ease. And this time we are calm, Alexander is with us.
Alexei: It's very beautiful here, though again this time we did not succeed in going up the (Nebelhorn) mountain. And unfortunately we leave very early tomorrow.
Julia: Well, next time then.
Did you expect to medal here?
Julia: Not really, initially the roster was a bit different, some couples withdrew.
Alexei: Our main goal here was to skate clean. We did our best and got marks we were glad to receive.
Do you feel an improvement was made from your previous competition in Minsk?
Julia: Yes, the progress is quite significant. Then it was the first competition of the season, so we were more nervous, here it was easier. The competition there was small so we treated it like a test skate, similar to what Russian skaters have at the beginning of the season. We saw our result, understood what we should work on - on choreography, on the technical side too, and on the overall quality of performance.
There is this rule that a maximum of three skaters/pairs can come from one country to Euros and Worlds. In a way you suffered from this rule and because the field in ice dance in Russia was so deep you were forced to change countries...
Julia: Yes, you can say so. But, you see, we just didn't want to quit this sport.
Do you think this rule is fair? In your situation you could think it's not.
Julia: We didn't think about it much. Things were as they were; now we have what we wanted, so we are glad that things worked out this way. The main thing is that we can continue skating.