Zoltán Kelemen: "Skating comes first for me now"
January 14, 2013
By Titanilla Bőd
Photo © 2012 Absolute Skating by Joy, MG & poggi.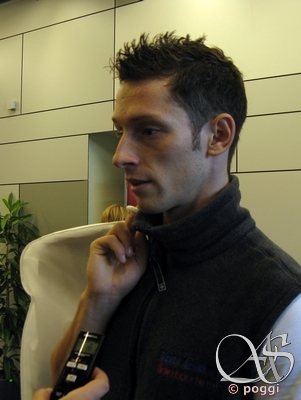 Zoltán Kelemen had to get ready for major competitions last season without a real coach – still he placed 14th at the European Championships. But at the World Championships he didn't qualify for the short program from the preliminary round, and decided to make a change: he moved to Switzerland to train with his fellow Romanian Gheorghe Chiper. Zoltán talked to Absolute Skating about his new experience.
How did you end up in Switzerland?
There was an international competition before the Worlds; the Coupe the Printemps in Luxembourg. Gheorghe Chiper was there as the coach for some Swiss skaters. He asked me how my preparation went at home in Romania, and I answered that I practiced on my own. He suggested that I move to Switzerland to train with him. So I went for a tryout in May and saw that the conditions in Dübendorf were perfect. But I didn't want to make a hasty decision; I also talked to my federation. They couldn't really offer me much, last year all that they could give me was the ice time and the accommodation. I knew that it wouldn't be good to stay; I wouldn't be able to prepare properly for competitions. I thought about all the possibilities and then decided to take Gheorghe's offer. So in August I returned to Switzerland.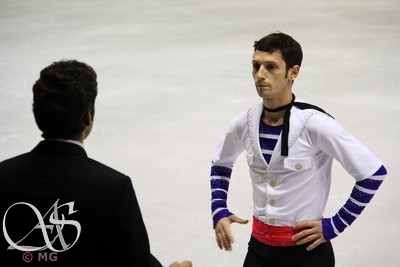 What's your cooperation like?
Very good! The first competition of the season, in Oberstdorf, didn't end too well, I placed 20th, but by now I am really in tune with Gheorghe. I believe that he can help me a lot.
Is Gheorghe a strict coach?
Sure. When we have to work, then we are working, but there is also time to take it easy and have some fun. I respect him a lot. It's great that he is not that much older than me, so we are really friends. We got even closer because at the beginning I was staying at his place. He helped me with a lot of things. Now I have great conditions for preparation, and it depends only on me if I take this chance.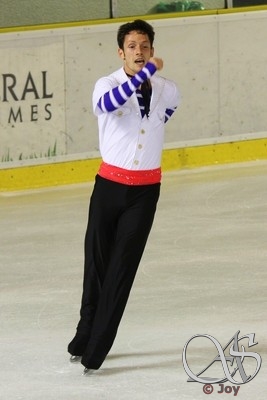 Why did you stay at your coach's place? Was it cheaper that way?
No, no, I just had to wait for the residence permit. By now I've received the work permit as well and I moved to my own place. It's not cheap, but of course I also work. I teach little kids a couple of lessons per day, two or three times a week. This way I can make enough money to pay the rent. Skating comes first for me now, and I want to reach good results this season. But I also have to have a plan B, because we all get older and we have to do something [else] with our lives.
Your life in Switzerland probably can't be compared to your previous life in Romania.
That's right. Everything is expensive in Switzerland, but the standard of living is very high.
In which field have you improved the most since you started training with Gheorghe?
In the second mark. And my practices are now structured differently, so I'm not gasping for air at the end of my long program.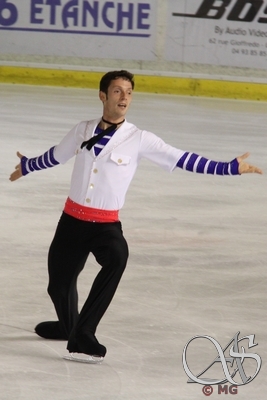 Now I only need to add two solid triple Axels, and fix some small mistakes, because small mistakes can cost a lot, if there are many of them. Compared to Oberstdorf, I got 16 points more for my long program in Bratislava, but the short wasn't very good. The jumps don't bother me, because I know they'll get solid as we go further into the season, but I have to pay more attention to spins and steps. Spins are very important; I lose the most points on spins.
Time-wise, are you practicing more in Switzerland than you were used to in Romania?
I spend more time at the ice rink now. I spend 85 percent of my day on figure skating; I'm more into this sport than ever. Last year was a bit strange, because I didn't really have a coach. I went to the rink twice a day, I practiced a little bit, but I wasn't ready to compete. Surprisingly, the competitions went quite well, but I think it was because I knew I wasn't ready, and I felt that now I really have to do something! I went on the ice with a we-will-see attitude; maybe I'd succeed, maybe not. And I succeeded. I had some very good competitions: in Istanbul the technical score for the long program was more than 65 points, and more than 35 points in the short program in Luxembourg.
That's important because this way you earned the minimum Technical Element Score for the next World championship. What do you think about the ISU's decision to raise the minimum technical score?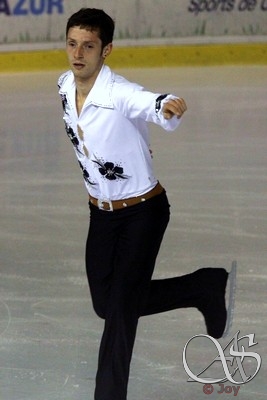 It's not really good; you can feel that everyone is a bit stressed about earning technical points. Luckily I have them, but there are many talented skaters, who would love to skate at a big competition. They have no rivals in their home country, but with these limits they have no chance to get to the Worlds. I think this minimum score is a bit excessive. But I'm glad that there are no more preliminary rounds at major competitions. It made the competition unnecessarily long and expensive. At the Europeans held in Sheffield and Bern, I was competing through the whole week. This was too much. It's okay that if you do well in the short program you make it to the free, if you fail you go home. However, I wonder how many skaters will be at the Worlds, I think maybe only 20-23 men will make it.
Are you satisfied with your season so far?
There are a lot of new things for me. I've changed my boots so I'm not using Edea anymore, I switched to Graf. I had my old boots for three years and they looked like socks. When Gheorghe saw them he said: "You are crazy, how is it possible to land triple Axels in those?!" So now I have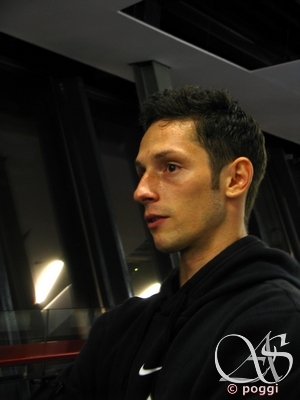 new boots, new costumes and new programs. I feel that I've made a huge improvement, now I just have to show it in competition as well. My short program was choreographed by Pasquale Camerlengo, it was an honor to work with him. The choreography of my long program was made by Sandra Chiper, Gheorghe's wife.
In which language do you communicate with your coaches, by the way?
I speak English and German with Sandra [who is Swiss], and Romanian with Gheorghe. This way we understand each other the best. I'm also taking a German language course, I learn to "Deutsch sprechen", because the kids I teach don't know any English. So I need to know some basic expressions in German, like stretch your leg, bend your leg, stand up, get up from the ice, keep going and so on.
What are your skating goals?
The goal is the Olympics in Sochi. I have the points for the next World Championships, so until then I have to keep working hard. I need to get in shape, maybe slowly but steadily.