Alisa Agafonova and Alper Ucar - a fairytale on the ice
February 27, 2013
By Titanilla Bőd
Photos © Eva Maria Jangbro (EMJO), Mireille Geurts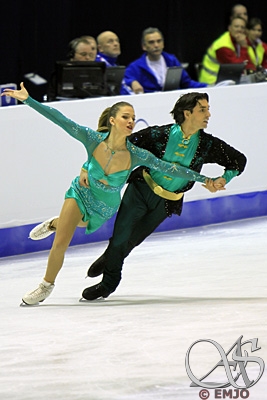 It is not only the performances of the medalists that can inspire you; witnessing someone earning a huge personal best and celebrating their score as if winning the title gives spectators goose bumps. Ice dancers Alisa Agafonova and Alper Ucar from Turkey placed 13th in Zagreb at the European Championship, and their Fairytale short dance and Magnificent Centuries free dance was loved by the crowd. I couldn't miss having a chat with them.
It was like a fairytale for you, these Europeans, wasn't it?
Alper: The short dance was a fairytale, and it's good to succeed. We hope to continue this fairytale!
Did you feel before the competition that it could be your breakthrough?
Alper: It was a very stressful period of time, because it was kind of a big step forward. We would like to proudly hail Alexander Zhulin's name. We wanted to show the audience and judges how powerfully and beautifully we can skate. At the same time, we are proud to show this choreography. We had a really short period of time to prepare, because we moved to Russia from the United States one month ago. But all this time, our coach could show us what we can do, how far we can reach. He said to us there are no limits and we feel we can achieve very successful results.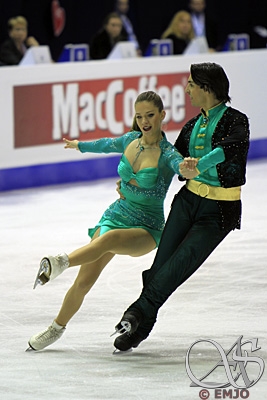 Alisa: Our technique improved so much. With his technique you have much more freedom, you can express more in the program, because you know exactly you'll stay on your feet, you will not fall, you will do what you need to do. In this one month he tried to teach as much as we could learn, and we took it, but we wanted more. It just needs time, we don't want to stop.
Alper: We are so hungry to learn this technique, we are so hungry to skate and we are full of emotions. We love learning from him and he is a wonderful teacher.
After this encouraging 13th place at the Europeans, what are your goals for the future?
Alisa: We want to qualify for the Olympics. This would be a big achievement for Turkey; it would be a first time. We'd like to make history. I'm so proud of it, you cannot imagine. Alper is the first ice dancer who represented Turkey at a world level! We want to show the world that Turkey can skate.
Alper: We want to give them a successful story they can believe in. So that they believe they can skate. As you know, Turkey is much more a summer sport country, but right now there is a development in the skating world. We have five ice rinks, but I hope their number will grow. Now it is still so difficult to take kids to the ice rink. With this kind of success story, a nice fairytale, we want to inspire kids to go to the ice rinks. We want to show them how beautiful skating is.
Alisa: And we want to show that they can do this as well, they can achieve. Look at us, and see that you also can do it. So that in the future nobody will say Turkey is not a skating country. Now sometimes when we say we are skaters, people ask us: are you seriously skating? We know that it is hard to break this wall, but we want to do it, it is very important to us.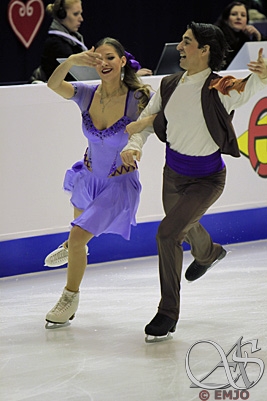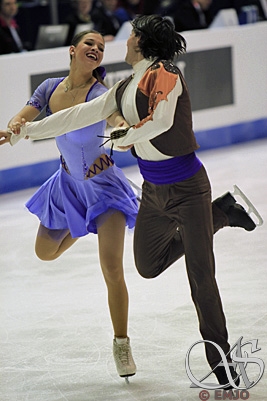 Alper: We started in 2011 at the Universiade with a silver medal, and we are still on our way to show the Turkish people and the other developing skating countries that there is a way, there is a path, and if you have enough patience, enough emotion, enough mind and heart, it's possible to succeed. Just work hard and never ever give up.
Alisa: I'm so proud of Alper. He was a singles skater, and it's so difficult to go from singles to skate with somebody. You are responsible for your partner.
Alper: I can say the same, I'm very proud of Alisa. I can understand how scary it must have been for her when we started this project. A singles skater comes to ice dancing, and wants to skate with her! She already had her ice dancing career in the Ukraine, so I have to say thank you to her that she accepted me as a partner, that she believes in us and that we share our responsibilities together on the ice. Thank you.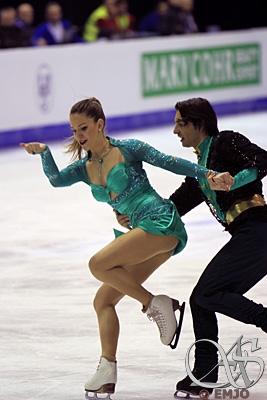 Alisa: He is a wonderful partner. I cannot imagine skating with someone else. He understands me; he also understands what we have to learn. And he always protects me. Everywhere; on the ice, off the ice… Thank you.
Back in 2008 in Zagreb Alper was still a singles skater. Can you say now that ice dancing is the right discipline for you?
Alper: I think so! Seeing this result I think this is my discipline. It's such a pity that in Turkey we don't have the different branches of skating. We just started this branch [ice dancing] in 2009. If I had known it before, it would have been much better for me probably. Ice dancing is amazing! I recommend it to everyone!
What do you like more about ice dancing compared with singles skating?
Alper: You can play more with the choreography… Well, not exactly to play, but to show more in the choreography. In singles skating if you miss something you still can put the combination after some other jump, you can change the jump layout even during the program. In ice dancing, you can't do such a thing, you should to stick to the choreography. But deep edges and showing your choreography to the crowd, feeling together with the crowd, and having a playful and lively partner to skate with, these are all pluses in the ice dancing. You can show yourself, your character and who you are really skating for. This works much more in ice dancing.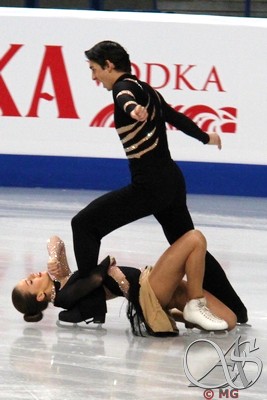 Were there any difficulties at the beginning of your partnership?
Alisa: It was hard. Obviously we had different technique. I'd been skating with Dmitri Dun for nine years, so I got used to some positions, some techniques. Changing a partner is always difficult, even if you go to another ice dancer. And he was singles skater. But he made progress so fast! At the beginning, it was shock and stress, but then after a couple of months I saw that he was getting into it. I was impressed.
Alper: With Alisa we always have big goals, from the very beginning. For that we always work hard, hard, hard and we don't stop.
Alisa: Finally we have found our coach, where we belong to with our hearts and minds.
Alper: It's fantastic to be part of such a wonderful group. You are watching, learning, and you are affecting each other. This gives us positive influence.
Alisa: To skate with Russia's first team Bobrova, Soloviev, the Azerbaijani team Zlobina, Sitnikov is amazing. They are such wonderful people and skaters, they are a family. This is what we need.
So it seems the coaching change is the key point in your career.
Alisa and Alper: Yes!
Alper: Exactly.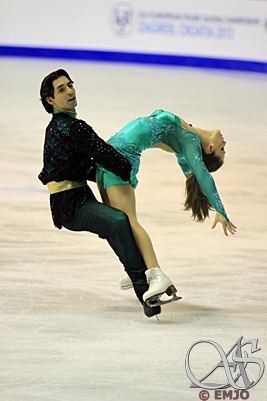 Alisa: It's as if we came from the dark to the sunlight.
Alper: We are focused just on our skating and how much we can improve it. We always try to be unique with Alisa. Every year we are changing our elements, we try to put on the table something new. I think the audience likes the different variations of skating. So we always try to find unique variations. From now on, with this family, I mean our coaches, we can do our best.
Both in the short dance and in the free dance you chose music which is well-known to everyone. In the short dance the music is Alexander Rybak's Fairytale, and in the free dance it is the soundtrack of a very popular TV series, especially in Eastern Europe, Magnificent Centuries. And the crowd reacted in a very good way.
Alisa: It was so beautiful. When I did my very first movement it came to my blood. I feel this emotion from the public, which makes athletes brighter and stronger. When you see people are cheering for you, they know your music and they are watching you holding their breath, it's unbelievable. This is the best for us.
Alper: I know this TV series is very, very popular in Turkey and also in some other European countries. The story really belongs to us. Alisa is Ukrainian, everybody calls her Hürrem on the ice, and I'm like Suleiman, the sultan. It is kind of a love story, a really powerful love story. It really fits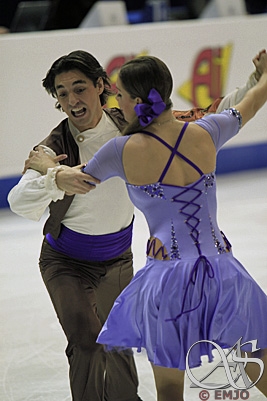 us, because we are representing Turkey, but she is from the Ukraine, just as Hürrem, the wife of the sultan had Ukrainian roots.
Whose idea it was to choose the Fairytale song?
Alper: At first, it was Alisa's idea, and I loved it. I am the crazier one in the partnership, I can do really crazy things on the ice, and she is controlling me. I heard about this song thanks to her and I said: this is it!
Alisa: It is unique, it's not the usual polka way. We enjoy skating to such music and we are smiling all the time. People know this music and they enjoy it, too, that's what we want. We want the public to know us and love us. So I think it was the best choice for us. I'd like to say thank you to the audience in Zagreb, we love to skate here!
Alper: As we understand more about figure skating, we want to show who we are and how good we are and at the same time we want to take the audience with us. I want everybody to enjoy our skating; not just checking elements, because this is ice dancing and we love to dance.