Figure skating for breakfast with Alexander and Irina Majorov
March 15, 2013
By Eva Maria Jangbro (EMJO)
Photos © Eva Maria Jangbro (EMJO)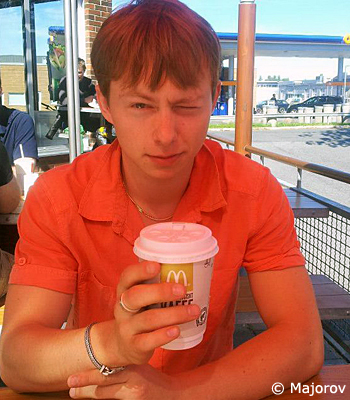 The day after the Art on Ice show in Stockholm, I had an early morning talk with Alexander and Irina Majorova. It turned out Irina was the early bird among us, but even at this hour we managed to talk about the show program, the success at Europeans, the story behind the free program costume and what it is like to jump wearing a hoodie!
Alexander, how did you like being in a show like "Art on Ice"? And what about the program you skated here?
Alexander: It was nice to be in this show. After skating my program I sat on the stand and watched the show, it is world class. We made my program especially for the show in just a day and a half right after Europeans. We had the idea but were unsure about what music would fit the show.
Irina: We had another idea at first to another music piece, it involved a mask, but they did not want that dance for the show.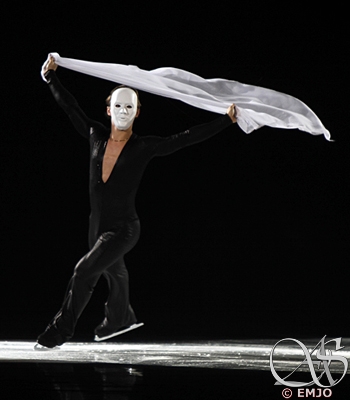 Alexander: Per Adler (the General Secretary in the Swedish Figure Skating Association) came up with a music choice by Queen, since he really likes them, but he suggested another song. But then I thought why not "The show must go on" instead! The mask idea was ok and suited this piece. When we translated the lyrics it is about a man in a show with masks and we had a mask in stock and I wanted to try using it. The program describes how we have many faces and often hide behind masks adjusting to the situation we're in. It's hard to let go of the mask, but when you do it shows your true soul and spirit.
Let's go a few weeks back in time. Europeans was the best result for a Swede in modern time (Alexander placed 6th) and that, despite the foot injury you got during the morning practice on the final competition day.
Why you think you did so well at Europeans?
Alexander: Well, I had trained hard to get there and I have had a few good competitions this season already, so it felt like it was my turn now. I am especially happy with the short program. It was clean and I knew I had made it to the free program. It doesn't happen every time that my short program is clean; it can sometimes be a little shaky.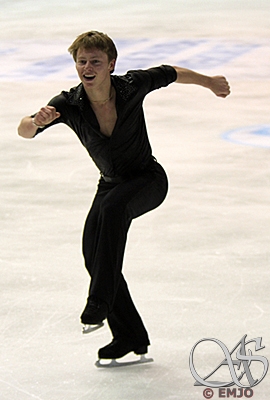 The audience responded really nicely, especially to your blues short program, did you notice?
Alexander: Well yes, I certainly did during the program, but now I don't really recall. Everything happens so fast when you're out there.
What is it like to skate your free program wearing a hoodie?
Alexander: I practice with a hoodie, so really it's not a problem. I am used to it, I like wearing it and besides it is very thin.
In the beginning of the season you used a different costume for the free skate, which provoked some critics. What was the story and the feeling behind that process?
Irina: Every year in September, the skaters present their programs for the Swedish federation and you are obligated to have a costume ready as well. I didn't know yet what kind of costume this dance required, I couldn't get the feel for how it should look. I knew the hoodie would be part of it for sure. I had noticed during the opening ceremony of the London Olympics that it was in style; many countries had team uniforms with hoodies. At first we had something Egyptian in mind, but it didn't feel right, so we ended up with an emergency situation! Alexander senior said: "Make Alexei Yagudin's Lawrence of Arabia costume for now, and then create the real costume later!" So it was just made to have something ready for the test skate! Luleå is a very small town and the kind of material I can find there is very limited. I try to buy fabric when we are at competitions abroad or when we are in other cities in Sweden. But there is not always time for shopping so it can be quite complicated getting what you need. But I finally found what I wanted and the costume is now complete and correct for the program.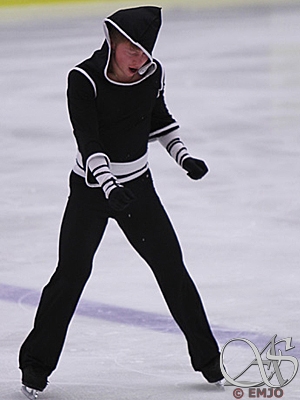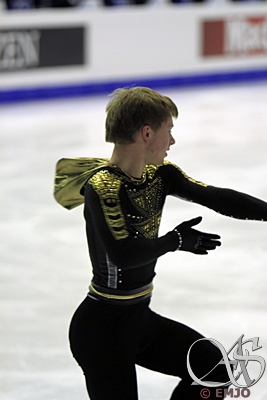 You had to take the quad out of the free program due to hurting your foot during morning practice the day of the free program. How is your foot doing now, are you able to practice the quad?
Alexander: I couldn't keep the quad in the program since landing it would have meant almost like an explosion [of pain] in the foot, so we decided two hours before, or rather I was talked into it by my dad and physio therapist, not to include it in the free program. Now I have had a week of rest to clear my head after the competitions, and I actually haven't skated at all until yesterday; I am trying to let my foot heal. It mostly feels ok as long as I don't do anything to aggravate it. About the quad: I have to change the technique to make it more consistent. Perhaps it'll work out that I'm able to do that before Worlds.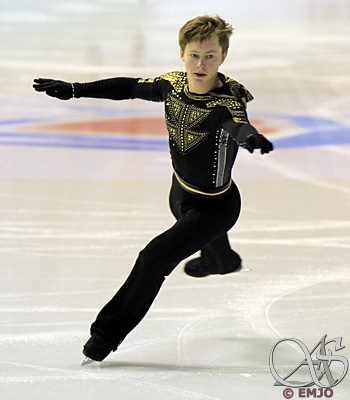 Irina: I think you're exaggerating, Alexander, you were able to land a quad toe-triple toe already three years ago! You don't need to change the technique now, take it easy instead. He wants to show his quad, but due to the foot problem it's not going his way. Alexander has this idea that he and Alexander senior will change the technique in the entry to the quad. But you have done the quad for a couple of years now!
Alexander: Yes, I know, but there are too many flops. I want it to be consistent in competition.
Is the quad the most important matter to you right now?
Irina: Yes, for him it is, it's like moving on to the next step.
Did you watch Kevin Reynolds at Four Continents where he did three quads?
Irina: Yes, we did and it's so nice for him. He has tried this for a long time and now he succeded.
But Alexander, what do you think? I have to say you did very well placing 6th at Europeans without a quad!
Alexander: I know, but we had it planned in the program. When I hurt my foot we had to take the quad out and change the order of the jumps. There were supposed to be two combinations with triples, so it all depended on how I managed the triple Axel-triple toeloop combination. If I had missed that one it would have been chaos… the next Axel would have had to be in a combination and you are not allowed to make combinations on all the jumps. I was lucky I made it as planned.
Irina: At home we practice failing on a jump and having to restructure your program's jump content. Alexander senior says: "Think wisely how you can save the situation. You have to think!"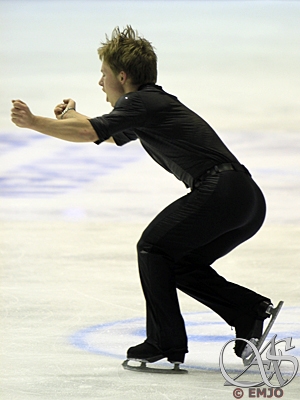 Presentation wise you have improved and you have brought back the energy you had when you were younger. I thought that spark was so special the first time when I watched you skate. Many skaters look down on the ice while skating and so did you, but I have noticed you have changed, your eyes are not so much on the ice anymore.
Alexander: Hm…
Irina: When you are little you dare to let go, and then when you get older you dress yourself in many layers of protections, like you were a head of cabbage with many layers of leaves. I think skaters who are invited to be in shows are lucky because there they learn how to connect with the audience. Florent Amodio however, is that kind of person naturally, that is just him.
Will you keep the programs for the Olympic season? Or is it too early to think about that?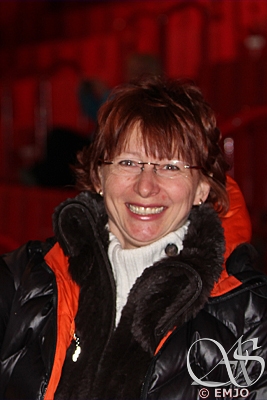 Irina: No, it is not too early. We have talked about it.
What do you think, Alexander?
Alexander: Both programs are good. I like the free program, it is really well structured. There is a flow so I don't get tired, and there are no unnecessary crossovers. I skate in the same direction so I don't have to make turns and go back and regain the speed. Like after the step sequence I go directly to crossovers and that saves a lot of energy.
About saving energy, some skaters take a little break to catch their breath, after making the three most difficult jump combinations, standing still only moving their arms in some kind of judge flirting action…
Irina: They need to refuel. But Alexander does it this way.
What can you improve next year except for the quad?
Alexander: My spins. But I have to get more consistent in both the technical part and in the presentation too. Actually I have to get better at everything!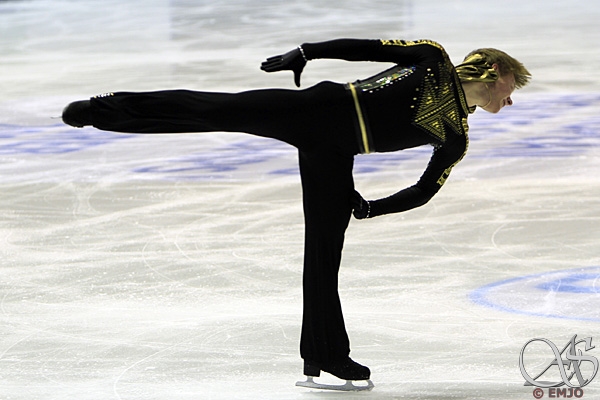 What do think about the new rule for the 2015 season, allowing music with voice?
Alexander: Unfortunately I don't think it will be great for the audience. First of all, I don't think galas will be as fun since that's where the singing catches the audience's interest. Secondly, I wonder what will be allowed, like can someone record a song for Coca Cola and skate to it to make money? My third reason for not liking it is that it'll get old. And you won't be able to mix the songs with slower parts in the programs. Fourth, what will they do with the swear words in the lyrics? Us skaters can't help that the artist or songwriter created the music that way. I don't think it will matter which artist or music choice you use. But I definitely think they should allow us to use little parts with voice or acapella, like Florent Amodio did at Worlds in Moscow. He set the audience on fire with a step sequence to The Black Eyed Peas. It looked great, but to have an entire program like that… and that we all do it…nae, that won't work.
Do you have any favorite music you want to skate to?
Alexander: No, when I think this one will perhaps be ok, I am never satisfied with the result. It turns out to be not so good.
How do you know that?
Alexander: I have tried it. The music choice is important; the music has to move the audience. It is really good when they like it and are with you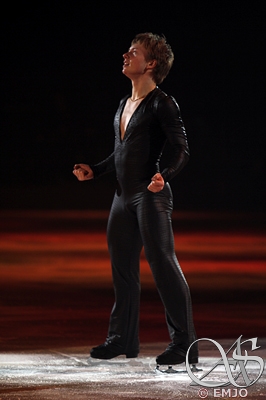 all the way
You said the week after Europeans was the most hectic week of your life!
Alexander: When I got back from Zagreb, people in the club (the Luleå skating club where Alexander trains) congratulated me. I only had one day at home before heading off to Iceland and the Nordics. It was not hard at all to recharge the batteries though, but when I stood there on the ice for the Nordics short program I felt like: "oh no, I don't have the strength to do this!" The Europeans is big and the Nordics is a smaller competition so the contrast is rather big, even though around 200 people actually came to watch us. The arena and the ice are small so it was hard to get motivated this time for this competition.
What happens next, before the World Championships?
Alexander: Nothing much, only practice and more practice.
Well, we will find out next season if Alexander will keep his programs or change them. But for the upcoming World Championships you can watch him skating his blues short program, and if things will go his way in the free program with the hoodie costume.
For more news please visit Alexander's website www.alexandermajorov.com
Update: Alexander qualified for the free program at Worlds and is currently in 16th place with 68.32.