Alexei Yagudin: "I'm trying to push myself. Otherwise it's not interesting to live."
February 20, 2013
By Titanilla Bőd
Photos © Natasha Ponarina, Irina Tsimfer, Tina Tyan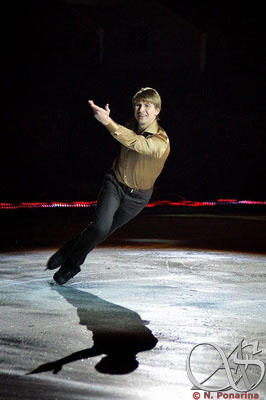 He doesn't watch skating competitions anymore, but has found new motivation in movies and TV. Besides these activities, he is still performing in various shows. The legendary Alexei Yagudin, winner of the Salt Lake City Olympics and four-time World Champion will be touring in the Czech Republic and Slovakia at the end of April, and he came to Bratislava to promote his show Opera on Ice. After the press conference, he also talked to Absolute Skating.
What is your connection to opera? Do you go to the opera, do you listen to it?
I love theater, but opera is a little bit harder for me. But Turandot and others, they are very well known, they are common knowledge and some arias will be with us forever. Puccini's Tosca is one of my favorites. Sometimes when I need more emotions inside I play it in the car. But it's quite rare that I go to watch opera.
What can the spectators look forward at the Opera on Ice show?
The combination of good skating and live classical music. I'm sure there are plenty of people who love everything classical. The combination of these two fields can work very well. We've done a lot of shows already in St. Petersburg and it's always been a big success. But people sometimes say: "I don't know where to look! To watch the orchestra and how they play, the singers and how they sing or how someone skates!" In this combination it is a different picture.
How is it different for you to skate to live music with the orchestra and the singers present near the ice, than to skate to pre-recorded music?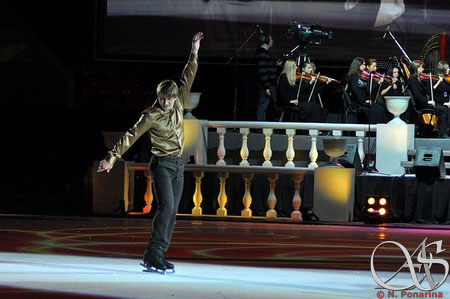 When there is an orchestra and people singing, it's a completely different feeling. It's more emotional, it's much deeper. Once when I skated to someone singing, a lady I know pretty well, she continued singing even though I had already ended the program. When the show was over I asked her why and she said: "Well, I enjoyed your skating so I decided I wanted to see a little more!" So she had given a sign to the orchestra to continue, but I didn't know that!
You've been skating to classical music, soundtracks, modern music… Which one do you prefer?
I have no favorites. I have enjoyed some pop, and some other genres. It also depended on how the program ended: very happy or just okay. Of course in competition we would choose more classical music because of the judges. It always depends on who your spectator is: judges or ordinary people, older people, younger people… We do a lot of Christmas shows for kids. For them Puccini would be a little hard to understand, so we choose different music.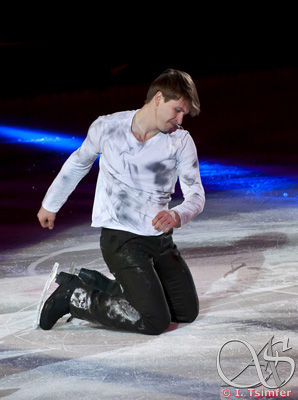 Now you are also into TV, movies and theater. On Youtube there are episodes of a Russian TV program called How Does it Work, in which you try to find the answer to various questions submitted by viewers. How did you get into this business? Do you enjoy it?
If I don't enjoy it I won't do it. I'm trying to learn something new in theater, TV and movies. This is the direction I went to prove myself. This is one of the interesting things I do. I'm trying to push myself. Otherwise it's not interesting to live.
Are you more nervous before a TV shooting than before a figure skating show?
Yes, definitely. I've been in figure skating for 28 years, but TV is new for me.
What attracts you in this field?
It's new to me and it's a big field. I just enjoy learning something new, and it brings me pleasure and of course a lot of adrenaline before a stage play. It's like the Olympics.
Did you follow the recent European Championships?
I know the results of the competition, but I didn't watch it.
After the Russian Nationals you posted on your Facebook wall that you were sorry Konstantin Menshov wasn't sent to Zagreb.
Yeah, I had heard he wasn't going, someone told me, so I wrote it there.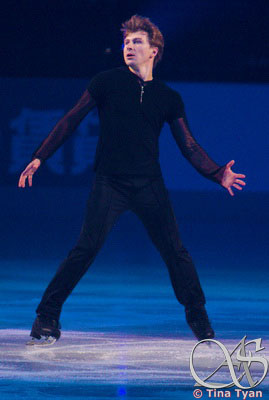 In the end Maxim Kovtun, who is coached by your former coach Tatiana Tarasova was the best Russian man in Zagreb. What do you think about his fifth place? Do you think he proved something there?
Yes. He is actually good. I practiced a little bit with him, because I competed in Japan at some professional competition last fall. So I've been on the ice with him. He is a really talented young kid. There are so many talented skaters and some of them become champions, and some of them do not. So I just wish him to go his own direction and to get better and better. From what I've heard, he skated pretty well at the Europeans. But I have to watch it, I don't know.
Did you notice that Brian Joubert skated to Gladiator, a soundtrack you created a legendary program to, at the Europeans?
No, I didn't see it. I don't follow the competitions anymore. I still take part in professional competitions, but they are in fact shows and can't be compared to Europeans, Nationals or Worlds. They are completely different; they are entertaining shows for the people. Yeah, there are marks given but I don't care about them. I am passed that; I have a different life now. I have a new profession I have to learn, I have a three-year-old daughter, a lovely wife and the shows I do – I love this life!
On the other hand, your rival of the past, Evgeni Plushenko, is still competing. What do you think about his chances of even going to Sochi now that he just had back surgery?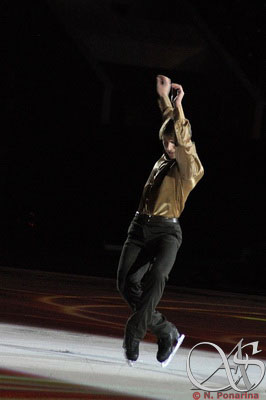 Honestly, I don't understand why he is doing that to himself. Maybe the problem is that he doesn't know what to do besides figure skating. That's a pity. After Sochi or even the next Olympics, the time will come to step into a different life. And you'll have to find something to do. Yes, he can become a coach, that's what he's been talking about. But I have no idea why he is doing this. I've seen parts of programs by Patrick Chan, Florent Amodio, Javier Fernandez and as far as I understand it they are a way beyond him. Evgeni has got a lot of professionalism though; he stays calm because he has competed for so many years. The young guys are nervous. Evgeni has nothing to lose while those guys still have to achieve. So in this position it's a little easier for him. But to be realistic, these guys are far away, for example Daisuke Takahashi… Nothing compares to him. There was a time, when the new judging system was first introduced, when it was hard for everyone. But now they skate like crazy and everyone is doing quads! Of course, if Evgeni goes to Sochi: good luck to him!
How do you view the Russian team's chances in Sochi?
I don't know. I wish them a lot of medals in figure skating or any other sport. I'm proud that my country is going to host the Winter Olympics, especially in Sochi. It's a unique place by the Black Sea, so it's pretty warm but with snow in the hills. In the host country everybody wants the most possible medals for the home team, and I'm no exception. But right now I don't think Russian sport is on a good level.
Are you planning to go to Sochi as a spectator?
I'll probably be there working with TV. Not commentating, but doing different things.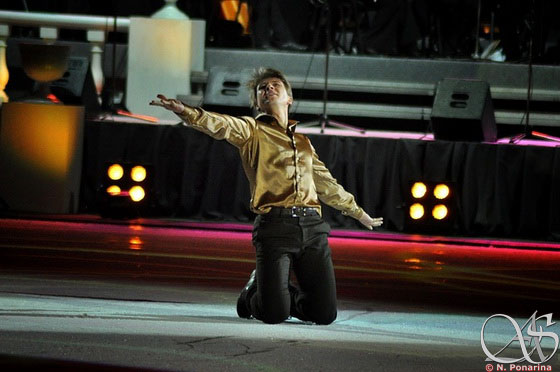 We wish Alexei all the best and many more interesting experiences in his new life!
Tickets for the Opera on Ice show in Bratislava can be purchased here:
http://www.ticketportal.sk/event.aspx?id=70032