Anaïs Ventard's first taste of gold
February 15, 2013
By Oxana Shkrebtienko and Liubov Mudrechenko
Photos © Oxana Shkrebtienko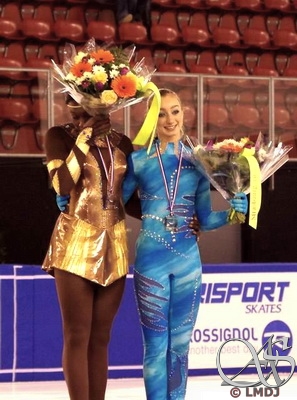 At the tender age of sixteen, she's still a junior, but to everyone's surprise Anaïs Ventard won the gold at the French Nationals in Strasbourg, as a senior! This was her senior debut and she obtained the highest score ever at a National Championship in France.
Born in Dijon, Anaïs started with gymnastics at the age of four, encouraged by her mother, a high-level gymnast. After that Anaïs made friends with skaters and took skating lessons. She liked skating and soon showed her talent on the ice. During the following years, she divided her time between gymnastic sessions and the rink, until she had to make a choice between the two. She chose skating because she liked the combination of cold wind and elegant jumps.
Due to some problems with the rink in Dijon, she was forced to relocate. Anaïs turned to Annecy which, in addition to having the appropriate equipment, also had a good coaching team. Her parents agreed to follow their daughter and moved to Metz-Tessy.
Congratulations to you on your victory, it was a very nice performance! I remember your face shown on the big screen after the announcing of Maé Bénérice Meité's result. What did you feel at that moment?
I was very surprised at the final result table after they announced the result of Maé! She was so ready for this competition, she was a favorite here. But I did my best in the short program to "Tango Roxanne" and also in my free program "Avatar". I did my job, and that's that! This is sports.
I saw your face, you looked really surprised!
Yes! This was a surprise, a very pleasant surprise. I was quite happy with my performance. I always skate for fun and that was the case here too! (sparkling smile)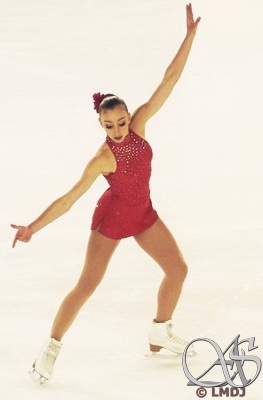 Did you change your plans for this season as a result of this competition?
I will discuss with my coach if I should take part in other competitions, if my health and my body allow me to do so. I had some health problem at the beginning of this season: I gasped and couldn't breathe normally. The lactic acid level was too high in my blood which reduced my energy. I had asthma linked to stress and many other side effects. My training routines have been adapted to my health condition. So my coach together with the Federation will make a decision about the season. In Strasbourg, my goal was to qualify for the winter European Youth Olympic Festival in Romania in February, and to the Juniors World Championships, and I made it!
I wish you to show your best performance there!
Thanks! I have to work a lot on my jumps technique. I only have two triples and it's not enough at an international level. I need to execute a triple flip and Lutz in my programs. This is imperative if I want to attain good scores.
And I think it's possible. You look like a very tenacious skater.
I came here with my coach, Didier Lucine, and a big team. Six out of ten girls skating in Strasbourg are from Annecy. This is an honor for the Ice Sport Club Annecy. It is a real skaters' nursery. It's good for Annecy!
It is a great support to be part of a team, and help each other.
Yes! It helps a lot. But it's also good for the rivalry between us.
What about your family, what do your parents think about your skating career?
They have always supported me; I owe them as much as I owe my coaches.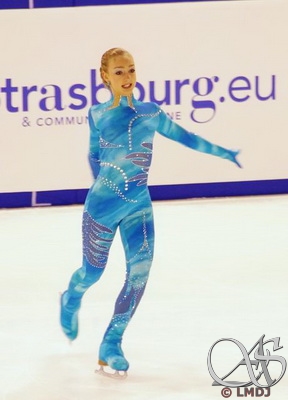 How do you like to spend your free time? Isn't it boring for you to skate all the time?
I really don't have so much free time. I live in Metz-Tessy and train in Annecy 25 to 30 hours per week; morning, noon and evening. My skating career is now my priority. Between sessions I do homework, I try to spend my free time on my education. Of course I do not have time to get bored! When I have some time to spare I like to read French books or watch French movies.
Most girls your age like to party and dance and have fun. What about you?
Yes, me too! But I have to choose. If I want to have good results at competitions, I have to limit my fun and concentrate on the training. When I finish with skating, I'll still have enough time for friends and parties.
And your friends, don't they think you are a bit strange because you choose to skate instead of partying and having fun?
They might think so, yes. But they don't really know my motivation. None of them know what I feel standing on top of the podium!
No doubt it's important for Anaïs Ventard to have fun on the ice. And no place is as fun as the top of the podium!
Update: It was decided that Anaïs would participate in the European Youth Olympic Festival after all. The competition runs February 17 – 22 in Brasov, Romania. Anaïs carried the French flag at the opening ceremony.