Armin Mahbanoozadeh: "I've never had so much fun working hard."
January 19, 2013
By Anna Zeitlin
Photos © 2012 Absolute Skating, Anna Zeitlin, Tina Tyan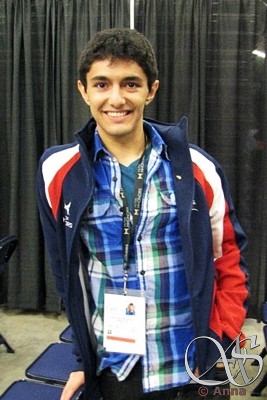 Armin didn't get an invitation to the Grand Prix series this season, but when Evan Lysacek withdrew from Skate America, Armin suddenly got a chance to compete at a major ISU event and perform his programs in front of the home crowd once more before Nationals. Unfortunately, he sprained his ankle before the short program and even though his practices went pretty well, he struggled with the quad in both the short and the free programs. Still, he placed 7th overall, in front of his teammate Douglas Razzano. We met on the last day of the competition; right before Armin was due to attend team USA's autograph session.
How did you like competing at Skate America?
It's great. It's the Grand Prix in the United States and having a home crowd is a lot of help.
And how is your ankle? You sprained it again...
Yes, it was really frustrating. At the end of my first practice I sprained it on a fall I had on a quad toe. We got X-rays done to make sure it wasn't broken, since I was in a lot of pain. Once we realized it wasn't broken and the ligaments were still attached we could tape it really tightly. And even though it was still very, very painful, I could skate without worrying about it too much. I just had to deal with a lot of pain, which was hard, but I think it helped me grow as a skater, to go through that. And I'm glad I still skated and did a couple of things well. I had a rough practice in the morning and a rough warm-up; I had to really focus on what I was doing. Now I have a couple of days to heal.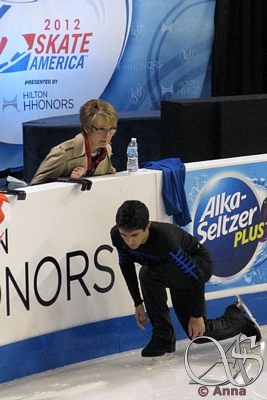 Do you need special treatment now for your ankle?
I'm very lucky, I live right by the Olympic Training Center (in Colorado Springs) and they are fantastic for recovery. Today, finally, I feel that I can walk comfortably, but I'll have a couple days off before I have to put the skates back on, so that's good.
How much do you need to change your practice sessions and overall training when an injury like that happens?
I really had to change it. The day of the short, when it was still very new, in my practice in the morning I did maybe three jumps, no Lutzes and no quads. I was just kind of relying on what I have already done at home, training-wise, to get done and it was definitely a challenge. I learned a lot about myself, a lot about how I can push myself, so I'm proud of what I did. It wasn't my best performance technically....
You did earn a personal best in the short program. You've got 68.27 points, and your previous best was 67-something points.
I know I can score a lot higher. The quad was nice in the warm-up of the short; it was going really well at practice when I was at home. I'm disappointed that I wasn't able to do it at the competition. The day of the long it just went away. But that's OK, I think if I can hit a clean short, I can possibly hope for a much higher score, so I'm looking forward to that in Austria (Ice Challenge 2012 competition in Graz where Armin got 72.14 points for his short program and a bronze medal eventually - ed) and in Nationals.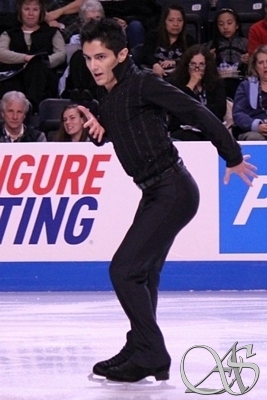 Nationals will be very tough, although it will be very exciting. I think United States needs to have some really exciting skating competitions, so I hope everyone's there and everyone brings their best and we'll see what happens.
About your free program - you said you were looking for some epic, yet mischievous music, and you came up with the "Doctor Who" soundtrack. Whose idea was that?
Actually it was a Twitter fan that tweeted me that I should check out this music. I get a lot of suggestions for music and I do pay attention to them, but... I was like "OK, this sound interesting". I actually haven't heard of "Doctor Who" beforehand, so I checked it out and I thought: "This could really work", so I got the soundtrack and I cut it myself, since I cut my own music. I gave it to my choreographer and we really liked the character and how the music kind of builds towards the end, so we went with it.
Did you watch a little bit of "Doctor Who" since then?
I have. I'm still catching up, but I'm watching it and I'm really enjoying it.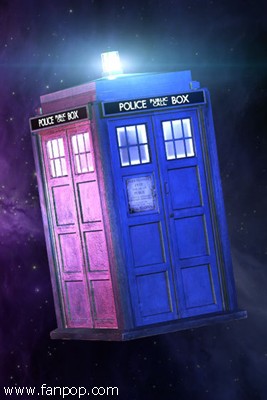 You said that you were trying to channel TARDIS (Doctor's spacecraft in the form of a London police box) in your program. Is that what the blue is for in your costume?
Yeah. We looked at a more literal interpretation of Doctor Who, with the bow-tie and a brown suit, and we thought that for me it wouldn't be my best look, so we went a little more abstract and the outfit is kind of supposed to be an interpretation of the TARDIS. That's what we came up with.
How important is it to have a costume that channels and connects to the theme? How much does it help as opposed to a generic costume?
This one was difficult since there are a lot of "Doctor Who" fans out there, but not everyone [is a fan], and especially perhaps not the judges, so if I came up with the suit and the bow-tie, we thought it might not connect with people who didn't know quite where I was coming from. So we tried to find that balance, and that was a bit difficult but I think we have a good reference.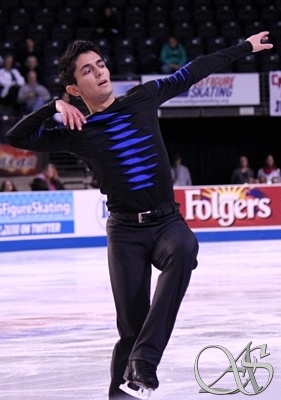 Does it help you to have a costume that you think connects strongly with the music and helps you to bring out the character more?
Yeah. Obviously character connection is very important, but we wanted to connect with everyone. The Doctor is very quirky and has a very big personality, so we were trying to find what makes between that personality on the ice, but also something that's elegant and artistic and can connect to everyone.
You know that the Doctor time-travels. Would you like to time-travel?
(laughs) Maybe to the quad where I hurt my leg. I'd time-travel there and redo that quad. You know, our motto for this year is "No regrets", so I don't regret my performance and we'll just keep on getting stronger and once the foot heals I'll be back and better than ever.
And if you were offered to travel somewhere in history, where would you go?
(sighs) Such an amazing question. (thinks hard) I would love to go back so far and see the time of the dinosaurs. And in human history I'd have to say... give me a second... maybe to the Ancient Egypt, the height of the Egyptian pharaohs. I'm really fascinated with that period. That would definitely be what I'd like to see in person.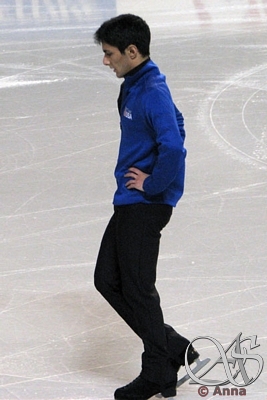 You edit and cut your own music and you also play piano. Did you ever think of playing or composing your own music for the programs?
I've given that actually a great deal of thought. My first thought was to do an exhibition number that I'd play, and that's still a possibility. I have something in mind for next year as a short program, that I obviously won't reveal, but I'm practicing for it already and we'll see how it works.
Will you perform or compose the piece as well?
I'm not strong in music theory and composition, that's not something that I've done, so I wouldn't be comfortable with that. But I do have a pretty well-known song in mind that we're going to try to record and perhaps get for next year. I think that would be cool.
I saw a couple of pieces you played posted on Youtube.
I'm not at home anymore where my piano is, but when I drove from Virginia to Colorado I brought my keyboard. It's a full keyboard and has a weighted key so it's kind of feels like a real piano and I still practice. When I go home for Thanksgiving I'll probably be posting some more videos.
The ones you played for Mao were so sweet.
Actually, see, that's how I got started. I'm a big fan of hers and I noticed that she was skating to a lot of pieces that I could play, so I was like, I'll record and dedicate it to her to have a good season. And in a couple of days I had thousands of views from Japanese fans and fans all over the world. And I saw they really appreciated it, so I kind of went with it and I think I have almost three to four thousand views right now on my channel and it's fantastic.
Watch the video to check out the second tribute.
You played beautifully.
Thank you! I haven't had lessons for many years and some of the pieces like the Chopin ballade are very advanced, so I make some mistakes. I admitted in the description of the video that I'm not perfect, but people are fantastic and really supportive, so I'm glad I'm doing it.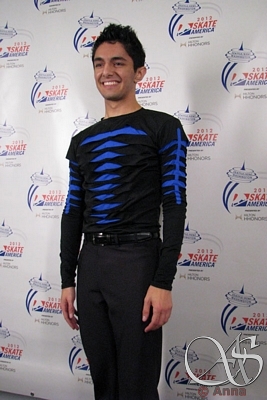 You post these videos to your Youtube channel and there are also some on your website. I noticed your website has not been updated for the last two years. I was wondering, are you a part of making the content of this website?
I am... You know, Twitter is so much of how athletes and other people communicate with fans now that I almost don't feel the need for my website that much anymore. I'll either have to update it or remove it entirely, but Twitter is how I talk to my fans and it's such a great tool to talk to fans and people who follow skating. I feel like that's a great reward.
'Cause you've studied web-design...
I did. It's not my highest... I don't like to talk about that. (chuckles)
Before you moved to Colorado Springs, you went to UPenn and studied Computer Science.
Well, Computer Science is the field I want to go into. While I was at UPenn I did my general education, my required classes. So I haven't gotten into that yet, I plan on doing it in the future. But I'm studying, when I'm home and I have free time I do like to study Computer Science and program.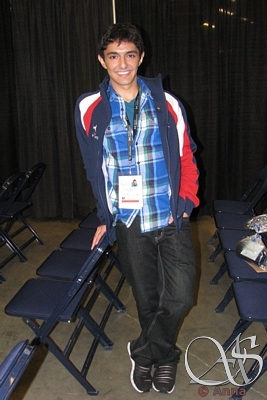 What did you like from what you've studied in the field?
Well, I started with web - HTML, CSS; and now I'm going into JavaScript, Java, C#. I've taken a couple of beginner's courses, I'm starting to get into it, but I'm starting to work now, so I'll have less time. But definitely when I start school again, hopefully soon, when I'm done with skating, I want to go to college full time and most likely study Computer Science.
Don't you want to stay in the sport like a lot of skaters do?
I doubt it... I don't know. I'm taking skating one year at a time right now, so every year is a new focus. I take it year by year. My goal is to go to college full time afterwards; I've always wanted that experience. And with skating... I knew that if I were to go [study] full time, either school or skating, or perhaps both, would suffer, so my priority right now and probably next year will be skating, and then of course I'll make the decision at that point.
You had to make a lot of changes when you relocated to Colorado Springs. Did your training schedule also change a lot?
I spend a good amount of time at the rink. Obviously now when I'm done with high school I don't have to go to school at seven in the morning, I can dedicate myself to skating. My on and off ice training is spread out a bit more, so I get a break in between.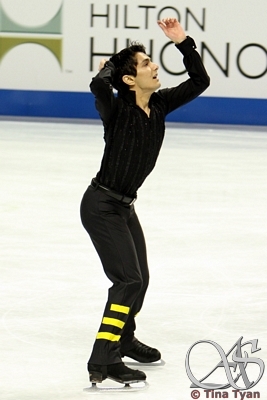 I'm also starting to work at the Olympic Training Center and it's going to be fantastic. My new position is athlete tour ambassador, so I'm an athlete that gives tourists a tour of the Olympic Training Center, so that will be fun. I'm in training for that right now.
I kind of consider OTC my home away from home. You meet a lot of fantastic people there and a lot of inspiring athletes, so I'm glad to just be a part of that.
When you travel for competitions do you ever have time to go sightseeing?
Yeah, I usually love to. Last year, when I went to NHK, I spent three days in Tokyo afterwards by myself, actually, and that was a fantastic experience. And when I go to Graz in a month, I extended my stay an extra day. I love sightseeing. I was thinking about going downtown [Seattle], but perhaps with my foot I should probably rest today. I've heard so many good things about Seattle, but Seattle will be there when I come back. And for me today is best not to walk that much, I must recover.
How do you like to relax during the competition? I saw some skaters in the audience - they come after the training session or after their performance. I didn't see you so I wondered if you ever do that.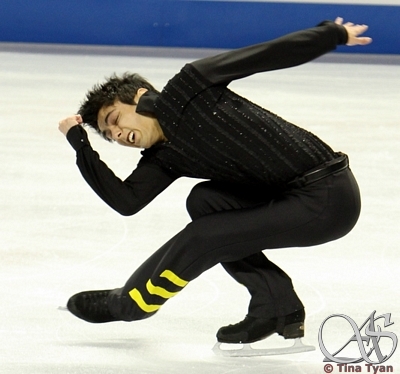 I used to be that person that would go to all the practices and everything, but not as much anymore. I usually just... if I'm not sightseeing at a competition I like to watch comedies, things that make me laugh. Talk to my parents and just relax. I've done better just relaxing, getting a workout or something. I don't feel the need to stay at the rink during the competition as much. Just for practice and performance. I've almost completely changed, because I remember as a junior I'd watch everything, and as a senior I... I kind of feel like I've seen almost everything in skating, so I don't feel like I need to be here as much, and I can focus just on myself.
Is there anything you really wish someone would ask you in an interview and you've never been asked about?
That's a great question. (thinks) You guys are pretty thorough. (thinks for a while more) I'm happy to answer any question I'm given. When people ask me about my new training place I can kind of express what I'm feeling. With the questions I'm given I try to answer them truthfully, of course, and I just.. I don't know, I feel like you guys do a good job, I don't know what to say. (smiles)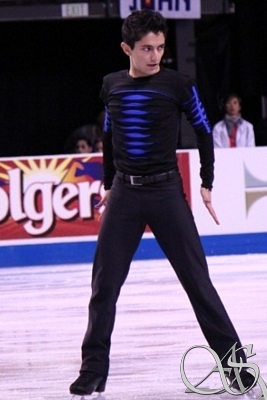 Maybe there is something funny or unusual about you that we don't know?
I don't think we ever get to show how much fun we have training. Like, Agnes (Zawadski) and I are both two of the biggest goof balls off the ice ever and we have so much fun off the ice, we just laugh, we get along so well. So, you know, we take skating very seriously, but there is also a really fun side to it that I think perhaps isn't shown as much on ice and off the ice. We have a great time, we just have a lot of fun, and I'm not asked about that much.
I've never had so much fun working hard. We work hard and have fun working hard, which is good. It's also tough though to do both.
Do you have some good friends in Colorado Springs now?
Yes, I'm lucky. There are so many great skaters around my age that I can connect with, and we're going through the same things. Agnes is a great friend of mine. Christy (Krall) has a great team - Josh (Farris), Angela (Wang). And Patrick (Chan) is still training there, we get along. Max Aaron... it's a great group of kids. I didn't really have that in my other places of training. We push each other on the ice and we support each other off the ice, and we have a lot of fun off the ice together.
What do you do after you finish your training session?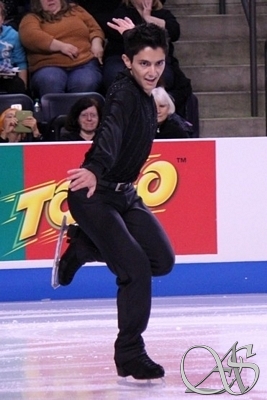 Well, we don't do that much on the weekdays, but on the weekends... this summer we went white water rafting all together, and then I think this weekend they were going to go to a haunted house or something together for Halloween. We just have fun. Sometimes we'll just spend time at each other's places and watch videos or something. It's fun to spend time together.
You mentioned Halloween - what's your favorite holiday?
I'd have to say Thanksgiving. I'm going home for Thanksgiving and for the first time this year, and my mom makes me all my favorite food and I can spend time with my family.
And what's your favorite food?
Well, the classics, of course, like the turkey. But I love seafood, so salmon and then some of the more ethnic foods that my mom has made for me since my childhood. I miss all of those. At the Olympic Training Center they cook so well for us, but nothing is like mom's cooking.
At this interesting point (even though from a culinary and not a figure skating aspect), Armin had to rush to the USA team's table. There was already a long line of spectators eager to get an autograph from the skaters. I left, wishing him good luck with the rest of the season, the high point of which for Armin will come at the US Nationals this week. We can just hope he will have the luck, the drive, and the consistency to show the home crowd and the judges everything Armin Mahbanoozadeh has got - which is a lot.