Catching up with Mister Grütter
 
January 29, 2013
By Reut Golinsky
Photo © Figureskating-Online, Swiss Olympic, Reut Golinsky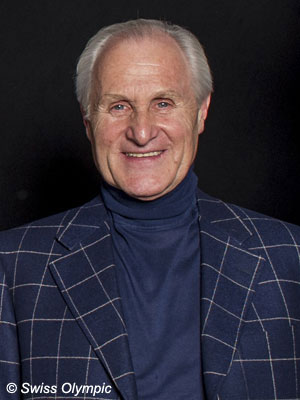 Two seasons after his stellar student has retired, three seasons after our very first interview during Nebelhorn Trophy 2009, we meet with Peter Grütter again - again in Oberstdorf, at Nebelhorn Trophy - talking about his "life after Stéphane Lambiel", his new and old students, health and more.
I wanted to start our talk inquiring after your health as I've read you cancelled your trip to Finland this summer because you were ill. What happened?
I overdid it. I was eight weeks here (in iceDOME summer camps) and the last four of them I had to work around 14 hours [a day]. I felt well, but when I came back home, suddenly I could not walk anymore. It started with the pain and was getting worse and worse. So I said: "Stéphane, you must go alone, I cannot come" (Lambiel and Grütter were both invited to teach in ISU Development Project in Finnish Vierumäki, in the end only Lambiel could go - ed). As I still had my crutches [from my previous injury], I was walking with them. And I was really afraid, afraid of having a thrombosis or even a tumor. Mentally it was a hard week, but then tests showed it was only a stress fracture because of spending too much time in skates.
And how are you feeling now?
OK. I still can feel it but I can walk. And on the ice I actually feel it less than when walking, it's easier.
About your students... Samuel Contesti has retired...
Yes. He retired because his wife was expecting a second child and financially they couldn't afford it anymore. The Italian federation couldn't give enough support, so they had to decide to stop. Samuel did well at Worlds. And I think he wanted to retire with this tenth place because he felt he couldn't do better. I was sad when he told me about his decision but on the other hand I could understand him. And we still keep in close contact. But now he doesn't work on the ice, he works in the town hall of his home town. I had a very good job for him as a skating coach, in the Italian part of Switzerland, but he didn't want to move.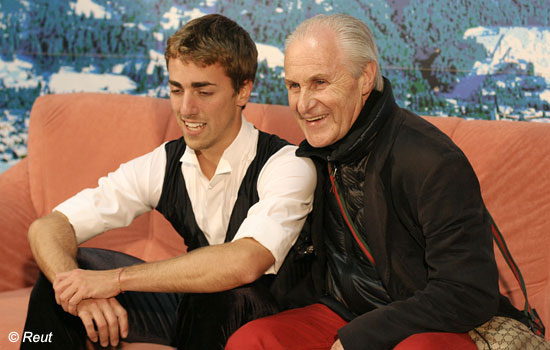 With Paolo Bacchini of Italy
I also had a very good girl, Alisson Perticheto. Her father decided she won't skate for Switzerland; they didn't want to practice in Geneva anymore and moved to France. Her father is not very familiar with the sport, and when I was enthusiastic [about Alisson] he decided she would be a junior champion, he just didn't know that there were other very talented skaters. But now Alisson is back and we're building again. Unfortunately she was injured, her back, her knees. When she was in France she started skating for the Philippines, as her mother is from the Philippines while her father is from Italy. For now we decided she will still skate for the Philippines because you cannot switch countries too often. One day she will be very artistic, I hope. And maybe one day again she will skate for Switzerland, because we don't have so many good ones...
You also have a new student, Anna Ovcharova (2010 Russian junior silver medalist, fifth at the junior Grand Prix Final 2009-10 and at the junior 2010 Worlds 2010 - ed). Since when has she worked with you and how did it happen?
They contacted me last October (in 2011), I got a letter from the club saying that Mrs.Ovcharova wanted to talk to me. I didn't know her name, I wasn't familiar with them, but I called. She said that Anna was a flower girl when Stéphane won in Moscow in 2005. And since then, she said, they "were very fond of Stéphane and this team".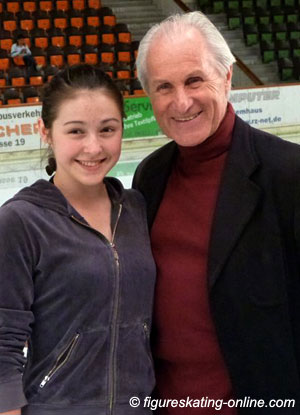 Anna was injured before that and was out for one year (during the season 2010-11). And when she was back on the ice her mother decided to find a less stressful environment for her. They asked me if I can take her and I said OK, and since December 2011 we have been working together.
What was so funny, the first day she came and went on the ice... I have a friend in England who is now my age, but when she was sixteen or seventeen she looked exactly like Anna, like a twin sister. And so after a while I said to Anna: "In England you have a twin sister, but she is now much older". Her name is Jackie (Jacqueline) Harbord, she was British champion (in 1962). And even her skating style is the same. She was very artistic, Jackie. For me this was so strange, it was like I was back in my youth.
From the beginning Anna was wonderful, agreeable. It is really nice to work with her, because she is very intelligent. At the moment we speak in English, but she also learns French, very quickly, and she goes to school now with her brothers. We worked here, in Oberstdorf, for eight weeks in the summer and last week we had the competition in Switzerland which she won (Dreitannen Cup, 21/9 - 23/9/2012). And now we plan to do Swiss Cup events and Swiss National championships (since our talk Anna won Trophée Romand 2012, Lugano Cup 2012, Trofeo Ticino 2012, Championnats Romands 2013 and was second at Swiss Nationals - ed).
She considers the option of skating for Switzerland. But she is Russian, so Russians still can be proud of her, can't they? All those complications with the flag... for me the flag is only the flag. Even I don't feel very Swiss, and I was born in this country. Skaters travel around the world; they are inhabitants of the world. What I also think is it's a pity that some countries have so many good skaters but other countries can send the same amount, and so, good skaters from, for example, Russia can not come. Maybe later on the system will be changed to be like in other sports and then we will have the best in the world competing, which will be fair to the sport.
Was it Salomé who choreographed for Anna?
Yes, she did both of her programs. In her short program Anna portrays a ballet dancer, exercising at the bar, this program is more classical. And the long program is to "Memoirs of Geisha", Anna acts more there,
I like that program very much, she does it with a lot of passion. She has a lot... it's like Stéphane had, a lot inside [of her] and it's coming out. And I think she really loves skating. Her mother said to me that now she got her girl back, now Anna is like she was when she was little, with this happiness in her like when she was a child. During the hard times Anna had lost this happiness.
Interesting, that you mentioned a few "skating parents" and how differently they influenced their children's lives...
Anna's mom is helping a lot; she is a very intelligent woman. Stéphane's mother was helping a lot at the beginning too, but she took it well when Stéphane said: "No more, please". She stepped back but was still very enthusiastic and continued to watch figure skating. Stéphane's mother always came to support every skater, not only for him, she went to see all of the competition.
Three years ago, here in Oberstdorf, you mentioned a little boy who reminded you of a little of Stéphane. How is he doing now?
He is still working with me. He is eight now, he is very-very flexible, and he is a promising skater. His name is Noah Bodenstein (Noah skates for Club des Patineurs de Lausanne & Malley - ed). His mother is from Kenya and his father is from Germany. So we might have an exotic looking boy in a few years [in competitions].
He is very cute; he was playing a lot at the beginning. And I was afraid maybe his heart wasn't in skating because he also played hockey and football. So once in front of him, I told his mother: "I think skating is too complicated for him. If he wants to play all the time, then let him just play". And then he started to get really into it. He wants to progress and he is very fond of Stéphane, of course. From time to time Stéphane would come and give him a lesson... (Stéphane is now also working with Noah in Lausanne, as part of "The program with Stéphane" which is held once a week for the kids of the Club of Skaters of Lausanne & Malley - ed)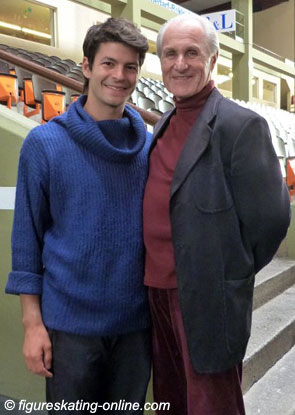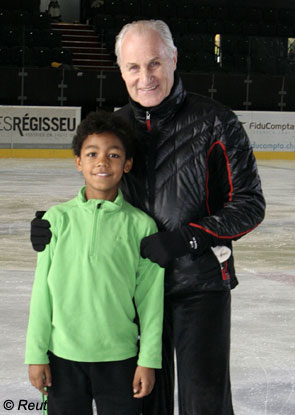 That's actually something I planned to ask: how frequently does Stéphane come to Geneva?
He comes every day. The way he practises everybody thinks he is coming back to competition, because he jumps quads every day, and he can do triple Axels. He comes when he doesn't have shows, he wants to keep up [his shape] for the shows. He had some problems with his eyes but now everything is OK. It was probably caused by the spins, you know, when his head would go back, when he didn't breathe, when he did this very fast. Now he found out that he needs to be careful, to listen to the body.
How much do you follow what Stéphane is doing now? Do you know his new programs, for example?
Actually Salomé comes to Geneva sometimes, they put the programs together, and he himself works a lot on the new programs. I can't follow [him] because most of the time when he comes I'm teaching somebody else, but I keep one eye on him. And he likes to come... It's very touching; he likes to come when I'm there. He will call me: "Are you there? If you're not I will go to practise in Villars."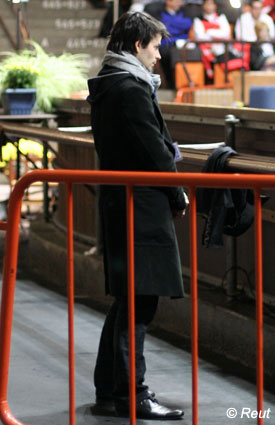 This year I had my birthday here, in Oberstdorf, and it was a milestone one. There were many people coming, and Stéphane came too. He made a speech, and he started to cry, and at the end we all were crying. Everybody was crying and it looked like a funeral! (smiles) It's really touching, this relationship. We had a few difficult years but now it's so wonderful.
How was it for you to see him today as a coach?
I was very proud. I thought it was great. And I'm happy he is here with Denis (Ten), because Denis is also a wonderful skater. I think Stéphane will be a good coach later on. For the moment he is more into the choreography, and he is still not very patient, but he will be a good coach.
What would be your advice to Stéphane from coach to coach?
I think we will work together in the future. Because when you're a good skater and you have to start teaching beginners sometimes it's very hard. For the moment he is with good skaters, with Miki Ando and Denis Ten. But when he starts with the little ones, I think he will need some advice. I had a system of warm up steps, when they cancelled the figures I replaced it with those elements. And we would like to write them down and make a movie, a book. We will do it probably here, in Oberstdorf. It could help some coaches (at the moment creation of this DVD is already in progress - ed).
The last question is something I always wanted to ask you, not sure there is an answer to it. How do you create Stéphane Lambiel?
I think it was him, it was the boy. I mean, he was exceptional. I could see this immediately from his personality;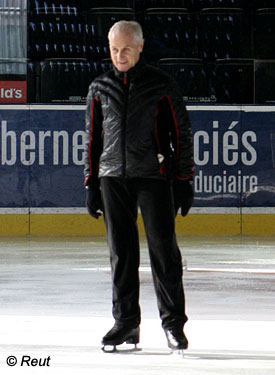 he was like a little adult already, though sometimes very childish. You know, his mother told me that when he was three years old, at home he knew how to work the washing machine or the drier, where the things go, something that his sister who was three years older didn't know. So there was something very bright about him. Stéphane was never satisfied with himself, even when he was little. And I said to him once: "You got the talent; you've got it from somewhere. And if God sees that you don't like this talent, he will take it away!"
Yes, he probably was special. Yet in Russia, for example, I think he wouldn't have survived.
Well, if you want a personality later on you have to develop it, you have to let it develop. If you treat them like slaves at the beginning, you cannot expect that some day later [you get the personalities]... But sometimes they are not easy, these children...
In November 7th, 2012 Swiss Olympic Association has awarded for the first time five coaches with the "Swiss Olympic Coach Awards". Among them was Peter Grütter, honoured for his life's work with the Swiss Olympic Lifetime Coach Award. "With his sense of aesthetics, Peter Grütter has left his mark on the national scene of figure skating for almost half a century, like no other before, and paved the way for athletes - especially world champion Stéphane Lambiel - to the world summit," commented Cornel Hollenstein, responsible for elite sport in Swiss Olympic.