Justus Strid: "We just wanted to go crazy"
March 8 , 2013
By Titanilla Bőd
Photos © Eva Maria Jangbro (EMJO), Mireille Geurts & Joy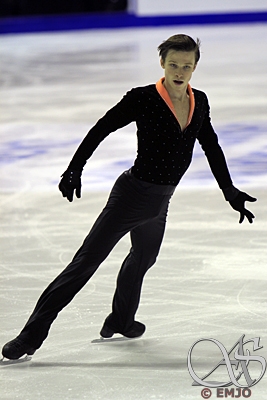 At Europeans he wasn't in the top 10, not even in the top 15, but there were for sure many fans who noticed him and remembered his programs. He was the weird guy in the weird costume with this weird free program, portraying someone who always makes trouble, until he finally finds his real place. Justus Strid of Denmark talked to Absolute Skating about the story of his program and also about his thoughts about the new minimum technical score.
What is the story of your free program?
It's about a guy who doesn't fit in anywhere, until he finally finds a circus where he fits in, where he belongs. At the beginning he tries many things: he walks around and finds everything weird, then he wants to be a waiter but everything crashes and nothing goes the way he wants. People are mad at him and he is upset. And then he finds a circus, where everyone is cheering for him and he is happy. So that's the story.
Was this story your idea?
I don't know, we made it up together. Me, my brother and another choreographer thought about the circus, but then we thought it would be a bit hard to do a circus for four and a half minutes; just funny, funny, funny. It's hard to be a funny clown that long. It's fast all the time and it can't be done. We wanted a story behind it. Then my choreographer, Johnny R. Jensen, dreamed up this whole story. At the beginning I asked: how will people get this? How will they get that he doesn't fit in, and that people are upset with him? But then we figured out the music and we put a lot of fun stuff in and I hope people get it now!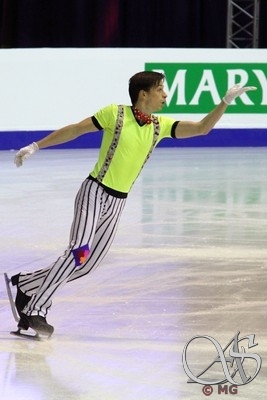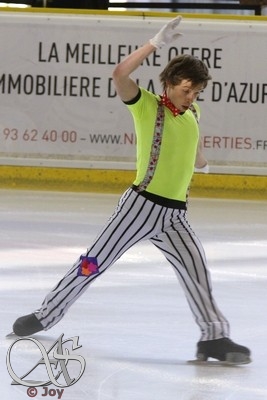 Your costume with so many un-matching details is also very interesting.
We just wanted to go crazy. Different colors, different patches. With these colors we wanted to show that this guy is really crazy, so they wouldn't think: "oh, he is a clown", or "oh, he is a normal guy", but they would think: "that's weird".
You placed 21st in Zagreb. What are your overall impressions of these Europeans?
I don't know. It's a little smaller than usual. As for me, it was weird, because the practices went really great; I did everything on the first day and also before the short program. And then the warm-up before the short was really crappy and the short program was crappy too. In the morning before the long program there was a six o'clock practice, so that wasn't good for me, but it went okay, and the warm-up was okay too and then… I don't know. Nothing worked when I performed the program.
Compared to last year, how do you feel about your results at the Europeans?
I got better scores this year, so this was better, but the feeling was much worse. For the short program I got only one point less than last year, so it was okay points-wise, but I tried to go for so much more. I was in good shape and it could have been great, but it was just okay. It was far from my goal.
What are your goals?
I'll do the Nordics, then I'll probably have two more competitions. The goal was to get the points for Worlds here and not have to go the other competitions, but now we have to do back to back competitions before Worlds to get the points. Right now I don't feel so motivated.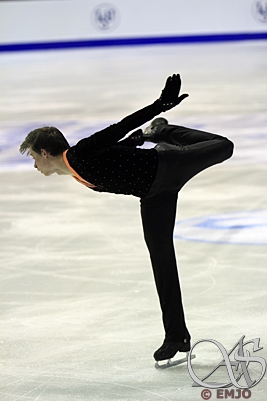 What do you think about the new, higher minimal technical score?
I think there is a big problem with it, because the one who's paying for it is the skater. We have to go to so many competitions. At every competition this year there was a big starting field, but the problem is that someone has to pay for this. The skaters don't make money. Of course, the top skaters do, but they don't have to go to all the competitions, because they already have the points. But the others have to pay themselves. More competitions mean paying more money and this is hard. And the score is really high. During the summer when we were practicing it was very disappointing to get that news. At first, I felt it cannot be done. But I'm getting closer and closer. I got like 33 in the short, that's just two points [from the original limit, which by now has been lowered by the ISU]. But in the free program my technical score has never been good. I never did all the jumps, which would be the most important way to earn the points.
How many competitions have you done so far this season?
I did three or four international competitions, then some at home, and now we have three more back to back until Worlds.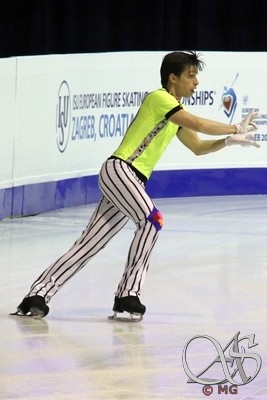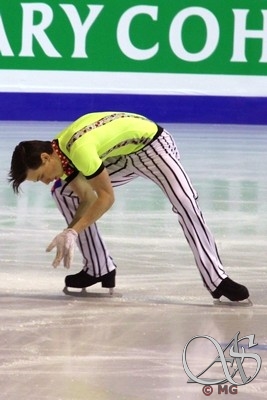 Update: Justus earned a silver medal at the Nordic Championships in Iceland in early February. And he managed to achieve the minimum scores to compete at Worlds at the Challenge Cup in the Hague and the Golden Spin in Zagreb.