Sarah Meier after Bern
 
June 12, 2013
By Ia Remmel (Pia)
Photo © Eva Maria Jangbro (EMJO), Mireille Geurts & Joy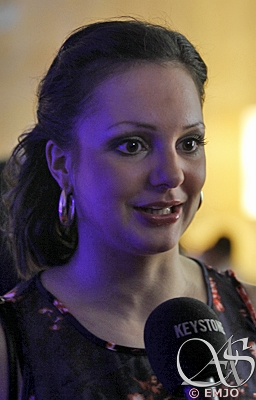 In the history of figure skating some victories are more memorable than others. One of these will always be Sarah Meier's win at the 2011 European Championships in Bern. It was beautiful and touching to see her winning the title in front of her home crowd. Victory was followed by a number of recognitions and Sarah was named Sportswoman of the Year at the Swiss Sports Awards. Now Sarah is one of the "Art on Ice" company's stars and has a tight show schedule. She has many activities alongside shows as well. I met her at this year's "Art on Ice" show and she told me a bit about her life after the Bern competition.
Two years have passed since of your unforgettable victory at the European Championships in Bern. Since then you have lived the life of a professional skater and have performed in many shows. How do you like your current style of living?
My present life is very different from my previous one. Before, every day was planned with trainings, learning new choreo, very much the same every day. Now it is a little bit more spontaneous as I often don't really know where my next show will be. Sometimes I don't have any shows for one or two months and then I'll have many in a row.
I am really glad about the opportunity with "Art on Ice". It is my main tour and my main show of the year. Now I have to decide how many more years I want to continue with shows. Stopping competition was easy for me because in Bern it was a perfect ending, but I think it will be hard to decide when to stop doing shows. It's really nice to be there, but I'm not booked all the year and I want to find more opportunities.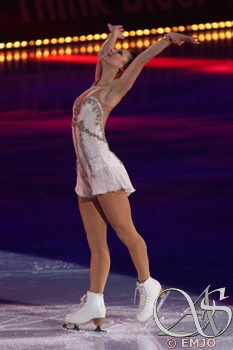 But you still enjoy shows?
Of course! I mean – when I'm on the ice I think – oh, how can I stop! I want to do it all my life! I love every moment when I'm on the ice. But then of course I feel my body is not so young any more. For shows you must be in a good shape all the time and you need a lot of practice. I train almost every day.
You mentioned that sometimes you get show calls quite late and need to decide fast…
Yes, sometimes it is on a week or two's notice and I have to be ready all the time. That's why it's a bit hard for me to have a job or to go to study because I never know. And I want to be able to go when they ask me for the shows.
Does it happen that you sometimes have to refuse offers?
It happens sometimes but seldom because I want to do as many shows possible because I like them and train for them. I want to show what I have trained, new programs.
Does Salomé Brunner continue to choreograph for you?
Yes. We also work with Marvin A. Smith, the "Art on Ice" dance crew choreographer. Last year I worked with him on the "Art on Ice" program and also with my own program, this year again. It is a good collaboration. Marvin deals more with dancing and then Salomé does it on the ice. I can also bring my ideas.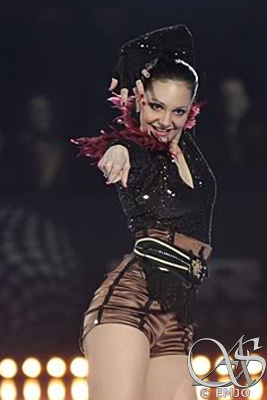 Who chooses the music for your programs, are they mostly your own ideas?
My most popular show program "Not Myself Tonight" by Christina Aguilera was Marvin's idea. We heard many pieces of music and were deciding whether to do something completely different or my usual style. "Not Myself Tonight" differs strongly from what I have usually made. One idea was actually Stéphane's , Cabaret, we choreographed Cabaret with Salomé. My idea was "Cosmic Love" by Florence and the Machine because I love this music and listen to it in my free time. Even my sister gives me music ideas.
When you start creating choreography with Salomé Brunner, do you come up with your own ideas or how does it work?
Often we play music and then we just improvise. Salomé tries something, so do I and then she says: oh, it looks nice, let's take this! Sometimes we do the ending first, then something in the middle. Everyone has ideas and we just exchange them.
Which style you like yourself? You are a beautiful lyrical skater.
I want to try different things every year to challenge myself and keep my skating interesting for the audience. It's hard because when I do lyrical things I get the most compliments and it's easier for me because I know I can do it well. But then I want to try something different like "Not Myself Tonight" or Cabaret. This year I had at "Art on Ice" "We Found Love" with 2Cellos and it was different too because they play it quite up-tempo. I'm not a very good dancer myself but Salomé and I even went to hip-hop lessons to try something different and learn new movements.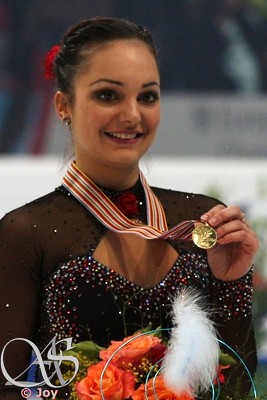 After you stopped competing you started to study sports management.
I did a course and the second course is only every two years. Last time it took place at the same time as "Art on Ice", so I couldn't go. Maybe next year I'll continue the course.
Would you like to study more at a later time?
Right now I'm not completely sure which direction I'll choose. In April, I'll have an internship in journalism where I will work two months at the Swiss magazine Schweizer Illustrierte. Maybe I'll work for the "Art on Ice" show, maybe work in a different management or company. I want to do something connected with the sport, that's for sure. Maybe not only connected with figure skating but also some other sport.
Have you thought about coaching in the future?
I have some lessons but I don't want to be a full-time coach. Maybe part-time or in a team. I don't see myself in that job because then I would always have to be in cold ice-rinks and I don't want to stay in the cold all my life.
How is the current situation of Swiss competitive skating now that you and Stéphane Lambiel are retired? What would help Swiss skating to find champions again?
It was a coincidence that me and Stéphane showed up and competed at the same time. It takes time to find new champions, maybe many years. I think now we are doing quite well. We have one good girl, Tina Stürzinger and I hope she has a bright future. When I look at her, she is like me 16 years old. She has all the jumps, nice jumps. What she needs to work are other things, performance. But if you don't have jumps at that age, you'll probably never learn them later.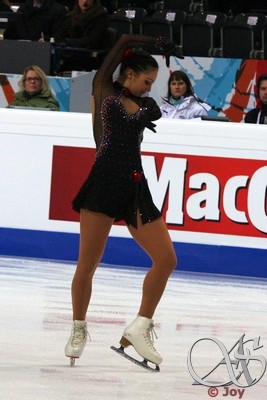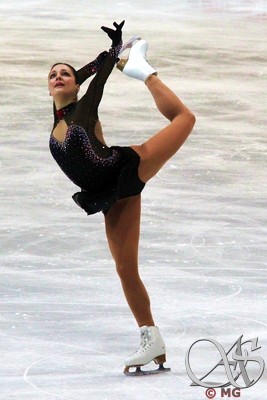 How much support does competitive figure skating get in Switzerland?
It has always been complicated. Shows, especially "Art on Ice" are very popular, sold out and companies sponsor them. But it's harder to find sponsors for competitive skating.
Let's give a look to your skating programs. Which competition and show program has been your favorite?
My favorite show program is "Not Myself Tonight" and favorite competition program… I think it was "Pride and Prejudice" from season 2006/2007, on a movie soundtrack. It was Tokyo Worlds; I was 6th. Maybe it was my favorite because I was skating at my best then. I mean – I could do this program at my best, my abilities were at the best level.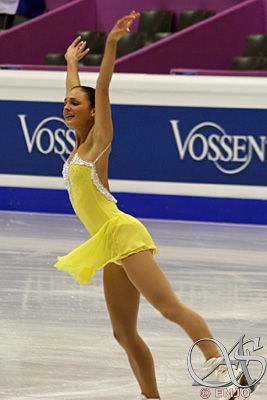 Can you name your favorite costume? You have had many gorgeous dresses so I believe it's hard to choose!
One very special costume for me was the red and black bodysuit which I wore in 2006 Olympic season. It was the first time when we were allowed to not wear a skirt. I have it at home and it is like a special costume for me. Then I loved my samba short program yellow and pink dress.
Who has been your role model and source of inspiration?
I have always been a Michelle Kwan and Alexei Yagudin fan. I sometimes go to YouTube and watch Michelle's programs again and am still sad that she stopped skating because I love watching her. I also love watching her at shows. She will always remain my favorite.
Do you follow current skating competitions? Who are you rooting for?
I root for Kiira because I'm a good friend of the Finnish skaters and also for Valentina and of course Carolina, she was amazing at Europeans. Yu-Na Kim did come back and she is really great, then the Russian skaters are good, such as Adelina. They are all like – wow! I couldn't compete with them. And in shows I really admire Shizuka. When she is skating, it seems that it comes so easy, so effortless, she has so much speed and her skating is so soft. Amongst competing men my favorite is Daisuke and in shows of course Stéphane, no one can beat him.
Do you watch also pairs and ice dance?
Yes, in ice dance I watch everything; I think my favorite dancers are Tessa and Scott and from pairs Tatiana and Maxim and Aliona and Robin. Next year in Sochi it's going to be – a hard competition!