Aljona Savchenko and Robin Szolkowy: you have to be different to go forward
March 16, 2013
By Ia Remmel (Pia)
Photos © Eva Maria Jangbro (EMJO)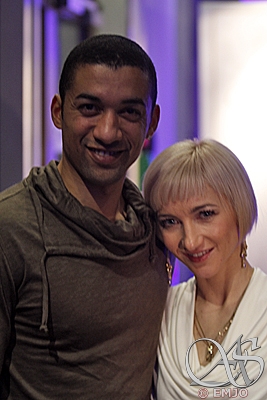 The always innovative four-time World and European champions Aljona Savchenko and Robin Szolkowy have brought a lot of novelty to the whole concept of pair skating. Every season they surprise with intriguing choreography, bold imagery and inventiveness
This season Savchenko and Szolkowy did not have an easy competition path. They had to skip their second Grand Prix event in Paris due to Aljona's illness and missed the Grand Prix Final. At the end of the year, they participated at the NRW Trophy in Dortmund. After that, they kept gaining form and had a close battle with Tatiana Volosozhar/Maxim Trankov at the European Championships in Zagreb where they got the silver medal. They certainly weren't content with it but as Robin Szolkowy commented after Zagreb – it's one phase on their path, and due to some missed events they still didn't have enough competition experience for their complicated programs.
You belong to the main cast of "Art on Ice". Please tell us a little about your connections with this show.
Robin: I would say "Art on Ice" is probably one of the best shows in the world. We are really proud to have been part of the cast for so many years. Every year the show organizers bring something special. It can be the music, sometimes the cast, the stage, musicians – every time you find something new and exciting here.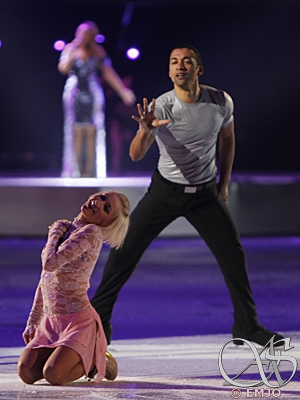 How are your programs for "Art on Ice" created and how do you make the music choices?
Robin: Our programs and the music depend on the whole concept of the show. If we have competition programs that fit well with the main theme of the show then they allow you to do your short or long. However, sometimes they have new ideas, like where we skate to music by live musicians, so they send us a few songs and we choose.
For this year's "Art on Ice" you had two great songs: one from Swiss soul singer Seven, one of his best, "Windows, Shadows, Roses, Cages" and Leona Lewis "Happy". How were these choices made?
Aljona: The show organizers sent us five pieces to choose from and those were the songs we loved the most.
Your programs this year were to "Kismet" by Bond, an Australian-British quartet, the "Johnny English" movie soundtrack and your long program is Gustavo Montesano's "Flamenco Bolero" based on Ravel's music. Why did you choose this music for your programs this year?
Aljona: Actually we wanted to skate to these pieces of music for many years. But then we would again choose something else and every time we thought: maybe we'll do it next time. While preparing for this season we suddenly felt that maybe now it's finally a good time for this music!
Robin: You can hear different types of music for three or four years and then in one certain moment you feel like – now you are ready for this and able to skate to this.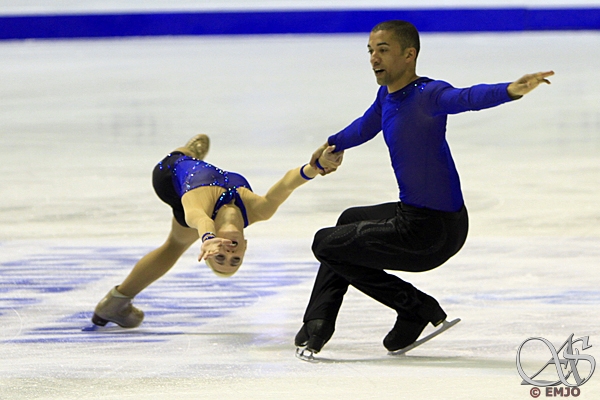 "Kismet" is quite an unusual choice, it's a dark music piece – even the word "kismet" means fate or destiny…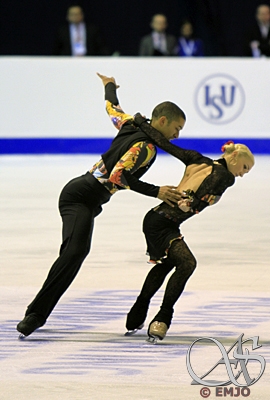 Aljona: That's exactly what we are trying to express and what this music has inside, a dark, fatal mood. We are trying to express the content of this music with our movements and show it in our skating.
On the other hand, "Bolero" is very popular and often used for figure skating programs. Were you not afraid of the many comparisons that might have arisen?
Robin: Well, our "Bolero" version is Montesano's "Flamenco Bolero" based on Ravel's music. We decided not to use the classical Ravel version to which everybody has skated. Of course comparisons are always there but we can say – yes, it's "Bolero" but our version of "Bolero".
Your coach Ingo Steuer is also your choreographer. How much of the choreography is your collaboration? Every time you bring something new and invent new moves. How are your programs created?
Aljona Yes, it's a collaboration. It's not that Ingo choreographs and we just learn it. We work together, try different things, see if that might fit or look interesting and everyone brings their own ideas.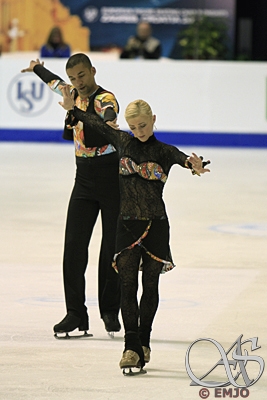 You have always had bold and interesting costume choices. This season your costumes were especially intriguing and were different from commonly used costumes. They were the subject of much debate and problems also arose as they were body suits – men aren't allowed to wear tights in skating. But they looked nevertheless shockingly new, like abstract art, like Kandinsky.
Robin: At first, these costumes were like some kind of test for us to try a really special and brand new style in figure skating. In the end, we weren't so sure if it was the perfect choice. So we now came back to make a mix between more classical figure skating costumes and the new style.
They are designed by the German design team "Germens". This team is trying some new stuff for clothing. We worked together with them and loved the collaboration. They also created our "Art on Ice" costumes for Seven's song "Windows, Shadows, Roses, Cages".
Aljona: Maybe we go back to these costumes for Worlds.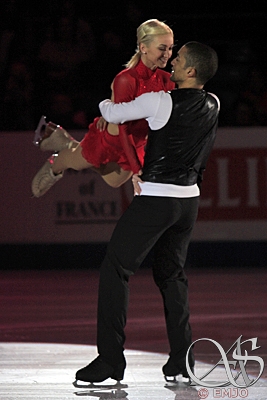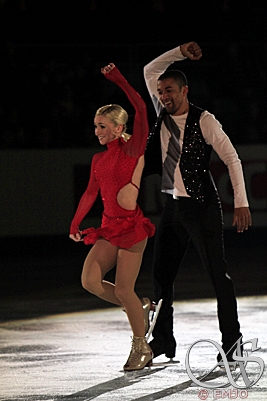 At Worlds are you going to try doing the triple axel throw, like last season? You also have a triple-triple combination jump that few pairs can pull off.
Aljona: Of course we are going to try difficult elements. We need something special to fight for the top placement. You must always try something new: extremely difficult elements and new moves so our programs don't get boring.
We have a dream and we do everything to achieve it.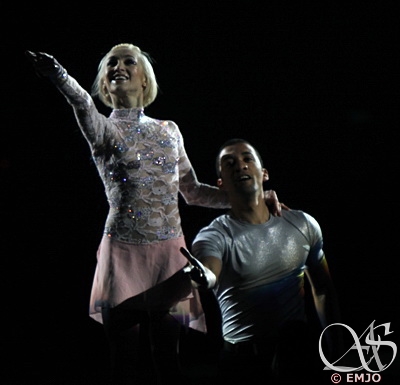 Your dream is the Olympic Games?
Aljona: Yes.
Do you get inspiration from past skaters as you push towards your lofty goal?
Robin: When I was a little boy I always watched every skating competition on TV and liked all the Russian couples. Then I started to figure skate and during this time Ingo was a pairs champion; I was rooting for their pair, so for me it was perfect.
Aljona: When you watch the top pairs at competitions you want to be as good as they are. You want to go ahead and get even better.
Do you like the direction that pair skating is going now, do you like the way it is changing?
Aljona: Pair skating is getting more and more complicated. You must always try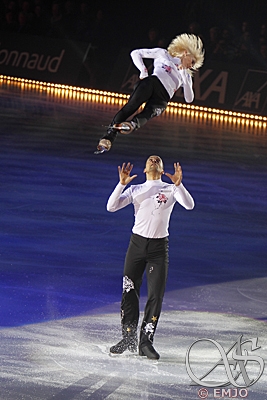 something different, technically extreme and crazy.
It's of course very spectacular.
Aljona: For sure it's spectacular. When you look at pair skating like five or ten years ago, you see how different it was and how it has changed. Then it had more pure classical elements, performed without transitions and fast changes. Now it is much more complicated, with lots of thinking on how to put programs together along with more elements.
It seems to me that years ago the top pairs had classy elements but they all looked to have more or less equal lifts and spins. Now top pairs have different lifts, spins, and they try to find something unique, inherent to them.
Aljona: You have to be unique and to do different things to go forward.
Everything is developing now so fast. Four to five years ago there were simple mobile phones, now we have smartphones and iPhones. It's happening in every aspect of our life.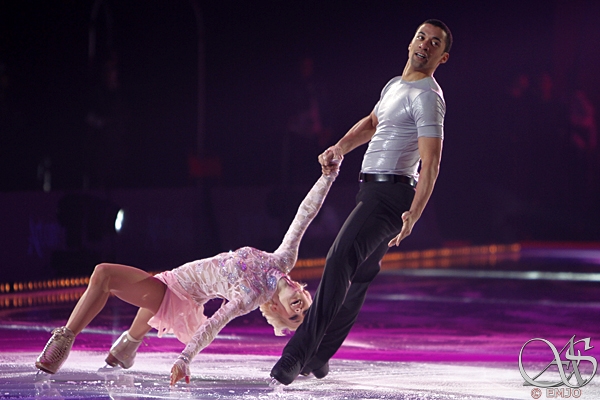 Update: Aljona and Robin won the silver medal at the World Championships in London, Ontario, with a total of 205.56 points.