Alexei Urmanov - A coach's perspective
January 21, 2013
By Maria Bagdasarova
Photos © Vera Alexandrova, MG, Natasha Ponarina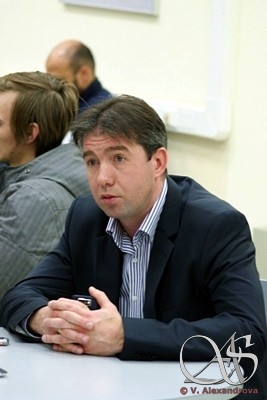 After parting ways with Sergei Voronov in 2010, coach Alexei Urmanov has not been seen at the boards at the top senior international events for almost two years. He is now back with his students, Nikol Gosviani and Zhan Bush. Nikol was third alternate for Nationals and eventually made it in. She finished 6th and made the selection for the Europeans Championships. Zhan competes in his first senior season and Alexei guided Zhan at the Russian Nationals which took place in Sochi at the venue of 2014 Olympic Games.
Absolute Skating had a chance to interview Alexei and asked him about his current and former students, the ISU judging system and the condition of men's single skating in Russia.
What goals did you set for your student, Zhan Bush, at the Rostelecom Cup? What worked out and what didn't?
I didn't set any unattainable goals for Zhan Bush. First of all, this competition was the first Grand Prix event in his career. Secondly, he is only starting his senior career and for the moment lacks competitive experience at the international senior level. The goal was to skate both programs as clean as possible. In my opinion, in the short program, Zhan skated very well. In the free skating, he wasn't flawless, but it was a decent performance and he fought for each element and movement in the program. I see this competition as Zhan gaining another step in experience. I do feel sorry he doubled the planned quad in the free skating, but apart from this, I am reasonable in my judgments and understand how he should develop and what we should work on.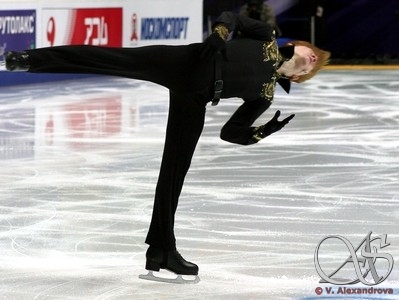 How did Zhan's preparation for this season go? What are the plans for this year?
Our plan and goal for the season is to try to make the team at the European Championships; Russia has three spots. As for the preparation for this season, it did not go as well as we had hoped. At the start of the season, Zhan had back problems that needed attention. Then he suffered from tonsillitis and had to rest at home for 10 days. According to my calculations, overall, Zhan missed about 20 days of preparation. It is by no means an excuse, just a fact of life. In all other respects, he is getting into proper shape and we will keep working.
Could you tell us about Zhan's programs this season? How were music and ideas selected?
Zhan picked the music, "Water for Elephants," for his short program. My task was only to advise how to put the pieces together correctly. The selection of Music by Jean-Michel Jarre for the free skating was my choice. Despite the fact the pieces are quite well-known, I think this music suits Zhan well. We worked with choreographer Maria Sidorenko-Bolshakova for both programs.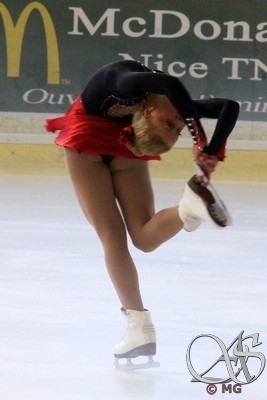 What about your female students – Polina Agafonova and Nikol Gosviani (in photos below together with Alexei)? What do you expect from them this season?
From all my students I expect good performances and results. Polina Agafonova is not going through the easiest time. She is 16 and like many girls, she is fighting puberty. Once again, this is not an excuse. Life often sets its own conditions for us. Polina by no account has given up; she continues training. Two months ago the situation was difficult. Now she is steadily getting into condition and takes part in the event at Russian Cup in Kazan. Nikol Gosviani also takes part in this event at the junior level. Nikol has already made a step forward this season; she works hard. Plus, in my opinion, we created very good programs for her this year.
Immediately after the test skates at the end of August and early September, Gordei Gorshkov made a decision to switch to pairs. Among other single skates from Saint Petersburg, Gordei stood out with his choreographic expression and interesting programs. Why did he make such a decision and how would you evaluate his chances in the pairs' discipline?
I can say only good words about Gordei even though the last couple years in singles were not successful for him. But he has just made this move, so it's probably too early to talk about his chances.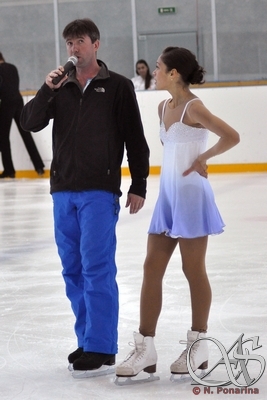 You were one of the first technical specialists when the new judging system was introduced. Are you still involved in it?
No, I am not. Right now I am focused on coaching.
Does the background of the technical specialist help you in coaching?
Yes, it does.
The new judging system to some extent resembles a mathematic equation. You need to find the right elements to gain a certain total of points. Throughout your coaching career, have you developed any tricks for finding those points?
Yes, surely. It's a fair question. This system implies mathematic calculations, but it's very important to have a student that you can do these calculations for. There are good, average and below average skaters. With a below average student, you can rack your brain with these calculations, but get zero results. With a good skater, everything is possible.
Right now I have students who I would like to and will move forward. I'd like to turn these average skaters into strong skaters so that eventually we can use these calculations to gain points. First [the skater needs to develop] a base that requires hours of work.
The system was criticized for rendering figure skating stagnant by discouraging skaters from taking risks and going for quads. Things seem to have changed. For example, here at the Rostelecom Cup, every skater in the men's free planned at least one quad. Do you approve of how the system has been developing?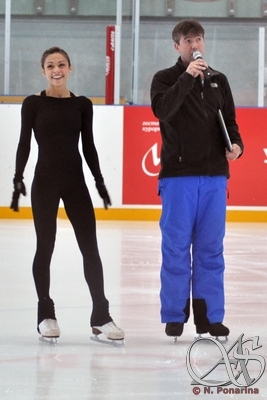 I don't think that it's discussed any more that the system has put figure skating in stagnation. I personally do not share this opinion. One can agree or disagree with certain things, but overall I believe that figure skating moves forward, perhaps not by very large steps, but it does.
My only issue is that there are probably too many changes from season to season and it is sometimes hard for skaters to cope with them. These changes are aimed at highest level skaters and not everyone in this sport has reached this level yet, although they do their best to get there.
It might be wise to consider introducing different requirements for men and ladies. It's not a secret that women are more flexible than men, so for example, they can do more variations of difficult positions in the spins than men. As of now, the rules are the same for both disciplines. For men, it is sometimes really difficult not only to get a level four on a spin, but also to make this spin look good on the ice. To combine all these with quads is really difficult.
Let's have a look at this particular tournament. Not a single skater performed both programs cleanly, and further, there were no clean performances in the free skate. Yes, I do understand that this is the start of the season and probably by World Championships in March, the picture will change, but none the less we have a fact. No one could avoid mistakes, neither champions nor less decorated skaters.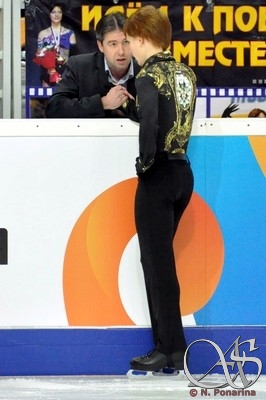 Who did you follow at this tournament among others? Who did you particularly like?
I am pleased that Kiira Korpi won the ladies event and I especially liked her free program. At one point I worked with her and know her aspirations and how hard she works to meet them. I would also mention Gracie Gold in the short program and my student, Zhan Bush, in the short program as well, as it was his first successful short in the season and this is very important for us. And Patrick Chan. Obviously.
I have a question that really bothers me personally. If you look at current Russian men, you see that they are all far behind the world leaders in their basic skills and their flow across the ice. This was not the case in Soviet and early post-Soviet times and you are a prime example. Where lays the reason for such a drop in the level of skating skills?
It is a tricky question and it's not easy for me to find an answer. One of the possible reasons is a sort of a race that appeared at some point. Coaches teach their students to jump, jump and only jump from early childhood. It's no secret that the base is formed at the start and this refers to both skating skills and jump technique.
One can fix basic skills later on, but it requires time and effort. The question is when it should be done - now or later. There are some European countries like Switzerland where kids do not jump till a certain age, but only skate and spin. Is it right? Maybe not entirely, but on the other hand you see that Swiss skaters do spin very well. The problem in Russia might be connected with the focus on jumps and lack of focus on skating itself. Basic skills and flow are important. I work on it with my younger students and try to give enough attention to basics with my competitive skaters as well despite the existence of this race where everyone only jumps.
In your view, could you be as successful in your competitive career if you competed under the Code of Points?
Surely. Yes. Man adapts to everything and skaters adapt to the judging system and do level four elements, even though it is not easy at times. I have always worked hard and been a quick learner, so my answer is yes, I could have.