Ashley Cain: "This season I'm stepping out of my box!"
November 7, 2014
By Titanilla Bőd (├Üj Sz├│)
Photos © Stanislav Mitick├Ż, Poggi
New season, new programs, new competitions and new challenges.
For Ashley Cain there are lots of new things this season, but she is ready to step out from her comfort zone and her main goal is to make the world team. We had a chat in Bratislava at the Ondrej Nepela Trophy, where she placed third.
Why did you decide to kick off your season at Ondrej Nepela Trophy and how did you feel in Bratislava?
I was picked by team US to come here and do this competition. I have two Grand Prix events, in China and Russia, so they wanted to send me to an international event before I went to the GPs to get some practice. So I'm here and it is my first time in Slovakia and I love it. It's very different for me, because last year I went to Oberstdorf. I like to experience all the different senior B events. The competition has been organized really well; everybody has been very supportive and helpful with getting things done.
Do you know who Ondrej Nepela was?
I do! Yes! When I learned that I was to compete here, I did a lot of research. I watched videos to see what he was really like.
You have very interesting story-telling programs this season.
Both of my programs are very different this year - different from my skating style. I used to have flowy programs, but this season I'm stepping out of my box and trying new things. My short program is to Mission Impossible and my long is to Evita with vocals. It's exciting, it is fun. It is like a show every time I perform the programs.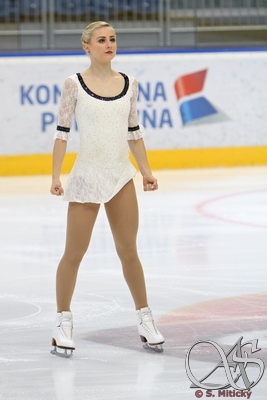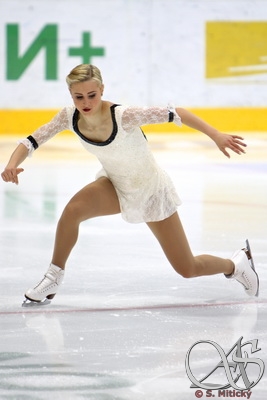 In both of your programs you have to portray very strong characters. Is there any similarity between your personality and the personality of those characters?
I try to bring my personality into each program. The short is about getting things done and being on a mission, basically, and in the long, I try to tell the story of Eva Peron. I watched the movie, because I have many different pieces in my program, mixed into one. So I wanted to see the movie at the points with that particular music. I'm trying to channel Evita's character. She was a very strong woman and the whole country depended on her and almost lived through her!
You use vocal pieces in your long program. Are you pleased that vocal music is now allowed in single and pairs skating?
Yeah, I love using vocals. I think it makes the programs more fun and it is great to have a character for them. I love doing shows, so I almost feel when I'm out there that I'm doing a show.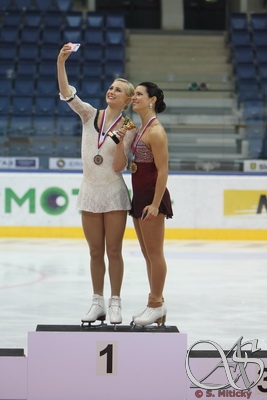 The winner of Ondrej Nepela Trophy, Italy's Roberta Rodeghiero, also skated to Evita in her long program, but her Evita was very different than yours.
We didn't have any of the same pieces and I think it was good because we showed the whole story, throughout both programs.
What are your expectations at the Grand Prix events?
Just to put out good performances, to make progress. It is my first two senior Grand Prix, and it is so exciting.
So are you happy to go to China and Russia? Didn't you expect to get Skate America?
Actually I didn't expect to get anything! I expected a Senior B and that was about it. My mum sent me the list with the Grand Prix assignments and I thought: "Oh, why is she sending me this?" and then I looked and my name was under China! I was so excited, I was crying! A few weeks later I was on the way to the airport from a competition and one of my friends messaged me: "Hey, congratulations, you are getting a second Grand Prix!" I looked on the list and my name was also in the Russia GP, because a girl pulled out! It was really surprising.
And what are your ambitions for the whole season?
My big goal is to skate well at the Nationals and make the world team and I'm trying to keep working towards that.