Evgeni Plushenko: "I have a desire to skate at my 5th Olympics"
October 20, 2014
By Oxana Shkrebtienko
Photos © Liubov Mudrechenko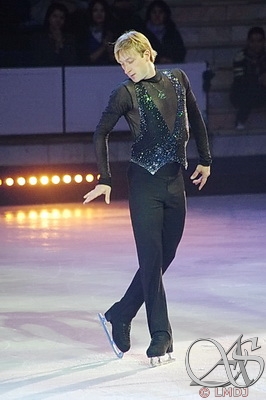 "The Ice King" – this name was given to Evgeni Plushenko by his innumerable fans all over the world. He is the winner of countless titles and medals, four of which are from the Olympics. He proudly holds the title, which reflects his well-deserved place in figure skating history. What is the King doing today, and what are his plans for tomorrow? He talked about it during the show "Kings on Ice" in Bucharest.
Please tell us about the show "Snow King" that you're preparing in Moscow.
The idea was old, I always wanted to do something like "Cirque du Soleil" on the ice, but combined with figure skating, with the participation of really great champions. Also there will be huge monitors installed for the performance. We recorded a 15-minute movie, and when the action on the ice is over the public's attention will immediately be switched to the monitors where fragments of the movie are to be shown. There are 220 people involved in the show's preparations, 180 costumes are being sewn, scenery is being built, and monitors are being mounted. Also, acrobats will take part in the show, jumping on trampolines, springboards, flying over the ice and demonstrating other acrobatics.
In a fragment of video from the rehearsals we could see you flying over the ice too.
Yes, I'll fly. It will be magic on the ice! The show is attended by the illusionists Safronov Brothers. They discovered 7 tricks of David Copperfield, and these 7 tricks will be performed in our fairy tale "Snow King". Separately, I want to talk about the scenery. It won't be like a children's party when a stove is dragged by a string to the middle of the rink. Our decorations will be displayed in 3D mode, and it will look awesome! The show will last 1.5 hours with an intermission. At the moment we are carefully creating the scenario - light, music, every sound, every action.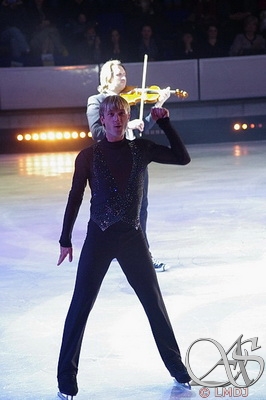 To which audience will your fairy tale appeal?
This fairy tale is intended to appeal to a wide audience; it will be interesting for both children and adults. I call it a family show. Our son is also sure to be there, but this time as a spectator rather than a participant. The problem with all children's shows is that the parents get bored. In our case it will be completely different! So, please come with the whole family, it will be interesting for everyone!
Where and when the show will be held?
We're going to perform our fairy tale around the world. But since I'm Russian, the premiere will take place in Russia, in Moscow in December, and in St. Petersburg in January. We plan to show our fairy tale throughout Russia. Chinese promoters will also attend the premiere show, as they are interested in bringing this show to Japan, Korea and China. We will propose showing it in Europe as well.
As of today, I have signed many contracts to participate in various shows all around the world, so we need to set out a timetable which takes into consideration all of my obligations.
I guess it took considerable finances to fund the show?
This is an absolutely new project, and together with my wife Yana Rudkovskaya and another partner we are investing $5 million. This is a huge budget. We won't take out a loan, nor borrow money from the sponsors, it is our own money. I am confident in the success of our show, that it will be interesting to the public. And it will be the first time that Evgeni Plushenko will participate in a fairy tale. We've already seen a great interest in this performance from figure skating fans.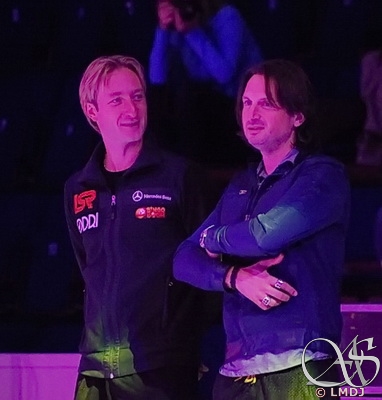 From where did the idea of staging this fairy tale come?
Why "Snow King"? I think it makes sense, because my fans all over the world call me "Ice King". We thought that the ice and the snow are similar. "Snow King" also sounds good. And what about the fairy tales? Yeah, Hans Christian Andersen, "The Snow Queen". Well, I shall hardly play the queen, but why not the king? We rewrote the script a little bit, made alterations with our own ideas, and changed the name. But it is still Andersen! The music was composed specifically for the fairy tale by a Russian musician who works with both foreign actors, as well as with Russians, in cooperation with Igor Krutoi. The director is David Avdysh, he works with three choreographers. I'm also going to create the numbers for the skaters. We begin practices on October 10th. All the guys are coming to Moscow for rehearsals; the performers of the leading roles will be Johnny Weir, Irina Slutskaya, Brian Joubert, Tomas Verner and Katarina Gerboldt.
You have a very tight schedule; you came here directly from the Japan Open competition. It took you a long time to travel here because of the typhoon, so how do you feel?
Yes, there was a very bad typhoon in Japan, and all of the airlines except Aeroflot announced delayed flights. My wife flew home in time, but I was delayed 4 hours and also had to change my connecting flight. In total, I spent 25 hours in the road! Organizers and fans were a bit worried that the show might need to be unexpectedly canceled. But everything ended happily, I'm here, and even my luggage never got lost, so the most important item for me - my skates, are also here with me. And today's show will be held as scheduled.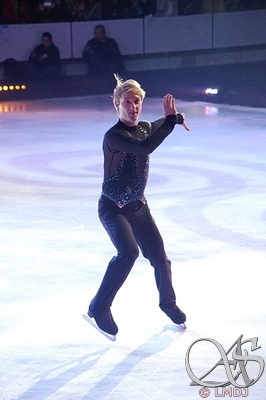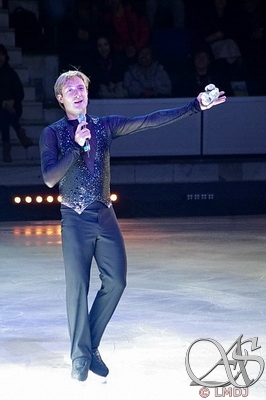 What are you going to skate today for the Romanian audience?
The first number is "Storm", this is my short program, a competitive one that I like very much. It's very emotional with a lot of dancing. The first part is a more relaxed piece of music, performed by cello and violin, and the second part is active, with fast footwork. The second number is "The best of Plushenko" which contains fragments from my best programs. All of them couldn't fit into one number, so I think I'll soon create "The best of Plushenko", part 2. I get asked about it, many people have a desire to see some other programs.
And, in addition to the fairy tale, I'm now preparing two new numbers for a show, but I don't want to talk about them yet, but they'll also be interesting. One number will be funny, and the second is very serious, to the music from a movie.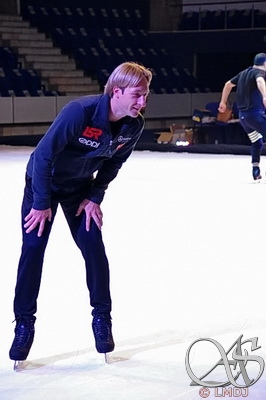 What are your plans for this season and for the future in general?
I won't compete this season; I want to relax a little from competitions. Now the most important thing for me is to regain my health. I have a lot of projects and I want to implement them all, to try myself in a new way, as a producer, as a storyteller.
I also have the idea of organizing my own figure skating academy where skaters can come from all over the world to take master classes. I love coaching and I love to teach children. In Japan I gave lessons to kids and it was very fun!
I planned a lot of shows in Japan, Korea and China. I will skate in Europe and in Russia as well. As for the next season - I'll see later. I skated at four Olympic Games, and from every Olympics I came back with a medal. All of them are very dear to me, but the last one was the most difficult because I competed with an injury. I have a desire to skate at my fifth Olympics. For the present I think that I don't yet want to end my career. We'll see!
In other words, your fans still can hope to see you at a new competition?
Yes, it is too early to close the door. At least if I promised something before, I kept my promises. And I'm not used to wasting words. See you at the new competition!
We will have to wait for the next season too, to cheer on the Ice King in his battle for new titles. Who will win that time? Youth or experience? Please be patient, and in the meantime enjoy his performances in shows, like "Kings on Ice"!