Gracie Gold wants to show personality and warmth
 
October 25, 2014
By Eva Maria Jangbro (EMJO)
Photos © Eva Maria Jangbro (EMJO)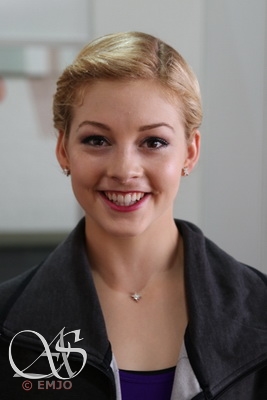 Last season, 19-year old Gracie Gold of the USA finished 4th at the Olympics in Sochi and 5th at the 2014 World Championships in Tokyo, Japan. At the Nebelhorn Trophy a few weeks ago, she premiered her new programs, and surprised some by using vocals in the long program. Gracie had said earlier she wasn't sure vocals would be an option for her, but had obviously changed her mind. I had a talk with her after the competition and she shared her thoughts on why the change was made. She also talked about how to handle nerves. Although she competed at the biggest event, the Olympics, she got a little nervous in Oberstdorf.
The Nebelhorn Trophy was your first international competition of the season. Are you happy with how it went and with your 3rd place?
For me it was a wonderful start of this season. Some of my competitors have had a couple of more high profile competitions to compete at, but I think as the season goes on I will catch up. I have had a little lack of confidence this week and just some nerves.
Really, why is that?
After such a big year where Nationals, the Olympics and Worlds were my last three events and they were like bam, bam, bam; I had the tours and after that the ice shows. Then trying to get back into competing I wasn't sure that I was ready mentally or physically, but I just really had to focus on the positive, get down deep and work on my training.
But the Olympics is such a big event that one would think that after competing there, the experience would have given you the knowledge to handle the nerves.
I think it did, and when going into the program where there was some familiarity, and I felt I had done this before at other bigger events and with that competition atmosphere; I was able to step back in. But I was so nervous since it had only been a couple of months and I felt the thing was different.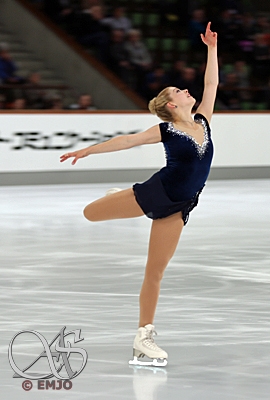 You were in Oberstdorf last winter to get ready for the Olympics, and get used to European time. How was your stay?
Yes, I was here preparing. Oberstdorf definitely has the same small village feeling, away from the cities. But it was cold then, with lots of snow and there were less people in the streets, which made it feel even smaller. Now you see horses and flowers, people on the streets, bicyclists, and the sun is shining. Those things are different, but I like it better. I really enjoyed being here preparing for the Olympics since there were not that many people watching and it was very isolated; really, it was just perfect for my training and to process what I was about to experience.
You said at the press conference some of the reactions in the USA to your 4th place at the Olympics were: "Oh, I'm so sorry you were only 4th!"
In the US it does tend to be: you're first or you just weren't the best. Of course there are still a lot of people from the US that said it's not all about the placement, but also about the performance and representing your country. There is also my name and comments like: "oh, you must have won since your name is Gold!" Well, I tell them you can't always win.
You have a graceful, somewhat balletic style. Did you take ballet lessons?
I took ballet lessons 3 times a week from juniors to senior, but now it's only once as part of the off-ice training. On-ice we work more with softening the arms and on the lines.
Are you involved in the choreography of your programs?
Yes, sure. Last years' program from Sleeping Beauty was more of an athletic program. The feedback was always that I was very cold, but performing it I never felt that way. But the way it came off was kind of cold and without a lot of connection. I was told the ending showed some warmth, but it wasn't like the programs other people had. So this year my coach Frank Carroll, choreographer Lori Nichol and I really wanted to have a long program that showed personality and warmth. I started looking for music and when I went to Toronto Lori had picked out a piece she had in mind. At first we worked with the Emmy Rossum version from the movie The Phantom of the opera, but then we chose the Sara Brightman version with the classic opera sound. As soon as we started choreographing it, I fell in love with it. There is something about the lyrics that brings me back into the program, and I feel I can connect to the whole piece easier.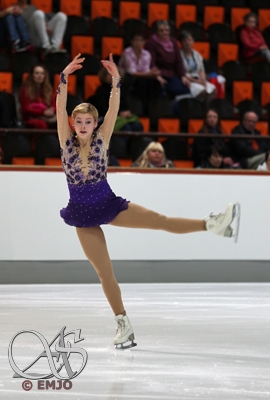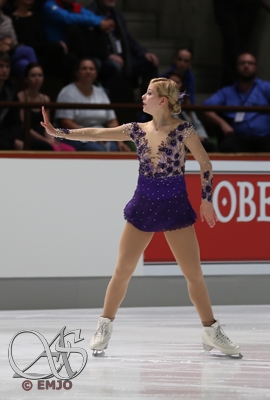 Do you think it is easier and better to use music with lyrics?
I do like it when it's done well; it can have such a wonderful effect. You can have a classical piece with only piano and violin and then you add some lyrics. It can keep it interesting and it allows people to showcase more of what they can do.
Who does your costumes and your hair?
A lady from Canada does my dresses, but I do my own hair. Lori and I had a pretty good idea what we wanted the costumes to look like. This lady was really great to work with and she could translate our ideas into a dress.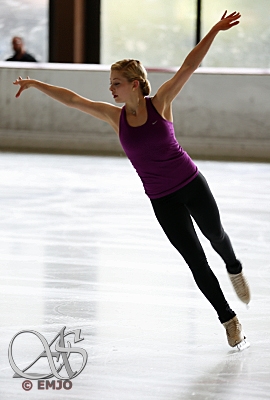 Are you injury free?
Yes, knock on wood! I am doing really well health wise, just mentally getting myself on the drive for this season.
How many are on the ice when you train at home in the States; are you alone or are you with 20 others?
At the Toyota Sport Center (in El Segundo, California), where I train, they are really wonderful about getting ice time for me. There are 2 lead sessions of 2 hours, with only 4 or 5 of us on the ice, and there are sessions when there is just me. But Frank has a few more students that are training for him, and full time people are there more often to kind of being in the training atmosphere. When all the kids are back in school there are more hours for me in the later morning and the early afternoon sessions.
What's next for you?
My two Grand Prix events: Skate America and NHK in Japan.
We wish Gracie the best on her way to finding her competitive mode at this weekend's Skate America.