Sara and Adrian are ready to flamenco
December 12, 2014
By Eva Maria Jangbro (EMJO)
Photos © Eva Maria Jangbro (EMJO)
Since the day they entered the ice as a dance team, Sara Hurtado and Adrian Diaz of Spain have wowed people with their presentation skills and amazing ability to tell a story that touches people. They have that special factor of reaching out. Last year's "Surviving Picasso" was the favorite free dance program of the season for many. Sara and Adrian were able to perform it to perfection at the Olympic Games, even though Adrian had suffered a back injury earlier in the season. Luckily he was healed in time. This season started much the same, but this time it was Sara's turn to be injured, which forced them to withdraw from the early season competitions. They did manage to get ready for the Grand Prix series, where they had been assigned two spots. I met up with them at the Eric Bompard Trophy in Bordeaux, to talk about last season, their new programs and how it is for a Spaniard to live in the cold of Canada.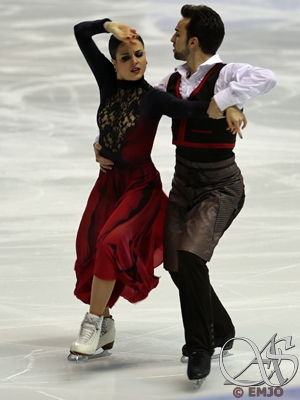 This season it's Sara who's injured…
Sara: A couple of months ago, I felt a big pull in the back of my knee, but I have felt this before and figured it would be ok if I was careful. I kept on skating but two weeks later the pain became too much. I asked my physio therapist and he said I had pulled the hamstring, where there was also a little tear. I was treated and it was going well, so I was going back on the ice, then I fell and I hit the sciatic nerve. The pain came back but much stronger; I couldn't even sit down. I was out for two months so we have been rushing to get back in shape and to be ready for the GP series.
Adrian: At our first competitions, we did not get the levels we wanted since the technical parts weren't clean. We are a little late in our preparations, and we're not ready yet. So at Skate Canada in Kelowna, well, things were not spot on and we lost levels. It was a GP event and everyone competing there is so good; if you lose your levels, you drop in the result list.
Adrian, are you injury free this year?
Adrian: Yes, I am ok from my back injury, but I fell on my knee. It's just a bruise, but I was in pain for two weeks. But it's like that for everybody after the Olympics.
Sara: Last year was such a long season, so for sure our bodies were really tired, we could feel it during summer. I am sure I would have recovered faster if it hadn't been for that long last season. We are really happy now to have made it to the GP series, and that we managed to get ready for it.
This year the short dance is flamenco, and since you are Spanish many expect you to deliver an authentic flamenco, and you truly do. Let's talk about Adrian's costume, because it doesn't look like a traditional flamenco outfit.
Adrian: It's what the toros wear on a normal day while riding their horse and also when practicing. The costume for the big corrida, (bullfight) is too much, and so special, they only wear it at the corrida. We kind of expected other skaters to go with the toros jacket too, and we didn't want to look the same.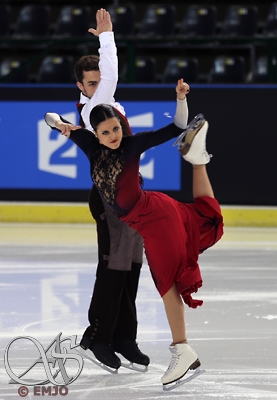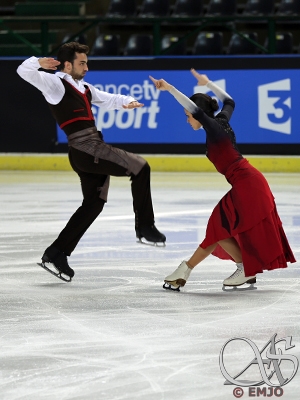 A couple of years ago, you said you didn't feel ready for the flamenco, even if you are from Spain. How did you feel when the flamenco short dance was announced?
Sara: We felt ready for it. It is such a big tradition in our culture. We always wanted to do the flamenco in our career and with Antonio Najarro too. It demands not only a good program but also a good connection between the two of us to make the result as great as possible. We had so much fun making it!
Adrian: We went to Madrid and Antonio for the choreography, and we also had our costumes made there. The same man who does the costumes for the National Ballet made our costumes.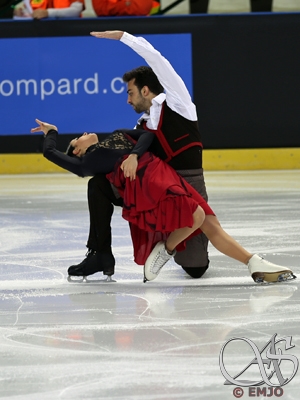 Sara: My dress is painted again. The top part was white at first and the rest red and black. Then it was dyed and the little pattern on the top part was painted on in black.
How much time did you spend in Spain?
Adrian: We spent a week learning the flamenco and taking classes from Antonio to learn some big movements. Then we stayed another week and had a bit of vacation. We picked up our costumes and then we had a few more days with Antonio working on the choreography. And we had to fit the costumes a second time and got some more choreography time with Antonio.
What advice did Antonio give you?
Sara: Pretty much to be ourselves. Flamenco is not about being fake; you have to feel it. You have to be able to project the passion and the life of flamenco. It is not just a dance so you can't really practice it. It has to come from within you, from the heart.
Adrian: It is pretty hard to do on the ice since people will need to be able to see it from a distance. We try to do as much as we can to make sure our flamenco reaches out.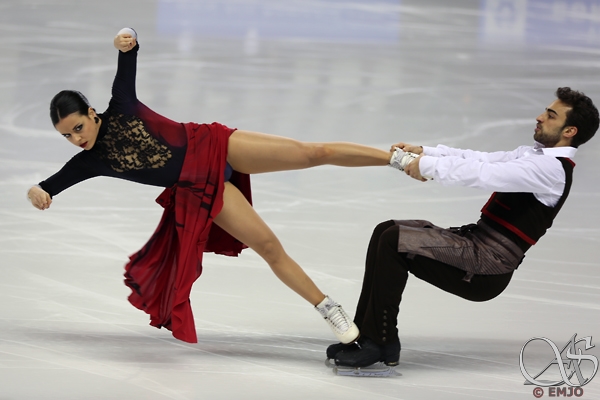 Was it enough to be with Antonio for a week?
Adrian: Oh no, it will never be enough; there are so many things, so many details. We would love to be with him for a month, if we had the opportunity.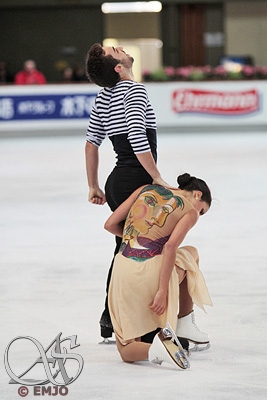 Sara: He listens to the music in a way that is so special. He hears something you probably wouldn't, and does a sharp move in that part in the music. He has this kind of quality that is so special. He is such an inspiration for us; I want to be able to move like him! Antonio has worked with many skaters before, so he knows what is needed to transfer the movements to the ice. Some choreographers are more difficult to work with since it might be hard to understand how the program will work on the ice. With Antonio, we are both in a studio and on the ice. We came back to Canada and made the program with Marie (Marie-FranceDubreuil) and finished it with all the movements we have learned.
Your Picasso free dance last year was very talked about and loved.
Sara: We found ourselves with that program! It helped develop our partnership in a very different way and it brought us together more than any program before. We broke all the records with it: qualified for the Olympics and reached the top 10 at Europeans. That program will always have a special place in our hearts. We felt we were not done with it and it was hard to let it go.
With that kind of successful program last season, was it difficult to create a new one for this season?
Adrian: Well, it should be the same quality or better. Every new program is a new challenge. We wanted to do something different than last year, maybe something not quite as dramatic. So we went for the opposite, in a way.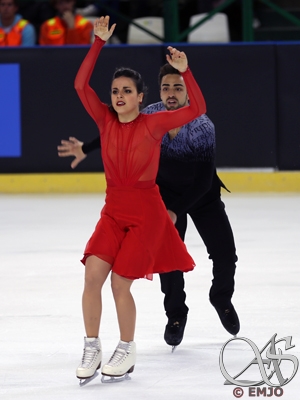 Who found the music?
Sara: Marie and Patrice (Marie-France Dubreuil and Patrice Lauzon are Sara and Adrian's coaches) found it a long time ago. We always wanted to skate to that love poem from Cirque de Soleil, but we never found a music piece to go with it. Then Marie and Patrice found the soundtrack Atonement and we put both together. It makes sense because you hear the typewriter in the background writing the poem. The poem is about love so we made a program about love, and how love develops and changes through life. We start with the first love, which is really naïve with butterflies in your stomach and such. Then the poem brings you to a different kind of love, the second love, which is deep and dark, the one that is painful but you can't let go. The poem starts again and brings you to the last love, unconditional love. We will always have unconditional love, for example from our family and friends.
Adrian: We thought it would be easy for people to understand because everyone has love in their life and can relate to it somehow. We wanted to bring that out: hope and love. The costumes for our free dance were made by the ballroom dancer Mathieu Caron, who also made the costumes for Dancing with the stars in France.
How do you like living in Canada now?
Adrian: This will be the 4th winter.
Oh, you count winters!
Adrian: Yes, really. Living in Canada (Montreal) is nice until winter comes. It is too long; the last snowstorm comes in April. We see all of our friends in Madrid wearing shorts since it's spring in April there, and we are still in winter jackets. We miss Spain since we don't go home that often, only in the summer and at Christmas.
Sara: But we are really lucky this year and super excited, we will go to the Grand Prix Final in Barcelona!
Adrian: And I get to see my parents there!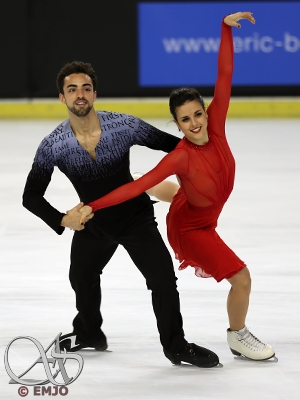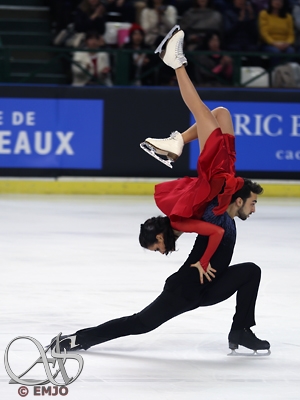 Sara: My parents are invited too and it will be a great opportunity for us to show our skating in Spain, this is figure skating! It is a big and important event; it's the best of the best performing, and very important to show the people in our country.
You will skate in the exhibition. Did you make an exhibition number especially for the GPF exhibition?
Sara: Well, yes, we are still working on two numbers so we will see. We are also skating in The Daniel Weiss Christmas show and for that we need two numbers anyway.
What about your goals for this season?
Our main goal is Europeans, but first up is skating at home in Spain at the GPF gala.
We wish Sara and Adrian good luck this season and are looking forward to seeing them perform in the GPF gala.