Isabelle Olsson wants to make a mark
October 17, 2014
By Eva Maria Jangbro (EMJO)
Photos © Eva Maria Jangbro (EMJO)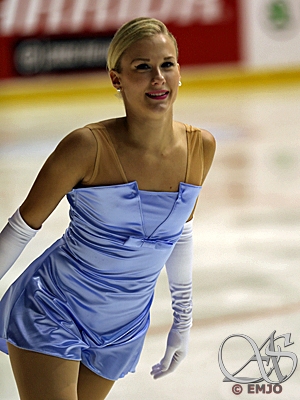 Sweden's Isabelle Olsson is used to standing in the shadow of the well-known Helgesson sisters, Viktoria and Joshi. But at last years' European Championships in Budapest, Hungary, Sweden had earned 3 spots for the ladies discipline. This was the first time ever and Isabelle finally got the chance to show she is someone to count on. This 21-year old blonde beauty already has a reputation for presenting unexpected programs full of innovation and variety from one season to the next, she will never disappoint you! She has the capacity and no fear of going into character. The Swedish test skate was a first peek at what Isabelle and the team around her have come up with for this season.
I am very curious of what the new season brings in terms of your music choice: with or without vocals?
We have changed both the short and the free program from last year. In February we, that is me, my mom (Susanne Olsson) who is also my coach and my choreographer, Kim Zandvoort, talked about what style the new programs should have. We started skating to different music choices and soon found the one we wanted to use for the short program. At first I wanted to keep last year's short, but my coach told me to come up with a new style and music. There was only one song I could consider skating to and that was I was here by Beyoncé. I thought it could help develop my artistic side and skate with more feeling. I think it is a great advantage that we now can use music with vocals since there is so much more to choose from. This particular song means a lot to me since it is about doing what you love in life. For me that is skating. When Beyoncé sings the song is it like she wants to make a mark and so do I. I want people to remember me, Isabelle Olsson, the figure skater, even after I have ended my skating carrier.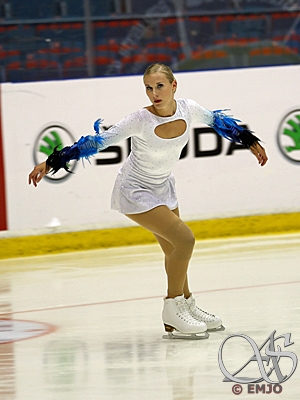 Your short program dress is truly beautiful!
Thank you! Kim designed it after looking at multiple inspiration options. Manette Olsson of the Flying Camel Design in Helsingborg made it for me. She has actually made all my dresses since I was 10 years old, so she knows exactly what my body is like. I wanted the dress to be white. White is a very strong color although it is white, but we wanted something extra and added the feathers on the sleeves. We thought it would look nice when I move my arms.
Tell us about your new free program!
It is a jazzy tune with Peggy Lee singing in the middle part. I love this program; it lets me use all of my theatrical talents. The theme takes you back to a Jazz club on Manhattan kind of atmosphere, with a touch of Frank Sinatra. The theme of the song is Lets' do it, lets' fall in love, which is what it is all about. We have tried to capture the time period with the dress and gloves, and the hairstyle. Kim planned my hairdo and it will be interesting to see if I can manage the French twist by myself. I have practiced it a couple of times so hopefully I will be able to do it.
How was your summer practice?
It was ok. First I went to a camp in Tyringe, Sweden, for 3 weeks with my coach. Then we went to Colorado Springs for 2 weeks. My mother and coach were with me the first week, then I was on my own. It was my second summer there. I love being in the USA and I love the energy at the arena. It is nice to be surrounded by so many really great skaters; I get such a kick from going there! I give everything during practice, well, I do at home too, but even more so there since all the skaters want the coach's attention. I was coached by Tom Zakrajsek and Becky Calvin, the coaches of Max Aaron and Mirai Nagasu.
After Colorado Springs I returned home and unfortunately trained a little too hard on my triple-triple combination and overexerted my knee. My mom thought it might be because I was in better condition than I usually am before the new season starts. Now I have to build up that strength again after the break I was forced to take due to the sore knee.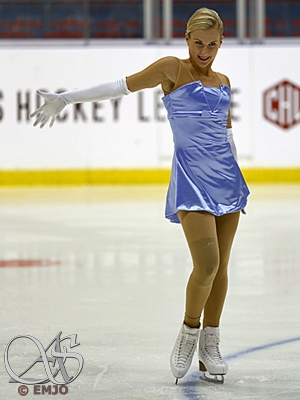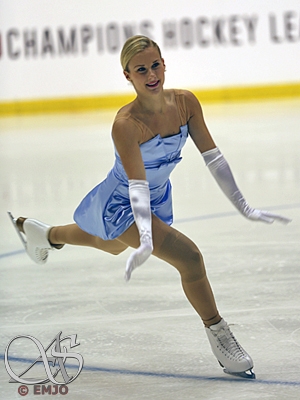 There are different kinds of therapy to help keeping my body in the right condition, and I have a great physio therapist, Joakim Dettner. He makes sure I do things right and once a week I go through a massage and reflexology treatment, to increase the blood circulation and help me relax. I have done this every week for 2 years now, and I will continue for the rest of my life. It takes about an hour, but depends on how tired my body is, how stressed I've been and how sore my muscles are. One time I had to have a 2 hour treatment. It is performed both with and without sticks and electricity.
You reached one of your goals last season; that of competing at a European Championship!
I had such anticipations and thought it would be so great to finally compete at Euros. It had been my goal for a very, very long time and I really looked forward to it. When I was there it was a big wow experience; it was truly amazing to finally be at a large championship. But I was very disappointed with my short program since I know I can do so much better (she placed 22nd). I was 16th in the free program and was happy to advance a few positions to finish 14th overall. So Euros ended in a good way for me!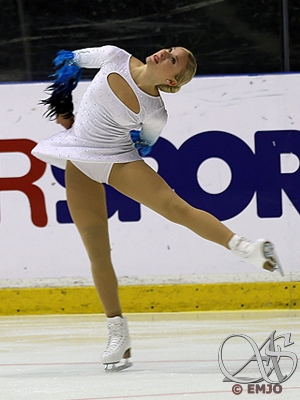 After that competition I felt so much richer in terms of experience of skating in a big competition and also by the mistakes I made. Next time I will feel a little more comfortable. I watched some of the practice sessions too, mostly the men since they competed after us. I also watched their free skate and it was impressive. I didn't have much time for the other disciplines since I had to concentrate on my own. My dad and sister Angelica were there for support.
Now that you reached the Euros goals, what is your next goal?
My goal right now is to get back into the shape I was in before my knee trouble started. I also want to find my double Axel - triple toe again, and the triple Salchow - triple toe. For next season I am counting on a triple Lutz - triple toe; I know I will be able to do that. There is no telling how competitions will turn out, but I know I am capable of doing great programs.
The Nebelhorn Trophy in Germany was supposed to be my first competition this season, but I pulled a muscle and had to cancel it as well as the Finlandia Trophy. Now I am planning on doing Cup of Nice in France and Ice Challenge in Graz, Austria, before the Swedish Nationals in December.
We wish Isabelle the best of luck with her new goals and hope she will be ready to take on the planned competitions with full power. Go girl!