Ivett T├│th dreams about triple Axel
July 26, 2014
By Titanilla Bőd (Új Szó) and Petra Mihályi
Photos © Andriana Andreeva, Daphne Heij, Ludwig Welnicki
She needed an 'exception' to compete at her first senior event, because she was only 14 years old. She missed the Europeans on home soil because of the age limit, but she hopes she will qualify for the Europeans in Stockholm. Ivett Tóth is the new hope of Hungarian figure skating, and she proved it with the 4th place at the Four National championships in Bratislava.
The 2014 Four Nationals championship was your first senior competition. How did you feel about it?
I was a bit nervous, because of the planned triple-triple combination. In the end I landed triple-double combinations, but I still think I managed to do what I came for. The spins and the steps were very good, the edge changes and all the rotations were there.
How solid is your triple-triple combination?
Before this competition I thought it was quite solid, but this time I concentrated more on landing both triple flip and triple Lutz in the long program, maybe that's why the triple-triple didn't work this time. But I will keep practicing it.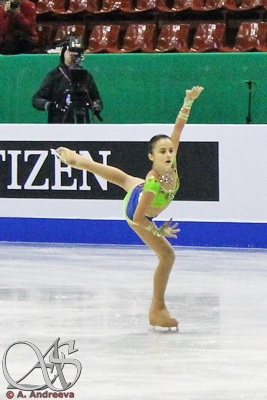 You needed a 'special exception' to compete at the Four Nationals because you were under the age limit. Did it mean any extra pressure for you?
I was happy that I could represent Hungary at this competition. I wasn't as nervous as I expected. I was glad that my legs were strong.
You also had to add half a minute to your junior long program. How did you get used to it?
We added a spiral sequence after the step sequence and practices were a bit harder to gain the stamina for a longer program. But it seems that it is okay; I was not tired.
How did the other competitors treat you?
Some of them looked at me with some curiosity, but nobody asked me if I'm a flower girl. (laughs)
In 2014 the Europeans were in Budapest, but you couldn't participate because you were too young. Weren't you sad about that?
Maybe a little bit, but I keep on working hard to qualify for the Europeans in 2015.
Hungarian skating fans are awaiting your international senior debut, because there was a period of few years when there wasn't any Hungarian ladies in the field. How do you feel about it?
I'm glad that they support me - this is a good feeling.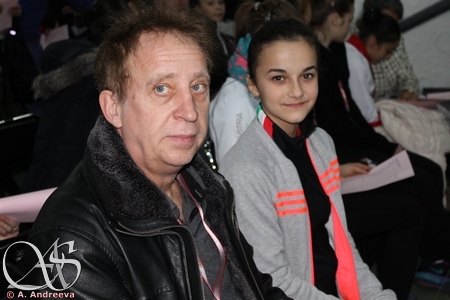 Sometimes the young skaters can't really find the style that fits and matches their age, but you seem to be totally natural and comfortable in your programs. Your costumes and make up are also appropriate. How do you manage to do this?
We decide about these things together with my mother. We try not to put on too much make-up. As for the music, it's my coach's decision. He searches for some pieces and then shows them to me. Of course if I don't like it, I can object but he knows my taste. So far, I haven't approached him to say: I want to skate to this or that music.
Do you have any 'dream' music you want to skate to?
I love a piece composed by pianist and composer Balázs Havasi, to the motives of a well-known Hungarian folk song "Tavaszi szél vizet áraszt" (Spring Wind) and I'd also love to skate to some tango. I've already had programs with Latino-type music and I think I'm more mature now.
What is your favourite jump?
The Axel. It was the first jump with more than one rotation that I learnt. I like it. It would be perfect if I once landed a triple Axel; it's my goal.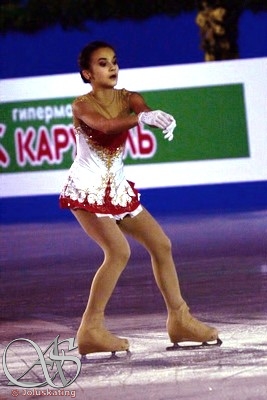 Which skaters do you admire?
Sasha Cohen has always been my favourite skater since when I was little. But I also think Júlia Sebestyén was a wonderful competitor; I like her and I think her Lutz was beautiful.
How did you start skating?
Ten years ago my daddy brought me to the ice rink because he wanted to choose a sport for me. He saw that I liked skating so I stayed there.
Ten years ago the Europeans were in Budapest. Did it inspire you?
No, I didn't watch it, but maybe my dad did. When he was young and watched ladies' skating on TV, he made a remark that if he had a daughter, she would skate. So maybe that's the reason. (laughs)
What do you like the most about figure skating?
That I can do my best and if things work out, it is a great feeling. I'm happy when I land a jump, when I have a fast spin. I love that you can glide on ice faster than you can walk! I enjoy everything!
Are you a competitive skater who does better under pressure than at practice?
I'm not so fond of competing. I'm not looking forward to it, but when the competition comes, I think I know how to do my best.
You are growing up with the new judging system so you haven't experienced the old one. What do you think about the Code of Points? Many young skaters say that they like how each element has its value so they can calculate the points when creating the program.
Of course we also want to maximize the points so we try to put the hardest elements in the program and we try to add level four spins etc. We need as many points as possible, so this is a common approach.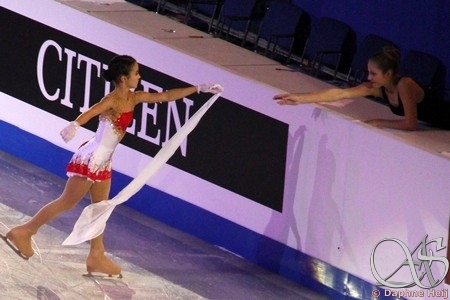 Is there any program that you can watch over and over again?
If I skate well, I like to re-watch my own programs. It also helps before a competition when I watch a program of mine from a previous event where everything worked. As for other skaters, I like Mao Asada's programs, especially the ones with two triple Axels.
Do you have any mental preparation for competitions?
A few hours before I have to skate I try to relax or sleep for a while. Then we watch my previous programs, we talk about each element, what I have to pay attention to. Just before the competition I listen to my music again and do a run-through of the program on the floor.
What are your goals as a skater?
My biggest goal is to qualify for the Olympics in Pyeongchang.