Maxim Marinin: "My priorities are my family and my work"
August 6, 2014
By Reut Golinsky
Photo © Ksenia Nurtdinova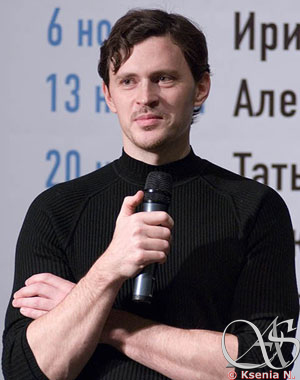 The 2006 Olympic Champion and two-time World Champion in pairs together with Tatiana Totmianina, Russian Maxim Marinin, recently tested choreographing for Oleg Vasiliev's new pair Vera Bazarova/Andrei Deputat. Maxim talks about his work with them, the "Ice Symphony" jubilee, being in the public eye and more as we met in Kazakhstan during the "Denis Ten and friends" show.
Oleg Vasiliev mentioned that you choreographed for his students.
Yes, Oleg called me and asked if I had some spare time and suggested I choreograph the short program for his students. I was a bit shocked at first, because skating for many years with the same person, already knowing your abilities is one thing. But choreographing for people with a different style, and who just started skating together is another, especially when you've never choreographed before. But then I thought: why not? I asked if they already chose the music, and they had - "My Way", not Sinatra's version though. I came up with an idea: we are all athletes and we all choose our way, both in sport and in life. On this road we face hardships and come across forks. The idea was inspired by Vera's story: she parted ways with her previous partner; she is at the crossroads, hesitating where she should go. Then Andrei comes along and they start their new way, walking this road together. In short this is the story behind the program.
As a matter of fact, Ilia Averbukh's project helped me a lot, because during this project we were always making up little stories and mise-en-scènes. In general it's more interesting to watch skaters who show a story and not only perform the elements in a specific order, but have a meaning behind it.
When and where did you work on this?
In Saint Petersburg. It was a lucky coincidence that on May 22 we had a show there, the jubilee of "Ice Symphony". I arrived earlier and in two days we had made the program. I wasn't completely pleased with the composition as a whole, but I did my best in the context of the ISU rules. I can't be sure what the outcome will be. When you've choreographed for someone they will start out performing according to all your directions. But later, when the elements are added, little details in your choreography disappear, and you need to constantly check this process. But if the main idea of this program shines through I'll be happy.
Do you plan to work with them again before the new season begins?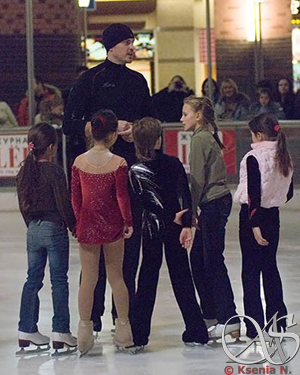 I hope so. It all depends on what the skaters and their coach want, I won't impose. Should they want to see me, I'd love to help. The work is very interesting, especially since I feel I have a lot of experience to share with them.
In general, how was it for you to choreograph for someone?
Well, I can't say I did that much, I mean what can you choreograph in a short program? A few entrances into the elements, at the most, the rest is just the order of the elements. Vera and Andrei are still a bit rough cut; they have a lot to learn to be able to reach the choreographic goals, because a lot depends on technique and on the level of skating. The bottom line is that they still have a lot of work ahead; they need to work on skating skills and on being a pair. Unfortunately, that takes years; people who start skating together need at least three years to really become a pair. Of course, it helps that they both have a lot of experience, but that is not the determining factor. A new pair is like a new organism, like a wobbly baby trying to take his first steps.
What is your overall impression of this newborn pair? Will it "walk" in the end?
It's all in their hands, of course. I enjoyed working with them. Andrei is a very positive guy. Vera still shows some restraint, a lack of self-confidence maybe. But during the time we were working she smiled a lot! I think everything went really well.
It's always great when the collaboration is mutual, and the people you work with pick up your mood, your thoughts. Like in any creative process you need the feedback; it motivates. Essentially, skaters bring a lot into the choreography - you might have a certain vision, but in practice something may not work out as you imagined, but then some new interesting ideas come out. The process is fascinating!
Are you considering offering your help to other pairs, or do you prefer waiting until people start talking about this program and ask you to choreograph for them?
I won't offer my help, that's for sure. Of course, when skaters succeed, any coach or choreographer is happy. And when judges and technical specialists notice that certain skaters look better this season, and it's mentioned who helped them to achieve that, you earn a reputation in this field. But, as they say, no good deed goes unpunished. In this sport you never know how the season will go, and if you offered your help there is a chance you'd get blamed later. (smiles) So it's a bit delicate. In this case I was asked. I helped out the best I could, everybody was pleased and that's the most important thing.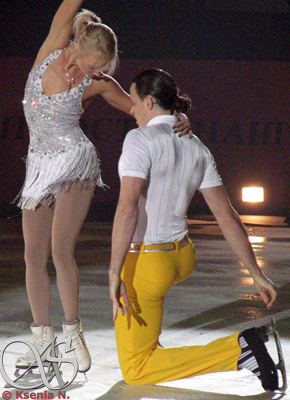 Have you ever choreographed anything for yourself and Tatiana?
No, all our programs were choreographed by Ilia Averbukh, we completely trust him with this.
I am constantly amazed by the quality of your programs, including the high technical level. Eight years after retiring from competitions, how do you manage to stay at such high level of skating?
Ilia's TV project has played a huge role in perfecting our skating. It's one thing to skate with someone who knows to do it well. But it's another to try to skate with someone who knows nothing, a clean slate. This is the situation where your professional skills and expertise are challenged the most. In a way you can say that we were working not on teaching celebrities to skate, but mostly on improving our own talents and techniques (on the photo: with ballerina Anastasia Volochkova).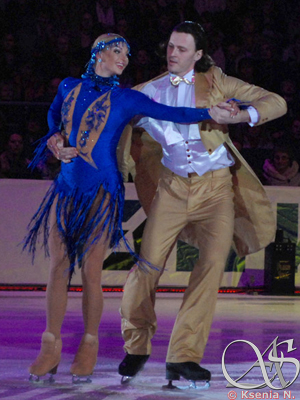 And add to this the amount of musical and choreographic material we've used during those years. While competing you skate the same programs throughout the whole season, all in all during the whole Olympic cycle you perform four short and four long programs. In "Ice Symphony" you do four programs in one month! Yes, the quality is probably different, it isn't a sport, but through this project we've gained so much in psychology, in understanding of what works best for the audience, where you should put the accents, how to cut your music to result in a complete mini theatrical piece and more. Add to this working with Ilia and many other talented people. Add to this a tour of more than sixty shows each year all over Russia.
You've participated in all of Ilia's TV shows with celebrities, with dancers on the floor, and with other professional skaters where you changed partners each week. Which project appealed the most to you?
I liked the "Professionals' Cup" the most, because we all knew each other well. It was also a unique experience to challenge yourself with other pair skaters and with ice dancers too, something you would probably never experience in your sports career. Another challenge also comes to mind: the projects where we had to dance on the floor. I was really curious to see how well I could move on the floor.
"Ice Symphony" celebrated ten years, and the ideas and combinations in this TV project seem endless. What's next?
Following the success of the Olympics in Sochi, we already have plans for one more season of "Ice Symphony". Channel One is the ordering customer, and when you get a proposition like that, it's hard to refuse. We also have a wonderful show called "City Lights". This is another direction which already exists and has a future - theatrical figure skating. Especially because, let's face it, none of us are getting any younger. This area was explored in the past too, but now you add the high professional level and all the technical capabilities - the light, the sound, the scenery...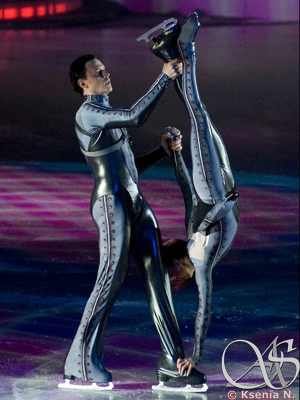 All this together creates a very different effect, influences the perception, and the overall image turns out to be more spectacular.
Talking about these theatrical shows of "Ice Symphony", I know that your son was supposed to take part in one of them, "Mother", alongside Liza Yagudina (daughter of Tatiana Totmianina and Alexei Yagudin).
Yes, my son passed the casting, was approved by Ilia and took part in a photo shoot, but unfortunately he fell ill and missed a lot of rehearsals. Other children worked so hard and spent so much time rehearsing, it didn't feel right to bring him in so late.
I understand your son is learning to skate.
At the moment he is, I don't know what will come out of it. Meanwhile, I don't see him becoming a sportsman. But it was his wish to skate. I didn't plan to push him in that direction, because when things get difficult I didn't want him to say: "Dad, why did you make me to do this?" So I said right from the very beginning: "I didn't make you, you wanted this yourself, I bought you skates and now go ahead". So far he skates and he likes it.
He turns seven in September and this fall he'll go to school. Potentially he might grow rather tall, like both his parents. But anyway, first he needs to gain experience as a single skater. And he needs to learn to jump, if he'd want to skate in pairs. He has good build, good genes, but a lot depends on character and diligence. When something goes wrong, you can spot the character of a real sportsman from an early age. Such person keeps persevering. We don't have this yet, so I look at this without much agitation. And I'm not that keen on having another athlete in our family, I won't go all crazy about that. But I simply see this sport as a tool for balanced evolvement, it's good for your health.
Other skaters, your colleagues from "Ice Symphony", became celebrities and public figures, but you didn't. Was it your choice?
It's not my aspiration. When you live a public life your have no private life. And for me, my private life is much more important than to be in the public eye. I get enough limelight; it's ok by me when people don't recognize me on the street.
But they usually do recognize you, don't they? They see you every week on TV.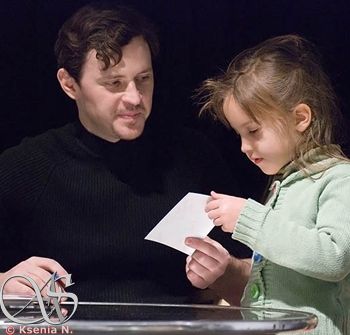 They do. But in real life we look a bit different, so sometimes people think your face looks familiar, but they don't know where they've seen you. I don't know, I think your life becomes a nightmare when people notice you and point at you. This experience is a bit painful for me, so I don't seek popularity. Although I understand that popularity is necessary, my future even depends on it. It's like being in a pot and, by the rules of the genre, you have to "boil" in it. So sometimes I agree to make some appearances. The problem is when you do this, you become a "new face" for TV and they try to get maximum usage from you, inviting you everywhere. You get sucked in and it's really hard to get out of this later. My priorities are my family and my work; for me that's enough.
Also you're practically absent in social media, there is only one photo in your Instagram account, for example. If it's yours.
It is mine. My daughter keeps taking my phone to play with, and sometimes she deletes some icons. Last time she did this, I understood that maybe this is the way to go. I don't need all this.
But this might give you the opportunity to contact your audience, to get feedback from your fans.
In general, they don't say anything good in social media. Sometimes I'm horrified when I read some comments on Facebook. Some people descend to the level of insults, pulling no punches. I will know the opinion of the public about me anyway, one way or another, the word will be spread! (laughs)
Going back to competitive figure skating, do you follow it now?
There was a time when I didn't, but the last two seasons, the penultimate and the Olympic one, I did. At least I followed the leaders, I watched the Grand Prix series when I could, and now you can also find a lot of videos on YouTube. So, yes, I did. And, yes, it was very interesting.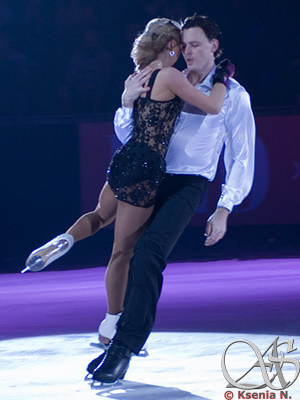 Did anyone in particular stick out for you? And who would you name as the leaders of the coming Olympic cycle?
Most of all I was happy for our girls and how they performed at the Games. And they didn't even have any big titles before that! Julia (Lipnitskaya) became European champion just before the Olympics, and Adelina (Sotnikova) was behind her. That one got more love from the Russian people than the other is a different story, but it's something you can never foresee. It's just destiny and you need to come to terms with it.
Our pairs made me happy too. With Tania and Maxim (Volosozhar/Trankov) it was obvious, they were the leaders. Everybody expected them to medal and they lived up to those expectations. But Ksenia and Fedor (Stolbova/Klimov), in my opinion, were the revelation of these Games - they did great at the team event and then placed second in the individual one. And later being second again at Worlds - they secured their status and showed their ambitions for the coming four years.
It is hard to say who will lead in the coming cycle. It's great that the youth grows, that we have the rivalry, and in this "fermentation" the strongest will be defined. It's great Russia's returning the be the country of figure skating, the country with strong traditions and generational change. What we had till 2006 was mostly our reserve from the Soviet era. But the results of these Games were already created by Russia. And as a Russian citizen I'm happy to see that.