Nelli Zhiganshina and Alexander Gazsi: "It was time to show that we are not just 'funny'"
January 9, 2015
By Ia Remmel
Photos © Mireille Geurts, Joy, Reut Golinsky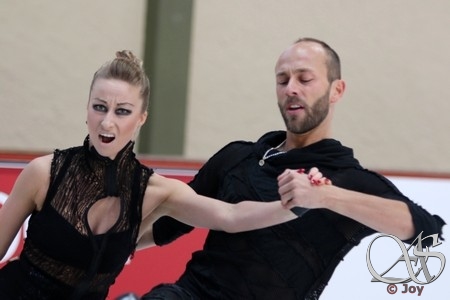 German national ice dance champions Nelli Zhiganshina and Alexander Gazsi are known as a couple who are not afraid to be bold, different and have 'unexpected imagery'. Ice dancing demands a lot of personality on the ice and that makes them intriguing and interesting in the competitive scene as well as on the ice show field.
This season, they started out well in a fresh and different style. In competitions they have progressed quite well, yet there is still room for improvement and bigger achievements before European Championships and Worlds.
Between the Grand Prix series, they found some time out of their busy schedule for an interview.
This season you chose a different direction and style for your programs and worked with Stéphane Lambiel for your choreography. That was a bold choice as he is a single skater and hasn't worked with ice dancers yet. What made you choose him? Whose idea was it?
Alex: It was my idea. We wanted to change our style for this season and the compulsory Spanish short dance gave us a chance to do that. Stéphane has worked a lot in this direction and we love him as a skater, so we asked him to work with us.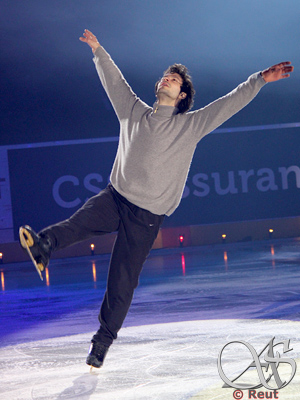 Did he have a choreographic draft ready or was it more of a collective work?
Alex: We met in Dortmund in the beginning of May. I sent him the music a couple of days before. We talked about the rules and elements, lifts and steps. But making the program was a creative process on the ice. We improvised together, it was very professional.
Nelli: Working with Stéphane was fantastic! He is so talented! For him it was the first time he'd worked with an ice dance couple but it felt like he had never dne anything else
How much did he know about ice dancing's specific elements and the rules?
Alex: We told him that we have solutions for all the ice dance "problems" with our coaches, so he could be free for the choreography.
How does it feel to skate to his choreography? Is it complicated or is it comfortable?
Nelli: (laughing) Very complicatedly comfortable! The steps he created, we still are not able to skate like he did. But in the same moment they are working, we use them every day.
What do you think about Lambiel's own skating?
Alex: He is a great skater! Very strong skating skills and spins. He is able to enrapture the biggest audiences. I always have goosebumps when he is skating his programs.
Nelli: I just love him, I think he is the best male skater.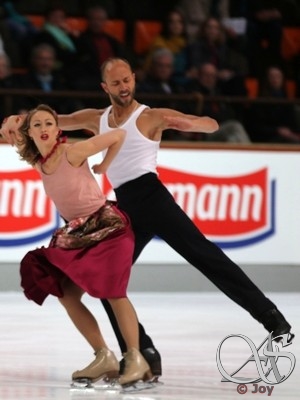 Your short dance style is very different from the "Carmen-toreador" style that has been used often this year. Can you tell us a little bit about the story behind it and about the content of your dance?
Alex: Yes, thanks for saying, it was our intent to NOT have a "Carmen" style. I like "Carmen" and what the ISU is calling classical Spanish dance, but I think our short dance is much closer to real Spanish folk music.
Nelli: We try to tell a story of everyday life, maybe in a Spanish village. A woman is working, doing the laundry and her macho husband or boyfriend comes to her. A little fight in the beginning, because she is tired but on the other hand, the man is there, so she is changing her mind... Big emotions at the end.
Your free dance is special too 'Äď what is the story behind it? It's an original music choice as well, a very unusual "Swan Lake"...
Alex: The free dance was completely Stéphane's idea. He showed us the music and gave us the idea. It comes from Swedish dance company "Swan Lake Reloaded". It's a street dance, modern and very strange. Stéphane liked their show and wanted to try it on the ice.
Nelli: In the beginning we were shocked, but a little later we fell in love with the idea!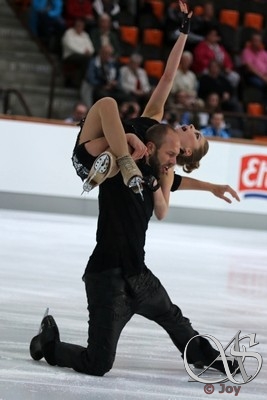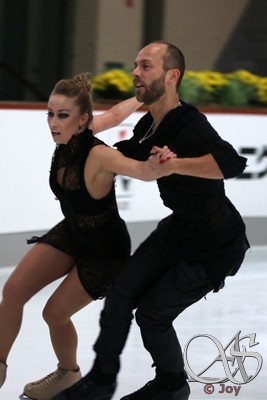 How do you like the results of your style change?
Alex: I like our change! It was time to show that we are not just 'funny'.
What kind of feedback have you received about your programs?
Alex: It's always difficult when you try something new. The feedback about the short dance has been good but for the free dance it is very different. Skaters and coaches like it but for the judges it is maybe a bit over the edge.
How were your costumes created for the programs?
Nelli: The short dance costume is from our long term stylist Irina Katasonova from Moscow. We have been working with her for a long time. The free dance costumes are from a little Bulgarian online shop that Alex found.
Are you satisfied with your results at the competition so far?
Nelli: Not really.
Alex: We haven't achieved what we wanted yet.
In previous years you often had programs on humorous, grotesque or weird themes. Why did you choose such themes? 
Nelli: Because we like it! I think there are enough drama programs out there.
Ice dance probably offers the biggest opportunity out of all the skating disciplines to tell a story, act, to present a small movie on the ice. What kind of stories and movies in ice-dancing have been interesting for you?
Nelli: I remember the circus free dance of Nathalie and Fabian. I liked it a lot.
Alex: The jungle program of the Duchesnays!
But which real movies do you like?
Nelli: (laughing) Good movies! My favourites are "Avatar" and "Das Leben der Anderen", a German movie.
Alex: At the moment my absolute favourite is "The Grand Budapest Hotel". The colors, pictures and humour there are the best I have seen in a long time.
What do you generally like about ice dance?
Alex: That I don't have to do jumps. And there is someone holding me.
Nelli: We have a chance to show stories on the ice.
What would you like to change in ice dance?
Alex: Too many rules and things we are not allowed to do.
Do you see figure skating more like a sport or more like art?
Nelli: It could be both, that's the best thing about this sport.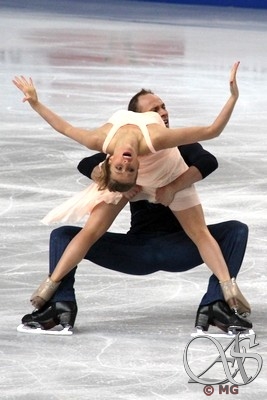 Who have been your idols and sources of inspiration?
Nelli: I didn't have idols, but I always liked how Maxim Staviski skates.
Alex: I am born in Karl-Marx-Stadt, so my big idol was Katarina Witt. Best ice dance couple for me are Tessa and Scott. I hope they come back!
What is the situation with ice dance in Germany? It looks like a little bit complicated...
Alex: At the moment the problem is that there are no couples ready for the future. I really hope we can help to bring ice dancing forward in Germany.
After the Olympics a record number of pairs broke up and got new partners. Your pair has been together since 2005. What is important in a partnership? 
Nelli: Trust and patience.
You are such bright show skaters and have made many interesting and spectacular  show programs. What are your thoughts about ice shows?
Alex: We love to skate in shows and we hope that the audience likes us too. For the future we will work hard to show ourselves in different projects.
What helps to balance the athlete's goal-oriented life? What do you like to do off the ice?
Nelli: I started horseback riding, I enjoy it a lot!
Alex: I love my couch and my bed! And I read a lot.
In December they won their 6th German champions title and did some show performances, including Stéphane Lambiel's show "Ice Legends" and "Golden Skate Awards" in Italy. Now fingers crossed for the European Championships in Stockholm!