Deniss Vasiljevs, a young talent from Latvia
March 2, 2015
By Ia Remmel
Photos © Ia Remmel
It was at last year's World Junior Championship that a young boy skating to Tchaikovsky's famous ballet music "The Nutcracker" caught my eye. He looked very promising, fresh and seemed to enjoy what he was doing a lot. He was Deniss Vasiljevs from Latvia.
Latvia is a small Baltic country that has never been big in figure skating but at the moment there is an outburst of young promising talent, like Deniss himself, Angelina Kuchvalska and Diana Nikitina.
Deniss' current season has gone very well so far. He placed 4th at his first Junior Grand Prix in Courchevel in France and was 4th in his second Grand Prix event in Tallinn. Â He missed the podium because he made one mistake in his short program. Ahead of him were strong skaters like Russia's Alexander Petrov, Mishin's pupil who won both stages, and Japan's Sota Yamamoto who won two silvers. Since then Deniss has added to his medal tally with a silver medal at the European Youth Olympics in Dornbirn, Austria.
In Tallinn at the Junior Grand Prix, I had a chance to catch up with Deniss and his coach Ingrida Snieskiene.
Deniss, in your ISU bio it states that you are training in France. Why France?
Ingrida Snieskiene: Deniss is training in France because my life and work has been based in Paris for a long time. We have good training conditions there, we get a lot of ice time and can do long training sessions.
Deniss: I have trained there five years already and I like everything a lot!
Any well-known names training with you?
Ingrida Snieskiene: At our ice-rink there are no big names; we train with novice French skaters.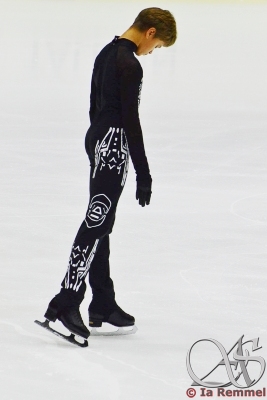 Training abroad is surely not cheap. How is the Latvian Skating Federation supporting you?
Ingrida Snieskiene: They support as much as they can. Latvia hasn't so far had successful figure skaters and figure skating is a very expensive sport. Deniss is already earning some money by performing in ice shows. His parents support him too. So altogether we are coping with the expenses.
He is doing shows already? That's impressive! What kind of shows are they?
Deniss: There are French skating clubs, galas and shows in Vilnius, Lithuania.
Ingrida Snieskiene: French skating clubs already know him and like him; he gets many invitations. In my homeland, Lithuania, our ice dance champions Margarita Drobiazko and Povilas Vanagas organize their own show "Ice Flames" every year at Christmas. Deniss has performed there many times too.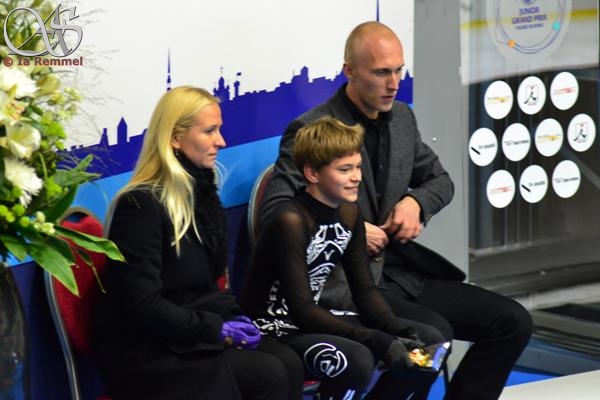 How did a young talent from Latvia and a coach working in Paris find each other?
Ingrida Snieskiene: Five years ago Deniss' parents gave me a call. Their wish was to get Deniss to a higher level but nothing had really helped so far. We met and did a training session. Then he came to Paris with his mother and we worked a little bit more. Now he is living with me and his mother has entrusted me to take care of him. I must say that Deniss' mother is very devoted and involved in everything her son does. She is very demanding but always supports him with everything he does. She is also present at her son's training and reminds him to always pay attention to his movements and finish all his elements precisely. She used to dance herself and she understands the demands of a high level sport.
But it's not only me, there is a team working with Deniss – also a physiotherapist and a choreographer. Nowadays you can't reach a high level by working alone.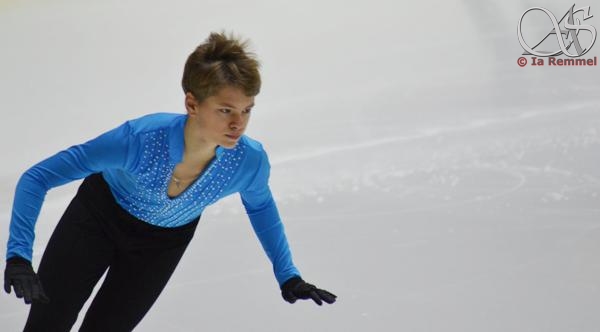 What is the imagery of your programs?
Deniss: We tend to choose the same music for competition programs that we had the previous year for show programs. First we test them in the show and then we turn them into competition programs.
Ingrida Snieskiene: The idea for the short program was already in the air for some time and we decided it was a good time to bring it into reality. [Deniss' short program is composed to a samba-like dance music called "Jazz Machine" by Black Machine mixed with "Hey Pachuco", a song from Jim Carrey's famous movie "The Mask".]
Deniss: It's such a cheerful program and fun to skate to!
Your free program is even more interesting. It has such a fresh music choice – "Adagio for Tron" by a famous French electro music duo called Daft Punk and you have such a memorable costume!
Deniss: The music was from the movie "Tron: Legacy". ["Tron: Legacy" is an American sci-fi movie]. The costume idea came from the movie too.
Ingrida Snieskiene: Those white patterns on Deniss' costume are used in the movie. Our costume-maker put it all together according to Deniss' wishes.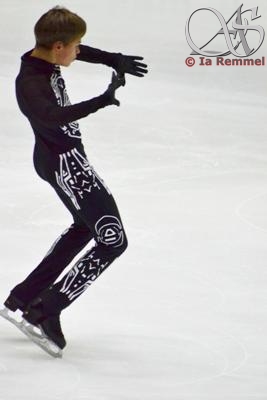 Latvia is not a big skating country. How did it happen that a boy like you started figure skating?
Deniss: It happened by chance. First I wanted to go to swimming training but they didn't take me, so I started skating. My grandmother was very glad about it – she always loved figure skating.
People often don't realize how hard and complicated the sport really is.
Deniss: Yes, it's a hard and challenging sport and I like it! While doing a program, many things are on your mind at the same time and you must simultaneously attend to so many different things – the choreo, the technical side... you always have to concentrate.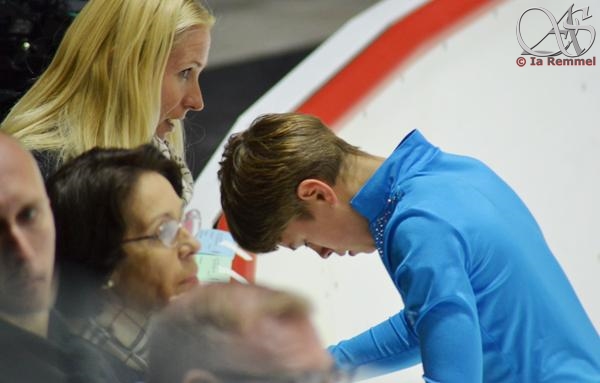 Is your concentration sometimes interrupted by distracting thoughts?
Deniss: (smiles) Yes, sometimes quite funny thoughts come to my mind.
Who are the skaters you look up to; do you have favourite skaters?
Deniss: I very much like Patrick Chan's and Daisuke Takahashi's skating. Their style is beautiful. I'd love to skate as they do. Jump-wise I like Javier Fernandez. Patrick Chan has beautiful jumps as well.
How is Deniss progressing? Does he learn fast?
Ingrida Snieskiene: Sometimes I feel that I must force things. Unfortunately he periodically can't train as much as is needed. He has school in Latvia and he can't be in Paris all the time. During school he goes to practice at his club in Daugavpils.
What are your long-term plans for the future?
Ingrida Snieskiene: We aren't thinking too far ahead. We take part in the competitions that are available and good for Deniss' progress. We try to grow together while trying to make sure that Deniss will not get injured. In this sport it can happen easily. So we progress step by step and don't force anything too much.