Denis Ten: putting everything together
March 26, 2015
By Reut Golinsky
Photo © Anna Bertoloni, Reut Golinsky
Special thanks to Tanya Drubetskaya for the help with this interview.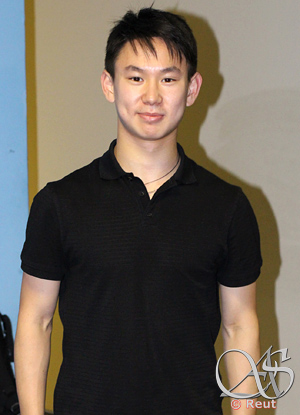 Sometimes you forget that he is only 21. He has been around for so long, he has Worlds and Olympic medals, but more importantly he is such a deep, thoughtful, wise young man that you completely forget how young he actually is. We met with Denis Ten twice this season. First at his home rink in Los Angeles, where I had a chance to glimpse his new programs, still works in progress back then. And then during the rehearsals of the "Ice Legends" show in Geneva, when the season was already in full swing.
This article is a collection of his thoughts, practically a monologue about the Sochi Olympics, his new programs, his own show, his off ice "extracurricular" activities and... the answer to the meaning of life? Perhaps that too.
Olympic "reality show"
Last season was crazy. Sometimes I had the feeling I was a part of some reality show; I was constantly dealing with hardships. It began with an inflammation - first in one leg, then the other, my back... then my skates broke, then another pair. I twisted my ankle 3 times; the last time was two weeks before Sochi. When we came to Oberstdorf it was my first practice after the Four Continents Championships and I twisted my ankle so badly it hurt to walk. It was sheer luck that the sports center in Oberstdorf has physiotherapists who helped me a lot.
In Sochi I was in my shell - I was so focused; this is what held me together. I only once went to out in the Olympic village and that was after the competition. I put everything I had into my skating... And we had to deal with so many complications...
When I was standing on the podium I was drained of all emotion. I was happy for my parents who've had a hard time the last couple of years, for my coaches, and most of all for my country. But during the next several days I felt no emotions at all. There was no "Yay! A medal!" I was constantly asked what I was feeling, and I didn't know how to explain that I didn't feel a thing.
"The main goal is to put everything together"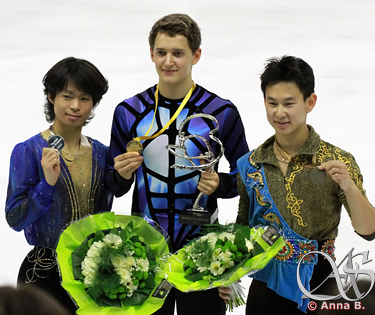 Frankly, I was in such good shape in July it was almost frightening. Towards August my health deteriorated and I ended up being sick in September. Probably my body can't function at 100% all the time. It's just that I train with no breaks or days off; hence I didn't have time to recover. After I withdrew from the Nebelhorn Trophy I hardly skated at all and hardly practiced for Skate America. A week before the competition I came back to the USA and quickly put things together. Of course I had no confidence, and it showed I needed to work. The jumps were back, but the programs were not polished. I got slowly back in shape by ["Golden Spin" in] Zagreb, where I skated much better than in the Grand Prix events. But this is the most important thing for me - improving from one competition to the next.
Shouldn't your coach be the one who is responsible for getting you in the right shape?
The coach writes the plan but I take a big part in that - no one knows better than me how I should prepare, and I am experienced enough already. This year I did a lot of run throughs of the programs and it was easier than last year. This year's long program builds up towards the end. I had a hard time skating the whole program even without the jumps during the summer, but feel quite comfortable with it now. My main goal right now is to put everything together: the shape, the technique, the choreography, the emotions.
"Caruso is one huge source of energy for me"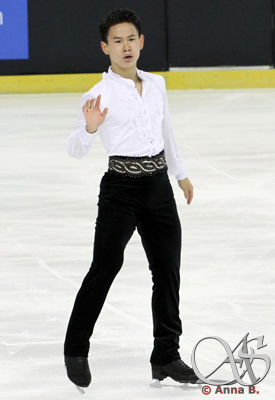 We listened to various musical pieces in different styles, and Lori [Nichol] was the one who picked "Caruso". I wanted something completely different, but it just happened another skater took it at the very same time. Lori often turns the music on and watches me improvise to it to see how well the music would suit me. When she played "Caruso" she told me: "With this piece you are special. Something happens with you. In this particular interpretation." (Denis is using the one by Joseph Calleja - ed.)
The piece was originally intended for the long program. We had an interesting idea to depict Caruso's life. Of course we couldn't use just that one piece for the whole program; we wanted to combine several pieces which somehow relate to Caruso's life, creating a kind of chronology between them. I think Caruso's life was fascinating. But later we had the idea of "Silk Road" for the long, so we swapped.
It took me many years to prepare for the theme we're using. I don't know why, but I always felt at home with Italian lyrical music. I used "Cinema Paradiso" and "Per Te" for my exhibitions, and am now using "Mi Mancherai". I feel I'm growing with each program. Even with the "Mi Mancherai" I feel its presentation changes [throughout the season] the more mature I become. Now we took this theme [to the next step] for the competitive program. The style is so familiar that I hope I'll be able to skate it as easily as I do at exhibitions.
I feel I have an energy I can share. Something I was able to do in London (at Worlds 2013, where he won silver - ed.) I feel a very strong connection with the audience and I want to share that energy while I have a chance. "Caruso" is one huge source of energy for me and I hope people feel what I am trying to project.
"It's thanks to such programs I progress"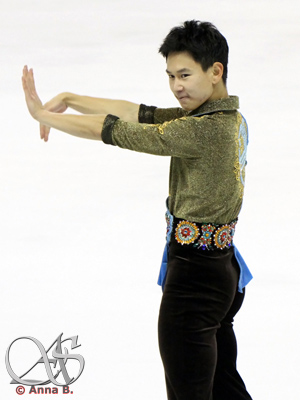 Last year I didn't feel any special mood while we were working on the programs. It was hard finding the right music; I didn't like anything. I couldn't find a piece that moved me as "The Artist" did [the season before that]. We were making the programs thinking of the order of the elements, and how it "should be" at the Games.
When I came this summer Lori said: "It's a year to experiment".
We listened to various pieces in various styles and that led us to "Silk Road." I loved the music instantly!
The story of this program's creation reminded me in a way of preparing "The Artist", and this made it special. Back then, with "The Artist," we were joking that the score was so amazing we could have made two programs out of it and... we ended up going for that concept. This time we choreographed the short program first, and did it quickly, in about two days, because I didn't have much time.
On the way to the studio Lori suddenly had an idea: "What if we do a long program with that?" We laughed at that thought at first because our musical editor usually has a hard time with me - I always think something is missing, so sometimes she must make 20-30 versions of the music for me. And we imagined how she would react. We were laughing and then we came up with a concept that inspired me. The next 2-3 days we spent redoing the program, working for 9 hours a day on the ice almost nonstop.
It is such moments that make the working process memorable, and turn the programs exceptional.
That program reminded me of your exhibition to the Kazakh national melody.
Indeed, we had a lot of fun when we were working with Stéphane on my Kazakh program to "Turan". And I was even thinking of turning the program into a competitive one, but it was an Olympic year and my coaches had other plans and ideas. Still, I was thrilled to introduce Kazakh culture to the audience.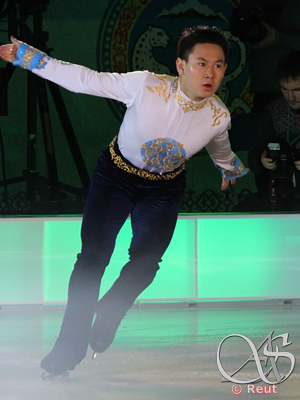 When I was skating that program at home, the support from the crowd was overwhelming; the audience would start clapping from the very first notes.
After that we considered doing something else in the national style, we have a very interesting culture. In the end I think we came up with a great compromise - "Silk Road" - which in a way is related to my country. And me too, I can hear something Kazakh in it. The program turned out unusual. I can't even put my finger on the exact character of the piece. When it was a short program it was quite different, leaning more toward the Indian style. Slowly it became multiethnic. This program demanded a lot of work, it turned out to be very versatile, yet I know exactly who I'm trying to portray, and the character has a lot in common with me.
I think maybe this program is a bit hard to understand...
I agree it's quite complex, but it's thanks to such programs that I progress. Probably my biggest breakthrough choreographically was when we dared to use "The Artist" concept. You wouldn't imagine how hard it was at first! It was hard changing the style yet staying in focus for the elements. Besides, I was used to serious themes and here I was required to smile. Even if something goes wrong - smile. Yet I was so in love with the character. It was a magical time. I don't even recall how we worked on it - we were creating, one idea followed the other and I ended up spending three weeks in Canada, even though usually we needed just one. Lori is a true genius. I'm so grateful for her ideas and her impact on my artistic development.
Of course my goal is to skate every program clean. But you know, I re-watched the Olympics and it struck me how alike all the programs become because of the focus on technique. But I want to add something new! I'm very demanding with myself and don't like watching my own skates. Hopefully one day I will reach a level when I can watch and...
...like what you see?
Yes! With programs such as this one I move forward, I don't stagnate. You can always play the trump cards you already have or you can acquire new ones. And this is exactly my goal.
In pursuit of style
You've mentioned using Italian lyrical music in your programs quite a lot. Would you define yourself as more of a lyrical skater?
I don't know. I tried various styles. Coming from a family of musicians I always liked classical music. My favorite composer is Sergei Rachmaninoff - I love all his compositions, they're all brilliant! In 2009 I skated to Rachmaninoff's Piano concerto n.2 (LP of season 2008/09). I just came to the rink and said: "I want to skate to this piece." Tatiana Anatolievna Tarasova said: "If that's what you want, that's what you'll skate to." I was so pleased she supported my decision. Even though it's such serious music and I was only 15. Ever since, I've had a special connection to classical music. Perhaps I was not the most classical skater compared to others who have amazing lines and smooth skating, but deep down I always loved classical music.
The season after that (2009/10) we wanted something uplifting. Together with Tatiana Anatolievna and Elena Germanovna [Vodorezova] we chose the music and ended up with "Sing Sing Sing," and figured such music suited me as well. At that point it was my best program and I still love it. Later we tried some other musical styles including a tango. Perhaps I was not yet mature enough for those other styles back then.
Then we took "The Artist". I always told Lori I liked jazz, but she couldn't see me in it. The same summer Stéphane and I did a "Singing in the rain" exhibition and I showed it to Lori. She saw it and said: "Yes, it's possible." And this lead us to "The Artist", which I can't even call a jazzy program since it includes a waltz, drama, classics and swing.
I still grow and develop. I don't have any particular style in which I'm especially strong, so we keep experimenting. I can't really say if I'm more a lyrical skater or an energetic one. Time will tell. There's still a lot of work needed for me to live up to my potential. I had a chance to work with the greatest skaters, see how they work, share the ice with them and I know the work ahead of me is endless.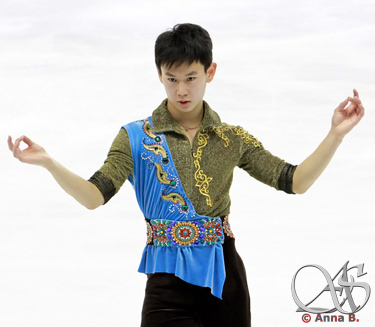 Why have you changed the long program costume so many times?
Last season I changed the costumes for almost every event, too. Some I didn't even use - only practiced in them and competed wearing something else. This was the case at Cup of China, for instance. My "Olympic" costume for the long program was only ready by Four Continents, where I still didn't have a tie- we added that later. It was my mother's idea, and I think it was a good one.
We are constantly searching. This year we made several costumes at once. The long program theme is not obvious, there is no single style in it, and thus it was hard to come up with a concept.
How do you decide in the end which costume to wear to a competition?
That's a tough question. The thing is we have very different preferences in the team. My mother has a great sense of style. Frank is more classical, Lori is more contemporary, and we have a designer. I take part in the decision as well. Because of this, we're always trying to find a compromise. Last year, for example, Frank liked the first costume, Lori - the second, while I liked both. We started thinking about how they could be combined. It's a process which resulted in something in the middle that we all agreed on.
The costume for this year's short is easier because the theme is classical, so we decided on a classical costume.
You know I received teddy bears dressed in my costumes, it was such a great surprise, I'm so grateful to my fans. I think they're more talented than some designers! Perhaps I should ask them to make my costume next time? (smiles) It was a very nice gesture but now I feel embarrassed, I am afraid they will feel obliged to make yet another teddy bear every time I change the costume! (smiles)
"Denis Ten & Friends" - not its face, only an organizer
We held this show twice, but it's still not as big as "Stars on Ice", "All That Skate" or "Art on Ice" which take place annually on the same dates. In our case if there was an opportunity to bring a great show to the audience we would do it.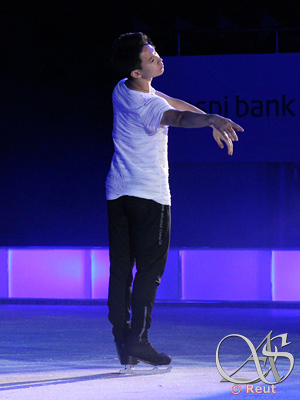 There were people who wanted to see us, we had the means and the time. It was this way the first and second year. Right now it's more of a hobby - we don't make any money on it. So the fact it turned out so great is even more surprising.
Did you have some "lessons learned" after that? Did you think about what you'd want to improve next time?
There is no limit to perfection. Take "All That Skate". They told me they try to improve the show every year, but when I took part in it this seemed impossible - there was nowhere to improve! We have a lot to learn yet. I think the second show was better than the first one. Of a larger scale too. Me personally, I was more involved in the production this time. Of course we continuously learn, make notes - you can't do everything perfectly. But most importantly all the skaters were satisfied. I had a great time being with them!
When it's, for example, Yuna's show - she is the legend, everyone comes to see her, and we all skate for her. It's different in our show - most of the skaters are much more successful and stronger than me. I still have a lot to learn and do to reach their level and I understand this. I was not really the face of the show, but more of an organizer. It often happened that I would go on the ice and while skating I would think: "I have to call for a physiotherapist for Nathalie, Carolina needs to tape her leg, what else? Make sure Joannie gets her coat on time and make sure Alexey is out on time because he should be getting killed." (smiles)
The point of the show was not drawing the attention to me but making a gift to the Kazakhstan people who never had a chance to see such figure skating legends. For those who never saw figure skating before, and for those who have been following it for years and finally could come and see it live. I was approached by many people who said how happy they were to see Daisuke Takahashi, Stéphane Lambiel, Alexei Yagudin or Evan Lysacek. It was nice having our hard work appreciated.
The roster was indeed to die for...
That's in the Kazakh mentality: if you do something you have to do it big. The skaters felt it too, during the banquets, lunches, dinners. And we tried to make the show a bit Kazakh too - the group numbers, presents - all that was made in the Kazakh tradition. And, of course, this blew our guests' minds. I'm glad people from all over the world were exposed to our culture, to which they were oblivious before.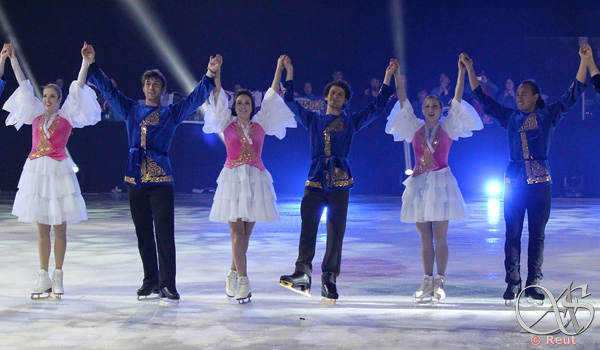 "All That Sports" collaboration
I'd received offers from American and European companies before that too, but my mother is a wonderful manager and we didn't feel the need. The "All That Sports" management and Yuna herself always treated me really nicely, which is flattering. This year it just all came together and we decided to collaborate. We will be working together for the next four years. I'm certain this is the best company I got to see during my career. I hope both my expectations, and theirs, will be met.
Was your decision influenced by the fact the next Olympics will be in Korea?
No, I haven't thought about it. There was no talk about a four year contract at first, we were just in touch and they invited me to the last "All That Skate". It's a huge project; I was always captivated by it, not only when I participated in it. I watched almost all of their shows on YouTube. And I saw the one they brought to Los Angeles live, Stéphane invited me to come.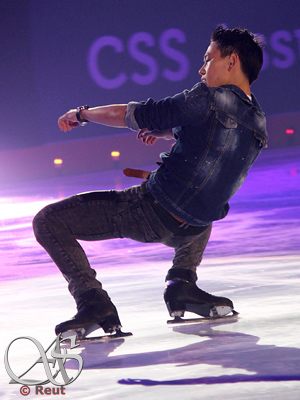 I'm an ethnic Korean and I feel related to the Korean people. Besides, we got along really well - they came to our show in Kazakhstan, I showed them my country. We found common interests and in the end decided on an official collaboration.
What does this collaboration mean? What is their role in it?
Their main goal is to make the athlete's life easier so we can focus on the sport. My mother, father and I, we got really used to organizing things on our own; the team we're working with was created by us personally. Now we have a chance to free ourselves, to focus only on skating. If I need anything the "All That Sports" will always be beside me. We even joked if there is a need they will help me with my university homework. (smiles)
"Go to school. And you will skate better"
Talking about the university, I know there were some recent changes in that field, too.
I always wanted to have an education. When I moved to the USA I kept studying at the university in Moscow but it was hard. The day after the long program at Worlds 2011, in Moscow, I had an exam! We thought about a Kazakh-British Technical University back then - it was the best in Kazakhstan and it gives you both Kazakh and British diplomas. But we were talked out of that idea because my main goal was the Olympics. We understood we had a tough three years ahead of us. However, now I've been accepted to the university.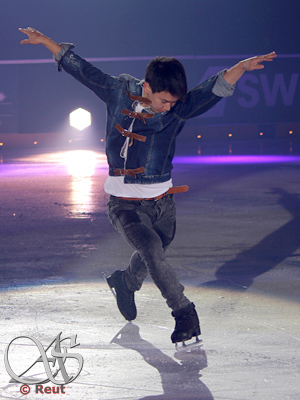 What is your major?
I am working on an MBA program (Oil and Gas). It's interesting and useful. I hope to be able to combine the sports with the studies, I am sure the studies will be beneficial for my competition results. My mother always said everything that's in your head is visible on the ice. She used to say: "Go to school. And you will skate better."
Denis was looking forward to the second part of the season, especially to the Four Continents. "I dream about that competition, I'm so keen on it," he said to me back then. "It's like a mini Olympics for me. First of all it's in February; the Olympics are in February too. Secondly, I feel responsibility - Korea is my second homeland. There are so many fans there who love me. I have relatives who will come and watch me skate. It will almost be a home crowd for me. I really hope I'll prepare right and be in top shape there." And he was. He nailed a quadruple toe loop, triple Axel, triple Lutz-triple toe loop in his short, achieving a new personal best score. And with a close to perfect performance of the free program, which included quadruple-triple toe combination, triple Axel-double toe, level-four spins, he claimed gold, his first medal at this championship.
We hope he'll keep that momentum and wish him to finish this season on a high note.