Javier Fernandez: "It was the toughest competition I've ever had"
February 27, 2015
By Titanilla Bőd (Új Szó)
Photos © Rüdiger Lawall, Joy, Mireille Geurts, Reut Golinsky, Keiko Kasai
When he speaks about his achievements, he is down-to-earth; when he mentions his mistakes, he is really serious. When talking about his plans, he is determined and when speaking about his girlfriend his eyes are sparkling.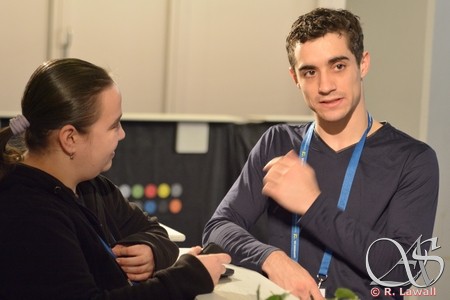 Even though he is now a three-time European champion, Javier Fernandez remains the same sincere, friendly and classy guy we've met at his first competition. In Stockholm he was willing to answer Absolute Skating's questions after the gala, while the entire mixed zone was literally taken to pieces around us.
Not many skaters have won three European championships in a row; even Alexei Yagudin and Evgeni Plushenko didn't manage it. What is your secret?
I don't think there is any secret. Yagudin and Plushenko were amazing skaters and they did a lot for this sport, but they always competed against each other, they were the top of the top. So they didn't manage to win three times in a row. I can definitely say there is no secret, just work and trying your best in every single practice, at every single competition. This time in Stockholm it was not an easy competition for the men – the most of them – but still we tried really hard. I'm very happy to get that third gold medal, because it was a big goal for me – to join that list of people who have done it. It was not easy, but I did it.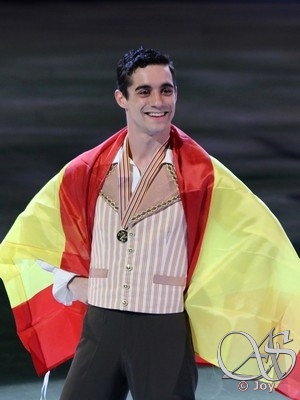 Compared to your previous titles, was this victory harder?
It wasn't really hard, because even if it was a good goal to get three medals in a row, if I didn't get it, it wouldn't be the end of the world. Of course I was nervous, but I was not that afraid of not getting it. I was training really well before coming here; the practices and the warm-ups were also very good. But then during the competition I was a little bit shaky. I needed to be more focused on what I do, to be in my programs. They are really difficult and they need a lot of work. I just need to keep practicing.
After your free program you said you were very tired. Did you find out the reason why you were so exhausted?
Not really. I was not really tired in the short program; I was also okay during practice when I did a run-through of the free program. But on the day of the free program for some reason it was different. I don't know why; maybe because the arena was more crowded and the air was a little bit dryer, I'm not sure. When I got to the hotel, I had a really dry throat. But it sounds like an excuse, right? You can still do a great program even if the air is dry! So it's not because of that. It was just the toughest competition I've ever had; it was very tough to finish my program. In practice it is easy, but this time at competition it was very hard.
You were the first one to skate in the last group and then you had to sit all this time in the so-called "green room" waiting for the results of the other skaters. What were your feelings? You were so pale and you looked very tense.
Sometimes it was fun because there was another skater sitting with me and we were commenting on our programs and on the programs we were watching. But… you don't really know what to do and what face to put on when you are shown on the screen. If the other skater does well, you are happy because he is skating well, but at the same time you are like: "Oh, he is skating better than me!" And on the other hand - if he skates badly, you cannot be happy, because it's not a good sportsmanship! We are all friends, so I really didn't know how to behave in the green room. I think this would work better with other sports, because in figure skating we are so close to each other. But I think it's sometimes nice to be there, so that people can see what the leader's reaction is, or how the other person is waiting… So I think it is a good idea.
In the past, where did you wait until the competition was over?
Usually when we finish our programs, we have to go through the mixed zone; we have to do some interviews, so we actually don't get to see the other skaters. We don't even know if they are doing well or not. That's why the green room is good for us, because we get to see what the other skaters are doing.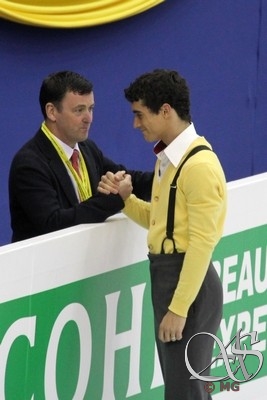 When the competition was over and it was clear you are the champion, what were your feelings?
I was happy, but at the same time not very happy with my performance because I know I can do much better. But still, my program was the best that day, because other skaters made mistakes too. It was a tough day for everyone; I got to see the others too, so I know. I was really pleased that I got this medal. Hopefully, when I win other medals I can perform much better. Brian [Orser, Javier's coach] was in the green room too, and he told me he was happy and proud. We have been working hard and really well.
There were many mistakes during men's competition, especially in the last group. Something similar happened at the Olympics in Sochi in the free program. What do you think is the reason for this? Are the programs so hard, so packed with elements and transitions that it's hard to perform them cleanly?
I've heard that a couple of times. I think that when you have a program so full of stuff, when you can't even rest - you need to do your choreography, transitions, spins; you can't even breathe, because you have to concentrate on the levels, then you have to jump around, you cannot stop. So when you are at this level, it's riskier, but when you do a good program, the score is going to be much higher. It's true that years ago the programs used to be clean most of the time, but it's very different now. When you go for a jump and you just skate normally, like in practice, then you can land it clean; but if you put a lot of stuff - steps, turns etc. before it, it's a bigger risk. Our programs are really hard. Sometimes people criticized Patrick [Chan] that he is falling a lot in his programs. But Patrick goes thousand percent for every single step. We put more and more and more in our programs and at the end of the day it is so difficult with all that stuff that it is very complicated [to perform clean].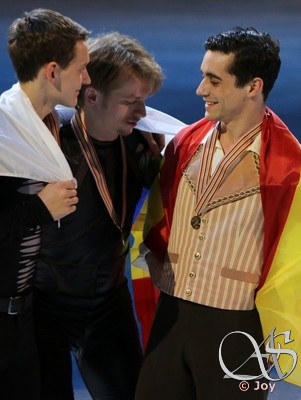 You have three quads in your free program. Do you think it is essential to have three quads in order to compete with the top skaters in the world?
Yes, because it's something that other skaters have. We've been working on three quads for a long time and I can do them, I land them in practice. The thing is that last competitions were very hard. Maybe it's because this program is much harder than the previous ones. I'm improving as a skater, I improve my second mark, and because I can skate much better, my programs become much more difficult. I only do the step sequence and I get tired. I think I need those three quads because there are some very strong skaters. Yuzu [Hanyu] is very strong, he has his quads too, and he is a great skater. Being on the podium at the Worlds is my goal, but I train for the gold. That's how everybody trains - to win.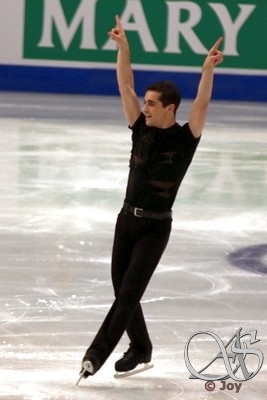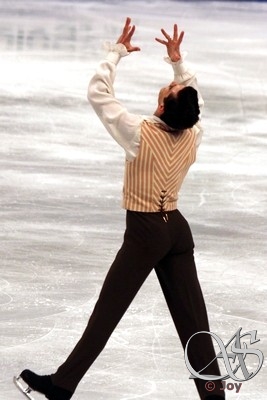 You have two very different programs this year. In the short program you are a kind of a cool rock star and in the free you portray a classical character, Figaro from the Barber of Seville. Which one do you prefer?
I like both of them. They have nice characters. The short program is very cool, I never did such a cool style before, but I think people really like it. I personally like this kind of movements and this excitement when I'm skating. The free program is softer, more classical, but at the same time I am portraying Figaro, who is kind of cute. I think it is a great program. Sometimes the slower the music is, the harder it is to skate to it, because you have to be on top of the music to make everybody excited. When you hear slow music and you skate to it at that slow pace, sometimes it can be boring. So it's a hard program, but I really like it and I enjoy doing it.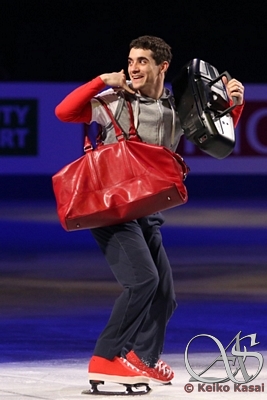 This year vocals were allowed for single and pair skaters. What do you think about it?
In my short program I have vocals - "Oh, Black Betty…" It's a new thing; you have to be smart when using vocal music. Your choice depends on your style. In my opinion pop songs are not very suitable for figure skating, so I will never skate to such a thing.
You have a very entertaining gala program, "Aerobic lesson with SuperJavi". How did the idea of this program pop up?
That was a couple of years ago. I did it with Kurt Browning and one of his friends called Jeff, who is an actor in Canada, and he helped us a lot. It was their idea and I thought it would be a lot of fun. And it was! We enjoyed doing it together, recording my voice with the music; all this stuff was very exciting and it was my first time doing something that big. I don't really perform it that often anymore, only if there is a special request, since I have a lot of other programs. And when I'm coming back to Toronto, I will work on a new gala. I have this idea and it's going to be a completely different style. It's going to be cooler and I think it will be amazing.
When you get a bucket of water to your face in the Super Javi program, aren't you freezing?
It's kind of refreshing! You are tired and you get a little bit of water on you… It's nice; I don't mind it at all.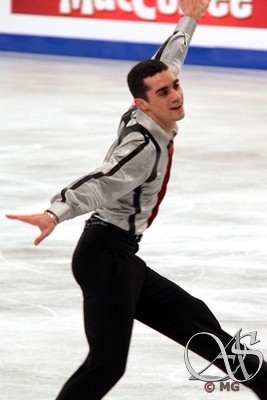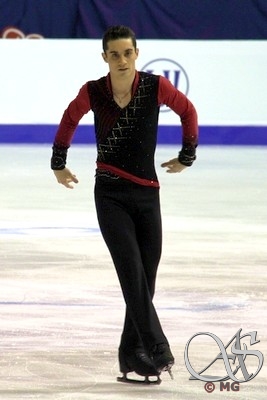 What does it mean to you that thanks to your results figure skating is getting a bit more popular in Spain?
It feels great. I think it is really important. We'd like to bring this sport to many people and cities, to places where they don't even have an ice rink. It's a lot of work, but we can do it. We will see how things go, but we need to be on the podiums, on TV and in the newspapers, so that more people know about this sport. And we need important people who have money and influence, and they can help build more ice rinks. We really need new rinks, because if there are more children skating, there is a bigger chance to find new talents.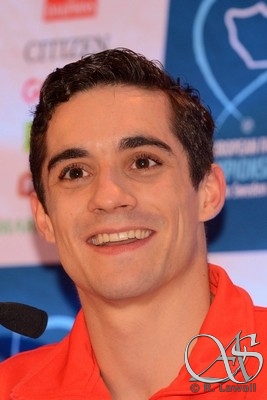 Last Grand Prix Final took place in Barcelona. How did it feel, to have such a big competition in Spain for the very first time?
It was a great experience and a great competition in general. I think everybody enjoyed it. It was the first competition for us, so it was a completely new thing. It came out really well. Skating [in front of the home crowd] was unbelievable. I've never in my life had that feeling before. Skaters from other countries, like Japan, Canada, Russia - they are used to it, but I'm not! It was a hard, but a great experience.
What are your expectations towards the Worlds?
I want to be on the podium again. I'm going to work on winning the gold medal but if I am on the podium, I've fulfilled my goal. You can never know what's going to happen; if my goals are too high, like "I'm going to be an Olympic champion", it doesn't have to work out. I need to go step by step; I need to know my level and the level of other skaters. Every competition is different, anything can happen.
What's it like to train together with Yuzuru Hanyu?
It's great. He is a great person and a great skater. He works really hard and it is amazing. To have such a high-level companion in training helps me. And it probably helps him too, because you have someone to compare yourself with, to see how the other person is training… But at the same time we are friends. We spend a lot of time together; we talk about so many things.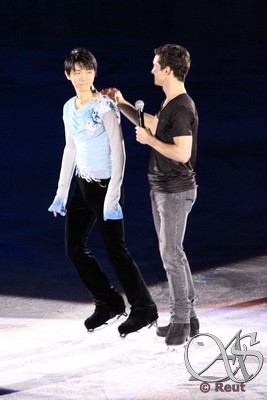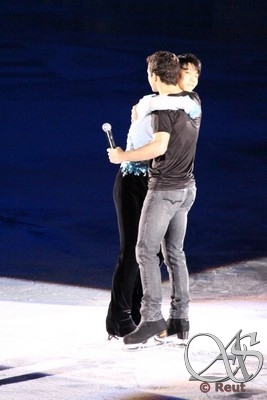 You always talk about him in a very nice way. Do you really support each other like this?
Yes, we do! But not only with Yuzu; I do it with so many other skaters. We are a big family, we spend a lot of time together at competitions and I like to have fun with them. With Yuzu of course it is closer, because we train together; he is a part of my daily practice. I see him more than other skaters, but I really get along with the others too.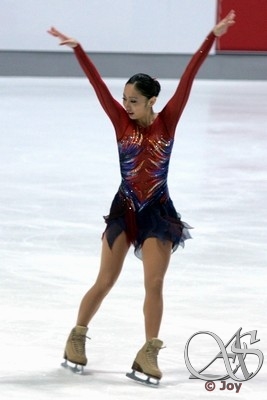 A few months ago you revealed on your social profile that you are a couple with Miki Ando. How does this relationship work?
It's a long distance relationship, she is in Japan. She comes to visit sometimes but it's hard because she is busy working and busy with the kid. She has to do many things, and I'm training, I can't really leave in the middle of the season… But everything has been going really well. She is a great person and since the beginning everything has been really amazing. We just don't see each other very often because of the distance, but hopefully this summer we can spend a lot of time together and go to different places. I don't have anything planned, we will see.
What was her reaction after you've won the Europeans?
She is a skater and she knows all about this sport. I talked to her and she was like: "What happened in your free program?" But you know what?! She never watches my skating at competitions. And I always get so mad: "You are telling me I skated so badly and you actually didn't even see me skating?" This makes me angry. Well, not really angry, just a little bit. But she was happy that I won. I talked to her the day after my free program and she was very glad. She said I did a great job. And after that I asked: "Did you watch me?" and she just laughed.