Joshi Helgesson: "I feel it's going to be a good season!"
October 31, 2015
By Titanilla Bőd (Új Szó)
Photos © Eva Maria Jangbro (EMJO), Poggi
Last year she finished second at the Ondrej Nepela Trophy, but couldn't enjoy her medal, because she injured her foot. This year she finished 7th in a much harder field at the same competition and she looks forward to coming back to the Ondrej Nepela Arena for the European Championships in Bratislava. Joshi Helgesson talked about her plans, programs and also how what it is like to practice and compete without her sister by her side.
What feelings did you have before coming to Bratislava, considering that last year you suffered an injury here [during the free program she injured her foot and the screws in her ankle were compromised]?
It was pretty difficult for me last year, I had some trouble with my foot and after this competition I had a surgery in Sweden [to remove the screws]. But since then it's improved a lot, and now it's good. I really liked the competition last year here, even though I couldn't finish very well, but it's really good here. The hotel is close and the rink is very good, so it was a pleasure coming back here. Also Europeans is here next year, so it's good to be here.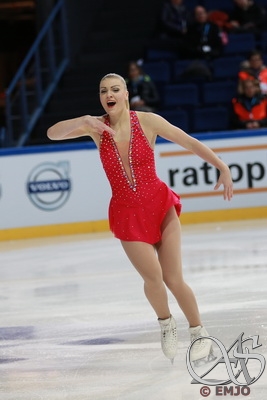 Are you looking forward to the Europeans?
Absolutely. It's going to be lots of fun. And we have three ladies from Sweden this year, so it's going to be exciting.
However, your sister Viktoria is not competing anymore. Isn't that strange for you?
It is! The competitions are fine, but it's more difficult with the practices. We used to practice daily together and now I'm a bit alone. But I went to Canada and the States to practice a lot, so I always had someone to practice with.
Was this summer different compared to the previous years?
It was a little different, but Viktoria came with me one week to Toronto, and my mum was also there. I also think it's good for me to be on my own, to evolve more.
You have very dynamic programs this year. Your short program is Too Darn Hot by Ella Fitzgerald and your long program is Bang Bang by Nancy Sinatra.
The long program is a bit different from what I've been used to do and the short program is a bit more my style. I really like it; it has been very good in Milan and also in Bratislava. For the free program the score was not exactly what I would have wanted, but that's good because then I can improve more.
Was the music your choice?
My choreographer comes with suggestions and we, my coaches and I, choose from that. She knows what fits me, so we choose from what she suggests.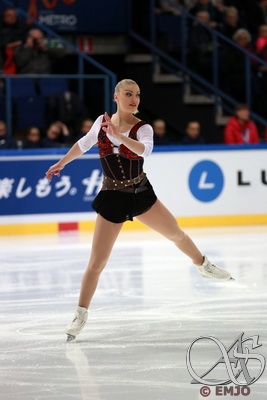 What is the story behind your free program? Do you try to portray this girl who was "shot down"?
The story is that I am a cowgirl, but then someone tries to kill me. In the end, I get vengeance.
What are your goals for this season?
One of my goals is to get over sixty points in my short program which I did both at the Lombardia Trophy and also at the Ondrej Nepela Trophy, so that's really good. I want to skate at Europeans and Worlds and get very good results and scores, also improve my placements.
Do you think you can be at the same level as the top competitors?
I hope so. I really try hard to be there. I've beat my personal best in the short so I feel it's going to be a good a season. In the short, I also broke the Swedish record!
On your website, you write long blog entries. Do you like blogging?
It's mostly because my grandmother reads it a lot, so I stay in touch with her that way. I think it is fun to write and this way the Swedish people know where I am and what I do, that's good.
Last year Europeans was in Stockholm; what did that mean to you?
It was really nice and fun. It was great that my sister and I skated very well and we got good placements. But also I feel like everyone in Sweden knows what figure skating is now and they are interested more in the sport.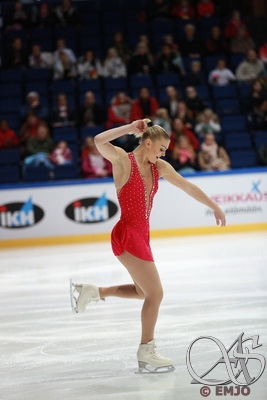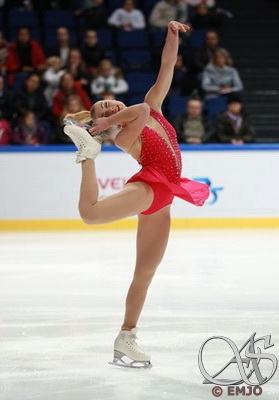 Wasn't it a pressure on you that you were the faces of the competition? You were everywhere, in magazines, on the flags all over the city!
No, it was very fun! Almost everyone from our village came to watch and everyone was cheering for us.