Justus Strid is looking forward to "real life"
February 20, 2015
By Titanilla Bőd (Új Szó)
Photos © Joy, Mireille Geurts, Joluskating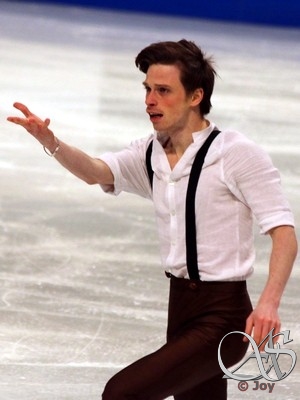 Justus Strid has never challenged the podium in major competitions, yet he has a unique style and memorable programs. He planned to finish his competitive career last year, but because of the Europeans being held in Stockholm, he decided to stay one more year.
Cozy and familiar
Justus represents Denmark, but is originally from Sweden. So the Ericsson Globe Arena in Stockholm was home soil for him and he had lot of friends and supporters in the arena.
"It feels really good with this audience. I even saw Japanese fans with the Danish flag. I know everyone here, the organizing committee, also the fans and skating friends… it's a very cozy and familiar community here,"
he said after his short program, which wasn't flawless; he fell on the Axel and stepped out of the Lutz.
"Enough" and "coward", these were the two words Justus used to describe his performance in the short program.
"It was enough to qualify for the free, but I was a bit of a coward. The Axel was great in every practice, but in the competition I get nervous and think: 'I should land, I should land'…but I don't land. The same happened with the Lutz, I just went in the air, was afraid of falling and so I didn't fall but had a step out instead."
Justus was in 22nd place after the short program, but he was looking forward to the free skate. He chose very special music for his long program, especially for this occasion.
"I've been promised they will sing along! That's why I chose Guldet blev till sand (Gold turned into sand0, a very famous Swedish song, sung by Peter Jöback (a well known singer in Sweden)," he explained.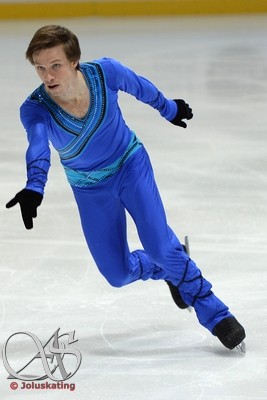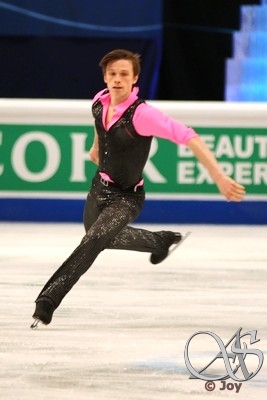 Mack the Knife instead of Panda
He revealed that at first he wasn't comfortable with vocal music which is now permitted also for the single and pair skaters.
"At the beginning of the season it felt wrong, because I didn't know whether to skate to the lyrics or to the music. Are you going to be the singer, are you going to be what he sings about, or are you going to be in the music? But now it feels like I've found myself in the music," Justus said.
He uses vocal music in both his programs, as he changed the short program from Kung-fu Panda (left pic) to Mack the Knife (right pic) by Robbie Williams.
"The judges didn't understand Kung-fu Panda, because they've never seen it. They had no idea what I was doing! They just thought it was disco mixed with Karate Kid and they didn't see where it connected. It was hard. So we changed the program, instead of making them all watch the movie," Justus laughed.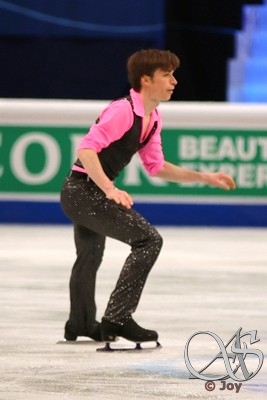 He and his team already considered Mack the Knife before the season.
"We had this idea and we thought we could work with it quickly. We did it in December. It is something different than the Panda, so I hope the judges understand it, too," Justus said.
Staying home on Friday nights
Justus would love to compete at the Worlds too, but he doesn't have the short program scores. He didn't manage to earn the scores at the Jégvirág Cup in Hungary, so his only chance is now the Challenge Cup at The Hague.
But he is sure he won't compete next season.
"I'm going to coach a lot, and have a normal life. Maybe start a family or stuff like that," he said with a smile.
Even though he is an entertainer, he doesn't have any show assignments. "The big galas are for the top ten skaters in the world, they get those. I've been thinking about cruise ships [joining a revue there], but the problem is you have to be away for a long time. And I really want to start a normal life. I could make good money [on a cruise ship] and it could be fun, but I'm not suitable for that. I like staying home on Friday nights."
As a coach Justus is not obsessed with results. He mainly wants the kids to have fun on the ice.
"I really like working as a coach and I love working with kids. Not necessarily with the best kids, but the ones who really like skating, who are not pushed to be the best in the world, but who enjoy skating. I like the fun of skating," he emphasized.

A perfect program
In Stockholm in his free program he definitely had fun. It was uplifting to watch his skating, which he started off with a clean triple Axel, his first ever in major championships. Even though later on there were technical flaws, the powerful music and the whole arena applauding almost made Justus fly.
"It was a great moment. It was not the technically best skate of my life, but the moment was perfect. The skate was perfect, with all the flaws and everything. I don't even remember what I did," he said as he left the ice. He has never received such applause in his career before:
"Definitely not and to know that it really came from people I know very well, it was amazing. I'm going to go around and hug everyone!"
Nervous brother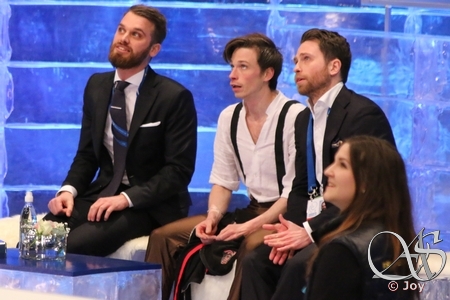 Justus's coaches, his brother Kalle Strid and Martin Johansson were also quite emotional.
"I was just so nervous all day. Justus was much calmer, and… it was just amazing. It was an incredible week. Justus had stomach flu on Monday, so he couldn't practice in the morning… But I was just so happy for him today," a still moved Kalle said and Martin added: "Today we are very happy. It was the first time that he landed a clean triple Axel in competition. The whole program was amazing. Thank you to all the Swedes who cheered for Justus all week. We couldn't be happier about that, a fantastic day."
The triple Axel has always been a crucial element for Justus, but he never left it out of his programs.
"The problem is the Worlds score. With the triple Axel I can afford to miss something else: without it I can't. The weird thing is, in practice it's never really a problem. In the program it's the first jump and if you miss it, then everything can go wrong…" he said about his hardest jump.
Interesting storyline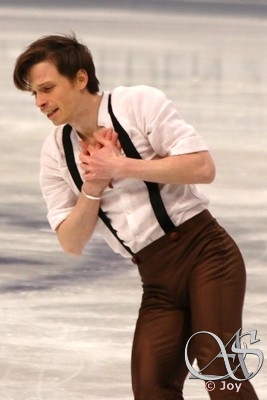 The long program is compiled to the melodies of the musical 'Kristina Från Duvemåla' written by two former members of Abba (Björn & Benny).
"The story in Swedish is different from what we are trying to project in English. In Swedish it's about a man who leaves Sweden to go to America with a friend, to search for gold. Then he comes to America and finds out it's mostly desert-land, and his friend dies. He writes home and says: I don't want to be here, everything turned to sand. But in English and in the program we try to portray this friend more like a woman, because it's hard to interpret on the ice that your male friend dies. It's hard to describe emotionally. So in my program I'm marrying my girl in the middle and then she dies. We also had a bit of a struggle with the interpretation at the beginning, because the judges didn't really understand what I was trying to say with this song. But now I'm very comfortable with it," Justus explained.
"Pretty amazing"
The Swedish song proved to be a wonderful choice.
"This song has been at the top of the charts for more than 60 weeks. It's probably the most famous Swedish song in Sweden. That's why we chose it and we were hoping for this moment. I just thought: free skating in Globen – it might be pretty amazing if we did this. I can say now: yes, it was," Justus said with sparkling eyes.
He admitted that he was not so calm before he took to the ice: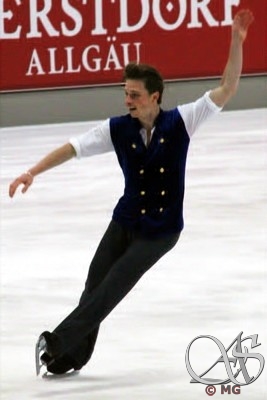 "In the warm-up I felt really shaky but then I did the Axel and I felt like: okay, now I know I can do this. The Axel is really the key. When I land it, everything is much easier. When the first element works, it calms you down. I probably had a lot of shaky landings, there was probably a fall, too, but this skate was not for 21st place or 16th place. Who is going to remember that tomorrow? I really didn't care about the score. Standing on the ice and especially starting the last step sequence – I will remember that for the rest of my life, while the jumps I will forget immediately."
His performance reminded him of his long program from the Nebelhorn Trophy in 2013, where he skated in Oberstdorf with similar passion and power.
"That program was cleaner technically, but this skate was definitely more emotional. I know the song, I know the lyrics, I know what it means… with this song I hit the emotions, I really feel it," he compared the two highlights of his career.
The unforgettable experience in Stockholm didn't make Justus change his mind about ending his competitive career.
"It just feels like I've done everything that I wanted to do. I've done Europeans and Worlds, and if I skate one more year, it wouldn't change anything, it wouldn't mean anything more. I probably could stay at this level one more year, but I really feel I'm done. I'm truly looking forward to a new life."