Zhenia Medvedeva is ready to shine
January 19, 2015
By Reut Golinsky
Photo © Julia Komarova, Reut Golinsky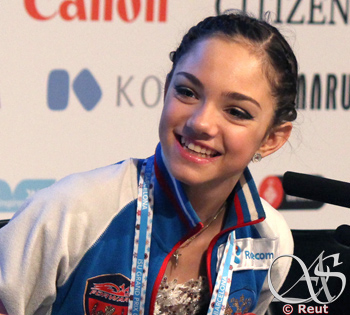 Amidst the galaxy of talent emerging from Russia in the ladies discipline, the 2014-15 Junior Grand Prix Final champion Evgenia (Zhenia) Medvedeva stands out thanks to her technically challenging programs, her natural musicality and grace and, of course, her charming smile.
She attracted close attention from the figure skating world last season when, qualifying with two gold medals (in Riga, Latvia and Gdansk, Poland) to the JGP Final 2013 in Fukuoka, Japan, she won the bronze medal. Later that season at the 2014 World Junior Championships, she was assigned to replace the injured Sotskova, and finished third.
Her current season's progress is even more impressive. At her first junior Grand Prix event, in Courchevel, France, she earned first place, 21 points ahead of the silver medalist. And, after winning her second Grand Prix event in Ostrava, Czech Republic, she qualified for the JGP Final 2014, in Barcelona, Spain, which she won too. Her performances there gained her personal best scores in both the short and long programs. She also set a new world record of 67.09 points for a junior ladies' short program.
When compared to the senior ladies' results from the short program of the same event, her scores would have resulted in a second place finish, just half a point shy of Elizaveta Tuktamysheva's score of 67.52. When asked about that during the press conference Zhenia was humble and diplomatic: "The judges decide about that.
I only have to keep up the good work. Because in the end everything depends on the quality of the performance".
In general she was not over the moon with her scores in Spain and even quite self-critical about her long program, giving herself the grade four out of five. "This was not an ideal performance, there were some small errors. I've had better skates than that and I think I have to aim higher," she commented. Her mother, who was once a professional figure skater herself, helps to keep Zhenia's feet firmly on the ground. She couldn't come to cheer for her daughter in Barcelona but called her after the performance. Funny enough this happened exactly during the press conference and inevitably led to the question of what would her mom say when Zhenia talked to her later. "She will congratulate me first but right after that she'll talk through all the mistakes I made in my performance," Zhenia smiled.
Yet the Russian prodigy is well aware of her strengths and perspectives for this season. During the summer her goal was just to qualify for the Junior Grand Prix Final, but then she started her season with Grand Prix events, evaluated her capabilities and rivals, and understood that she can, and must, aim for gold. She also prefers to set her goals step by step: JGP Final, then Nationals, then junior Worlds.
After her victory in Barcelona, Zhenia had a free day to explore the city and "was amazed by its beauty and unusual architecture of some buildings".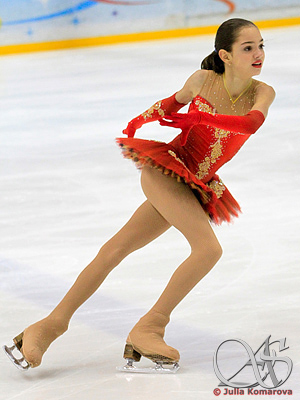 She also had a chance to watch seniors compete which, with four leading Russian ladies in the roster, in a way could have been labeled a "mini-Nationals". She learned a lot from that, she agreed, but also mentioned that she has her own path and direction for development and improvement, and she prefers not to look up to someone specific.
Her goal for senior Russian Nationals was to have a good performance and finish in the top six, so that she will be included on the Russian senior national team, because next season she plans to move to seniors. Her senior national debut was at the 2012 Russian Championships where she finished eighth, the next year she was seventh, so this goal to improve by one standing seemed very realistic. She achieved and even exceeded that, landing on the podium. She was third after the short program, acquiring the highest technical score (40.09 vs Radionova's 39.35 and Tuktamysheva's 38.30). And she was third after the long program with second highest TES of 68.96 (behind Radionova's 72.92). Overall it was enough to win the bronze medal, her first medal at a National Championship at the senior or junior level."Based on my [young] age I couldn't be selected for Europeans," she explained to the press afterwards, "and because of this I felt more relaxed. And for the audience it was much nicer to see me when I don't bear this burden of responsibility, it is immediately noticeable." Her next goal would be to qualify for junior Worlds, which will be held in Tallinn at the beginning of March. And she'll try to be the best there, just as she did in Barcelona.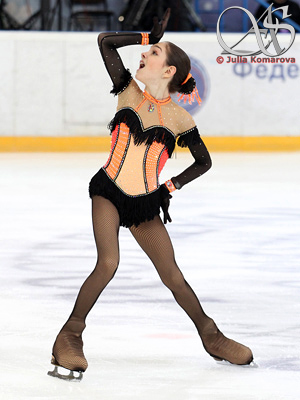 Among the things Zhenia Medvedeva masters which give her such an impressive technical advantage are her tano-jumps. She can perform almost every jump with one arm extended overhead - for example, in her short program these are the double Axel, triple flip in triple-triple combo and triple Lutz - and this automatically increases the GOE level. To learn and add this level of complexity to her jumps was her own initiative, she explained. This season she also moved all three jumping passes to the second half of the short program, so that their base value would be multiplied by 1.1. And she also practices all the possible jump combinations with the triple toe loop. In Barcelona this enabled her to change the layout of her jumps on the fly during the long program: she was supposed to perform a triple Salchow-triple toe, but the Salchow didn't go well and she attached this triple toe to her next jump, a double Axel. This was not some "plan B" they rehearsed at home, because "at practices I usually skate clean, so I don't have to change anything". She just was flexible and resourceful enough to go for it when needed, a great quality for any competitor to have.
Of course, when talking about impressive technical capabilities of young girls we always keep in mind that they have growth spurts ahead of them. Zhenia won't be an exception and she knows that. "I don't want to sound harsh," she notes, "but I see this almost as an excuse for bad performances. I believe that not everything depends on your physical condition, but a lot comes from your feelings, your self-awareness and your mind set." Well, at least mentally she sounds prepared.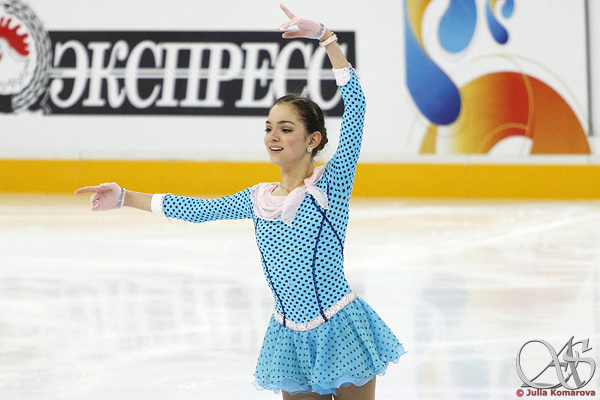 Her competitive programs this season were choreographed by Alexander Zhulin and Zhenia is very excited about them, saying that they match her multifaceted personality. In her short program to "The Umbrellas of Cherbourg" she portrays a story of Catherine Deneuve's character, Geneviève. The plot for her long program is more complex and even a bit philosophical: "This program was inspired by the story of two angels, a good angel sitting on your right shoulder and a bad angel sitting on your left one. They symbolize the two sides of each person, the dark side and the light side." The program starts and ends with calm and light "Sommernachtstraum" by Hans-G├╝nter Wagener and has the more energetic and aggressive "Tango Tschak" by Hugues Le Bars for its middle part. "The tango represents the dark side, but in the end I have a calmer music, the light side again, which shows that eventually the light side always prevails."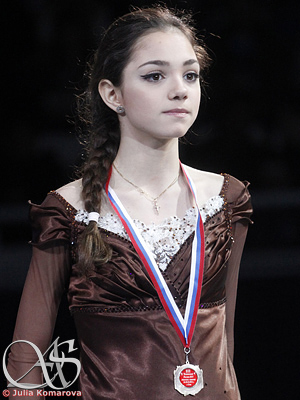 It was her own idea to take "Stayin' Alive" by "Bee Gees" for an exhibition program. "My coach was a bit hesitant at first but I assured her: 'Don't worry! Everything will be great!' And, well, it is," she says with excitement. This may seem to be quite an unusual musical choice for such a young person, but Zhenia explains that she loves music in general, all different styles and from various time periods. "The seventies-eighties was such a beautiful epoch in music, with 'Bee Gees', 'Queen'... You can call me a 'mélomane', I guess, because I love all kinds of music. Even heavy metal! 'Metallica', for example." But probably we shouldn't expect an exhibition to "Metallica" just yet from her, she adds with smile.
Her costumes, which nicely emphasize her delicacy and elegance, are a result of a team effort and collaboration with their group's seamstress, but the hairstyles are mostly her doing. Inventing and trying different hairdos is one of her favorite hobbies.
Another hobby of hers is interest in British and American TV series, among them "House M.D." and BBC's "Sherlock". And although she watches them with Russian dubbing, she's working hard to improving her English "to be able to chat with and befriend skaters from other countries during the competitions". One of her recent "foreign acquaintances" and friends is Polina Edmunds, who doesn't speak Russian but thanks to her Russian roots understands it pretty well.
No doubt Zhenia Medvedeva will need to master English in the nearest future, not only to talk to other skaters and the enlarging number of her fans, but also to give numerous interviews to the foreign press, who are becoming more and more interested in this rising Russian star.