Carolina Moscheni and Ádám Lukács dancing their way to Stockholm
January 25, 2015
By Melinda Sandor and Csaba Suba
Photos © Adam Lukacs, Csaba Suba, Judit Blaha, Daphne Heij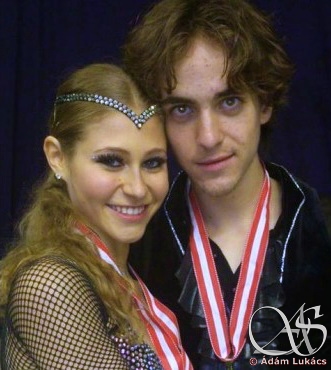 Hungarian ice dance team Carolina (Carry) Moscheni and Ádám Lukács live and train over 600 miles away from Hungary. The junior dancers train at the Agora Stadium in Milan, Italy, coached by Barbara Fusar-Poli. Day by day they work to fulfill their dream: participating in the 2018 Winter Olympics in Pyeongchang, South Korea. That is off in the future, but this year is big for them as well since they are taking the ice at the European Championships in Stockholm, Sweden, to prove themselves in a senior competition for the first time. Let's get to know them a little better:
Every partnership starts with a tryout. How long did it take before you knew you would be a team?
Ádám: I came for only 3-4 days, but those few days were enough for me to consider the most important things to me and make my decision. We seemed to match each other well, and I felt right away that Barbara is a good coach.
Carry: I knew the first time we skated together. Of course there were a lot of things that were different between us, but our physical shape and shared attitude towards hard work was probably the main reason I agreed. Our tryout was 3 days long, and I remember we practiced a lot, and day by day I could feel the match getting better.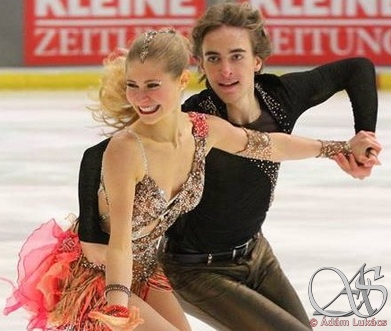 When you started skating together, you had to get used to new conditions and to each other. What was your biggest challenge?
Ádám: It wasn't bad because we had skated with different partners before. But Carry just started ice dancing a few years ago after she left single skating, and of course I had to get used to the new circumstances in Italy and to a new coach. We worked a lot on technique and with performance too. There is still a long way to go to become a really perfect pair.
Carry: Ádám is very calm and positive while I am impulsive and energetic. That was one of the biggest differences between us from the beginning, but we managed and little by little we learn from each other. Before working with Ádám, I skated with a Russian partner, Igor Ogay.
Ádám, you now live in Italy surrounded by Italians: your partner, your coach, your training mates… Was it difficult getting comfortable with the Italian mood and lifestyle?
Ádám: The first few months were not so easy. Italians are quite friendly but very few of them speak English, so I had a lot of communication problems. Carry, Barbara and the other skaters at the rink are fortunately quite good at English, so after a few days of my arrival we became good friends and it still works. The team is very good and it helped me a lot while integrating. I soon fell in love with the local cuisine and the city.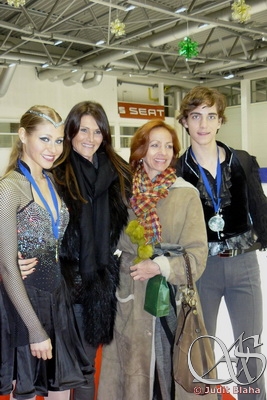 Carry, you are from Bergamo, which is over an hour from Milan where you train. Have you moved there or are you commuting?
Carry: At first I was going back and forth every day. It was a big sacrifice but I am young and wanted to stay with my family. But it was two hours by train there and two hours back, so now I have moved to Milan. Life is easier this way, but I miss living with my family.
Some boys have a strong relationship with their mother. How do you feel talking to your family on skype, but living 600 miles away from them?
Ádám: At first it was weird and difficult, because at home I spent a lot of time with my mom and my family. She visited me a lot the first months, and sometimes I went home for the weekend. It was helpful. Now I've gotten more familiar with life here, but I am still happy when I have a few days at home. I spent a week at home over Christmas. I live with a Hungarian family in Milan; I rent a room from them.
You are training with Barbara Fusar-Poli. We know her from competitions, but what kind of person and coach is she?
Carry: Barbara is a special coach to us. She loves coaching and we can feel the passion she puts into her work.
Ádám: Barbara is focused and determined, just like us. She is pushing us to be our best every day, and giving us the best ideas and options to help our progress. She is very intense and active; sometimes she has more energy than us! But I also think that's no news to those who knew her when she competed. But it's important to us that besides being a good coach, she is also a good friend.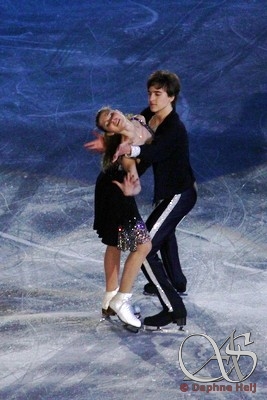 You are the homecoming winners of the Leo Scheu Memorial competition in Graz. Did you analyze your performances afterwards?
Ádám: We only had 2 days with Barbara after the competition, because she had to be at the Trophy Eric Bompard. But we watched the performances over, and we did not make any changes before the Santa Claus Cup in Budapest.
You also work with Igor Shpilband, who has prepared many teams to win World and Olympic medals. What kind of help do you get from him?
Carry: Of course, the fact that Igor is a top team coach was one of the reasons we chose him. But after working with him on our new programs and elements, we understood this collaboration also creates potential for us.
Ádám: Igor and Barbara are among the top coaches in the world. We spent June to September with Igor in Detroit, and our programs were created there. We felt honored over the opportunity when we travelled to Igor for the first time. I think he mostly helped us with the technical part of skating; developed our skating skills and he had a big part in the creation of our new programs.
Who were your training mates in the US?
Ádám: Yura Min / Timothy Koleto (who have since split – ed), Cristina Carreira / Anthony Ponomarenko, Holly Moore / Daniel Klaber, Madison Chock / Evan Bates, Isabella Tobias / Ilia Tkachenko and 5 other junior pairs.
We haven't seen Isabella and Ilia compete yet. What do you think about them?
Ádám: They will be good, they are a good match. I think Ilia will be better with Isabella than with Ekaterina (Riazanova). He is a good friend of mine; we were roomies for a while too.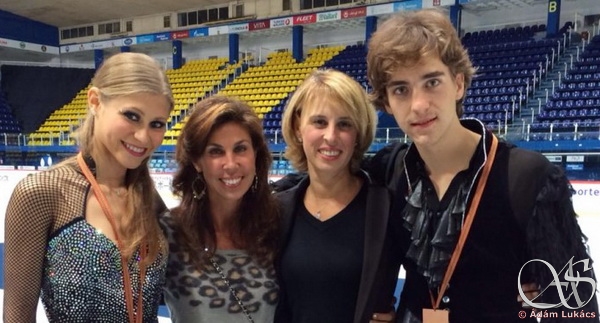 Carry, Adrienne, Barbara and Ádám in the Junior Grand Prix in Zagreb
What did Adrienne Lenda, Igor's wife, help you with?
Ádám: We were working with her on technical elements. She records all the elements with a cam which is connected to a TV next to the boards, so we can replay and analyze everything.
You also worked with Greg Zuerline, Madison Chock's previous partner?
Ádám: Yes, he helped a lot. He is one of Igor's coaching assistants and we worked with him every day. He is a good coach and a good friend; we spent a lot of time together.
Have you moved between the US and Italy during the season too?
Ádám: We don't have time for it during the season because of competitions. Last year we spent another month in the US during the fall, but this year we couldn't make it.
Tell me about a normal day!
Ádám: We work on the ice from 8 - 11 am with one resurfacing break at 9. From 11 -1 we have a break and then 2 more hours on-ice. We have off-ice training on Monday, Wednesday and Friday and a ballet class on Tuesdays.
Carry: My days are mostly the same, but I spend our breaks in high school where I study psychology.
Ádám, what about your studies?
Ádám: I am home schooled through the Móricz Zsigmond High School in Szentendre, Hungary. I will graduate next year.
You have serious restrictions when picking the music for the short dance, but not for the free dance. Do you have a method for choosing your music?
Ádám: We try to show something different every year, something absolutely new that no one has ever seen from other couples. After our Michael Jackson theme last year, we picked a classical theme, but it is a modern arrangement by David Garrett.
Carry: We listen carefully to our coaches' suggestions. We try different themes and then choose what we like the most.
You have to perform new dances every season. Do you feel any pressure to create new lifts and movements to be noticed by the judges?
Carry: I don't feel any pressure. I like changing programs and movements. It is a hard, but very fun process.
Ádám: Nowadays ice dance is different. It is more important how you do things than what you do. You can see it mostly in the required elements. You can do the same twizzles or lifts for years, and if they are perfectly executed they will be marked well. If the rules don't change, it's not necessary to change the elements. Except if we feel we can do something better.
The compulsory dance was dropped from competition a few years ago, but in the short dance you still have to skate two sequences of pattern, which is different every year. What is your favorite?
Ádám: We loved the quickstep last year, but silver samba is not our favorite. I like tango and waltz the most, so I am happy about the waltz pattern.
How difficult is it to execute the key points defining your levels for the pattern dance?
Ádám: I think this is the most difficult part, I mean getting high levels for key points. Every technical panel may have a different understanding of the key point descriptions and rules. It is almost impossible to be liked by everyone.
Carry: Key points are very difficult, even the top pairs can have problems executing them.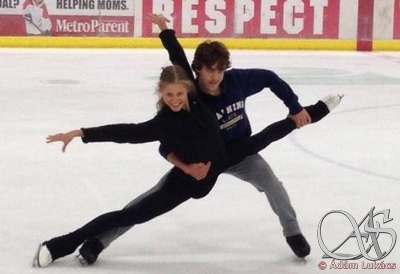 Which element is the more difficult for you?
Ádám: We must pay special attention to the serpentine step sequence in our free program. It is long, it contains a lot of steps and all of them must be clean.
Carry: For me it is the twizzles this season. There were a lot of new rules to understand but it is working now.
Photo text: Training Photo: Carolina Moscheni
When you need to display emotions while performing, where do you get them from? Are they coming from the inside or are you acting?
Ádám: Showing emotions is the most important thing in dance and every kind of acting. And the only way to make them real for the audience is to pull them out from your inside. But is difficult because we have to perform many kinds of emotions during the same dance, and I guess switching between them is the biggest challenge. I think every performance is based on memories and emotions.
You don't have any real competition at Nationals. Does it make it easier or harder?
Ádám: Both, I think. Easier, because we don't have to fight for spots. But it is also difficult, because being in a competition is a challenge and that helps us get better and better. We get this kind of challenge at international competitions.
Figure skating is getting more understandable, but in ice dance the audience may not notice the differences between the top pairs. What should they pay attention to?
Ádám: They may not see an unclear step or key point. But they can see matching moves, chemistry and well performed emotions.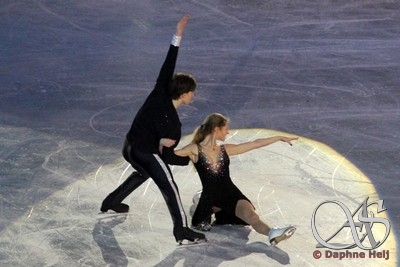 How do you choose your costumes?
Ádám: We choose the music first and after that we try to make some plans for the costumes, together with Barbara. If we have a good idea and all of us like it, we go to the seamstress. Carry's dress was made in Milan, but my costume was sewn in Budapest.
Carry: I was working with a tailor who creates costumes mostly for dancers, but he also works with ice dancers.
What kind of boots and blades do you have? When did you change them last time?
Ádám: Both of us have Risport Dance boots with MK dance blades. I got new boots 3 days before the Ice Challenge. At first I was afraid I wouldn't get used to them in only 2 days, but there was no problem. I skated the free program in them on the first day. Carry got new boots during the summer.
Who are your favorite dance teams?
Ádám: Elena Ilinykh / Nikita Katsalapov were my favorites, I was really sad about their split. I also like Tessa Virtue and Scott Moir.
Carry: Since Tessa and Scott finished competing (they decided not to compete this season – ed) I like Kaitlyn Weaver / Andrew Poje for their performance and technique, and Anna Cappellini / Luca Lanotte for their interpretation.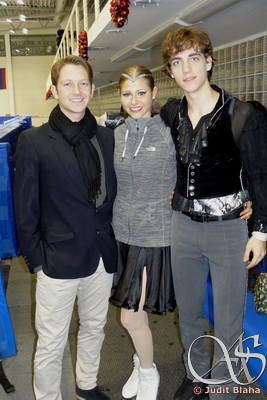 Who are your training mates?
Ádám: Charlene Guignard / Marco Fabbri from Italy, Marco's brother, Andrea, who just teamed up with a Japanese girl, Miato. We have Barbora Silna / Yuri Kurakin from Austria quite often. Last season we also trained with Tanja Kolbe / Stefano Caruso, Pernelle Carron / Lloyd Jones and Lorenza Allessandrini / Simone Vaturi, but all of them have since split or retired.
Who do you work with when Barbara is off to a competition?
Ádám: Barbara has an assistant coach, Corrado Giordani, and he helps with choreography and teaches ballet. We are working with some active Latin dancers who help perfecting our short dance. Stefano Caruso started to help with technical elements this past September. And we also have a coach at the gym.
Carry: We like working with Stefano very much; he helps a lot with lifts. He went with us to the Santa Claus Cup in Budapest, because Barbara was in Zagreb that weekend with Charlene and Marco.
Do you watch skating competitions during the season? If yes, do you only watch ice dance or other disciplines too?
Carry: I love watching ice dance competitions and if I have time, I'll watch the ladies and men too.
Ádám: We watch the Grand prix competitions and other ISU international competitions and we often discuss what we think about them. Of course I watch ice dance and sometimes the men, but I hardly ever have time to watch the ladies or pairs.
What is the biggest challenge for you this year?
Carry: Junior Worlds. We would like to be as good as we can because we want to get senior Grand prix invitations next season. We will only do senior competitions then.
Your long term goal is to compete in the 2018 Olympics in Pyongchang. What does Carry need to do to get her Hungarian citizenship?
Ádám: I can't say too much about that now, except that we are working on it. Having a Hungarian passport is very important for her. We are in touch with the Hungarian federation to ensure the conditions.
Carry: I need to take a Hungarian basic exam soon, but the federation is working on the legal part of it.