Meet Alexandra (Sasha) Nazarova and Maxim Nikitin
March 23, 2015
By Reut Golinsky
Photo © Ia Remmel, Ksenia Nurtdinova, Reut Golinsky
Special thanks to Ia Remmel and Anna Zeitlin for the help with this interview.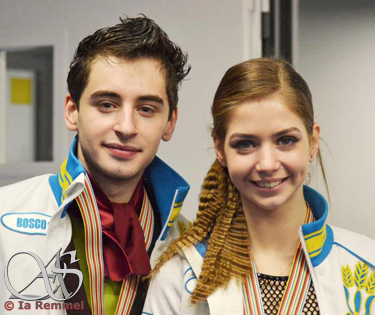 This young Ukrainian ice dance couple caught my attention at the Youth Olympic Games in Innsbruck, in 2012. They came out of nowhere and took silver.
I loved their gentle free dance to "Lakrimoza" by Evanescence, checked the interviews they gave after the Games and got excited about the fact that they both come from my native city. I've followed their career since then, watched them grow and improve, and I knew it was just a matter of time until I could interview them. We still have yet to meet in person though; this talk was conducted with Maxim via Skype. Sasha couldn't join us unfortunately, but added some comments later.
Let's start from the very beginning. How did you start skating and why did you decide to move to ice dance?
Maxim: Both of us are from Kharkov and we both started skating there, both as single skaters and just for our health, as a recreational sport; we didn't partake in any competitions. And then Galina Vladimirovna Churilova suggested we try out being an ice dance couple, and she became our coach. We've been skating together for 11 years since.
I saw you for the first time at the Junior Olympic Games. Prior to that you'd only skated for a single season in Junior Grand Prix events, and then you came to the Games and suddenly were on the podium. Were you ready for such a result?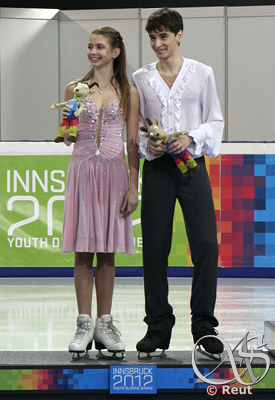 Maxim: We were very surprised. At that moment we were just starting to participate in international competitions, we didn't know our rivals and came to the Games "for sightseeing" only. We weren't expecting any specific placement or score. That's why it was fairly easy for us to skate the short dance. We skated for ourselves, for the audience, for the judges - we just wanted them to like us. But when we placed second, it was already a bit harder to skate the free dance. We realized what we had to lose. Or gain. But that did not affect our skating, we had a pretty good dance as I recall. We skated the free dance twice - in individual and team competitions - and both times we received a season's best score. You can say that this was our first important competition. The experience was strong, but nice too.
Did you get noticed after such a brilliant debut? Did you start feeling you needed to meet certain expectations?
Maxim: I think so. Before that moment we were just entering the junior skating world, which had quite a lot of promising couples, couples who were better than us. After the Youth Games we started to get noticed more. People were treating us differently and we ourselves got the feeling that there was no turning back, it's not just a hobby anymore - we get to a serious level, started to skate professionally and for life.
So the next logical step was to move to Moscow and train with Alexander Zhulin?
Maxim: Not really, we spent another year in Kharkov. Then, at Junior Worlds in 2013 - our first Worlds - Galina Vladimirovna asked us to come to her room after the free dance. And she just said: "I want you to start training with Zhulin. I don't want to hold you back, I think Zhulin can give you more and you can achieve more with him as your coach. I don't want to make the same mistakes I did with Beknazarova and Zuev."
I think this was very noble and not every coach is capable of such a deed. You can find a lot of examples of when coaches ruined promising athletes, not letting them progress further.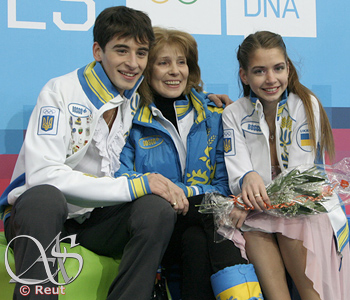 After this conversation we went with Galina Vladimirovna to a seminar in Oberstdorf, and then she came with us to Moscow and passed us on to Alexander Vyacheslavovich. She spent a few days here in Moscow, saw how we were skating, how we feel, whether Zhulin was happy with us. Then she left with peace of mind.
We still maintain a very cordial relationship. When we're in Kharkov, we come to skate at our old rink. We congratulate each other on holidays and are always ready to help each other at any moment.
Why Zhulin? Was this discussed with him beforehand?
Maxim: Maybe she negotiated with him before. We met with him and his couples quite often at various international competitions; he saw us and was interested in working with us. Apparently, somehow they started talking and this was a suggestion from both sides. I don't know any details, but I didn't have any questions about choosing Zhulin as our coach. At that time Zhulin's pair Bobrova/Soloviev were European champions, they got bronze at Worlds. His group was getting good results. I knew some people from Zhulin's group and they were excited about working with him.
As far as I understand, the funding situation in the Ukrainian federation is not very simple. Do you get help from anyone?
Maxim: We get tremendous support from Galina Vladimirovna. Yuri Vladimirovich Balkov (head coach of the Kharkiv region, Presidium member of the Figure Skating Federation, Chairman of the Ukraine judges association, ISU judge - ed.) always helped us as much as he could from the very beginning. They both make great efforts to find some funding for us. Our hometown, Kharkov, helps a lot as well. Of course, we cannot say that these are large amounts, but I know that when our city has the means to help us, they always do.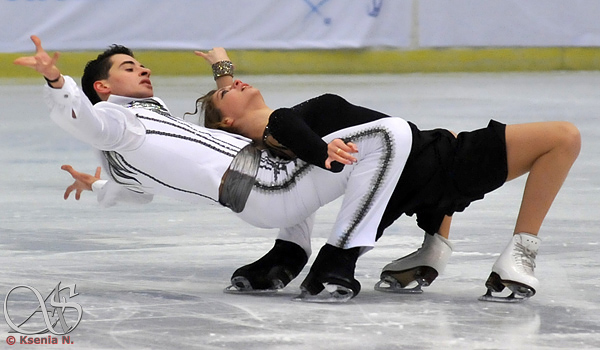 Do you have a sponsor?
Maxim: Unfortunately, we do not have any sponsors. We tried to find one, but it's hard, and we don't have anyone who can do this for us. Of course, it would be just wonderful if there was a sponsor.
As for our federation, at the beginning of this season we got funding for the summer training camps and costumes for our junior programs. And now there are negotiations about helping us to pay the rent.
We are working - we have some skating pupils, young children, beginner sportsmen, this helps as well. And of course our parents help. Our first season in Moscow was completely at our own expense, all paid for by our parents. At that time we had no salaries, no scholarships, nothing. They took everything onto their own shoulders.
Who do you train with in your group? And who from Zhulin's team works with you?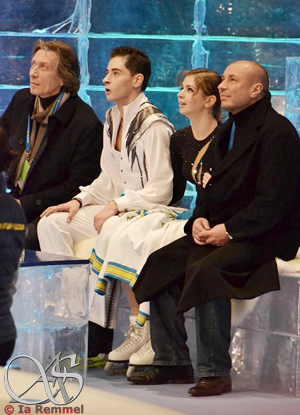 Maxim: Our group is divided into two parts: junior and senior. In our group we usually share the ice with Ekaterina Bobrova/Dmitri Soloviev, Ksenia Monko/Kirill Khaliavin, Alisa Agafonova/Alper Ucar and another relatively new couple - Tiffany Zahorski/Jonathan Guerreiro. Sometimes a junior pair Eva Khachatryan/Andrew Bagin joins us.
Coaching staff consists of Alexander Zhulin, Oleg Volkov, Sergey Petukhov - our choreographer. Our acrobat Dmitry Ionov, who works with us on lifts and various acrobatic elements. Denis Samokhin helps us too. Maxim Staviski often comes; he is a very good specialist. I always liked how he and Albena skated. And despite the fact that they retired a long time ago, Maxim always goes on the ice with us, shows us everything by himself. His skating skills are still at the highest level.
What is your day usually like?
Maxim: Our day starts at 9:30 in the gym - we either do choreography or acrobatics. We train for one hour, then have a 15-20 minute break and go on the ice. First training on the ice lasts for about two hours. Then we have an hour and a half break and go back on the ice to have another two to two and a half hours training session. During summer camps we usually train more on and off ice and also do off-ice physical training.
Are you studying for a graduate degree?
Maxim: Yes, Sasha and I study by correspondence; we are both students of the Kharkov State Academy of Physical Culture. I am in my junior year and Sasha is a freshman.
Let's talk about your programs. I personally am very intrigued by your free dance. What is it about? Who do you portray? Does this program have some story behind it? And what is that small routine you do when you just go on the ice, before you take your position?
Maxim: The story is very strange, weird and interesting. It is impossible to completely explain it.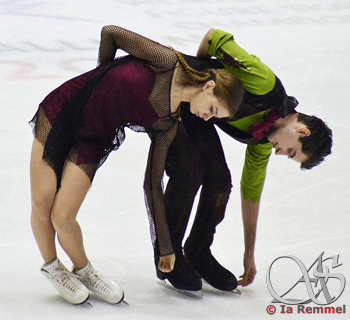 Let's just say that we give the audience and judges the opportunity to make their own opinion about it, to decide for themselves what they see in this program.
In the first section we are mimes, clowns, and maybe even homeless people. We wake up and start to fool around, messing with each other. Then we notice some butterflies, which we catch and swallow. And then - during the Bach's "Air" part - we calm down and begin to imagine ourselves as butterflies, fluttering around smoothly and quietly. And in the third section the butterflies let me go, I wake up, call up Sasha, and we conclude our program with a foolish and fun dance.
Sasha: At the moment this is my favorite program, of all the programs we've ever skated. In every single competition we've done, I enjoyed skating it so much.
As for the routine when we go on the ice, this is actually our little tradition. For every free dance we've invented something like this to do before the performance, something original and similar in the style of the dance itself.
Who came up with the idea of your free dance? Who picked the music?
Maxim: At first we didn't have any specific idea in mind. And then our coach, Alexander Zhulin, suggested we listen to the composer Hugues Le Bars. He had so many songs fitting our style that for the first time we encountered the choice dilemma. We didn't know how to put all the songs and our ideas into a few minutes of the program!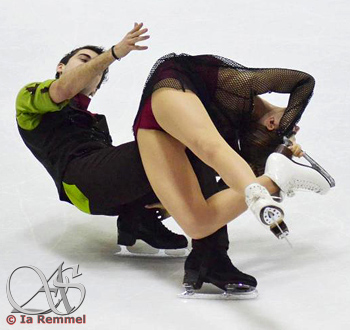 We decided right away that we wanted to experiment this season. Since we had never skated to classical music before, we chose "Air" by Bach and combined it with Hugues Le Bars's "Tango Tchack" and "Escalier".
The majority of work for the program was done by Alexander Zhulin and Sergey Petukhov. Maxim Staviski helped us with step sequences and Oleg Volkov worked with us on the technique.
Actually this season "Tango Tchack" is used by at least one other skater - Evgenia Medvedeva, whose program, by the way, was also choreographed by Zhulin. Did you know that?
Maxim: As far as I can recall, Zhenia came later. We put our program together immediately at the end of the season when we returned from Junior Worlds. Perhaps Alexander Zhulin wanted to implement in her program all those ideas that were not used in ours? Maybe he wanted to tell the story till the end?
Tell me who designs your costumes. I also noticed that Sasha's dress was different at the beginning of the season, in Courchevel.
Sasha: Usually I already have some ideas when we start working on choreography, but of course we discuss them later with our coaches and the dress makers. The dress I had in France came out very different from what I imagined when I saw the sketches, so I came up with something different instead.
Costumes for your senior short dance, Paso Doble and flamenco, were not in the usual red-and-black palette. Was this a deliberate choice and why?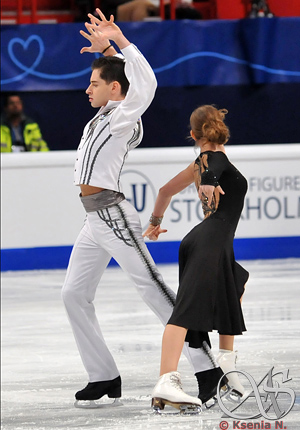 Sasha: I think there isn't a specific rule about using red in flamenco costumes, so I decided that black and white with silver will look more interesting.
Sasha, I also noticed that you wear skillful and not very bold make up for your performances. Who taught you that?
Sasha: I don't like excessive and bright make up, for me it's enough to emphasize some details. The most important thing is to find the optimal balance, I believe. I learned the basics from my Mom and the rest I was just learning with time.
You have a difficult season, since you compete both as juniors and seniors. And you needed to prepare two different short dances because of that.
Maxim: Yes and the free dances are of different lengths; however, this was not particularly difficult. We initially prepared a longer dance, and then it was shortened for our junior performances.
We didn't prepare our short dances at the same time. Our season as juniors wasn't very successful for us. I made a lot of mistakes in the two Grand Prix events - failed on twizzles, and as a result we weren't qualified for the Final in Barcelona. But later we were less upset, since it left us with more time to prepare the second short dance. We started to put it together immediately after the Tallinn Grand Prix event, and decided to participate in several small international competitions to try it out before the European Championships. Actually, it was not difficult to choreograph and skate this program. And in general this short program is easier for us - emotionally and physically. We like Paso Doble more, we feel this dance better. Although at first it was a little difficult to switch to a different character, since samba and Paso Doble are very different. We spent a lot of time with our choreographer, working off ice, on emotions.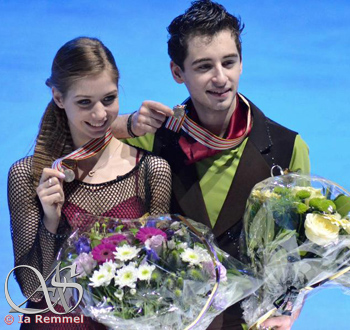 We get a lot of positive emotions from this dance, which is rare. Because personally I always liked the free dance more. And even though it's longer, it's physically easier for me to skate. There are no limitations, I can be anyone. And the short dance limits you significantly, even just in the dance pattern. But I do like our Paso Doble; I like our costumes, music, choreography. I skate it with pleasure.
The beginning of your junior season was indeed not very successful, but the end was impressive. Congratulations on your bronze medal at Junior Worlds in Tallinn! How did it go? Being fifth after your SD did you expect to be on the podium?
Sasha: Tallinn is a very beautiful city; we'd visited it quite a few times already.
We didn't have any particular feelings before this specific competition. For myself, I set a goal to make this event as calm as possible. And after the short dance the only thought was: "I just want to do a clean performance of our free dance."
And the last question. In one of your older interviews you named Tessa Virtue and Scott Moir as your idols. Are they still? Do you follow them now when they're not competing?
Sasha: Yes, they always were our role models and probably will be until the end of our career. I follow them on social media. I think that figure skating competitions became less interesting without them.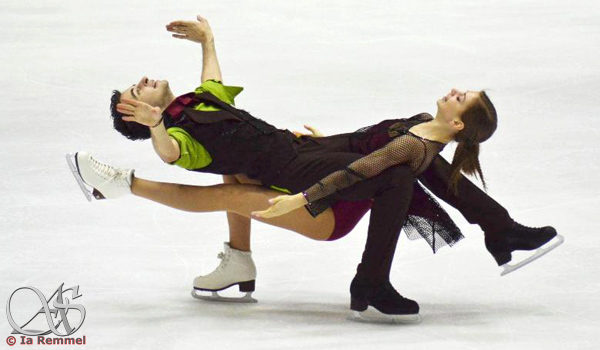 Sasha and Maxim will compete at their first senior Worlds this week. Our wish for them is to enjoy the experience, and we are looking forward to more creative and fun programs from them in the future. With hard work, determination and help from people around them there's no doubt their future will be a bright one.