Anna Marie Pearce and Márk Magyar – they almost quit, then they found each other
December 29, 2015
By Titanilla Bőd (Új Szó)
Photos © Cristiano Iera, Poggi
After 2010, there will again be a Hungarian pair at Europeans. Márk Magyar had a longer break because of an injury; then he couldn't find a partner. But in May this year, just before the "deadline", he teamed up with American Anna Marie Pearce. She switched countries, he relocated to the States. At their first competition, the Ondrej Nepela Trophy in Bratislava, they earned the minimum TES for the Europeans. After the competition, they talked about their story and goals.
How did you two find each other?
Márk: I searched for a partner for quite a long time after I was injured. I saw her on IcePartnerSearch, and her former coach also wrote me. At that time I was still planning on finding someone so I could stay in Europe, but that didn't work out. We contacted each other again and set up a tryout in Chicago.
Did the tryout work right away?
Anna Marie: Yeah! I've had a lot of tryouts before Márk, and with him it just worked. It was easy and comfortable.
Márk: That's the best way to describe it; it was easy straight away, almost natural.
Márk, you missed a lot of time because of your injury. How hard was it to come back?
Márk: I missed a whole season because of my shoulder surgery, and the next season I couldn't find a partner to compete with. I was searching all season, but I didn't make it to competition.
Did you still believe that you would find a partner?
Márk: I was very close to quitting. I told myself that if I don't find someone by May 2015, I will quit. And we had our tryout in May this year, so it was really just before the deadline, my last chance.
And what is Anna Marie's story?
Anna Marie: I was in a similar situation with my previous partner. I competed for the US. My partner decided to have double hip surgery. Originally I was to wait for him, but his recovery was prolonged, and things started to become more difficult. I was in the same situation as Márk: I could have decided not to skate and go to school instead. But we tried out together at the last minute, and I couldn't say no to skating with Márk and skating for Hungary. It's a perfect opportunity!
Márk: It's good for us, because luckily we don't have to compete with anyone nationally. We are going to Europeans for sure as we earned the scores. Now we will work on earning the scores for Worlds as well.
Anna Marie, how do you feel about representing another country?
Anna Marie: It's so weird. Unfortunately, I never got to compete internationally for the US. We made team USA the year I competed with my other partner, but then he had surgery. I was very disappointed that I didn't have that opportunity, and I was also a little nervous. The Olympics are coming up in a few years and I was afraid we wouldn't have the time we needed to get to that level. But then I found Márk. He was willing to relocate to skate with me, which is very nice and now I'm skating for a country that allows me every opportunity that I need to be successful. So it's perfect!
How often are you in Hungary?
Anna Marie: This [at the beginning of October] was my first time! It's definitely different to compete for another country, especially since some of the people I know at competitions are people I've competed against in the past. Luckily, everyone has been supportive of my transition, and the Hungarian federation has been very welcoming. It makes me feel good.
Márk, was it a hard decision to relocate to the United States?
Márk: I was open to that option, because I was always relocating. When I started skating I trained in Bratislava, I didn't compete in pairs at that time. Then I moved to Poland to skate with Dorota and Mariusz Siudek, and I lived there for more than a year. So for me it was not that new. The new part was going overseas, and now I don't have many chances to visit my family. But I like it; in Chicago I can really focus on my skating, which is my main goal.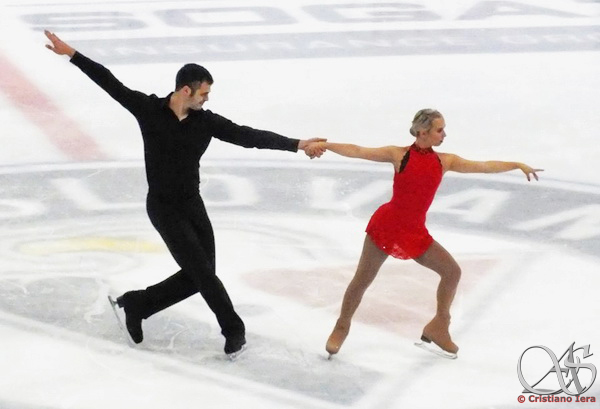 When you are in the US, do you spend much time together?
Anna Marie: No, although it would be fun. But I live in the city and he lives a little further out, in the suburbs. And I go to school (university) and it takes a lot of time, when I'm not on the ice. I am a business major, and I'd like to work in marketing and advertising.
Márk, do you get homesick?
Márk: Sometimes I do, like at the weekends when I have nothing to do and I get bored. Then it would be nice to meet up with my friends, but because of the time difference, it's sometimes hard to talk on the phone. I get home after practice and I'm tired, then I realize that I have to call my parents or my girlfriend right away, because it's already evening at home. But being there is actually working out better than I thought, I was expecting worse.
Do you live on your own?
Márk: Not yet, I live with our coaches. They have a big enough house so I can have a room there. Hopefully I will find an apartment soon, but that wasn't the first thing we had to worry about.
Anna Marie: No, we had only eight weeks until our first competition!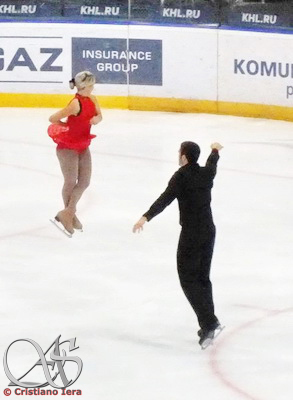 When you started out together, what was the easiest element and what was the hardest?
Anna Marie: Lifts were the easiest. Considering that my other partner had hip issues it was nice to be able to do what I wanted to do in the air.
Márk: Timing was an issue. So elements like throws and twists, which need timing, took some doing. We had also learned different techniques, and that made it harder. But we have great coaches: Rockne Brubaker and Stefania Berton.
What is it like to have young coaches?
Márk: Rockne and Stefania just started coaching not long ago, we are one of their first teams, but they have some other teams, too.
Anna Marie: They work together in a fantastic way. It's kind of like good cop/bad cop, and it works perfectly!
Oh, and who is the bad cop?
Anna Marie: I can't say, (laughs) they do a good job together. They've both come very far in their careers in such a short time. And in terms of the age gap; we are pretty close to their ages, but I've never felt it's a disadvantage.
Márk: There is a clear line between coach and friend, and it's not like we hang out too much together. There is respect. They were awesome skaters when they competed. Rockne puts on his skates and does a double Axel and I just want to go home, because I'll never manage such a good one. Stefania did most of our programs, and it was awesome to see how creative she is.
Anna Marie: They are good role models.
Who chose the music for your programs? Your short program is Nyah: Mission Impossible II, your free is a Frank Sinatra medley.
Márk: I had this short program already cut. We had to hurry; we had a total of eight weeks, so we had three days to decide which music to pick. It wasn't easy. I never competed to this short program music, and luckily Anna Marie and our coaches also liked it. So we decided to take that because of the lack of time. And we are comfortable with it; it's not an emergency choice.
Anna Marie: Rockne kind of chose the long program. We were trying to find a piece of music that would help our personalities come out. It needed to be a hard enough program, but if we make a mistake, it would still match.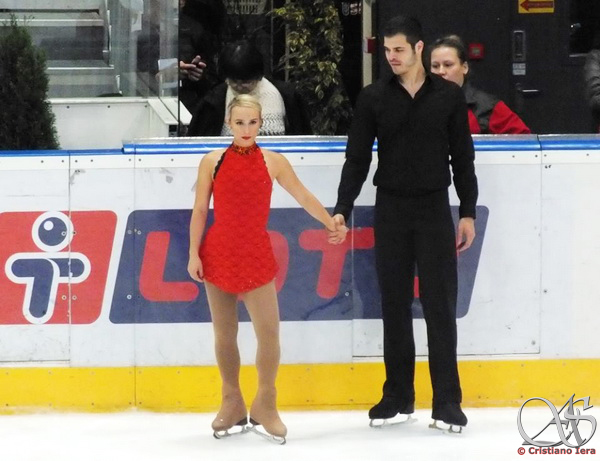 Márk: At first we had a classic version, but it didn't work out for the free, it was just too flat. And then Rockne came up with the idea to have a version with lyrics. We really liked it the first time we heard it. It's really "our" program.
Anna Marie: The first part is My Way and it is a good song for our situation. At first we weren't sure if we would even keep skating, then we found each other and we are doing it our way, finding ourselves together.
Márk: And also the second part, Fly Me to the Moon, means a lot to us, because that's our goal, to reach as high as possible. We want to make it to the Olympics; that's our priority.